From authentic street food to full nine-course meals, Italian cuisine includes some of the most exquisite dishes you'll ever taste. However, there's actually a science behind the series of courses in a typical Italian meal. In this guide, learn which Italian meal courses are served when and what to expect at a traditional Italian dinner.
---
Pro Tip: It's easier to organize your trip when you have all your resources in one place. Create a browser folder and bookmark this post along with our guide to Rome for more planning resources, our top Rome food tours for a memorable trip, and the top foods to try in Rome.
Italian Dinner Culture
Before diving into the courses themselves, it's important to understand why dinner is taken so seriously in Italy. At family dinners, and especially on holidays, dinner can last up to four hours or more.
Traditional Italian dinners are a no-phones-allowed ritual, where families and friends can get together and enjoy the pleasure of each other's company. They are long and for good reason.
As one of our founders always says, "the beauty is in the process." An Italian meal is an art, with each course a different step toward a delicious finished product and a wonderful experience. If you're a foodie headed to Italy, definitely check out our food tours in Rome, Florence, and Venice for an epic culinary journey.
Not ready to book a tour? Find out if a Rome food tour is worth it.
Aperitivo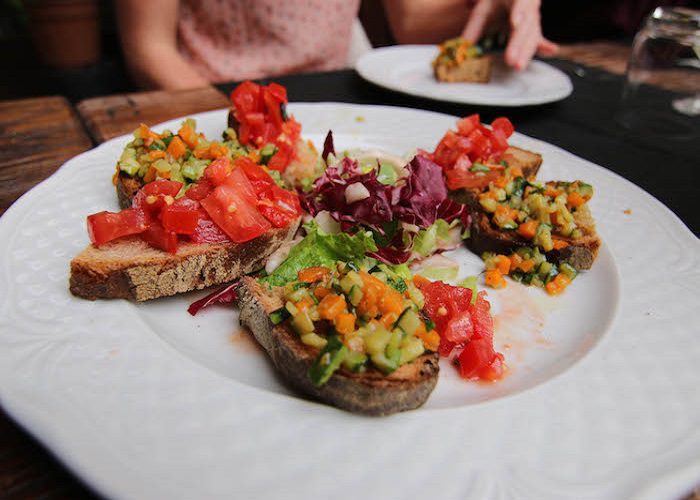 Why do Italians eat dinner so late? When visiting Italy, you'll notice that locals don't typically eat dinner until 9 or 10 p.m. Local restaurants typically don't even open until 7:30 or 8 pm.
Why? Aperitivo! Traditional Italians like to enjoy a casual drink and small plates of food before dinner to socialize with friends and family.
At a traditional aperitivo, you'll find yourself enjoying light drinks such as wine, prosecco, and spritz as well as various nuts, cheeses, and olives that are local to the region.
Light crackers and cheese or a plant-based dip are examples of some great items in an aperitivo spread. Don't overindulge just yet, as you still have six more courses to eat. Aperitivo can give you a tiny glimpse of the delectable meal to follow. 
Popular Rome Tours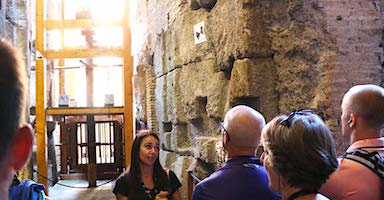 Likely to Sell Out
Colosseum Underground Tour with Roman Forum and Palatine Hill
This is our most popular Colosseum tour due to the incredible access to non-public areas like the underground chambers. All admissions are included and it is lead by an English speaking licensed guided and Colosseum expert.





See Prices
Not ready to book a tour? Check out our best Rome tours to take and why.
Appetizers: Antipasti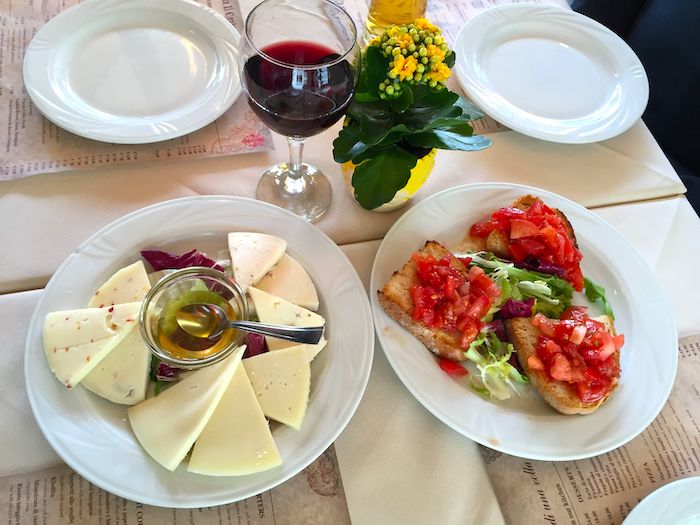 If you're a fan of meat and cheese, then antipasto is a perfect course for you. Why is antipasto called antipasto? The word actually comes from the Latin prefix anti meaning "before" and root pastus, meaning meal.
So, it quite literally translates to "before meal." This course is a little heavier than the aperitivo and often features a spread consisting of the best cheeses, meats, and even vegetarian dips that the restaurant can offer.
Salami, mortadella, and prosciutto take their spots on the serving plate alongside cheeses like Pecorino, Mozzarella, and Parmigiano-Reggiano. Crostini are likely to be served and paired with bruschetta for added flavor.
Some restaurants might have vegetarian options available, balsalmic eggplant or roasted vegetable bruschetta are both delicious choices that you should keep an eye out for.
Primi Piatti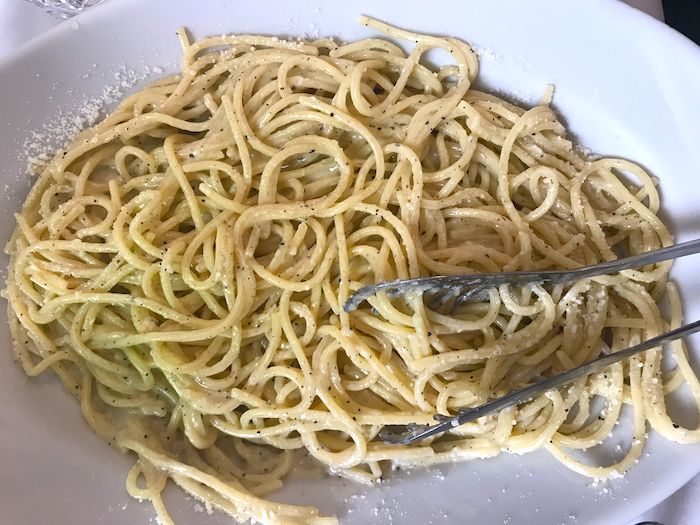 Primi Piatti is the first official course in a traditional Italian meal. Pasta, risotto, soup, polenta, and casserole—the "pastabilities" are endless when choosing what primo piatto you want to indulge in. By the time primi rolls around, you're absolutely famished. 
As you can tell, this course is definitely heavier than the first two but will be a little lighter than the Secondi Piatti. You may want to gorge yourself with your first course, but keep in mind, secondi is right around the corner.
Luckily, you'll have about 30 minutes in between courses to get hungry again. If you're interested in making your own pasta, we offer a Rome Walking Tour with Pasta Making Class and Lunch.
This tour gives you a walking tour of all the main landmarks in Rome and ends with a pasta-making class. You'll even enjoy a delicious lunch, complete with pasta, wine, and tiramisu.
Secondi Piatti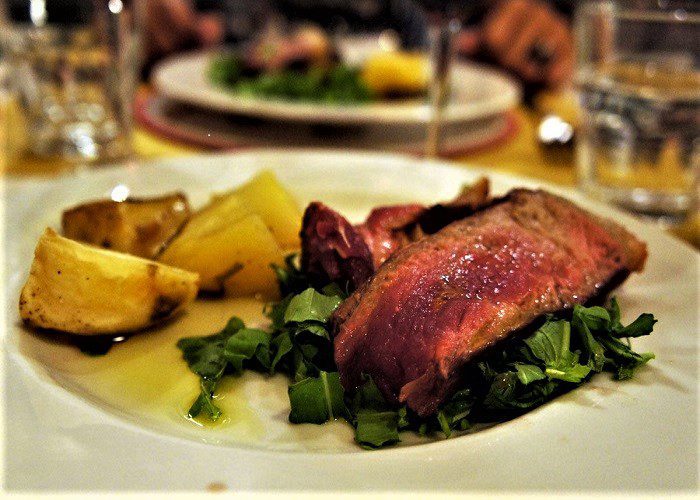 Secondi Piatti will feature different types of meat and fish. Sausage, veal, steak, rabbit, chicken, and lamb are just a few mouthwatering examples of secondi that can be served at a typical Italian dinner.
Italians will typically only eat gamey meats. If you're wondering how you eat an entire protein meal after a full plate of pasta, keep in mind that Italian portions are small. Secondi also is often a smaller portion than primi, and can be shared between people.
Contorni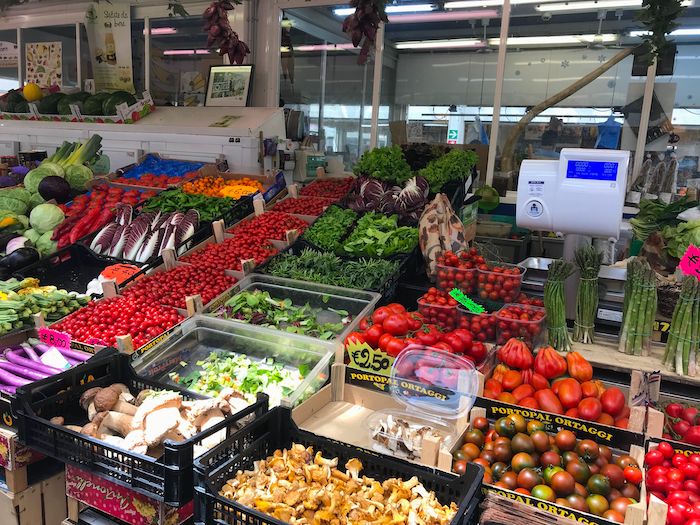 Contorni is a side dish that is primarily served along with the Secondi Piatti. Some of the most popular contorni include chicory, Broccoli Romano, salad, and potatoes.
The two dishes are meant to balance each other out and, together, become the perfect pair that anyone can enjoy.
Contorni is not a staple of the Italian meal, but definitely a great addition if you'd like to pair your main dish with a side.
Insalata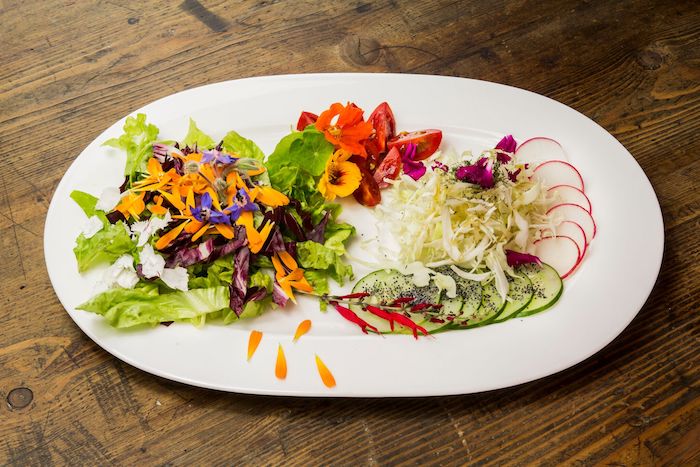 Insalata is exactly what it sounds like, salad. Although its name sounds predictable, it's timing throughout the meal is definitely not.
This salad is served after secondi e contorni and just consists of crisp, leafy greens dressed with a little oil and vinegar and a sprinkling of salt and pepper.
Depending on the restaurant, this course will sometimes be omitted. However, if you get the opportunity to have insalata, trying the seasonal greens from the region is always tasty, refreshing, and worth it.
Dolce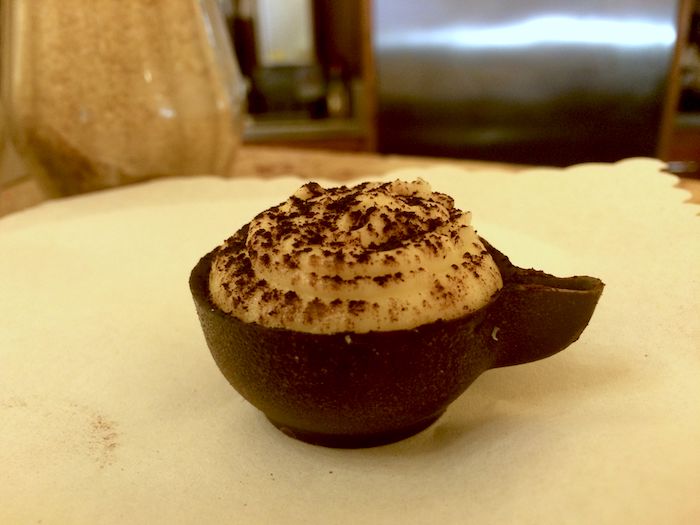 Last but not least, anyone with a sweet tooth will love this course: dolce. You may recognize the term dolce from "La Dolce Vita," a classic Italian film.
Dolce or dessert is usually the last course of an Italian meal, though sometimes you may be served a digestif. There are many Italian-American dessert traditions that do not fly over in the motherland.
For example, drinking cappucino after dinner is a tourist's mistake. Don't expect cannoli in restaurants. But not to worry, tiramisu is popular in both Italian-American and authentic Italian culture.
Tiramisu, panna cotta, tartufo, and millefoglie are all delicious examples of desserts you can choose from. And that will bring your traditional Italian dinner to a close.
Go on a Local Food Tour in Rome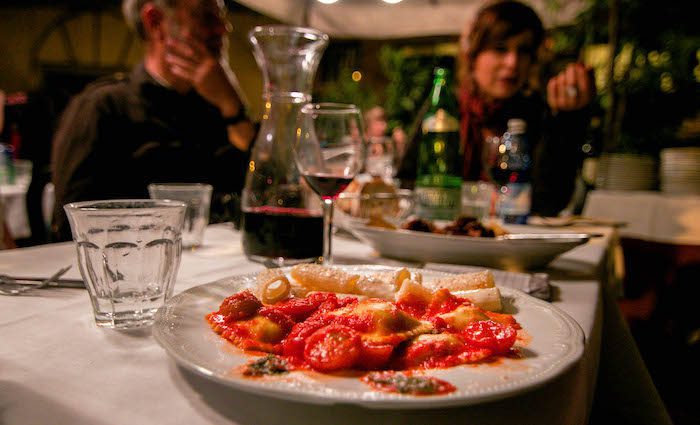 Love food and travel? Then a food tour is for you! It's a fantastic way to spend an evening exploring the city and its local cuisine in authentic restaurants. Who doesn't dream of eating Italian food in Italy, right?
You'll be joined by a passionate local guide who not only knows what to eat and where to get it but also speaks the lingo. An absolute must for foodies, a local food tour is the best way to the heart (and stomach) of local food culture.
Tour the local food scene of Rome's trendy Trastevere or go on an evening cocktail tour passing by the Pantheon, Piazza Navona, and more!
Not ready to book a tour? Find out if a Rome food tour is worth it.