One of Venice's iconic structures, the Campanile is open for the public to explore. Check out how to climb the St. Mark's Bell Tower in this guide.
---
How much is there to see in Venice?
It can be challenging even for the seasoned traveller to figure out what tours to do, if any, while enjoying Venice. This is why we created The Best Venice Tours to take and Why, which should help clarify that for you.
If you're visiting Venice, then you're most definitely thinking about visiting the Doge's Palace and St. Mark's Basilica. Check out our Venice Tours for some inspiration. But how about climbing 323 feet up St. Mark's Bell Tower?
St. Mark's Bell Tower History
Located in St. Mark's Square, you'll find the St. Mark's Bell Tower, also known as the Campanile. Originally built in the 9th Century on Roman foundations, the bell tower was restored many times due to fires caused by lightning, but collapsed in 1902.
It was decided that the bell tower had to be reconstructed exactly as it was, and in 1912, it was finally inaugurated on St. Mark's Day.
The Tower's Architecture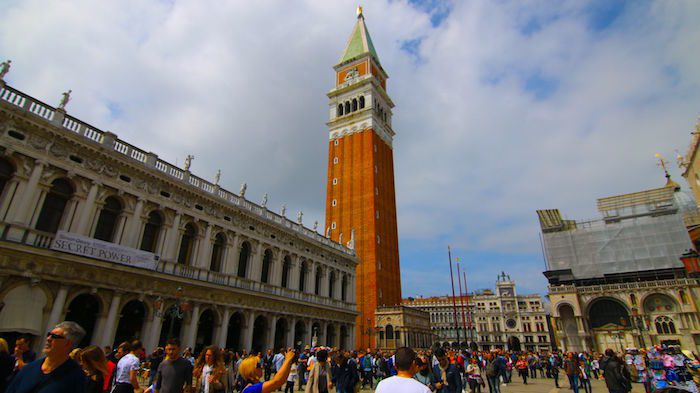 St. Mark's Bell Tower is made out of brick. The belfry holds the bells and on top, you can see the symbol of St. Mark, the winged lion, as well as la Giustizia or Justice which represents Venice.
The top of the tower has a pyramidal structure that holds a golden wind vane in the form of Archangel Gabriel. It is said that St. Mark's Bell Tower was used as a watchtower.
Popular Venice Tours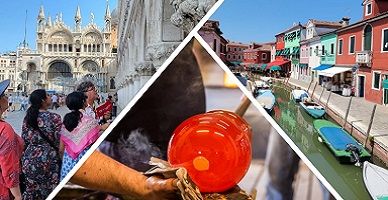 Best-Selling Tour
Ultimate Venice in a Day with Murano and Burano
The ultimate tour of Venice. You'll get skip-the-line access to the most important buildings in Venice, plus a gondola ride, and private transportation to the islands of Murano and Burano. It's a full day of touring that will make for the best memories in Venice ever.





See Prices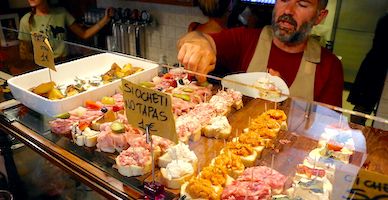 Authentic Experience
Venice Local Evening Food Tour in Cannaregio
People who say Venice is too touristy have not done enough research. Cannaregio is an amazing break from the crowds and our food tour is the most authentic way to experience it. Taste Cicchetti and other Venetian specialties with tons of wine! You'll leave with a full stomach! Plenty of Food and wine included!





See Prices
What Were the Bells Used For?
There are five bells on the St. Mark's Bell Tower and each one was rung for different reasons back in its day. The main and biggest bell was the Marangona. This bell announced the beginning and end of the working day.
The Trottiera is said to have announced council meetings in Doge's Palace for the members of the Maggior Consiglio. Then the Mezza Terza signaled for Senate meetings and the Nona sounded at midday. Finally, the smallest bell, the Renghiera, also known as the Maleficio announced executions.
Climb St. Mark's Bell Tower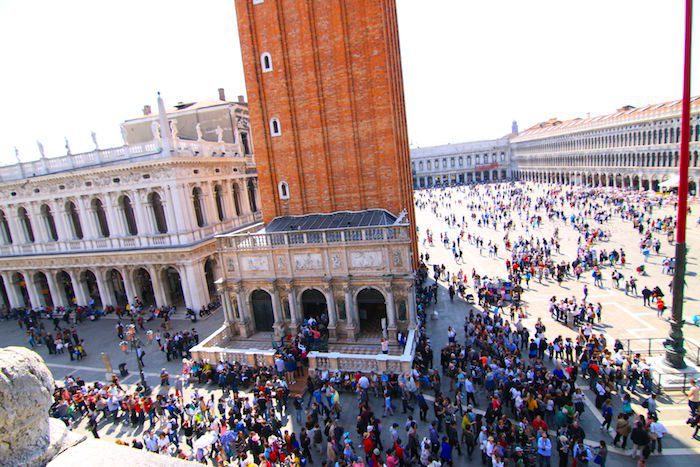 Once you go up, the view from St. Mark's Bell Tower is one of the most impressive panoramic views of Venice. The Campanile was also used in 1609 by Galileo to demonstrate his telescope to the Doge.
You'll see a plaque to commemorate this event once you go up the tower.
If you're on the search for cool panoramic views of Venice, we also recommend visiting the bell tower of San Giorgio Maggiore.
Located on a small island across St. Mark's Square, this Campanile has the best view of the Doge's Palace and St. Mark's Bell Tower. Besides, the 63-meter high tower is less crowded.
St. Mark's Bell Tower Tickets
If you are planning on going up the tower after visiting St. Mark's Basilica, we advise buying the tickets beforehand. You can do so by booking online from the official website, where you'll be able to buy skip the line tickets for €13.00.
The service to buy online tickets is available from 1 April to 2 November. You can also buy regular access tickets for €8.00, which can only be purchased on the spot.
St. Mark's Bell Tower Hours
October 1 – October 27: 9:30 a.m. – 6:00 p.m. (last admission 5:45 p.m.)
October 28 – March 31: 9:30 a.m. – 4:45 p.m. (last admission 4:30 p.m.)
January 7 – 20: closure for maintenance work
April 1 – April 15: 9:00 a.m. – 5:30 p.m. (last admission 4:45 p.m.)
April 16 – September 30: 8:30 a.m. – 9:00 p.m. (last admission 8:45 p.m.)
Make sure to double-check the opening times on the official website due to changes on holidays. Also, take into account that the Bell Tower may close due to weather conditions.
---
I Want More Italy!
Check out our YouTube video and step-by-step guide about how to do Venice in a Day. If you'd rather let us guide you, check out our Venice tours.