Attending Easter Mass at the Vatican is an incredibly sought-after event and getting tickets is pretty difficult. But, don't despair! In this guide, find out what to do at the Vatican during Easter weekend and how to get Easter Mass Vatican tickets.
---
Pro Tip: Planning to visit Rome for Easter? It's easier to organize your trip when you have all your resources in one place. Bookmark this post along with our Rome Guide, our top-rated Rome and Vatican tours, and how to spend Easter in Rome.
Getting Easter Mass Tickets at the Vatican
If it's your dream to celebrate Easter in Vatican City, you're going to want to get Easter Mass tickets. In this guide, find out how to get tickets, what to expect when spending Easter in Rome and the Vatican, and how to celebrate if you don't manage to get tickets.
What Is Easter Like in Rome?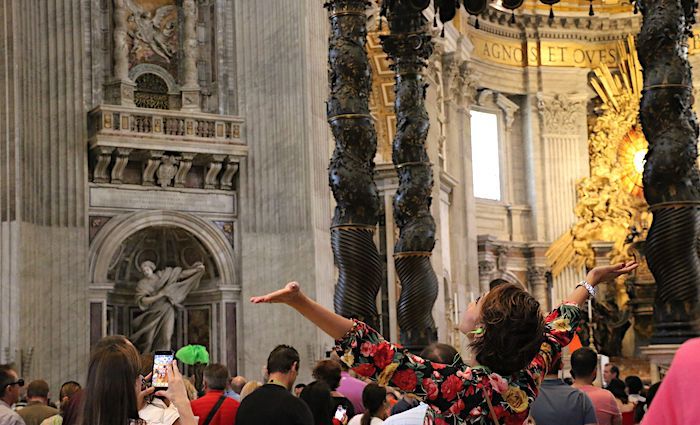 Short Answer: Busy, but amazing!
I'd like to highlight, however, that busy is not always a bad thing. Especially when huge groups of people come together for a common cause. In this case, we're talking about celebrating Easter, of course.
For Christians throughout the world, this is one of if not the most important holiday on their calendar. Other than the holy land, is there anywhere more important than Rome?
Some of the most interesting and fun times to visit a city are during festive periods. That's because there are more events happening throughout the city. I lived in Rome for almost 15 years and I can tell you that the center of the city always feels more vibrant with the streets full of people. Keep reading to find out about other events happening during Easter Week.
Why do people come to Rome for Easter?
As I mentioned earlier, the holiest place for the Christian religion is Jerusalem. Second place goes to Rome. That's because the pope and the Vatican are located in Rome.
According to Catholic dogma and tradition, the pope is the successor of St. Peter, who came to Rome around the year A.D. 64. He was subsequently martyred in the Circus of Nero (where St. Peter's Basilica stands today).
He was named the first Bishop of Rome, and since the pope is also considered the Bishop of Rome, there has been a direct line of succession of Bishops since Peter's day (obviously, the story is not as cut and dry as that). The culmination of an Easter time visit is to go to the Vatican for Easter Mass!
Not ready to book a tour? Find out if a Vatican tour is worth it.
How Do I Get Tickets for the Vatican Easter Mass?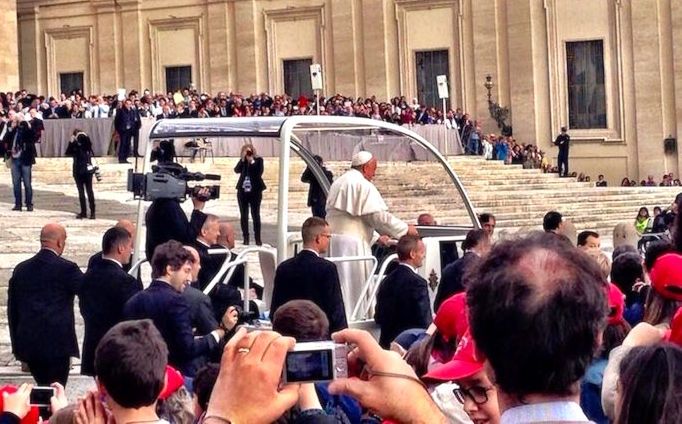 There is no specific form for Easter Mass tickets. Requesting tickets for this event follows the same process as requesting tickets for the Papal Audience on Wednesdays throughout the year.
Since this is one of the most important holidays in all of Christendom, you can imagine the hype around Easter Mass. The crowds are big, people are super excited with religious fervor, and the kicker is you get to see the pope!
What time is Easter Mass at the Vatican?
Mass on Easter is celebrated in the basilica from 10:15 am until noon and is led by the Pope himself. Tickets are free! Some people think that they can just show up at 10:10 am and enjoy the Mass. Thankfully, you have us and I can assure you that you need to show up earlier—much earlier!
Crowds will start forming 2-3 hours in advance, so I recommend you plan on arriving in the square by 8 am the latest. Another recommendation is to bring some snacks and some water as you'll be in for the long haul.
When do I need to reserve?
Important Update: If you want to attend Easter celebrations in 2023, you must send your request by 23 March 2023. The Vatican website says any requests received after this date will not be considered.
Now or Yesterday. Plan ahead, we recommend reaching out to the Vatican 2-6 months ahead of time. If you know you're going for Easter, don't wait. Even if the tickets weren't free, it would still be one of the most sought-after events in Rome and, dare I say, Europe during this period.
Pro Tip: If you request a smaller group of tickets, you're more likely to get approved by the Vatican. It's easier to get 2-4 tickets than 15.
How to reserve tickets
You have to send a fax. First, download the PDF version of the form. Fax it to this number: +39 06 698 85863. (Yes, we know faxing is archaic, but this is worth finding a fax machine).
If you're not able to send out this fax at least 60 days in advance, it doesn't mean you won't be granted tickets. However, it is less likely than if requested months in advance.
You'll receive an old-school letter from the Vatican (cool souvenir!) confirming that they have received your request. This is not a confirmation of your tickets.
Confirm and pick up your tickets
You'll need to pick up the tickets at the Prefettura Vaticana. This is an office on the right-hand side of the basilica, next to the "Bronze Door". This step should be completed 3-5 days before the Mass. The Prefettura Vaticana is open from 8 am to 6 pm.
Popular Rome Tours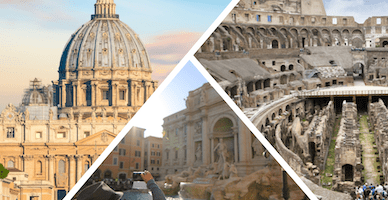 Best-Selling Tour
Rome in a Day Tour with Colosseum and Vatican Museums

Our "in a day" tour is best way to get your bearings all in one day. Visit the Sistine Chapel, Colosseum, Trevi Fountain, and more with a licensed, fun English-speaking tour guide. They'll add tons of insights and make the entire experience so much more memorable. Also, you'll get a feel for the city, so it's a great option on one of your first days in Rome. Bring your walking shoes and water bottle!





See Prices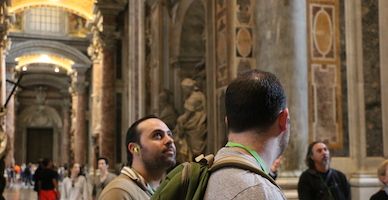 Best Price!
Skip the Line Vatican Tour with Sistine Chapel
One of our most popular Vatican tours since it is such an amazing value. Skip the line to get inside with a super-knowledgeable, English-speaking guide who will bring the museum to life with stories of the artists, popes, conspiracy, love, and even tragedy! This tour has start times throughout the day so you can choose when to visit based on your schedule!





See Prices
Not ready to book a tour? Check out our best Rome tours to take and why.
How To Celebrate If You're Unable To Secure Tickets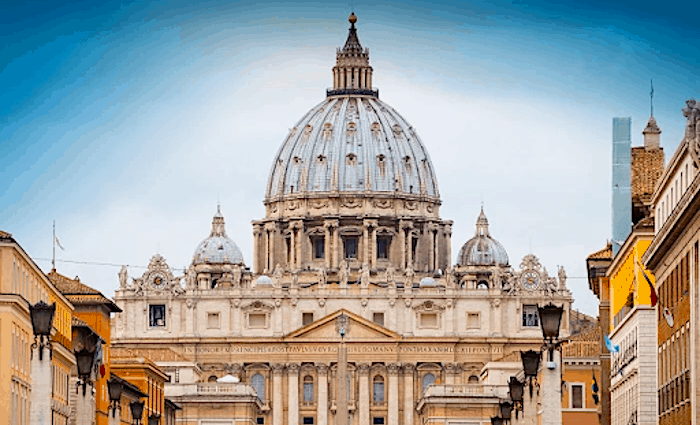 Tickets to the Vatican Mass are very limited, so if you're not able to get tickets, that shouldn't sour your mood. There are plenty of wonderful events at the Vatican and around Rome during Holy Week between Good Friday and Easter Monday. Check out how to spend Easter in Rome. Here are a few things to do over easter weekend.
Good Friday
Mass is celebrated at St. Peter's Basilica at 5 pm on Good Friday. This solemn event is another way to experience Mass at the Vatican on the holiest of days. Tickets for this mass can also be secured through the same form, but the volume of requests is much lower than for Easter Sunday.
Also on Good Friday, the pope performs the Station of the Cross (Via Crucis) at the Colosseum, beginning at 9:15 pm. This event is incredibly powerful for Catholics and non-Catholics. For this event, no tickets are required, but we recommend arriving early to secure a good spot.
Holy Saturday
On Holy Saturday, there is a vigil held at St. Peter's Basilica beginning at 9 pm until midnight to signify the start of Easter. This free service also requires tickets and follows the same format as the request for Easter Mass.
Easter Sunday
If you're not able to secure tickets to mass at the basilica on Easter morning, the alternative is also a very good option. After mass, the pope will head to St. Peter's Square and give his Urbi et Orbi blessing to St. Peter's Square.
Unlike the events in the basilica, the Urbi et Orbi does not require tickets. However, we definitely recommend getting there early to try and get one of the limited seats available.
Easter in Rome is an amazing time to visit and the events celebrating the holiday are incredible. Getting tickets for these events can seem daunting, but if you follow the process it should be stress-free.
Not ready to book a tour? Check out our best Vatican tours to take and why.