Want to celebrate Easter in Rome but not sure what there is to do or how to go about it? Don't worry! With the Vatican right in the middle of the city, you'll be able to join the pope for religious celebrations. But Rome also offers much more than that—there are picnics, concerts, processions, and one of our favorite parts of the holiday, traditional Easter food. Here's how to spend Easter in Rome.
---
Pro Tip: Planning to visit Rome for Easter? It's easier to organize your trip when you have all your resources in one place. Bookmark this post along with our Rome Guide, our top-rated Rome and Vatican tours, and how to get Easter Mass tickets.
How To Spend Easter in Rome
Contrary to popular belief, Easter weekend is not the most crowded time to visit Rome. The week before and after tends to be much busier with Easter masses and vigils happening up to Easter Sunday and Monday.
Easter Monday or Pasquetta is another national holiday in Italy, so keep in mind that most shops will be closed on this day. Don't worry though—this doesn't mean everything is closed around Easter or that you won't be able to sightsee on your holiday. Here's everything you need to know to have the perfect Easter vacation in Rome.
Not ready to book a tour? Check out our best Rome tours to take and why.
Easter Weekend Worship Events in Rome and Vatican City
The main worship events in celebration of Easter take place on Good Friday, Holy Saturday, and Easter Sunday. There's no better place than this to celebrate Easter, which is why these events are very popular and draw in crowds.
There's been a running theme of rainy Easter Sundays in the past. Spring is traditionally a rainy period, so make sure you have a sturdy umbrella and a light rain jacket. Temperatures are consistently mild, though. Expect mid-50s Fahrenheit and low to mid-teens in Celsius.
If you happen to be in Rome on Palm Sunday (the Sunday before Easter Sunday), Maundy Thursday, or Easter Monday, there are several other masses and blessings you can attend. Some require tickets.
Check the official Vatican calendar for a detailed and fully updated list of Easter events at the Vatican. It may only be updated just before Easter. Here are the top events for Easter in Rome and Vatican City.
Good Friday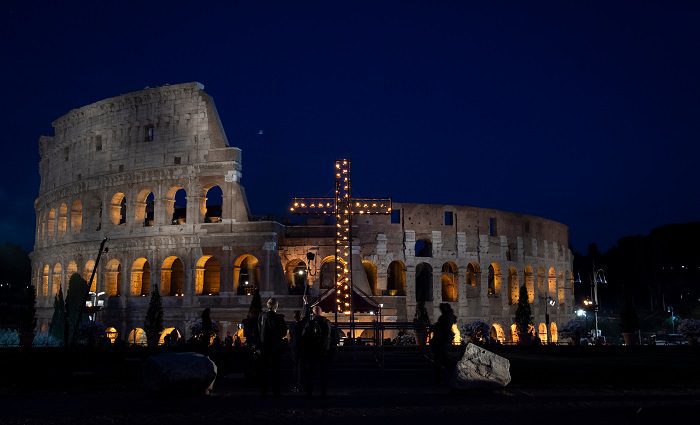 The major worship days leading up to Easter Sunday are Good Friday and Holy Saturday. Good Friday Mass starts at 5 pm at St. Peter's Basilica.
Later on, the anticipated Via Crucis, or the "Way of the Cross" takes place at 9:15 at the Colosseum. The pope carries the flaming cross to 14 stations and then proceeds as he reads a meditation to the audience. Catholics and non-Catholics alike enjoy this unique cultural and spiritual experience.
Good Friday Papal Mass in St. Peter's Basilica at 5 pm.
Via Crucis at the Colosseum at 9:15 pm.
Holy Saturday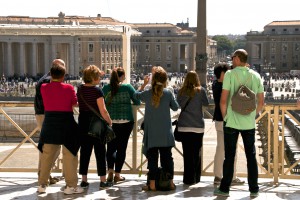 Holy Saturday is the next big Easter event. Starting at 9 pm, the pope holds a vigil at St. Peter's Basilica, which continues until the church bells ring around midnight to celebrate the beginning of Easter morning.
Easter Vigil in St. Peter's Square at 9 pm.
Easter Sunday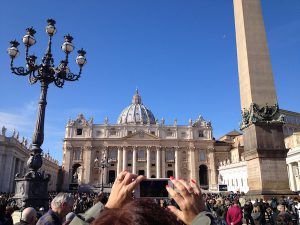 Easter Sunday is the most awaited day of worship and a public holiday in Italy. The mass begins at 10:15 and goes until noon. Then, the pope leaves the basilica and delivers a blessing on the balcony. It's called the Urbi et Orbi, or "To the City and to the World."
Easter Mass led by the pope in St. Peter's Basilica at 10:15 am. Free but tickets are required.
Urbi et Orbi Blessing delivered by the pope on central loggia of St. Peter's Basilica at noon. No tickets are required.
Pro Tip: For the Mass, tickets are free but an absolute must. Find out how to get Easter Mass tickets. It's important to know that while the tickets are free of charge, you must arrive several hours before the mass begins to guarantee a seat. The tickets only allow you entry to the basilica—if all the seats are already taken you will not be allowed to enter. No tickets are required for the blessing, however.
Popular Vatican Tours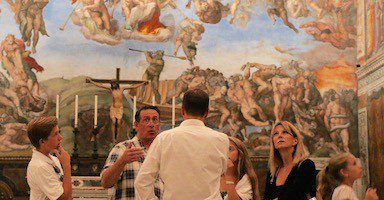 Best Selling Tour
Privileged Entrance Vatican Tour with Sistine Chapel
This our most popular and longest-running Vatican tour to date. It enters the Vatican City & Museums an hour before the public opening and visits the Sistine Chapel as it opens. Admissions are included and our English-speaking guides do a wonderful job bringing the museums to life! Admissions included.





See Prices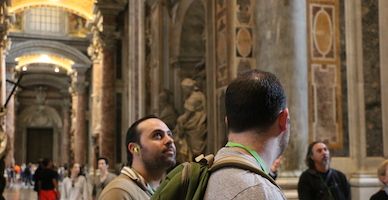 Best Price!
Skip the Line Vatican Tour with Sistine Chapel
One of our most popular Vatican tours since it is such an amazing value. Skip the line to get inside with a super-knowledgeable English-speaking guide that will bring the museum to life. Stories of the artists, popes, conspiracy, love, and of course tragedy! Admissions included.





See Prices
Not ready to book a tour? Check out our best Vatican tours to take and why.
Celebrate like the Romans on Easter Monday
Easter Monday is a public holiday in Italy and a day for celebration. While you can certainly attend the pope's address in St, Peter's Square at noon, Romans have a special way of spending the day. Here's how to spend Easter Monday like a local.
Picnic in Rome's Parks
On Easter Monday, or Pasquetta as it is locally known, it's customary for everyone to pack a picnic and head to a park or a nearby countryside town. My advice is to do as the Romans do on this public holiday. Don't spend your time at a restaurant on this day. Head to one of the beautiful parks in Rome, like Villa Borghese or Villa Pamphili.
Eat Easter Treats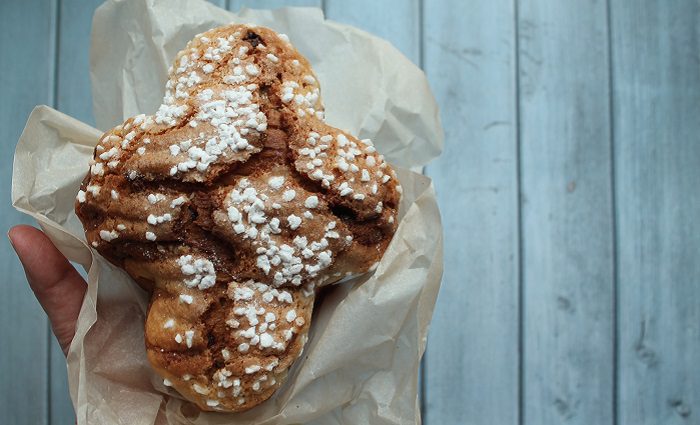 In between your meals, be sure to stop in a pasticceria or pastry shop to grab a seasonal treat. The colomba, or dove, cake is one of the hottest commodities this time of year. The treat resembles the shape of a dove, symbolizing peace and resurrection.
Large chocolate eggs beautifully wrapped in different colors are my second favorite Easter snack. The eggs are made with rich milk chocolate and hollow, surprising everyone with a different toy inside.
Enjoy Local Music
Easter is also a wonderful time to experience Rome's varied music scene. Classical concerts and operas take place in magical historical settings that will leave you feeling alive and wowed by this city. It's an absolute must! Here's a list of all the classical music events in Rome by date around the time of Easter.
What's Open during Easter in Rome?
Luckily, many of the main tourist attractions are open over the Easter celebrations. However, expect early closing hours on Good Friday at the Colosseum. The Vatican Museums are also closed on Easter Sunday and Monday but have normal operating hours the days before and after.
Most shops will be closed on Sunday and Monday. Fortunately, most restaurants will be open on both days. Many bakeries also tend to keep their doors open on Sunday morning so you can get your cornetti and Colomba di Pasqua (a traditional panettone-like cake in the shape of an Easter dove).
What To Eat at Easter in Rome
There's no better holiday than Easter to eat your heart out in Rome. Lent is over and it's time to consume all the Italian goodies on offer, from regular chocolate eggs to Dove-shaped cakes!
Easter Sunday is the day for a long and hearty lunch at one of the classic Roman restaurants that stay open or in a family home. Be sure to feast on seasonal dishes like artichokes, spring pasta recipes, and Italian roast lamb. It's all delicious! While in Rome during Easter, here are our recommended restaurants for your Sunday lunch:
Pro Tip: Don't forget to make restaurant reservations—they're a must! This is a busy day for wait staff so go in expecting a bit slower than normal service. Order in phases, drink plenty of wine, and just enjoy the experience.
Antico Arco
With a wine list boasting 1,200 different labels, this is the place to be if you like wining and dining and are looking to really celebrate the Easter feast. This cozy restaurant is just around the corner from Gianicolo Hill in a great location. The food is delicious and beautifully presented. We highly recommend the risotto.
Address: Piazzale Aurelio, 7. Roma
La Campana
Founded in 1518, this restaurant is known by many as the oldest still running in Rome. So much so that visitors have included the likes of Caravaggio and Goethe! Choose from classic dishes like oxtail, lamb, sweetbread, cacio e pepe pasta, and artichokes. There's no shortage of options here as you indulge in the ultimate Easter feast in Rome.
Address: Vicolo della Campana, 18
Roma Sparita
This is another restaurant serving up Roman classics like cacio e pepe, artichokes, and oxtail. If it's not raining, we suggest sitting outdoors to make the most of the ambiance—you're in the heart of Trastevere after all! Check out what Anthony Bourdain said about this place.
Address: Piazza di Santa Cecilia, 24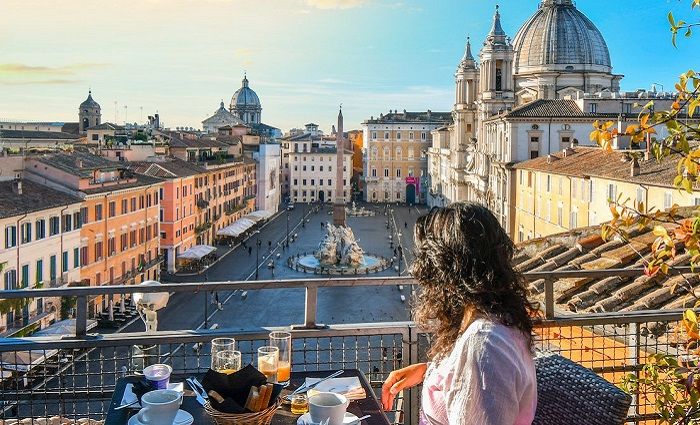 Find the best places to stay
Where To Stay in Rome
Rome has a rich cultural history and many iconic landmarks to explore. Plan where to stay in the magnificent Eternal City in the best neighborhoods.