Heading to Piazza Navona in Rome but unsure what to see? Then, you've come to the right place. This beautiful square in the center of Rome sits on top of what used to be the Stadium of Domitian. It's full of geat places to eat, shops, and a lot of history. In this article, discover the top things to see near the Piazza Navona .
---
Pro Tip: Bookmark this article in a "Rome" folder in your browser, so you can circle back to it while planning. One of the best ways to see a city with as much history as Rome is to join a local guide. Check out our best Rome tours so you can see the Eternal City as few others do. Also, see our guide to Rome for more resources to help you plan your trip.
What To See in and Near Piazza Navona
Once you've explored all the incredible sites in and near Piazza Navona, check out our neighborhood guides to see more of Rome's attractions in the toggle menu below.
12. Pasquino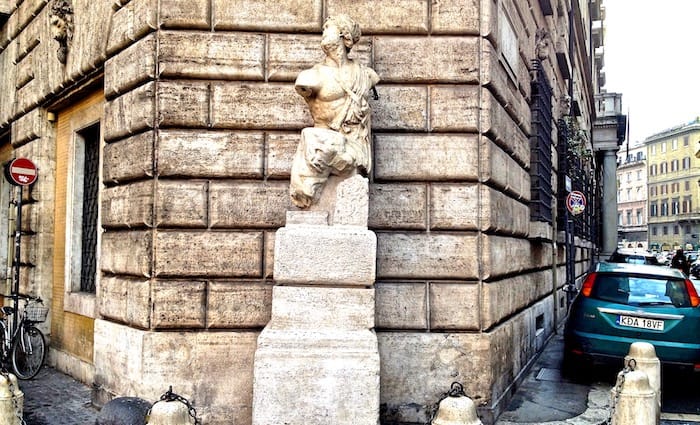 If you exit on the southwest end of Piazza Navona you'll see Piazza di Pasquino. Here, you'll find the piazza's namesake, Il Pasquino. Freedom of speech was not always possible in Rome when the Catholic church was in power.
Since the statue was found, it has served as a message board for protestors seeking freedom of speech. The name Pasquino comes from the word pasquinade, which is a satire often delivered publicly. Basically, it's about making fun of someone publicly.
Ancient Roman Times
The statue has lived many lives since its creation in the second century. It was likely used to decorate the Stadium of Domitian before it found its current home.
Renaissance and Modern Times
Il Pasquillino used to be dressed up as a pagan in the Middle Ages during the feast of Saint Mark. It was also used to spread satyrical messages in a time when it was fairly easy to be burnt at the stake.
Today, it's a tourist attraction because of its long legacy and use throughout Roman history. Also currently used by radical leftists to spread messages, it's now against the law to post messages on the statue itself in order to preserve it. However, a message board has been placed next to it to maintain the tradition.
Address: Piazza di Pasquino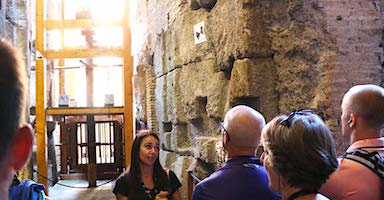 Best Seller
Colosseum Underground Tour with Roman Forum and Palatine Hill
This is our most popular Colosseum tour due to the incredible access to non-public areas like the underground chambers. All admissions are included and it is lead by an English speaking licensed guided and Colosseum expert.





See Prices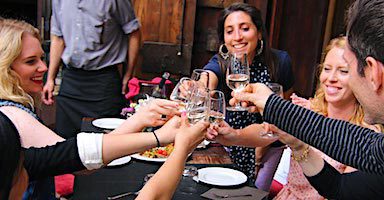 Best Seller
Local Rome Food Tour in Trastevere Neighborhood
Are you looking for the best food tour in Rome? Embark on a Trastevere food tour that offers an excellent introduction to some of the best food in Rome. Led by a local foodie guide, visit some of our favorite restaurants and trattorie in Rome





See Prices
Not ready to book a tour? Check out our Colosseum Guide for more info.
11. The Stadium of Domitian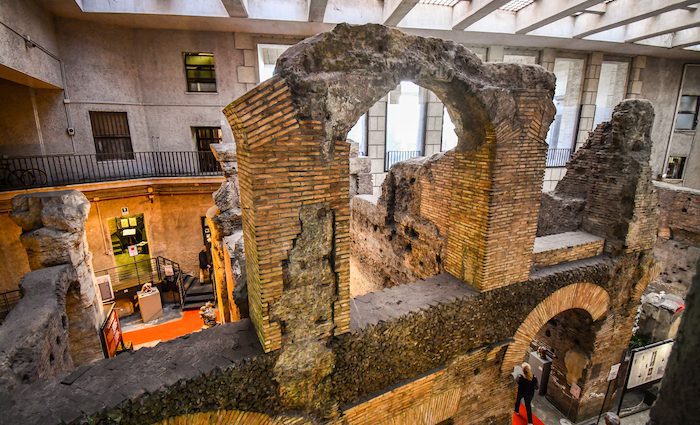 When you enter Piazza Navona, one of the first things you'll notice is that the piazza has a long Circus-Maximus-like form. This is because it was formed over the remains of the Stadium of Domitian.
Following Nero in the first century A.D., the Flavian Dynasty included three emperors: Vespasian, Titus, and Domitian. While Vespasian was the emperor to build the Colosseum, Domitian built or rebuilt much of Rome—some 50 structures including his stadium.
It was completed around A.D. 86, but not for chariot races as you might think. It was used for Greek-style nude athletic events. At times, gladiatorial events were held here when the Colosseum was unusable. The building was not as large as the Colosseum but still managed to seat 30,000 spectators on two tiers of seating.
Modern-Day Piazza
The modern-day piazza mimics the design of the former stadium. Curved on the north end and straight on the south end. It is said that the houses and apartments are all built on the stadium's foundations, which makes sense as the Romans built things to last. There are 2,000-year-old Roman roads flatter and straighter than the sidewalks in my town.
Not much of the structure remains today, but you can still see some of the lower seating in Piazza di Tor Sanguigna 12a. Exit Via Agonale on the north curved end of the piazza and turn left—you can't miss it. You can also visit the underground museum housing remnants of the Stadium of Domitian.
Address: Roadside Remnant of Lower Seating | Stadium of Domitian Museum
10. Bramante Cloister (Chiostro del Bramante)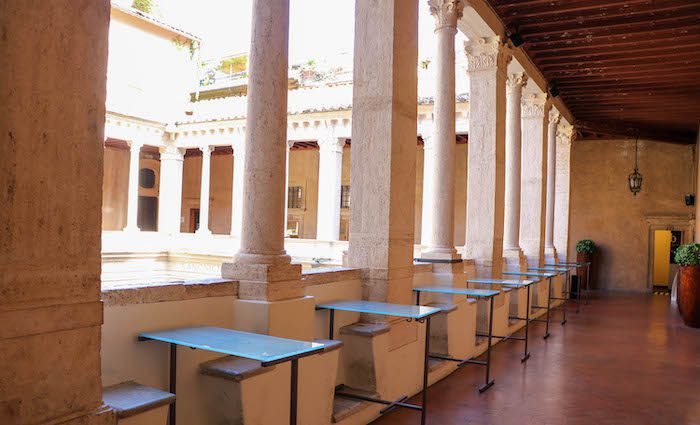 Chiostro del Bramante might not be in any of your guidebooks—it's more of a local favorite. This 16th-century structure was commissioned by Cardinal Oliviero Carafa and designed by Donato Bramante. It is practically attached to the Church of S. M. della Pace, which is also beautiful and shares a similar design.
If you have time, pop into the Chiostro and look around. It has a two-story courtyard with beautiful collonades. There's a music hall and theatre inside as well as a cool bookstore and café. This is your spot if you're looking for a secret place to get a coffee or drink in Rome. It's right in the thick of things but far from crowds.
Address: Arco della Pace, 5
9. Church of Santa Maria della Pace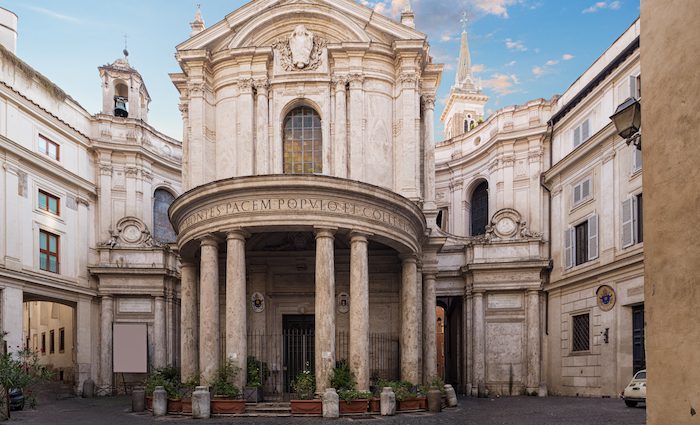 Commissioned by Pope Sixtus IV (who also commissioned the Sistine Chapel) in 1482, the current church sits on the foundation of a more ancient church of Sant'Andrea de Aquarizariis. The original artist is unknown, but the building was restored by famed architect Pietro di Cortona.
The church is the centerpiece of this tiny piazza, which takes its name: Piazza della Pace (Square of Peace). The facade is really stunning and unique to Rome. The porch is semi-circular giving it a theatrical look and feel. This is likely why there is a theatre in the adjacent Chiostro del Bramante.
While the facade and Bramante Cloister are the highlights, inside the church you'll find a wealth of artwork without spending a dime on admission thanks to the patrons of the church. The Chigi Chapel, inside, is home to the Sibyls Receiving Angelic Instruction by Raphael.
Address: Arco della Pace 5 | Hours: Daily, 9:30 am – 6 pm
8. Church of Saint Agostino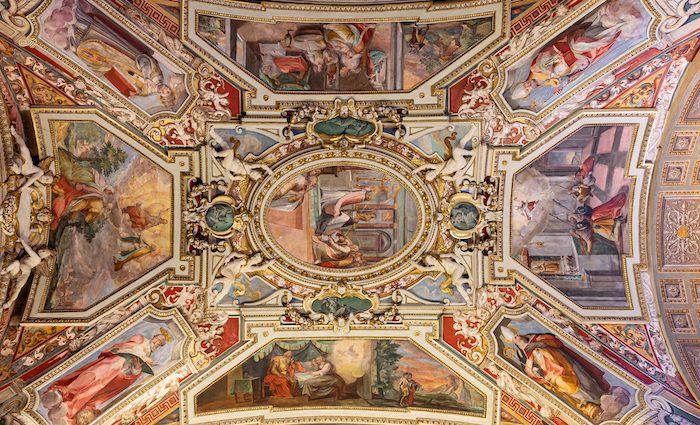 The Church of Saint Agostino appears unassuming from the exterior but offers a world of beauty on the interior. Rome is truly unique; you can see so much artwork by famous masters without spending a dime (not including airfare).
The church was first built in 1483 using materials taken from the Colosseum, which was a common practice in those times. On the inside, it is filled with some of Rome's most impressive and free-to-view famous artwork. Be sure to see:
Madonna di Loreto by Caravaggio (It can be found in the Cavaletti Chapel, which is the first to the left inside the church. When first unveiled, the painting drew laughter and surprise because Caravaggio depicted the pure Virgin Mary barefoot and generally dirty. Caravaggio lived in the world of underlings, prostitutes, beggars, and thieves which showed in his artwork.)
Saints, Augustine, John the Evangelist, and Jerome by Guercino (Guercino is one of those incredible artists that most have never heard of—a real treat.)
Prophet Isaiah by Raphael (How else can you see Raphael for free other than in Rome?)
Sainte Anne and Virgin with Child by Andrea Sansovino
Madonna del Parto by Jacopo Sansovino
Address: Via dell Scrofa, 80
7. Biblioteca Angelica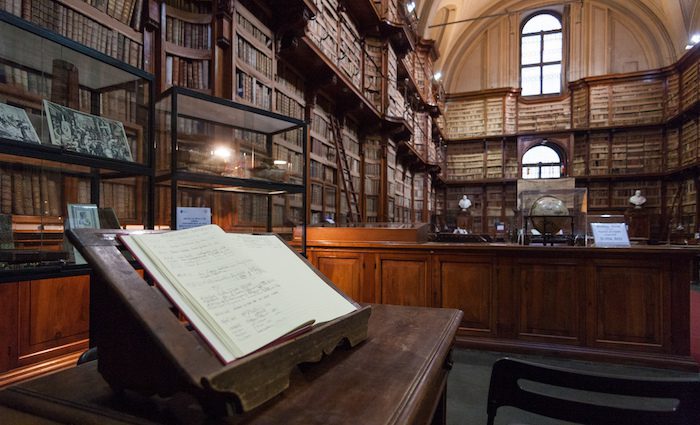 The Biblioteca Angelica was founded in 1604 and is the oldest library in Europe. It belonged to the Augustinian monastery who made it a public library in 1609 to benefit the people of Rome. The library holds over 180,000 manuscripts that document the Reformation and Counter-Reformation, which is why it is so important.
Address: Piazza di S Agostino, 8 | Hours: Monday – Friday, 8:30 am – 5:30 pm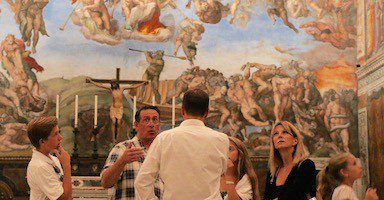 Best Seller
Privileged Entrance Vatican Tour with Sistine Chapel
This our most popular and longest-running Vatican tour to date. You'll enter the Vatican Museums an hour before the public opening and see the breathtaking Sistine Chapel. Admissions are included and our English-speaking guides do a wonderful job bringing the museums to life!





See Prices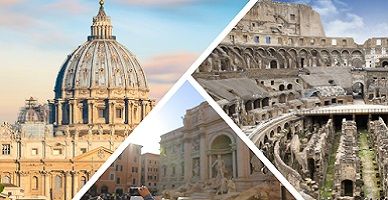 Customer Favorite
Rome in a Day Tour with Vatican, Sistine Chapel, Colosseum, and More!
Looking to get much of your sightseeing done in one day? This tour enters the Vatican an hour before opening and visits the Colosseum along with other sites like the Pantheon, Piazza Navona, and Trevi Fountain. All admissions and transportation are included as well as a licensed, English-speaking guide!





See Prices
Not ready to book a tour? Check out our Vatican Guide for more info.
6. Piazza Navona from Above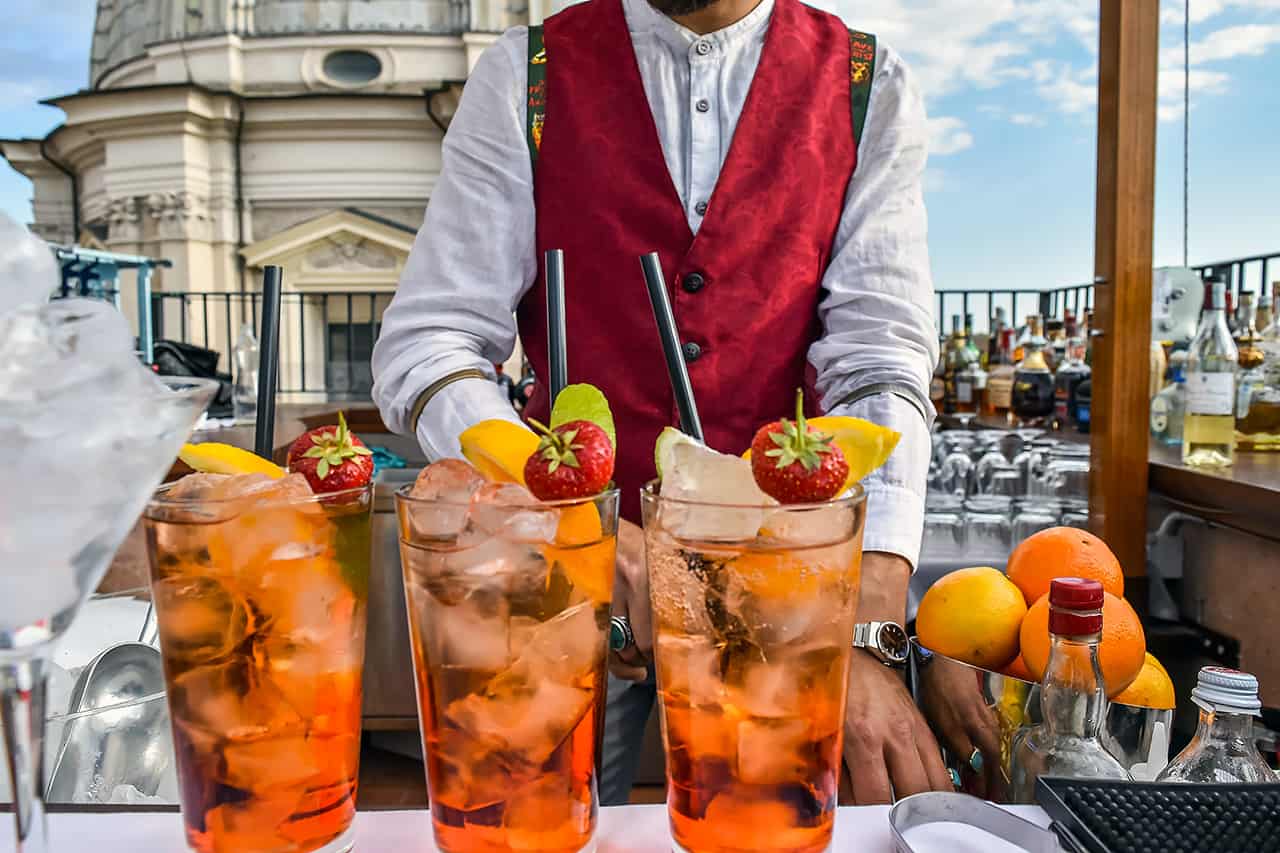 €€€€ | Upscale Rooftop Drinks | Piazza Navona
One of my favorite places to unwind after a long day in Rome is Terrazzo Borromini. It has one of the most impressive rooftop views in Rome, which is why they charge €25 for a drink and visitors happily pay it.
The food is good and you'll get incredible service, just keep in mind your bill will reflect the experience. It's a great place for a proposal or a special anniversary trip. You can also go just for drinks, making it a less costly way to see Piazza Navona from above.
Address: Via di Santa Maria dell'Anima, 30 | Hours: Daily, Noon – 11 pm
5. Palazzo Altemps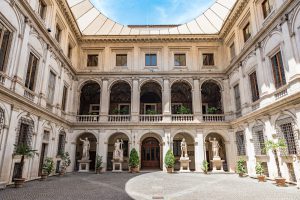 There are three reasons Palazzo Altemps is so great. The museum is always empty, which makes for a relaxing visit. It contains mostly statues, which I appreciate over paintings. And it has a beautiful cloister sure to impress.
Two of the must-see statues inside are Galata Ludovisi and the Ludovisi Battle Sarcophagus. The Ludovisi Gaul comes with an amazing story and the Ludovisi Battle Sarcophagus is one of the top relief sculptures remaining from Roman times. The sarcophagus is an arrangement of hundreds of small figures grappling with one another in a passionate and violent battle.
This, like most museums in Rome, is a private collection that was eventually handed over to the state as a gift or due to a lack of heirs. Other important pieces to see include:
Throne with the Birth of Venus
Ludovisi Dionysus
Throne of the Ludovisi
Ludovisi Battle Sarcophagus
The Suicidal Gaul
The Courtyard
Address: Piazza di Sant'Apollinare, 46 | Admission: €7 + cost of the exhibition if one exists (normally €3 extra)
5. Ponte Sant'Angelo and Castel Sant'Angelo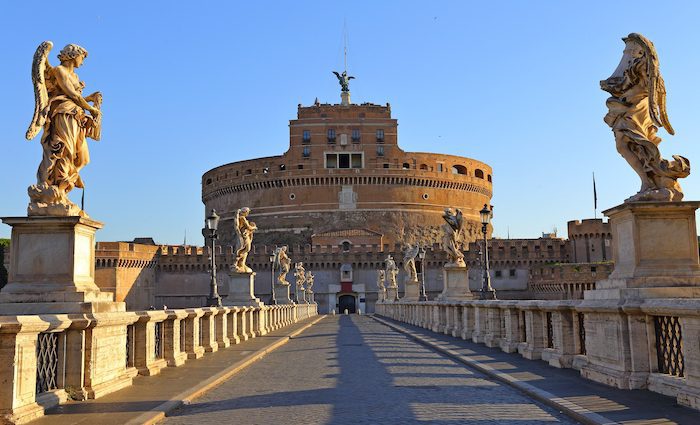 A 10-minute walk from Piazza Navona is the breathtaking Castel Sant'Angelo, accessible by crossing the impressive St. Angelo Bridge. The bridge, spanning the Tiber river, is one of Rome's finest ancient bridges. It was built by Emperor Hadrian to connect to what was originally his mausoleum—Castel Sant'Angelo today. Enjoy taking a walk around this beautiful place.
Address: St. Angelo Bridge | Castel Sant'Angelo
4. Fountain of Neptune
Giacomo della Porta was also involved in the construction and design of this fountain's basin. Both the Fountain of Neptune and Fontana del Moro (below) are designed atop a pinkish color basin made of marble. All three fountains are fed water via the Aqua Virgo aqueduct, which also powers the Trevi Fountain.
The fountain features a depiction of Neptune in a rather intense squabble with an octopus. Spoiler alert, he wins. The statues of Neptune, Nereids, and his horse or fish-drawn chariot were not added until the 19th century. The purpose was to bring balance to the piazza as there is a central fountain and now two dearly decorated fountains on either end. While the Four River Fountain is definitely more impressive, I like a good god-vs-octopus fight so I am calling this one my favorite.
Not ready to book a tour? Check out our Rome Guide for more info.
3. The Church of Saint Agnes in Agony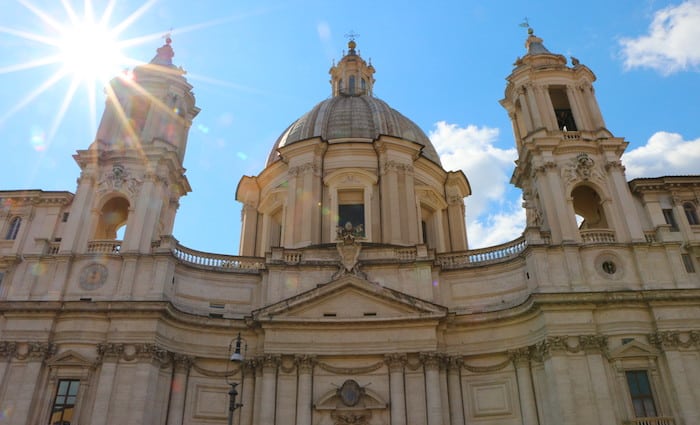 The Church of Saint Agnes in Agony is arguably the centerpiece of the Piazza, but many would say Bernini's fountain takes that title. The 17th-century baroque church was completed by father and son, Girolamo and Carlo Rainaldi, with the help of Francesco Borromini. The facade of the church would be considered a baroque masterpiece because of how unique and innovative it is. This is one of the most beautiful church facades in Rome after Saint Peter's Basilica.
Construction began in 1652 and was riddled with dramatics caused by Borromini. He had a bit of an inferiority complex after being passed over 20 years earlier during the construction of Palazzo Barberini, a project that was handed to Bernini instead of him when Carlo Maderno died. It had a long-lasting effect on his legacy.
One could speculate that the design of two bell towers was either an ode to Bernini or a slap in his face. Bernini's greatest failure was when he added two bell towers to Saint Peter's Basilica but which had to be taken down due to issues with structural integrity.
Borromini
Borromini may have chosen this design to prove he could accomplish more than Bernini, because of the baggage he may have carried with him since the Palazzo Barberini project. Bernini's Four River Fountain was laid before this structure, so it was a good reason to try and overshadow Bernini.
Regardless, Borromini gave up on the project in 1657 and it was handed back to Carlo Rainaldi and his son. They made some modifications, but the current form bears much resemblance to the original designs. The concave facade leading to the door of the church would become widely adopted in Northern European churches.
Saint Agnes
On the interior, you'll find the remains of St. Agnes, the namesake of the church. She was brutally tortured for her beliefs by the Romans. Agnes was 13 when she was martyred, dragged through the streets nude to a brothel. Legend has it she couldn't be raped. Anyone who touched her was blinded. They tried to burn her to death, but according to legend, the wood would not burn. Finally, a Roman officer took out his sword and beheaded her. Her skull is located in the church as a relic.
Like many Christian martyrs in Roman times, she was from a wealthy noble family, which drew enough attention to put her in the spotlight. A large majority of Christian martyrs were from high-ranking families which created a statement.
Romans didn't bother with non-pagan religions too much as it went against their way of building an empire. That said, high ranking officials often met the sword when they did not pledge allegiance to Rome by worshipping Roman gods.
2. Fontana del Moro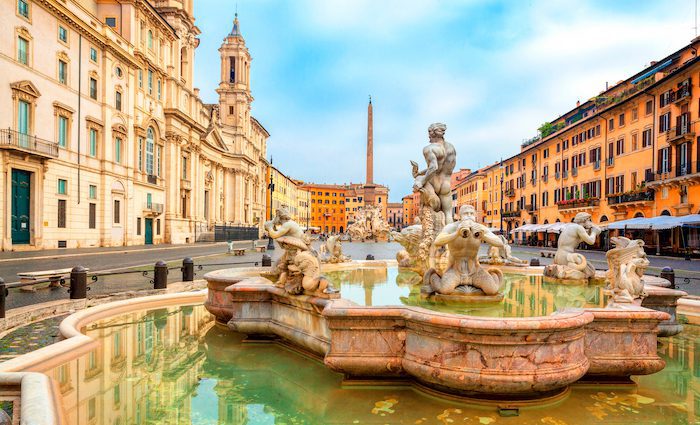 Like many things in Piazza Navona, this fountain also has a dramatic past. The original fountain was designed by Giacomo della Porta in 1575. It was simply a dolphin with four tritons. Eight years later, the statue of the Moor (African) was placed in the center, wrestling a dolphin.
This may also be considered Neptune as he is often seen accompanied by a dolphin, but it would be awkward to have two fountains dedicated to Neptune in the Piazza. Regardless, in 1874, all the original statues were moved to Galleria Borghese and replaced with replicas.
1. Four River Fountain by Bernini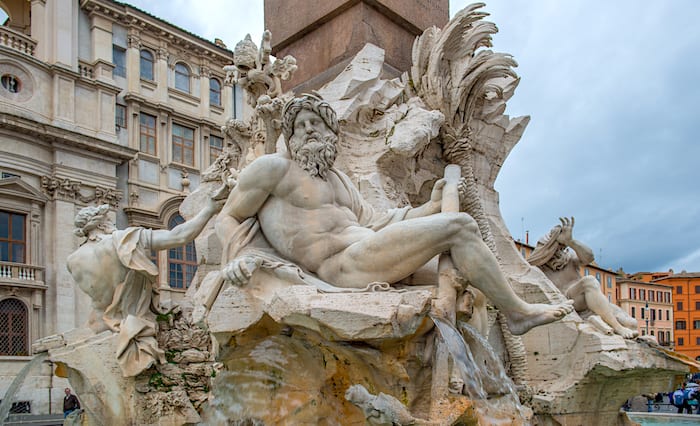 The Four River Fountain is considered one of Gianlorenzo Bernini's greatest fountains, which you can see even from a photo. The fountain features a massive obelisk, a Roman copy, supported by a central rock structure and featuring four river gods. The rivers are meant to show the Vatican's dominance over the expanding world, which was a common theme in papal-commissioned art.
The fountain portrays the following rivers: the Nile (Africa), the Danube (Europe), the Ganges (Asia), and the Rio de la Plata (Americas). In baroque fashion, the statue makes use of symbolism to help onlookers identify each river god. They come in the form of plants and animals as well as blatant symbols.
The Rio de la Plata features coins, symbolizing the riches that were brought back from the Americas to the Vatican. The Danube sits closest to the papal crest since it is the closest to the Vatican. A cloth sits on the head of the Nile god since the source was unknown at the time. The Ganges carries a long oar which signifies how easy it is to navigate.
The fountain was commissioned by Pope Innocent X who was of the Pamphilj house and very wealthy. He was the first and only Pamphilj Pope and likely commissioned the fountain, since their palace was situated in Piazza Navona. While the fountain did not earn them another papacy, their crest now flies high above Piazza Navona for all to see. I assume it also didn't hurt their real estate values.
Legends and Myths
The relationship between Bernini and Borromini was litigious at the very least and this statue proves that. Bernini is one of the greatest of all time, overshadowing Borromini, who was in his league but not as great as Bernini. This rivalry caused rumors, and rumors turn into stories, which eventually turn into facts.
The feud ran thick and in the mid-17th century, they found themselves working in the same piazza. Many believed this was not by chance. Baroque artists very much appreciate hidden meaning and symbolism, and so Bernini added a hidden touch. The river god of Rio de la Plata falls backwards in his seat (rock) and puts his hand up as if to say, "the architect is so bad I must brace myself in case it falls."
Great story, but unfortunately, this is most likely a myth. Bernini and Borromini were not working in the square at the same time. Bernini's Four River Fountain was completed a year before they started work on the church.
Next Stop…
If you're doing a walking tour of Rome, your next stop should be somewhere to eat or the Pantheon, depending on the order you've chosen. We show you how to do a DIY walking tour of Rome in the video below or see the DIY Rome itinerary. Check out the best restaurants near Piazza Navona.
Not ready to book a tour? Check out our Rome Guide for more info.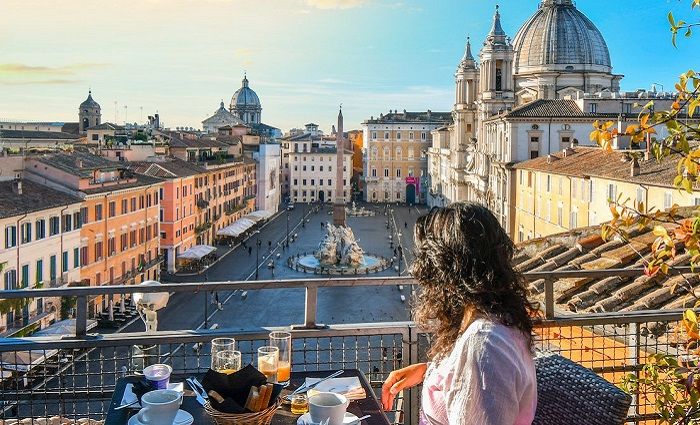 Find the best places to stay
Where To Stay in Rome
Rome has a rich cultural history and many iconic landmarks to explore. Plan where to stay in the magnificent Eternal City in the best neighborhoods.