Thinking of visiting Pompeii from Rome? Good choice! It's one of the largest and best-preserved archeological sites on Earth. You literally walk around a beautifully preserved ancient Roman city. This is why about 2.5 million people visit it annually, but where is it and how do you visit? Here's everything you need to know about how to visit Pompeii from Rome.
---
Pro Tip: Planning your visit to Pompeii? Bookmark this post in your browser so you can easily find it when you're in the city. See our guide to Pompeii and the Amalfi Coast for more planning resources, our top Pompeii tours for a memorable trip, and what to see at Pompeii.
How To Visit Pompeii From Rome
A UNESCO World Heritage site, Pompeii is a massive archeological site of enormous value. After its discovery, almost 1500 years after the site was "flash frozen" by volcanic ash from the A.D. 79 eruption of Mt. Vesuvius, Pompeii has taught us limitless details about ancient Roman society. With over 2.5 million annual visitors, it's easy to see why it is a must-see attraction.
Visiting Pompeii makes for a wonderful day trip from Rome if you have the time. In this guide, find out everything you need to know about how to visit Pompeii from Rome. Here's what we'll cover:
What Is Pompeii?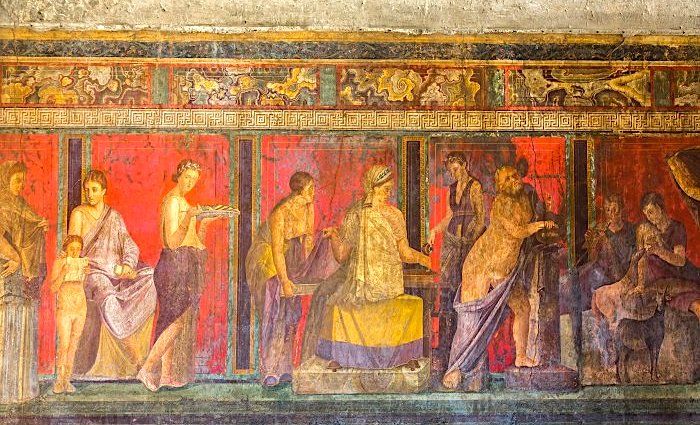 Pompeii was a booming port city in the Ancient Roman Empire. Its fate was forever changed on August 24th, A.D. 79 when the volcano Mt. Vesuvius erupted, shooting a 10-mile high mushroom cloud of ash and pumice into the stratosphere. Those who were not killed by the missiles of pumice raining down or the lava were wiped out by the toxic gases that overcame the area, essentially suffocating everyone.
When Vesuvius erupted, the volcanic ash and mud shielded the city's artefacts from destruction and preserved a huge amount of history. To this day, you can still see some of the bodies, clothes, and even places of business that have been preserved from the eruption. Ironically, this disastrous day for the Romans has created for the modern man an intimate look into what life was like in an ancient Roman city.
Can You Do a Day Trip To Pompeii From Rome?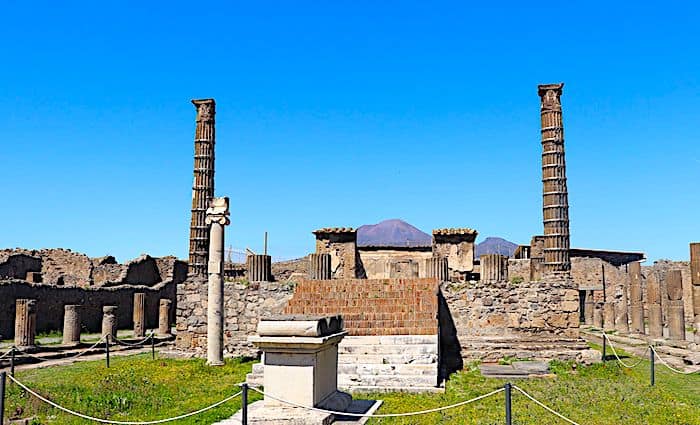 Short answer: Yes!
While many people visit Pompeii during their stay on the Amalfi Coast, a day trip is definitely feasible. I created a little graph below to help you decide which is the best option for you. You can also see our guide on whether or not a day trip to Pompeii from Rome is worth it for you.
| | | |
| --- | --- | --- |
| Car | Train | On Foot |
| Takes 3.5 hours | Takes around 2 hours | 51 hours |
| Complete freedom to come and go as you please. | There are many trains but still limited by time. | Complete freedom. |
| Chance of getting lost. | Hard to get lost with only one change. | Follow the sea. |
| Big chance of sitting in traffic. | No traffic problems. Even if late, it's usually not by much. | No Traffic! |
Both above options are viable—on foot is a joke, of course, just to lighten the mood. As you can see there are pros and cons to each option. It really depends on your own preference. Another alternative is to book a day trip tour and take advantage of the transport included. It takes all the difficulty out of getting to Pompeii, freeing up your time to sit back, relax, and enjoy the day from start to finish.
Not ready to book a tour? Check out our Pompeii and Amalfi Coast Guide for more resources.
How To Get To Pompeii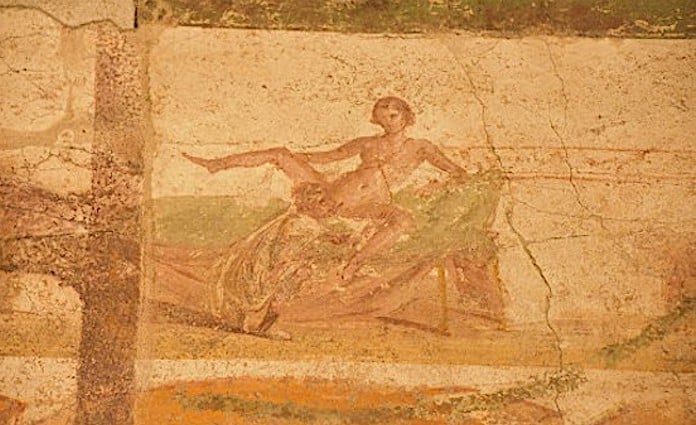 By Train:
The high-speed train from Rome to Naples runs every 20 minutes. You can take the train from Roma Termini station to Napoli Centrale in just over an hour. Book on Trenitalia or through Italo. They are two competing train companies. I prefer Italo.
From Napoli Centrale, you can switch to the local train to Pompeii. The local train, called the Circumvesuviana, is located down the corridor in what is technically Napoli Garibaldi Station.
Take the train towards Sorrento and you'll arrive at Pompei Scavi – Villa Dei Misteri station after about 20 minutes. The station is a matter of feet from the entrance to the archaeological area.
If you choose to take the train to Pompeii on your own but want skip-the-line tickets and a guided tour, check out our Skip the Line Pompeii Ruins Tour with Villa of Mysteries.
By Car:
For you adventurous souls who rented a car, it's quite easy. Get on the Grande Raccordo Anulare (GRA) and head onto the A1 highway to Naples. Once you get close to Naples, change to the Motorway A3 Napoli-Salerno (exit Pompeii ovest). Or just add the destination into your GPS maps app and hit the road.
Popular Tours from Rome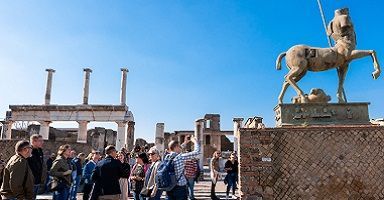 Best Seller
Unforgettable Rome Day Trip to Pompeii and Sorrento
This is the best way to see Pompeii and the Amalfi Coast from Rome. You'll take private transportation with our guide down to Pompeii where an archeologist will tour our small group through the ruins. Then we'll head over to Sorrento which is the tip of the Amalfi Coast before returning to Rome. Tickets, transportation, and guides are included in the price.





See prices and more info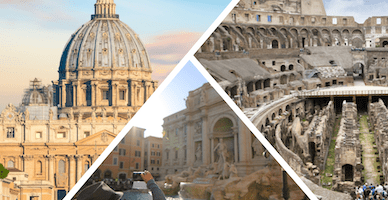 Best Seller
Rome in a Day Tour with Vatican, Sistine Chapel, Colosseum, and More!
Looking to get much of your sightseeing done in one day? This tour enters the Vatican an hour before opening and visits the Colosseum along with other sites like the Pantheon, Spanish Steps, and Trevi Fountain. All admissions and transportation are included as well as a licensed English-speaking guide!





See prices and more info
Not ready to book a tour? Check out our Rome Guide for more resources.
Pompeii Opening Hours and Tickets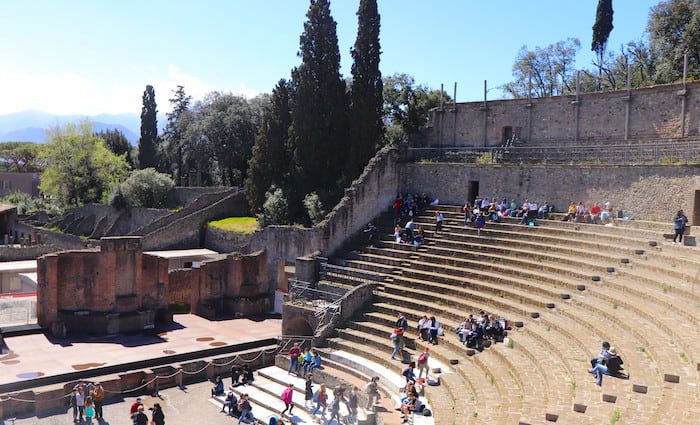 Most people who visit Pompeii come by train from Naples. The good thing is that the train station lets you off right in front of the entrance to the archeological park. From there, it is literally a 1-minute walk to the entrance and you can't miss it.
There are three entrances into the archeological park, but you'll most likely be entering from Porta Marina. This is the entrance next to the train station and the main parking area. This is also the main ticket desk, so you can buy your ticket here and begin your adventure. You can easily purchase tickets directly at the ticket counter.
Opening Hours:
Open daily, from April to October, 9 am – 7 pm (last entrance is 5:30 pm); from November to March, 9 am – 5 pm (last entrance is 3:30 pm)
Tickets:
Adult Full: €18
Reduced: €2 (EU citizens aged 18-25 years old)
FAQ: Visiting Pompeii From Rome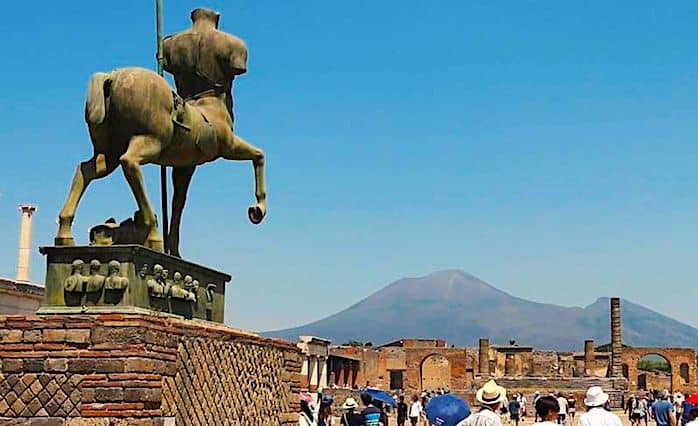 Here is a list of the most frequently asked questions I get and some quick answers.
| | |
| --- | --- |
| How long should I spend in Pompeii? | I suggest a minimum of 2 hours. If you really like Ancient Rome, maybe 4-5 hours. |
| How much is a train ticket from Rome to Pompeii? | This really depends on the time of day and time of year. Calculate around €60 round trip per person. |
| Is there an entrance fee to Pompeii? | Yes, see above for all info about admissions. |
| Is there a direct train from Rome to Pompeii? | No. You take a fast train to Naples, then a local train (Circumvesuviana) from Naples train station to Pompeii. |
Not ready to book a tour? Check out our Pompeii and Amalfi Coast Guide for more resources.
Places To Eat Near Pompeii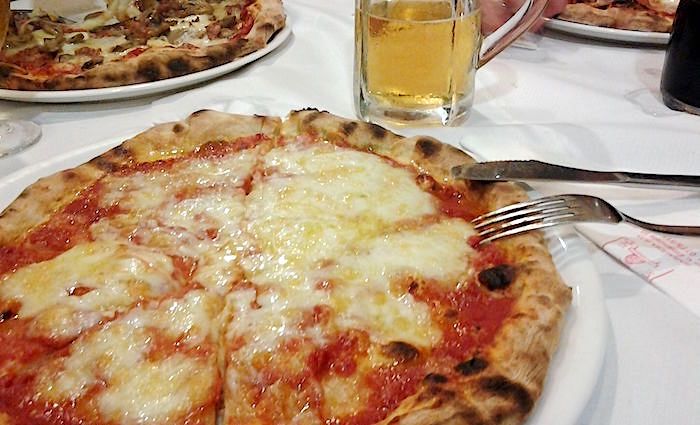 Your destination is an archeological site, so you won't find any upscale restaurants nearby. However, I have listed two places where you can grab a bite for lunch before heading back to Rome.
Autogrill Cafetteria: € | Good Bufalino—Calling it a cafeteria is a stretch, but it is the only option inside the archeological park where you can get some refreshments. It is located behind the Temple of Jupiter.
Bar Sgambati: € | Wi-Fi—This is the Bar/Restaurant/Pizzeria right next to the Pompeii train station. The food and prices are average I would say, but it's your best bet to get something to eat in the area before or after your trip to the archeological site.