As the sun sets on the Eternal City, something magical happens. The terracotta and burnt orange palazzi take on ashy, inky hues. The streetlights awaken, their glow illuminating Rome's ancient ruins. Bars and restaurants prepare for the evening crowds and people of all ages venture outdoors to shake off the day's work and socialize. Rome offers abundant opportunities to enjoy art, history, culture and great food – night-time is no exception. Here are some of our favorite ways to spend a night in Rome.
---
Night-Time Walks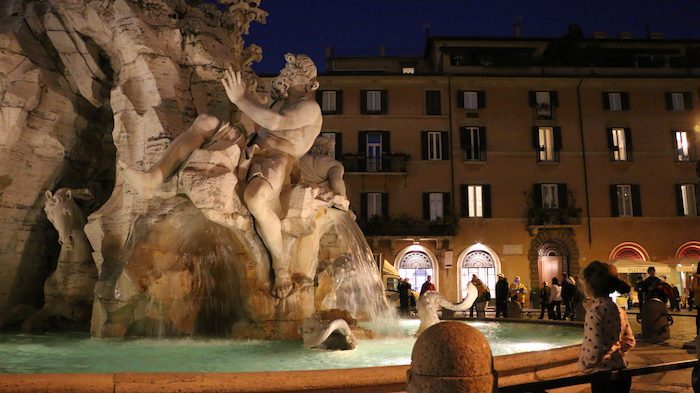 Rome's monuments are impressive during the day, but at night they take on an entirely new persona. Make the Trevi Fountain your first place to visit and you'll see what we mean. Walking through Rome at night, when it's cooler outside, is often a more pleasant experience than covering the same ground during the hot day. Stick to the historical center for a night-time walk packed with the best sightseeing in Rome.
From the Pantheon, one of Rome's most awe-inspiring ancient monuments, it's a short walk to Piazza Navona. Take a seat at Bernini's masterpiece, the Fountain of the Four Rivers, and enjoy the scene as local artists sell their creations and buskers' voices fill the air. Head towards the river to see the imposing Castel Sant'Angelo and end your evening at St. Peter's Square to admire more of Bernini's handiwork.
---
Rooftop Bars
As the city of seven hills, Rome boasts a number of scenic spots with spectacular views. So, as dusk approaches, get yourself to a rooftop bar. For the best view of St. Peter's and the Vatican head to Les Etoiles Rooftop Garden, at the Hotel Atlante Star. The elegant setting, decorated with flowers and twinkly fairy lights, makes it a popular spot for couples looking for romance.
Plus, the prices here are reasonable, which attracts both tourists and locals alike. We much prefer to lounge here on a balmy summer evening, but should you visit in cooler months because blankets are provided to keep out the chill. If this is your kind of thing, make sure to check out our recommended lists of Rooftop Bars near the Colosseum and Rooftop Bars near the Vatican. The Rooftop Guide offer some cool suggestions for Rooftop bars in Rome.
---
Take a Colosseum Night Tour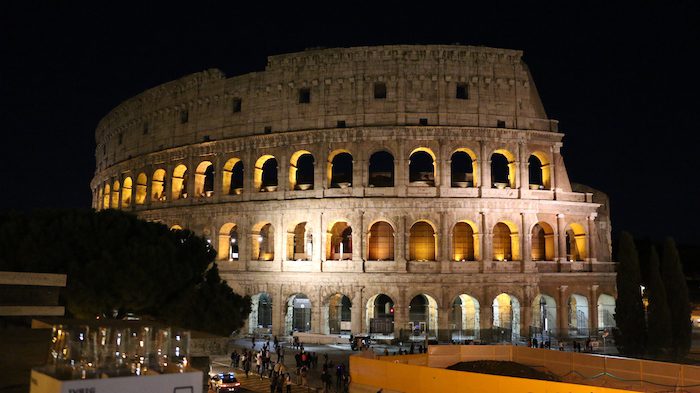 Rome's most iconic monument, the Colosseum, is an absolute must-see. The almost 2000-year-old amphitheater, the largest ever built, fascinates over 6.5 million visitors a year with its bloody history. If you don't feel like sharing your experience with millions of other people, take a Colosseum night tour. The VIP Colosseum at Night Tour is not just a way to explore the monument without the crowds (or the heat!), it also includes access to restricted areas.
After the gates are closed to the general public, you'll be whisked inside and taken down to the hypogeum. This underground level, complete with cells, tunnels and trap doors, is where gladiators and wild animals once awaited their grisly fate. Under moonlight, you'll also visit the Arena Floor. Be sure to ask your guide what life was really like in these ancient times, they have plenty of stories to regale you with.
---
Outdoor Cinema
With the arrival of long, warm and most importantly dry summer nights, open-air cinemas pop up across Rome. From summer blockbusters to cult classics and Italian titles you pretend you've already seen, there's something for everyone. L'Isola del Cinema Film Festival on Tiber Island begins in June and continues through September. Focusing on independent films across a range of genres, the films include both English and Italian language screenings. Across the river, the free Festival Trastevere Rione del Cinema sets up camp in Piazza San Cosimato all of June and July. There's also the Casa del Cinema in the Villa Borghese. Entrance is free but places are limited, so don't be late. As with all our suggestions, double-check the showings and info before you go.
---
Hit Up a Speakeasy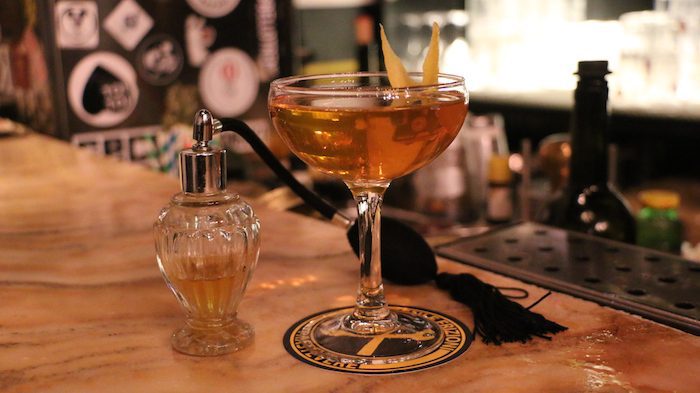 Speakeasies are hidden behind the most ordinary-looking doors in Rome. The most famous of these joints, The Jerry Thomas Project, started the underground bar trend when it opened in 2010. Both reservations and a password are required, but make it through the door and you'll be transported to the roaring twenties. Make yourself comfortable on a Chesterfield leather sofa while the bartender prepares your favorite tipple.
For a similar speakeasy vibe that doesn't take itself too seriously, Spirito in Pigneto is the place to go. If you forget to book online beforehand, pick up the retro telephone in the sandwich shop next door and, space providing, the bar staff will happily welcome you inside. Other options include Niji in Trastevere, the Race Club near the Colosseum and Club Derrière near Piazza Navona.
---
Discover More
Don't forget to follow us on Facebook, Twitter, Instagram and YouTube!