Rome has been one of the world's most desirable destinations for over 2,000 years and counting. Much of its allure is due to its many layers, which can be peeled back like a beautiful rose. With so much to explore, you might ask: Is it worth it to take tours in Rome or should I try to explore it on my own? Read on to find out.
---
Pro Tip: Bookmarks are the key to organizing a great trip. Bookmark this post in a "Rome" folder in your browser. This way you can circle back to it when you're traveling. Also, check out our dedicated guide to planning your visit to Rome, which has everything you'll need, and our top-rated Rome tours.
Are Rome Tours Worth It?
Short answer: Yes! Going on tours in Rome is definitely worth it. It's also totally possible to explore on your own. Let's explore why…
We looked at our customer travel trends and were blown away by the results. We found that 27.3% of trans-Atlantic travelers going to Rome for the first time come back to Rome within 5 years! And 43.9% of our European customers going to Rome for the first time also return within 5 years. Why?
Rome has food, culture, history, charm, and lots to do! People want to go back and experience all that the Eternal City has to offer. Then again, maybe it's just that they fell in love with Rome's iconic sites.
How do we know this? Our return travelers often re-book the same tours on their second trip since they loved the guided experience the first time and want to re-live it or share it with others.
So, should you book tours or explore on your own?
Definitely do both. The advantage of small group tours is that you get access to these sites earlier in the morning when it's cooler. Then, you have free time to eat a delicious Roman pizza or trapizzino and explore the streets of this ancient city as the evening rolls into night.
Exploring on your own and getting lost is great but should be done by design as not all areas of Rome are equal. Consider reading through our online guidebook for Rome to ensure you find great restaurants, free things to do, and attractions to visit.
What Are the Most Popular Tours in Rome?
So what do people want to do in Rome the most? We ran a poll on our Instagram @thetourguy and asked that question to over 200 people and here's what they picked.
The results are in and—no surprise—people go to Rome to eat pasta above all else! That said, seeing history is a close second and it makes a lot of sense since the city has been inhabited for 3,000 years. Think: cobblestones, catacombs, and Colosseum.
Today's city is filled with many of the very same monuments that you would have seen in Rome when Jesus Christ was alive. This incredible step back in time is very much the reason why people come to Rome over and over—and food is an amazing bonus.
The Vatican is the most visited monument in Rome and the fourth-most visited museum on Earth according to Statista.com. It usually has more than 6 million visitors each year. That means lots of crowds to plan around, and the best way is to skip the line with a tour guide. Plus they'll help you navigate the best areas of the 9 miles of exhibits to save your feet!
The museum is full of electrifying masterpieces by the likes of da Vinci, Michelangelo, Raphael, Bernini, and even ancient works that are 2,000 years old! Vatican tours are our most popular tour in Europe and widely recommended by travelers as you'll see from the reviews.
On my first visit to the Vatican, I did not take a tour and I remember speeding through rooms on a mad dash to see the Sistine Chapel. A few years later, on my second visit, I took a tour and realized I was walking by works from Italian masters like Raphael!
Not ready to book a tour? Check out our best Vatican tours to take and why.
The Colosseum comes in at a close second after the Vatican. This ancient amphitheater normally receives over six million visitors per year. It is an incredible monument and the symbol of Rome. Visitors also gain access to the Palatine Hill and Roman Forum when visiting the Colosseum but you can read more about that in our how to visit articles.
There is a lot of misinformation surrounding this incredible monument so taking a tour is mission critical. Guides make it a lot better and we run small groups which average between 14 and 15 people. Definitely check out our Colosseum tours for more.
Not ready to book a tour? Check out our best Colosseum tours to take and why.
Food tours hit the scene in Rome as far back as 2010 and we've been running them since 2013. In fact, if a Rome food tour is on your list, then we have the perfect option: A walking food tour with a sit-down dinner in trendy Trastevere. Need we say more?
Ok, we will. Why not also look at a pasta-making class so you can channel your inner Italian chef and wow your friends and family when you go home? Food in Italy is second-to-none and you can learn why on that and any of our other food tours.
Not ready to book a tour? Check out our best Rome tours to take and why.
Ok, we know that Pompeii is not in Rome, but this famous city is a huge draw for anyone visiting the Eternal City. We have a Pompeii from Rome day trip with a stop in Sorrento that gives you the perfect chance to explore Pompeii (with a guide) and Sorrento (on your own).
It is definitely a long day, but you likely won't have a car in Rome, and there isn't much in the way of trains in southern Italy. So make it easy on yourself and let us take care of the details while you sit back and enjoy your day trip.
If you want a more private experience, we also created small group and private tours to Pompeii from Rome. For more inspiration, read more on Pompeii to plan your trip.
Not ready to book a tour? Find out if a Pompeii day trip from Rome is worth it.
A trip to Rome really ought to include a visit to the early burial sites of the Eternal City. They're intentionally placed outside the city along the famous Appian Way that still has original carriage wheel ruts in the street.
There are lots of catacombs and crypts that hold the bones of tens of thousands of Christians, popes, and others. Our tour visits the St. Callixtus catacombs and the Capuchin Crypts. The crypts are where you'll see ornamental displays of bones and skeletons.
So is it worth booking a tour? Well, the catacombs aren't in the center of Rome, which means they're tricky to get to. Leaving the logistics to a tour guide makes for an easy and informative experience in these eerie sites of ancient Rome. You can book a day or night tour of the catacombs, whichever is best for your schedule.
Not ready to book a tour? Find out how to visit the Rome Catacombs.
If you've been to Rome before, or you have an extra afternoon here, why not head to a super amazing museum that almost never has crowds? The Borghese Gallery or Galleria Borghese is one of Rome's premier museums and a personal favorite. The gallery is small but also only lets in a few hundred visitors for 2-hour time slots which makes it a fan favorite.
Beyond that, the gallery is—pound for pound—one of the greatest collections on Earth. It is highlighted by some of Bernini's most incredible sculptures including Apollo and Daphne. Sound familiar? Bernini also made the one-of-a-kind Baldacchino at St. Peter's Basilica! Oh, and he designed St. Peter's Square.
While the gallery may or may not be a must-visit for your first trip to Rome, it is definitely a museum you'll want to visit with a guide. We have a great private Borghese Gallery tour that is time tested and beloved by customers.
Not ready to book a tour? Find out how to visit the Borghese Gallery.
Rome is a walkable city, but you're going to need lots of water and stamina, plus some great walking shoes. Why not make it easier by letting our friendly, local tuk tuk driver zoom you through the city? It's the fastest (and most comfortable) way to see Rome's megamonuments—and everything in between—in a couple hours.
The tuk tuk is an electric vehicle so you can also have peace of mind if you're conscientious about green tourism. But we think you'll just love riding with your private group and your friendly driver who loves to talk about Rome and all her hidden treasures.
Not ready to book a tour? Check out our Rome Guide for more info.
If the Borghese Gallery is crowned by sculptures, the Barberini is its sister museum for paintings. Inside you'll find one of Raphael's most famous works of art which is La Fornarina. La Fornarina depicts a baker's daughter who posed for Raphael on a few occasions.
Raphael was well known for never sleeping alone and rarely with the same woman. Nevertheless, Margarita Luti is often recognized as the woman who stole his heart. Be sure to check out our private Barberini Gallery tour if you are visiting Rome on your second trip.
Not ready to book a tour? Check out our Rome Guide for more info.
Palazzo Altemps is one of my favorite and most personal galleries in Rome. It is a quiet escape from Rome and a beautiful collection of antiquities. Like most Roman galleries, this museum is the former home of a noble Roman family.
The Ludovico family were the final owners of this palace, which they eventually gifted it to the city of Rome. It was later converted into the museum you see today. The main event of the gallery is the cloister (featured right), the Ludovico Battle Sarcophagus, and the Suicidal Gaul.
This is a great gallery to explore on your own if you read up on it. You can also visit with a guide and see a few other nearby monuments. Our tour of Palazzo Altemps includes a deep exploration underneath Piazza Navona to the former Stadium of Domitian.
Yes, there is an ancient stadium under Piazza Navona. Don't miss it!
Not ready to book a tour? Check out our best Rome tours to take and why.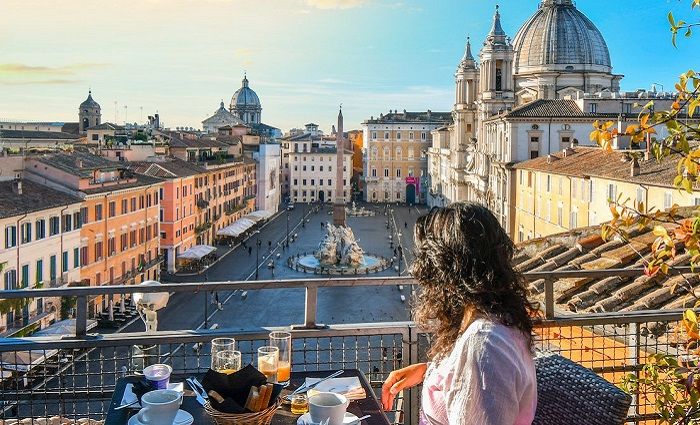 Find the best places to stay
Where To Stay in Rome
Rome has a rich cultural history and many iconic landmarks to explore. Plan where to stay in the magnificent Eternal City in the best neighborhoods.