Florence is a Tuscan city celebrated for its Renaissance architecture and artwork, world-renowned leather, and its gelato. Anyone can enjoy the cobblestone streets and architecture, but getting to know the real Florence can be difficult in just a few days. That's why we put together this helpful weekend getaway itinerary. Here's how to spend three days in Florence!
---
Pro Tip: It's easier to organize your trip when you have all your resources in one place. Create a browser folder and bookmark this post and our dedicated guide to Florence to help you plan your trip. Looking for the best way to see Florence and understand its rich history? Then you won't want to miss our popular tours in Florence.
How To Spend Three Days in Florence
Florence is the ultimate Renaissance city. It's where the Medici family famously ruled, where artists and writers developed their ideas and talents, and where one of the world's most famous statues can be found. It also happens to be in the heart of Tuscany, which has long been a land of rolling hills and enchanting vineyards and farms.
A weekend in Florence is an experience not soon forgotten. However, with so much to do and see, it can be hard to decide how to spend three days in Florence. In this detailed three-day itinerary for visiting Florence, you'll explore the most important places in the city and eat delicious Florentine food and wine.
Not ready to book a tour? Check out the best Florence tours to take and why.
Day 1: Florence Itinerary
10 am—Arrival
This marks the beginning of your journey. Since you only have three days in Florence, we recommend booking a flight that lands early in the morning.
If you're flying from the US, we always recommend sleeping on the plane to avoid losing time on your trip. The Florence airport is small, which means there are sometimes delays in the morning, often due to the fog.
10:45 am—Head into Florence
There are quite a few ways to travel from the airport to your accommodation. Uber isn't available in Florence, but you won't need it because the city is quite small.
Other options such as buses and taxis are available as well. In addition, Florence recently built a tramway system from the airport to the city that costs just €1.50. This public transportation system will take passengers directly into the heart of Florence in just 20 minutes.
11:15 am—Arrive at Accommodation
Hotels and Airbnbs are both popular options when staying in Florence. Most Airbnbs in Florence are located in the city while hotels may be just outside it.
Many hotels offer shuttle services into the city to ensure visitors can effortlessly explore Florence. Check out our guide to where to stay in Florence for more info.
12 pm—Lunch on Via de'Neri
One of the most famous streets in the city's center, Via de'Neri offers visitors a myriad of delicious panino options.
Many tourists venture to All'antico Vinaio, an must-try sandwich shop with impeccable panino options. It may also be worth your time to grab a cappuccino for the busy day ahead!
12:30 pm—Ponte Vecchio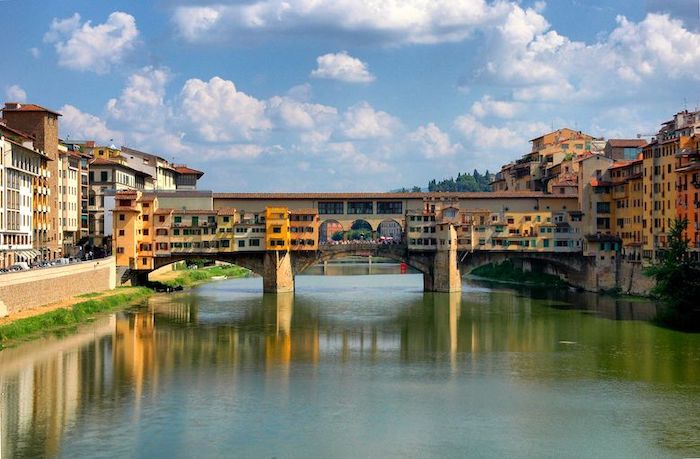 Since there's little seating on Via de'Neri, it's worth walking 3 minutes toward Fiume Arno, the main waterway from Florence to Pisa. Here, you can sit in the sun on the edge of the river and people-watch.
From the river, you can walk toward Ponte Vecchio, the oldest Florentine bridge dating all the way back to the 10th century. It became popular for butcher shops and goldsmiths in the 16th century.
Today, the bridge is one of the most famous landmarks—a connector to both sides of the city. There are boutiques filled with souvenir sellers and jewelers, so plan some time to explore here on your first day in Florence.
Not ready to book a tour? Check out the best Florence tours to take and why.
3 pm—Explore the Oltrarno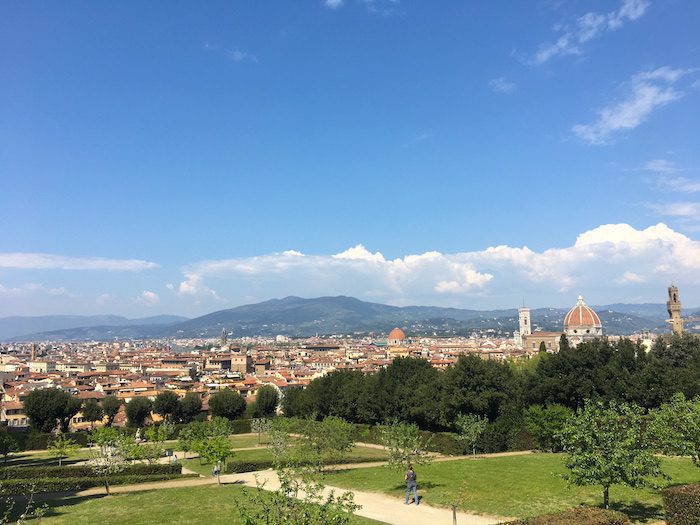 Cross over the Ponte Vecchio and explore the local neighborhoods in what many people call the "other side of Florence." This side of Florence is widely known as the less touristy side, but there are still beautiful landmarks to see.
Explore Palazzo Pitti and the Boboli Gardens for the perfect dose of Italian history and outdoor exploring. You can also visit the Bardini Gardens for its beautiful Tuscan landscape.
6:30 pm—Aperitivo
Aperitivo—otherwise known as Italian happy hour—is an ordinary component of the Italian lifestyle. My favorite place is Sei Divino. They offer an abundance of meats, cheeses, and classic Italian cuisines paired with wine and aperitif that you won't want to miss. Even if you're tired from the day, it's worth pampering yourself as the Italians do.
8 pm—Dinner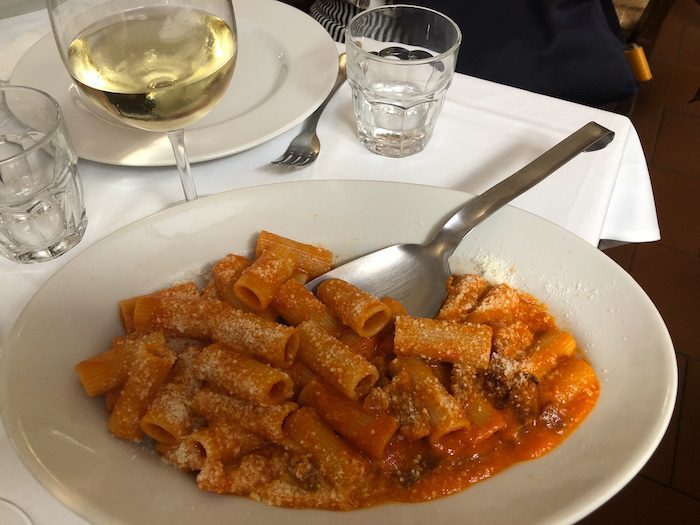 Wherever you eat in Florence, we recommend making a reservation to ensure you and your group can be accommodated. Listed below are two exquisite options.
La Giostra is situated five minutes away from the Duomo. This restaurant hosts the perfect mix of an elegant ambiance and unbelievable flavors. With hundreds of celebrity pictures on the walls and string lights hanging from the ceiling, this establishment is filled with luxury. I would make a reservation well in advance since it can fill up quickly.
Trattoria Zà Zà is your place if you're looking for more of a laid-back vibe with endless authentic Florentine options. From homemade truffle sauce to their special cheesecake, this establishment can please everyone looking to try something different off the menu.
If you'd like even more options, check out our guide to more tasty Florence restaurants.
10 pm—Gelato Time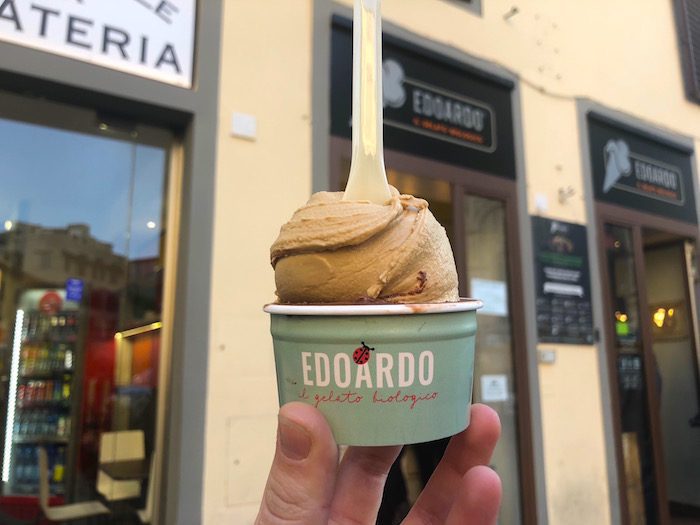 If you're not too full from your meal, you have to stop at Edoardo—famous for their creamy gelato and impeccable customer service. From cappuccino to pistachio, Edoardo provides the best choices to make sure your night ends sweetly.
When spending a weekend in Florence, plan to eat as much gelato as possible since most believe Florence to be the place where gelato was invented. We promise it will be worth every calorie.
Day 2: Florence Itinerary
6:30 am—Piazzale Michelangelo
You might not be an early bird, but watching the sunrise from Piazzale Michelangelo is worth the wake-up call. This vantage point gives you views of the entire city of Florence.
Enjoying the views at sunrise amidst the sleeping Renaissance city is priceless. There's a tiny shop at the top of the hill, so grab a cappuccino while you're up there!
8 am—Piazza della Signoria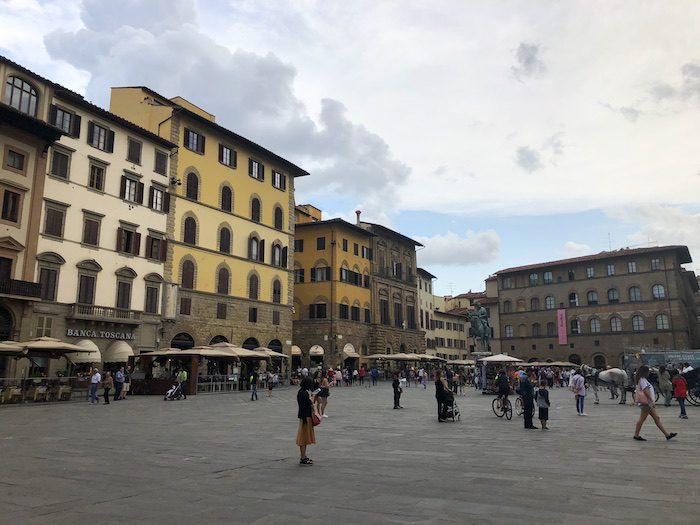 Walk down the hill and back into the center of the city toward Piazza della Signoria, the main square next to Palazzo Vecchio.
Here you'll encounter rich political history, beautiful Renaissance statues, and the hustle of early-morning locals. Spend some time taking in the nine statues situated in the square, including a replica of Michelangelo's David and the newly-restored Fountain of Neptune.
9 am—Accademia Gallery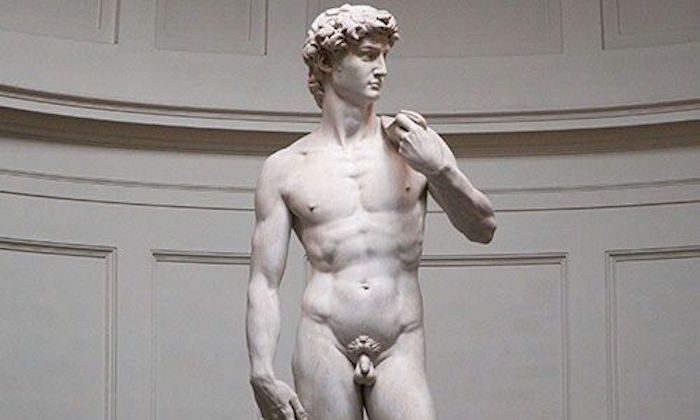 Our bestselling Florence tour includes a skip-the-line visit to the Accademia Gallery and then visits the Duomo, Ponte Vecchio, and other sites around Florence.
You want to maximize your three-day trip to Florence and booking a tour is one of the best ways to do that. Not to mention, you'll learn so much more from your local guide than you would on your own.
Although most notable for displaying Michelangelo's David, this gallery is home to many other Renaissance exhibits and artwork important to the social, political, and economic movements of 14th-century Florence.
Not ready to book a tour? Check out our article on the best Florence tours to take and why.
11 am—Visit the Duomo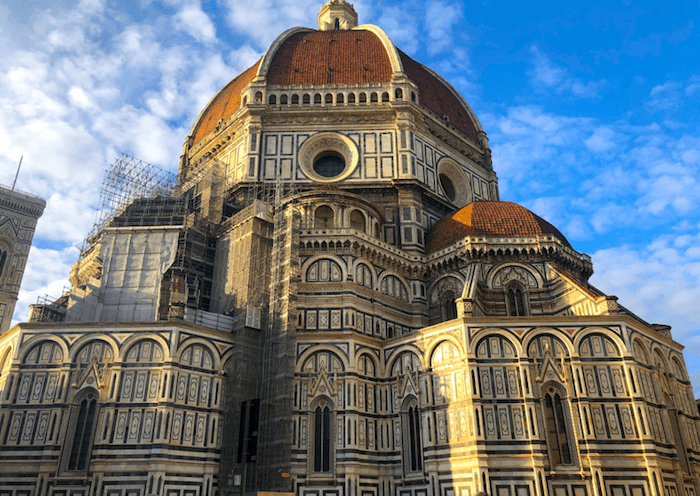 While on your Accademia Gallery and Florence tour, you'll then head to the Florence Duomo, which is the massive cathedral in the center of Florence.
On this tour, your guide will elaborate on the history of the creation of the Florence Duomo, Bell Tower, and Baptistery. You'll also learn how incredible the famous red dome actually is.
12 pm—San Lorenzo Market
Leather is Florence's most popular commodity, so you should spend some time becoming familiar with its smell and texture. The Leather Market, otherwise known as the outdoor San Lorenzo Market, houses hundreds of shops and authentic Florence leather designs. Enjoy shopping and learning more about the creation of leather!
The indoor market is known as the Central Market, which is the perfect home for all my fellow foodies out there traveling to Florence. This market offers hundreds of food stands with culinary delicacies. Eat some lunch and enjoy the bustling atmosphere before moving on.
1:30 pm—Uffizi Gallery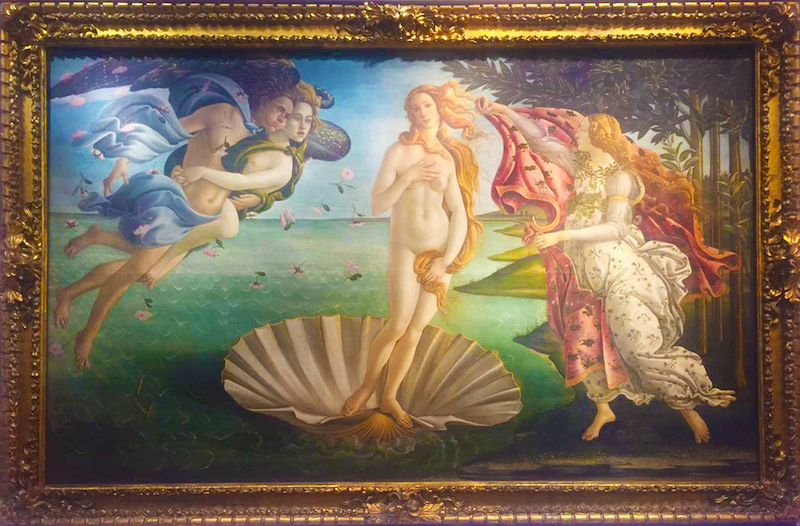 As one of the most renowned art museums in Florence, the Uffizi Gallery is located adjacent to the Piazza della Signoria, so it's quick and easy to find. This gallery is home to important Renaissance artists, such as Giotto, Cimabue, Leonardo da Vinci, and Michelangelo.
The best way to see the gallery, though, is through our Uffizi Gallery tour, which will allow you to skip the lines and gain valuable insight into the museum's masterpieces from an expert guide.
Not ready to book a tour? Find out if an Uffizi Gallery tour is worth it.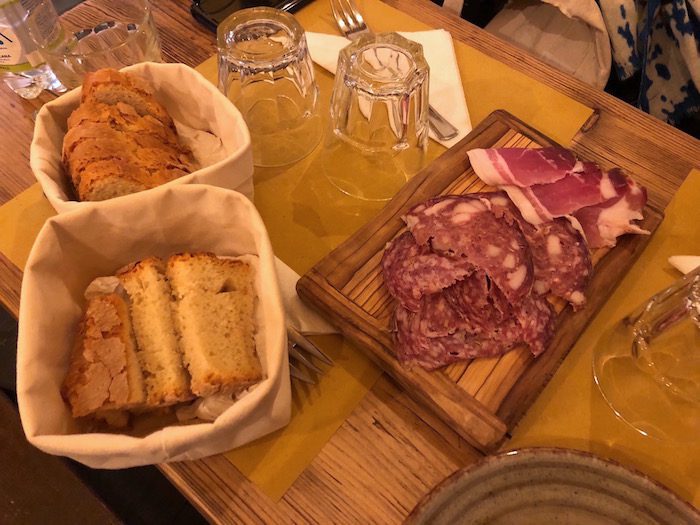 5 pm—Evening Food Tour
As part of your Florence itinerary, you'll want to book a food tour. Why? This 3-hour tour takes you on a journey through Florence's finest cuisines and is the perfect way to end your day.
From wine and truffles to local pasta recipes and creamy gelato, you'll taste everything Florence has to offer from some of the city's finest chefs.
Not ready to book a tour? Check out our Florence Guide for more info.
Popular Florence Tours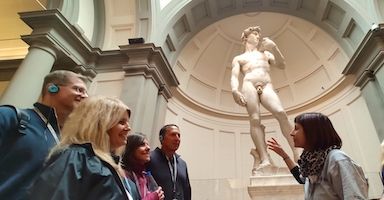 Best-Selling Tour
Florence Walking Tour with Statue of David
Michelangelo is considered the greatest Renaissance artist and the David statue is widely known as his masterpiece. Join our English-speaking guide as you skip the line at the Accademia Gallery to see David. Then venture out to see the center of Florence including the Duomo (outside), Baptistry Doors, leather market, and Ponte Vecchio. Admissions included.





See Prices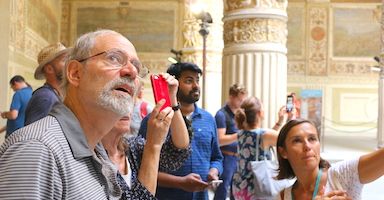 Top-Rated Tour
Skip the Line Uffizi Gallery Tour
The Uffizi Gallery is the most-visited museum in Florence for good reason. Join our licensed, English-speaking Uffizi guide for a journey through the Medician Renaissance. Learn all the stories behind the very art that brought our world out of the darkness as you look upon pieces like the Birth of Venus. All admissions included.





See Prices
Not ready to book a tour? Check out our article on the best Florence tours to take and why.
Day 3: Florence Itinerary
9 am—Light Breakfast
Italians aren't as keen on breakfast as Americans are, so don't expect to find a bacon, egg, and cheese sandwich at your nearest shop. Instead, munch on a cornetto (croissant) and sip on some freshly squeezed orange juice.
Every street in the city has a coffee shop, otherwise known as a bar, which means that you'll have no trouble finding your breakfast.
10 am—Santa Maria Novella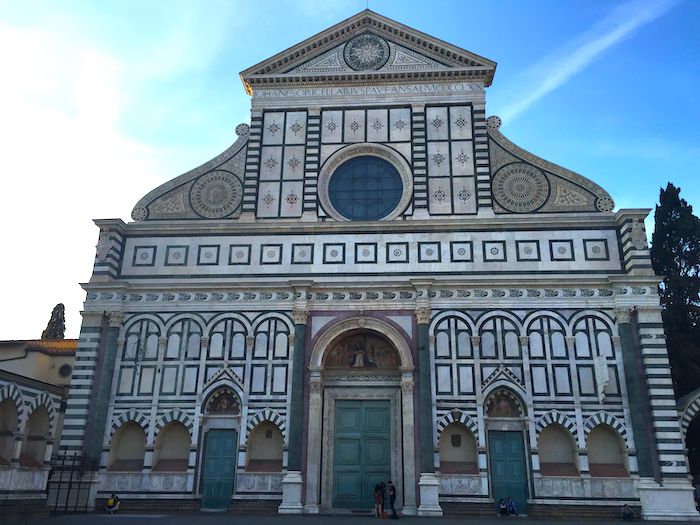 Italy is known for its ornate, grandiose churches, and Florence proudly carries that reputation as well. Santa Maria Novella is a Gothic-style church built in the 13th century by Leon Battista Alberti. His inspiration stemmed from Brunelleschi's modular, symmetric architecture.
Today, it remains one of the most important churches in Florence and houses exquisite artworks important to the development of the city. It's worth stopping to take photos to add to your collection of amazing places to see in Florence.
11:30 am—Medici Palace
Plan to shop on your walk back from Santa Maria Novella because there are authentic boutiques lining the cobblestone streets here. While walking, head toward the Medici Palace to discover the tension between politics and art in 15th-century Florence.
You can purchase a ticket to see the museums (€10 or less) and explore the beautiful art and architecture. The Medici family played a pivotal role in building Florence into what it is today.
1 pm—Lunch at La Fettunta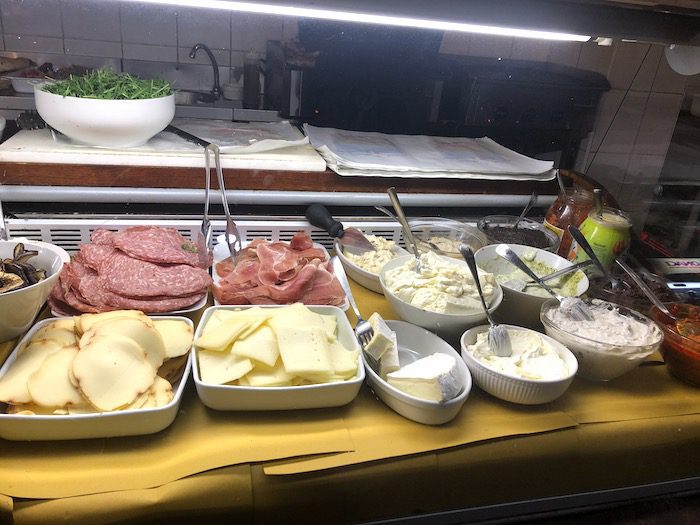 Although there is a myriad of places to eat lunch, I recommend venturing back to Via de'Neri and sitting down at La Fettunta.
From red and white wines to Porchetta and grilled vegetables, you can find everything authentically Italian at this quaint shop. Although, if you're in the mood for another panini, their store next door sells a range of delightful options.
2:30 pm—Gucci Gardens
Gucci's history stems from 1920s Florence when Guccio Gucci revolutionized the meaning of luggage with his red, green, and gold creation. In 2011, Florence opened the first Gucci Museum to display the most admired pieces of his collection from historical luggage to 21st-century clothing.
Spend some time enjoying the history and iconic fashion pieces. After this visit, give yourself time to head to the airport and savor these three days in Florence. Safe travels home!
Not ready to book a tour? Check out our article on the best Florence tours to take and why.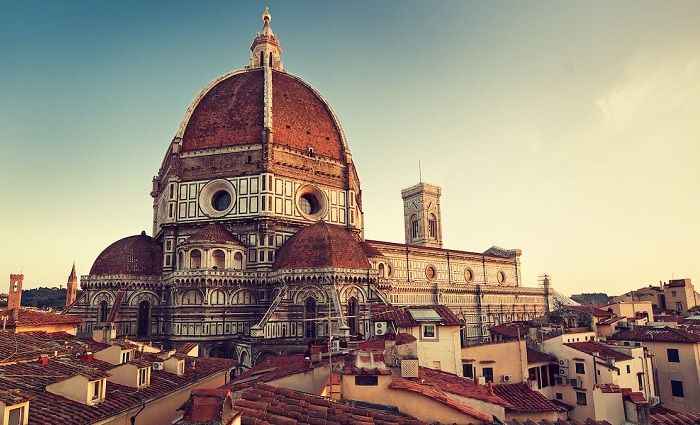 Find the best places to stay
Where To Stay in Florence
Florence has a small historical center packed with iconic landmarks to explore. Plan where to stay in the best neighborhoods in this beautiful city.