Naming the best Roman Emperor is like naming the most romantic city, or the best singer. It's completely subjective, so it's better to break it down into the top ten. This rating system is based on these Roman Emperors' good deeds, and on the favorable impact they had on the Empire.  Ready? Here we go!
---
10. Septimius Severus ( AD 145- AD 211)

The first Roman Emperor from Africa (modern day Libya), Septimius Severus, rose to power during the unstable period of the late 2nd century. In this era, assassinations and coups were quite normal.
His main claim to fame was re-establishing Roman control over Parthia (modern day Iran) and having a huge Triumphal arch erected in his honor; you can still see it today in the Roman Forum.
9. Aurelian (AD 214 – AD 275)
One of the lesser-known Emperors, but still one of the greats, Aurelian took over as Emperor in the late 3rd Century A.D. Besides his great military conquests, he is most remembered for the building of the Aurelian Wall. It's the wall that still surrounds most of Rome.
8. Vespasian (AD 9 – AD 79)
Becoming Emperor after the crazy year of '68 when three emperors ruled and were disposed in the same year, this stoic man was all about creating order. He was so eager to collect money in taxes, he imposed a tax on the urine collectors and for saying "money doesn't smell". Oh yeah, he also built that iconic structure we all know as the Colosseum.
7. Constantine (AD 280- AD 337)
Constantine saw a vision in the sky one night before a decisive battle. A vision that would transform the world as we know it, it was later attributed to a particular religion.
As a result of his victory in the ensuing battle, he legalized this once out-lawed and fringe religion. We know it today as Christianity!
6. Nerva (AD 30 – AD 98)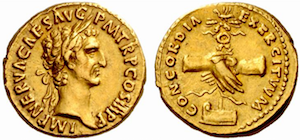 Similar to Vespasian, he inherited an Empire in chaos after the wacko emperor, Domitian filled the empire with fear. He revised the taxes in favor of the poor, but his best deed as Emperor was to adopt Trajan and name him successor.
This was important because he wasn't his blood relative and in doing so stopped the family dynasty and set up a golden age in Rome that would last almost 100 years.
5. Antonino Pio (AD 86 – AD 161)
Elected Emperor at the age of 51, he ruled until he was 74 years old. An amazingly old age at the time, his reign was quiet. This is why he ranks at number five.
With no turmoil, no costly war and no famous coup d'etat,  Antonino Pio was Just a good man running the Roman Empire. And remember, the Roman Empire constituted most of Western Civilization at the time.
4. Marcus Aurelius (AD 121 – AD 180)
He spent most of his career as emperor on the military trail in Germania (located around modern-day Germany today). While his most famous claim to fame is immortalized in the movie "Gladiator", he was also an efficient ruler and administrator.
However, his only downfall was choosing his son Commodus as the next emperor. From there,  it all went downhill.
3. Octavian, AKA Augustus (63 B.C. – A.D. 14)

Now pretty much all the Emperors were called Augustus, but this was the first one! He bridged the period between the waning days of the Republic and the beginning of the glory days of the Empire.
He started the Julio-Claudian Dynasty and is responsible for the PAX ROMANA – Peace throughout the Roman Empire. Ironically, it's believed that he was poisoned to death at the hands of his wife.
2. Hadrian (A.D. 76 – A.D. 138)
Of all the best Roman Emperors, none is more represented in the ruins of the once-powerful Roman Empire. We have Hadrian's Wall in England, Hadrian's Temple in Ephesus, Hadrians Arch in Athens and Hadrians Tomb and Temple in Rome. In addition, the Pantheon in Rome is also attributed to Hadrian.
He loved traveling around the Empire, was a huge greco-chile and is known for loving a Bithynian Greek youth named Antinous. When Antinous mysteriously drowned in the Nile, he made him a god and built a city after him called Antinopolis. If that's not love, nothing is!
1. Trajan (A.D. 52- A.D. 117)

The first emperor born outside of Italy (in modern-day Spain), Trajan was beloved. The military adored for his shared hardships with them, ordinary Romans respected him for his generous welfare program and the Senate respected him for the consideration he showed them.
He enlarged the Roman Empire by conquering Dacia (modern-day Romania), Mesopotamia (modern-day Iraq) and Parthia (modern-day Iran).
Upon his death, his ashes were put in an urn in his column. Trajan's Column still stands proudly in the center of Rome. A testament to his fame, even two centuries after his death, senators would bless a new emperor by saying  "More fortunate than Augustus, and better than Trajan". Enough said.
---
I Want More Italy!
Check out our YouTube video and step-by-step guide about how to do Rome in a Day. If you'd rather let us guide you, check out our Rome tours.
Not sure where to stay in Rome? Read this guide!