It's an hour after sunrise and you're surrounded by tens of thousands of people. Everyone is nervous – you can cut the tension with a knife. All of a sudden, the entire amphitheater roars to life and the gladiators enter the Arena. A day of games at the Colosseum in Ancient Rome is about to begin. Today, on average, seven million people a year visit the iconic Roman Colosseum. In this guide, we will answer the popular question, "why was the Colosseum built?"
---
When Was the Colosseum Built?
While it's easy to romanticize history, life in Ancient Rome was anything but romantic. Life, for the common man, was hard. They worked from sun up to sun down and the idea of weekends didn't exist. The Roman emperors understood this.
They also knew that without an outlet for their frustration, the citizens of Rome would revolt. Hence the expression: "Give them Bread and Circuses". By setting up a welfare system and providing entertainment, people would be too distracted to start an uprising.
Roman Colosseum Facts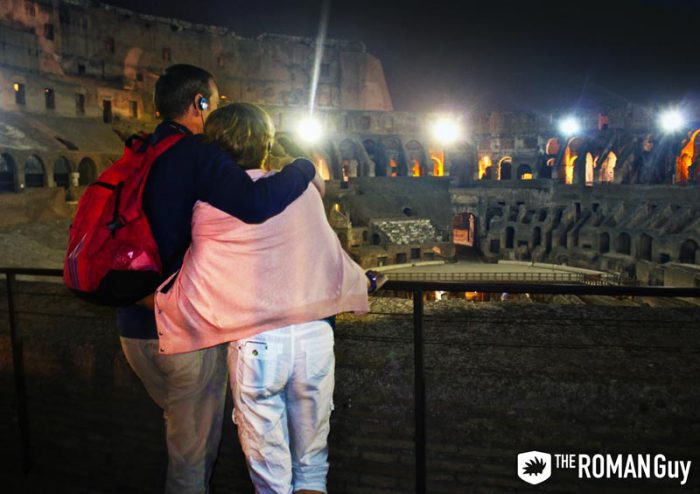 Vespasian became Roman Emperor in 69 A.D. After Emperor Nero's assassination, a year of civil unrest followed. As Rome's new emperor, the key to Vespasian's success as a ruler would be stability. In other words, he needed to avoid uprisings by ensuring that his subjects were content.
Vespasian wasn't short on money due to his successful quelling of the revolt in Judea. He believed that if he built a massive stadium to host the gladiatorial games, the public would be on his side.
For this reason, he ordered the construction of the Flavian Amphitheater in 72 A.D. Nowadays, we call it the Colosseum.
Who Built the Colosseum?
We don't know the Roman Colosseum's architect was or the number of people involved in its construction. However, it's safe to assume that tens of thousands of slaves were involved in building such a massive structure. How long did it take to build the Colosseum?
What we do know is, it only took eight years to build. So, what is the Colosseum made of? It was constructed using a combination of concrete, brick and travertine stone. How old is the Colosseum? The amphitheater is 2,000 years old and going strong.
What was the Colosseum used for?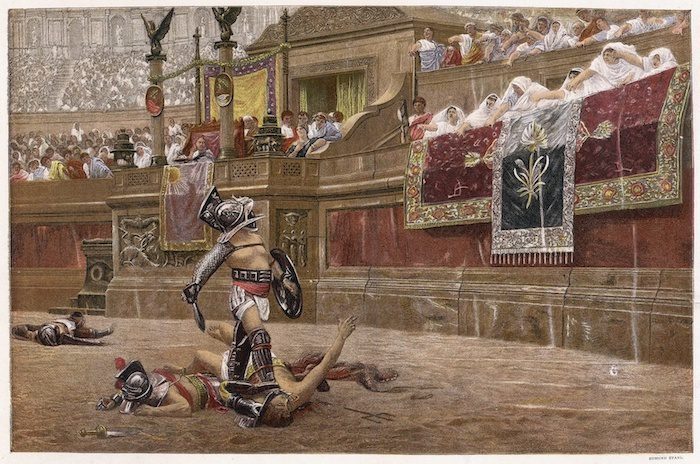 Mainly, the Colosseum was used for gladiatorial contests. These contests took on many forms; from animal hunts, to group battles to one-on-one competitions. In addition, the arena witnessed public executions. Trained for years in Ludis (gladiator schools), these fighters duked it out for the entertainment of Roman citizens. While it seems cruel to our modern minds, gladiators were worshiped as idols. As a testament to their popularity, the games went on for over three hundred years.
Where is the Colosseum?
The Roman Colosseum is located in Piazza del Colosseo. You can get there by using:
Metro line B

: Colosseo Stop.

Tram 3: 

Stops right in front of the Colosseum.

Tram 8:

 The last stop is Piazza Venezia. From there, walk 10 minutes to the Colosseum.

Bus:

75, 81, 673, 175, 204.

Walking: depending on where you're staying in Rome

Colosseum Hours
January 2nd to February 15th: 8:30 a.m.-4.30 p.m., Last entrance 3:30 p.m.
February 16th to March 15th: 8:30 a.m. – 5 p.m., Last entrance 4 p.m.
March 16th to March 31st: 8:30 – 5:30 p.m., Last entrance 4:30 p.m.
April 1st to August 31st: 8:30 a.m. – 7:15 p.m., Last entrance 6.15 p.m.
September 1st to September 30th: 8:30 a.m. – 7 p.m., Last entrance 6 p.m.
October 1st to October 27th: 8:30 a.m. – 6.30 p.m., Last entrance 5:30p.m.
October 28th to December 31st: 8:30 a.m. – 4:30 p.m., Last entrance 3:30 p.m.
Colosseum CLOSED: January 1st and December 25th
Ticket office: Closes one hour before closing time
---
I Want More Italy!