Asking who fought in the Colosseum might seem like a stupid question. Gladiators, of course! But while they were the arena's most famous participants, they were actually just one of many unfortunate fighters to take on ancient Rome's bloodiest challenge. So, what else happened at the Colosseum and why?
---
Famous Roman Gladiators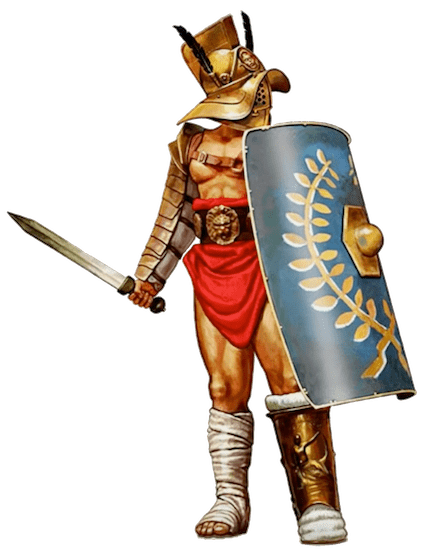 Gladiators were usually slaves, criminals, or prisoners of war—the Romans knew that the best way to orchestrate a fight to the death was to use men who have nothing to lose. Occasionally, the gladiators were able to fight for their freedom and there were some people, including women, who actually volunteered, either to prove their military expertise or lured by financial gain.
Spiculus
Popular gladiators could obtain a kind of celebrity status in ancient Rome, attracting fame and glory that they could have only dreamed of in their past life as criminals. One of the most famous gladiators who lived in the first century was Spiculus, who managed to capture the attention of the notorious Roman emperor Nero.
Spiculus won battles against many opponents and Nero was so impressed by his skill that he rewarded him with property and gold. In fact, when he was overthrown in AD 68 , Nero even said he wanted to die a swift death at Spiculus' hand.
Spartacus
Spartacus is another gladiator whose name went down in the history books. Originally a Thracian soldier, he was captured by the Romans and then sold as a slave to a gladiator school owner. Unfortunately for him, however, Spartacus turned out to be brighter than he looked.
He helped to mastermind a rebellion that ended with about 70 gladiators escaping from the gladiator school, all of them armed with makeshift weapons. They were a formidable and skillful fighting force that managed to defeat the Roman legions sent to capture them on six different occasions.
Gladiator Weapons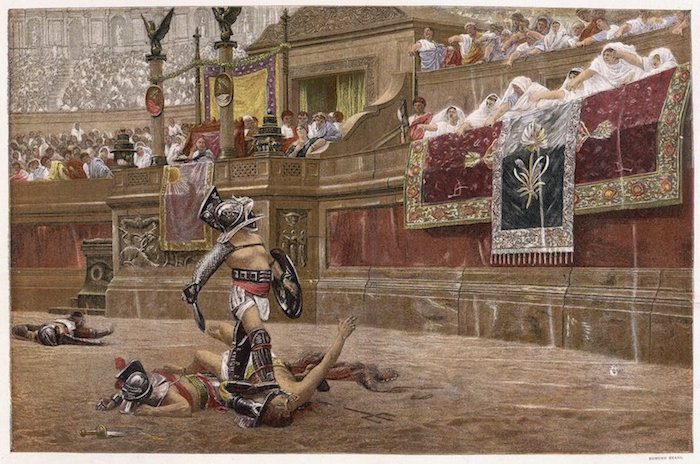 The Romans expected 'fair play' in the gladiatorial combats, so the pairing of adversaries was important. Gladiator pairs were decided based on the weapons each fighter favored.  
Gladiators were divided into classes depending on the weapons that they used. There were approximately 30 different types of gladiators who specialized in using specific weapons, armor and shields. The gladiator weapons were then linked with the armor that they were given. This included the shields, some of which were used as weapons against their opponents.
For example, Myrmillo gladiators wore a fish-like helmet and had an oblong shield and a sword, but Retiarius fighters fought with a net, brandishing either a trident or a dagger. Sagittarius men fought with a bow and arrow, and Thrax were armed with a curved sword and a small shield.
Gladiators were matched with complementary fighters from a different class. For example, one gladiator might have freedom of movement but with little to no armour, whereas the gladiator matched against him might be more heavily armed and protected but restricted in his movements by his armour.
Bestiarii and Venatores
Aside from gladiators, other participants that were commonly seen in the arena were animals—the more exotic, the better. The men that fought them were hunters called venatores. Herds of wild animals were let loose into the arena and were slaughtered by archers, and even emperors would get involved in these kinds of events to demonstrate their hunting prowess.
There were also those known as bestiarii, who also fought the animals, but without the relative safety that venatores enjoyed. Bestiarii were usually condemned criminals or prisoners of war, who stood very little chance of winning. These matches were designed to provide a spectacle for the bloodthirsty audience and give the animals a shot at winning!
However, if the bestiarii managed to make a name for themselves, they could really win the audience's interest. One particularly famous bestiarius called Carpophorus was instinctively gifted when it came to fighting wild animals, and frequently killed lions, bears, and leopards. His personal best involved slaying 20 beasts in a single battle!
Colosseum Animal Battles
Animals had a pretty rough time of it during the Roman era. In fact, the inauguration games in AD 81 at the Roman Colosseum lasted for 100 days and saw over 9,000 wild animals slaughtered. So many wild beasts were killed in the Colosseum and other Roman arenas that some exotic animals became almost extinct. For example, the Romans captured hippopotami from the River Nile in Egypt, but following the Roman era they virtually disappeared.
Aside from being placed in the ring with humans, the animals were often left to fight each other. Prior to the reign of Emperor Claudius, a few witnesses recalled a particularly gory battle staged between an elephant and an enraged rhinoceros which the former won after picking up a broken spear-point with its trunk and gouging the eyes out of its horned adversary.
Colosseum Naval Battles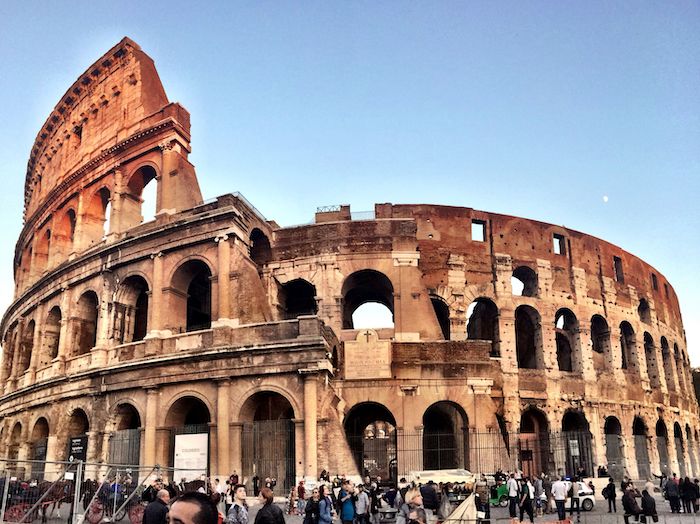 Staged ship battles were called naumachia and begun in 46 BC, when Rome threw a massive party for Julius Caesar, who had just made his triumphant return after defeating his rival, Pompey the Great. The very first naumachia was part of this celebration, in honor of his military efforts against Gaul and Egypt in 46 BC.
After hosting these in several large locations around Rome and its surrounding areas, Emperor Titus became the first to order a naumachia at the Colosseum. An impressive feat of Roman engineering, the Romans managed to fill the Colosseum up with enough water to float large boats. The event replicated the battle between Athens and Syracuse and there was even an artificial island made in the middle of the arena where the sailors landed to fight.
However, they were also less grandiose, and the audiences quickly lost interest—gladiator fights and other blood sports garnered more attention. Apparently, the incredible feat of engineering that allowed the Colosseum to fill up with water just didn't impress the Romans. After all, there was just nothing quite like watching a gory fight to the death!
Have you heard of the Emperor of Rome who fought in the Colosseum as a gladiator? Hear the story of Commodus, the mad king of Rome.
Hey, we sell tours too!
We love providing you with free content, but we'd love even more to welcome you on one of our guided Rome tours. Check out our best Colosseum tours and select which one works best for you. Your guide will be more than happy to delve into the gruesome details of the regular Colosseum fighters.
---
I Want More Italy!