In Italy, food is everything. If you want to soak up the local flavor of a city, you can't just sightsee—you have to eat like a local. Thanks to its location and history, seafood is king in this city. In fact, the island of Venice is even shaped like a fish. Make the most of your time in Venice and feast on these five traditional Venice foods, plus great places to eat them.
---
Pro Tip: Planning what to eat on your trip to Venice? Bookmark this post in your browser so you can easily find it when you're in the city. See our comprehensive guide to Venice for more planning resources, our top Venice tours for a memorable trip, and how to see Venice in a day.
The Origin of Traditional Venice Foods
Venice is literally built on the water, so not only is seafood widely available, but it's also of the highest quality. Many seafood dishes in Venice are influenced by Middle Eastern cuisine, due to the city's history of commercial trade.
Venetians were also seafarers. They often ate foods that preserved well, like baccalà (dried and salted cod), corn, potatoes, and rice. In this article, we've listed the five important traditional Venetian foods you have to try when you're in the city and restaurant recommendations for great places to get them. If you're looking for a quality foodie experience, check out our Venice food tour. You'll enjoy the most delicious local cuisine in the Floating City.
Cicchetti—Cheap and Tasty
Cicchetti, typical Venetian antipasti, are small plates or finger foods accompanied by a glass of wine or Spritz. Think Spanish tapas, but mostly uncommon fish mixed with aperitivo.
Cicchetti is a must in Venice, especially on a Venice food tour (a typical pub crawl for foodies). It might surprise you, but eating and drinking in Venice on a budget is actually quite easy. That's why we want to let you in on a secret: cicchetti.
These bites of Venetian tradition are both cheap and filling, ranging from about €1 to €3 per plate. The five foods listed below are popular examples of cicchetti. Don't forget, you're going to want to order an ombra di vino or five with your snack or lunch. It's a shot of simple fruity wine to go with your food.
Osteria al Portego is my absolute favorite place to eat, possibly in the world. Far away from S. Marco to remain authentic, this tiny little bar has fewer tables than food options. They serve table wine and are super cool.
My advice is to enjoy this place for what it is. Be generous as you experiment with Venetian cuisine and enjoy being in another country. It's possible not everything will be to your liking. For the best plates, ask the staff what you should eat and drink—trust them. Menus are for tourists.
Osteria al Portego: €€ | Traditional Cicchetti | Regional Wines—This is our favorite place to eat in Venice. It's off-the-beaten-track with authentic Venetian food.
Baccalà Mantecato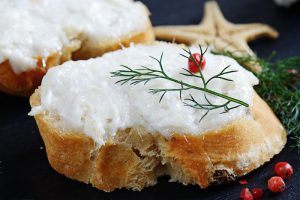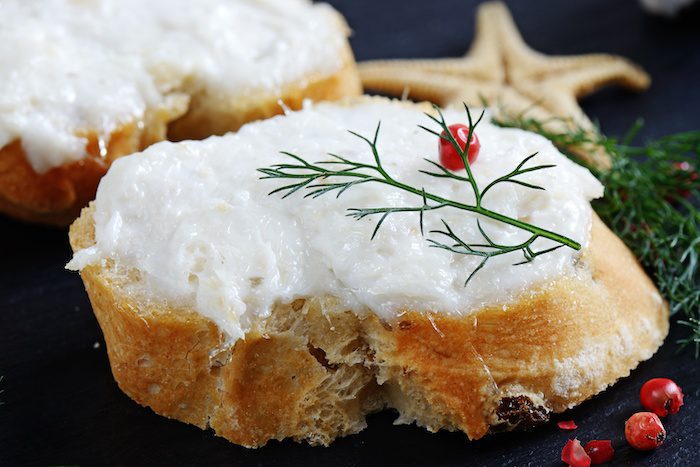 Baccalà Mantecato, a dish made from stockfish, is considered one of the most important traditional foods in Venice. It dates back to 1431 when a Venetian ship, full of spices, was hit by a violent storm and dragged north for days.
The surviving sailors ended up on the island of Roest, where they discovered dried stockfish. Eventually, they brought it back to Venice and the rest is history.
According to the local recipe, you only need to pair stockfish with a few ingredients: add olive oil, black pepper, salt, garlic, and lemon juice. Cook the fish until it's creamy and enjoy.
Polenta e Schie
Schie are a kind of shrimp you can only find in the Venetian lagoon. Typically, they are paired with polenta. Polenta e Schie used to be the most popular food for poor Venetians.
Nowadays, this dish isn't so cheap because the main ingredient is difficult to source due to its scarcity. Schie are cooked and seasoned in lemon, garlic, pepper, and salt, then served over steaming polenta. Buon appetito!
Sarde in Saor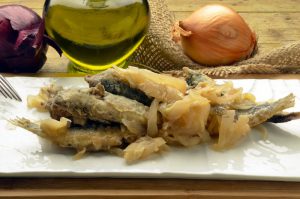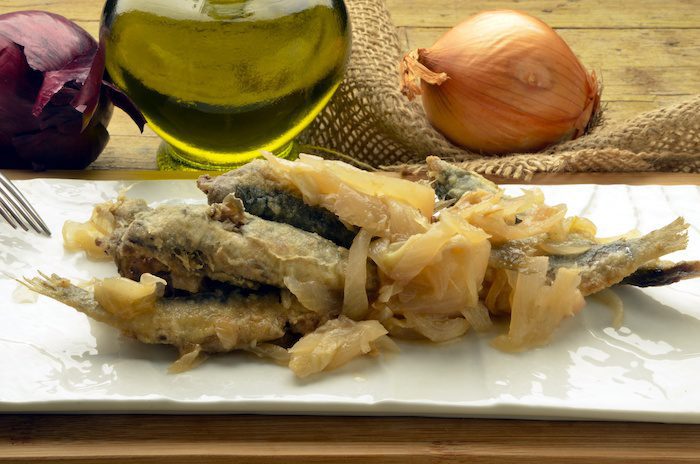 The last antipasto on our list is Sarde in Saor, a dish that consists of sardines, onions, and balsamic vinegar. This one tastes quite strong, but it's sweetened with raisins, pine nuts, and red wine.
If you've been to Venice, you know how popular and crowded it gets. Avoid the tourist-trap restaurants and taste some Sarde in Saor at Il Paradiso Perduto, a scenic osteria in Venice.
Il Paradiso Perduto: €€ | Sarde in Saor | Live Music—Come to this lively tavern in the Cannaregio neighborhood for traditional Sarde in Saor and a great atmosphere.
Risi e Bisi
After antipasti comes the main course. Risi e Bisi is a simple meal made of rice and peas. While it isn't one of the most celebrated in traditional Venetian cuisine, it has a funny and peculiar origin story.
The production of rice in Venice started in the 15th century and was largely promoted because of its low cost and wide availability. The Doge himself used to stand out in front of Doge's Palace and salute his subjects by holding a plate of Risi e Bisi.
From then on, it became a symbolic dish for the locals to eat on St. Mark's Day, celebrated on the 25th of April. These days, you can find this dish in any restaurant in Venice.
Buranelli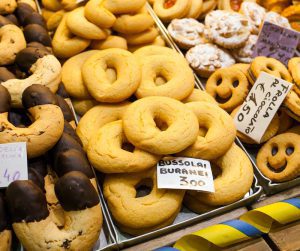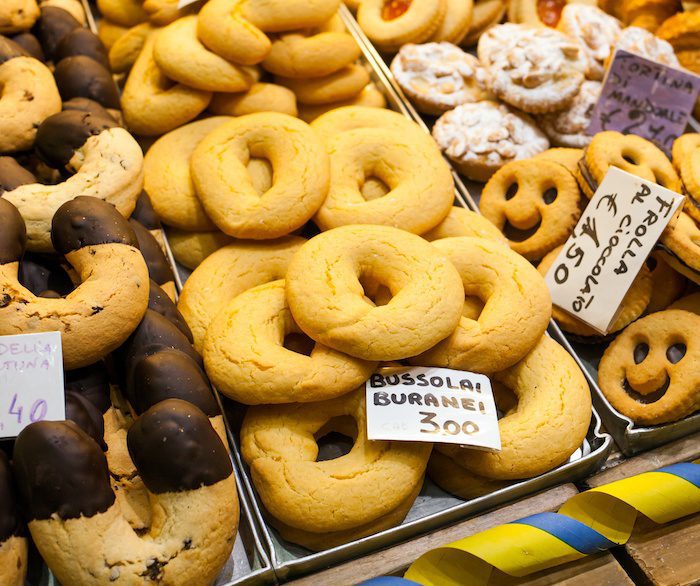 To end on a sweet note, try some Buranelli, a type of Venetian biscuit that's sure to please your tastebuds. Buranelli (Buranei plural), is named after the Venetian island of Burano, where they come from.
Popular among seamen, these treats were often packed to take on long sea expeditions. The original shape was round, but nowadays you can also find them shaped in the letter "S", which makes them easier to dunk in coffee or mulled wine.
Buranelli is a must if you're exploring traditional Venice foods. For a taste of heaven, visit one of the best pasticcerie in Venice, Tonolo.
Pasticceria Tonolo: € | Buranelli | Great Espresso—If you're looking to dunk a few delicious buranei in equally delicious coffee, this is the place.
Take a Local Food Tour in Venice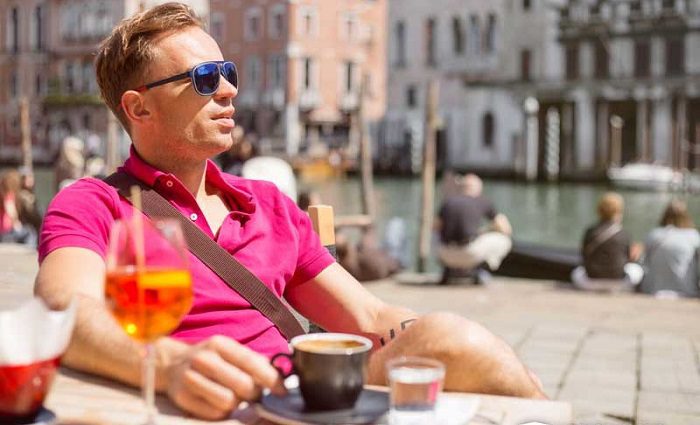 Are you interested in trying local delicacies on your trip to Venice? Join fellow foodies for an evening exploring authentic cuisine in some of the best local spots in Venice's Cannaregio neighborhood.
You'll eat great food, including cicchetti and bacari of course, try a variety of local wines and a Spritz or two, and take a walking tour of Cannaregio's beautiful side streets. It's a fantastic way to spend an evening getting to know the history and cuisine of Venice.
Not ready to book a tour? Check out our Venice Guide for more info.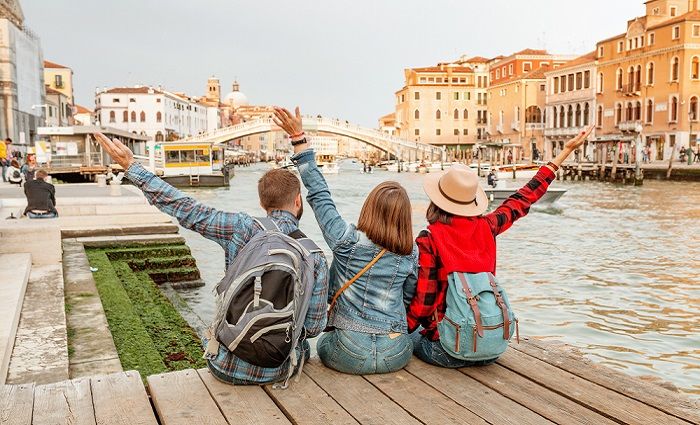 Find the best places to stay
Where to Stay in Venice
Despite the size of this little island, there are endless hotel options to choose from. We've picked the best neighborhoods and hotels to stay in whether you prefer Italian luxury or quiet serenity—or both!