Planning to visit the Vatican but unsure what famous artwork you should see? Don't worry, we have run 10s of thousands of Vatican tours which makes us Vatican experts. Here is what we believe are the most famous paintings that you absolutely positively should not miss when visiting the Vatican
---
Top 17 Paintings You Should See At The Vatican
Art is about emotion. It is an artist unleashing their innermost thoughts and feelings onto canvas for all to witness. It is such a powerful act, that many have been criticized, scrutinized, and even killed just for doing the act.
However, few actually see it, and even fewer understand. If you look at a painting and don't feel anything, that is because you haven't heard its story. This is the very reason we recommend guided tours.
If you hear the story and don't get chills, then it is not great artwork. Its purpose is to inspire emotion. You don't have to have a strong art background to appreciate art. It definitely helps, but it is not essential.
You can make your visit memorable by joining a guide with a strong art background who is skilled in the art of storytelling. That's what we do!
17. Astronomical Observations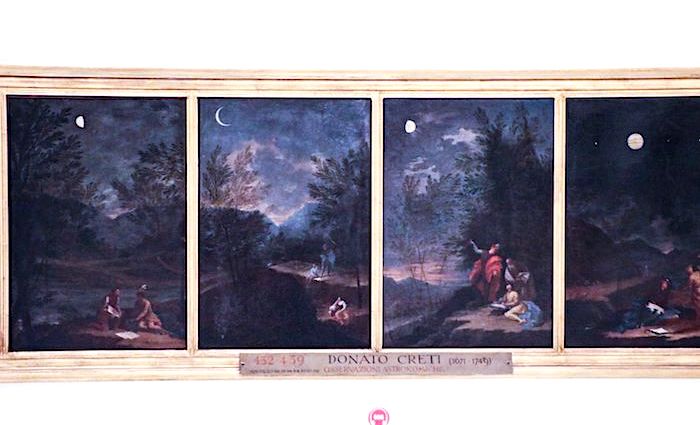 Donato Creti | 1711 | Oil on Canvas | Pinacoteca
Donato Creti basically created an 18th century Netflix special about The Sun, Moon, Earth, Mars, Venus, Jupiter, Saturn, and a Comet. The only one missing is Uranus which won't be discovered until 1781 (not your fault Donato)! Today you just type in google- Planets- and boom, you can see all the planets. Back in the day, obviously, this was not possible so Donato brought it to the world in beautiful form
In the painting, you will notice various telescopes and optical instruments that astronomers used at the time to observe the celestial bodies. In the background, you will also see many figures of people who are observing the gigantic bodies in 18th-century clothing.
I personally feel that looking at this painting allows you to time travel back to the early 18th century and see what it would have been like to be an astronomer in those days. Imagine the excitement of looking into the night sky and seeing all of these heavenly bodies 250 years before T.V. The power of their instruments is also on display since we know that they could already see the rings around Saturn! Who needs the movie theater, when you could have just invited a girl back in the day to look up at the heavens!
16. Adam & Eve In The Garden Of Eden
Wenzel Peter | 1828 | Oil on Canvas | Pinacoteca Room XVI
Arguably the most famous Austrians in history would have been Arnold Schwarzenegger, Adolf Hitler (not a fan), and yes, Wenzel Peter. The painting may strike you as odd at first, but you will see that it is one of the most devout paintings in the Vatican collection. What may look like a scene from the Jungle Book is actually the Garden of Eden.
Wenzel Peter was an animalist painter which means that he specialized in painting animals of all sorts. Due to his dedication to one particular type of painting, he was able to portray these animals in extremely realistic fashion either sitting or standing and the figures look almost as if they have been photographed.
The masterpiece is portraying the Garden of Eden with Adam and Eve. Adam and Eve are both pleasantly portrayed here as two young people living in paradise. There is nothing vulgar or too "realistic" about them and both of them are covered naturally so as to not show any indecency. There are over 200 hundred animals from all over the world in this painting and each one has been portrayed with precision.
Popular Rome Tours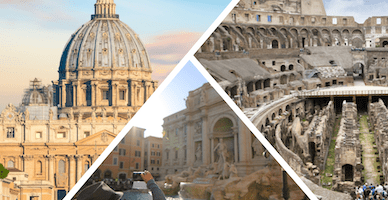 Best Selling Tour
Rome in a Day Tour with Colosseum and Vatican Museums

The best way to get your bearings all in one day. Visit the Sistine Chapel, Colosseum, Trevi Fountain, and more with a licensed and fun English-speaking tour guide. They'll add tons of insights and make the entire experience so much more memorable. Also, you'll get a feel for the city so it's great on one of your first days in the city. All admissions and transport included although there will be a lot of walking.





See Prices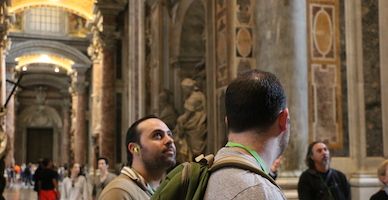 Best Price!
Skip the Line Vatican Tour with Sistine Chapel & St. Peter's Basilica
One of our most popular Vatican tours since it is such an amazing value. Skip the line to get inside with a super-knowledgeable English-speaking guide that will bring the museum to life. Stories of the artists, popes, conspiracy, love, and of course tragedy! Admissions included.





See Prices
15. The Crowning Of The Virgin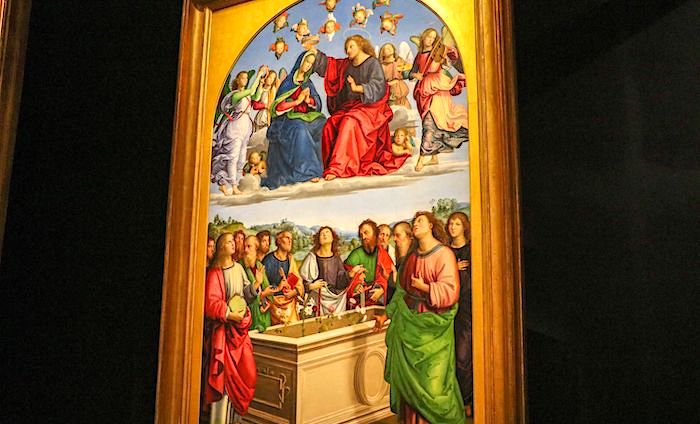 Raphael | 1502-1503 | Tempera on Wood | Pinacoteca Room VIII
When I was 19 years old, I was roaming the bars of Bologna. At the same age, Raphael painted The Crowning of the Virgin. I have to say that this is one of my personal favorites due to the simple and elegant beauty that the Master shows in the figures of each individual person depicted.
The Crowning of the Virgin painting was part of the altarpiece for the Oddi Family chapel in Perugia. The painting breaks down two scenes with the bottom half of the grave where the virgin Mary was resting with the Apostles around her. St. Thomas holds the girdle which was given as a gift from the Virgin herself and inside there are flowers where she would have been in the tomb since she has ascended to heaven. The Apostles are all looking in amazement as they see her image above with Jesus.
You'll find the Virgin Mary in the upper portion of the painting receiving the crown of the "blessed mother" from Jesus. Angels surround them and some are even playing musical instruments. The play on color is similar to the transfiguration where the darker colors are below and as your eyes naturally ascend upwards, the color scheme becomes lighter. The faces are showing the ideal beauty of man and express even more so in the angelic face of the Virgin Mary.
14. St. Jerome (Da Vinci)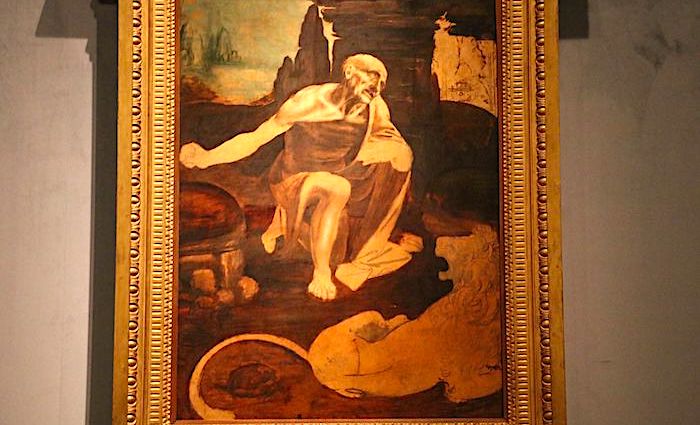 Leonardo Da Vinci | 1482 | Oil on Wood | Pinacoteca Room IX
I'm not really into autographs, but if I met Da Vinci on the street, I would have definitely asked him for his since he was a rockstar. Da Vinci wasn't just a master painter but also an engineer, inventor, and even a builder of siege weapons!
To clone him today you would have to combine Elon Musk, Bill Gates, and Jackson Pollack, and you might get close. If we gave da Vinci access to the internet he would likely explode due to information overload.
The sketch is of St. Jerome who, for his love of God, lived as an ascetic for many years in the Syrian desert. He depicts St. Jerome in an emaciated manner, with a lion at his feet ( his companion after having pulled a thorn from the lion's foot). He is holding a rock that he uses to beat himself as penance. Is it not enough to forsake everything and live in the desert, but to compound that with hitting yourself in the chest with a rock? St. Jerome is old, bald, and with a look of a man who has felt serious pain in his life.
The sketch became the property of Angelica Kauffmann, a Swiss painter, and was lost at the beginning of the nineteenth century. It was discovered by Cardinal Joseph Fesch, uncle of Emperor Napoleon, cut into two parts and was being used as household scrap wood. It is amazing to think about how many priceless works of art may still be scattered around the world.

Enrico Bruschini- Art Historian
13. Transfiguration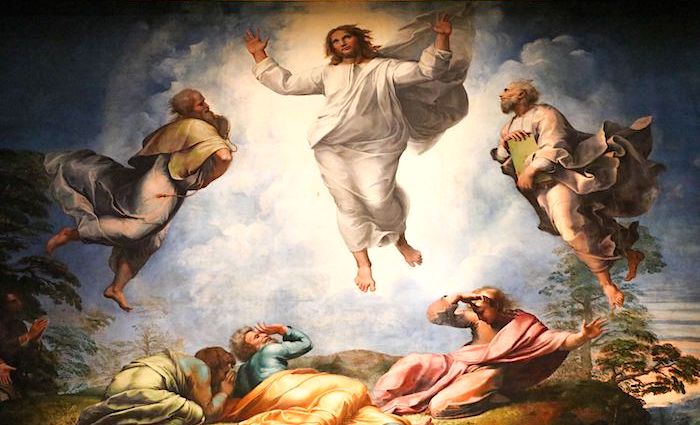 Raphael | 1518-1520 | Tempera on Wood | Pinacoteca Room VIII
If Raphael had been alive in the 80's he would have probably have been a rockstar. He loved to "party" which wore him out and he died at the young age of 37. If he had access to the same drugs as in the 80s, he would have likely joined the "27 club" but thankfully that is not the case. He created a lot of great art between 27 and 37 years of age. Historians say he died from syphilis which did not have a cure at the time.
Remember that this was made specifically to be an altarpiece, so it would be up above our heads. Our eyes are naturally attracted to brighter colors and Raphael played this perfectly by gradually making the colors brighter as you look up. In doing so, Raphael is guiding you on how to look at this painting by using your own senses. The artist wants you to first look at the scene below and only then work your way to the top of the painting with the culmination in Christ himself.
The painting depicts 2 stories in the Gospel according to Matthew with that of the Transfiguration and the meeting of the Apostles with the obsessed youth who will be cured when Jesus returns from Mount Tabor. The mastery of the painting is shown in numerous ways, so let's start with the color. Raphael was famous for his vivid use of colors. Especially now after the painting has been cleaned, we can see the colors the way Raphael and his contemporaries would have seen them.
Seeing his body dead, and his work so alive, it felt as if our heart would break in two.

Giorgio Vasari- Contemporary of Raphael & his biographer
12. The Annunciation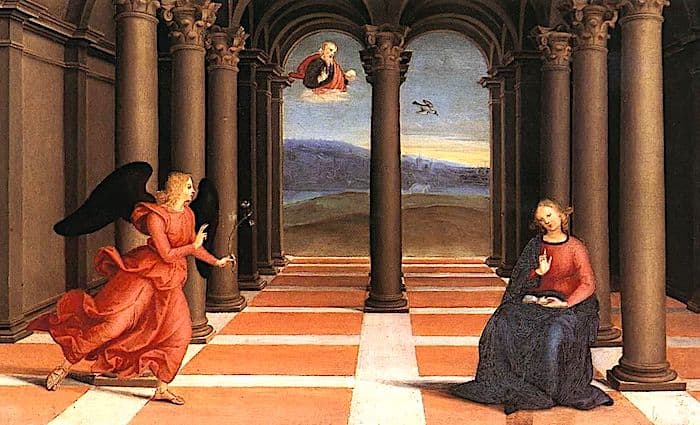 Raphael | 1502-1504 | Tempera on Wood | Pinacoteca Room VIII
Did you ever wonder why all Renaissance painting figures look like they are on some kind of wonder drug? I often ponder this and don't have a great answer to explain the phenomenon. Imagine an angel coming down from the heavens and visit you! I personally would be freaking out, but Mary is so chill and relaxed. Holding up her hand as if to say, "Can you hold on one second, I am on the other line with god. See him up there in the archway."
The reason for this is that Renaissance painters were more concerned about the ideal beauty of the painting itself than the subject matter. Therefore, as long as everything looked good, that was the goal.
The Angel Gabriel is approaching the Virgin Mary to let her know of the imminent coming of Jesus Christ (Annunciation). Mary is seated by herself reading a book and seems to be expecting this moment with ideal beauty being reflected in her face and even the way she holds up her one hand in welcoming the Angel. In the background, you can see two arches that open up to a clear sky. One of Raphael's trademarks was to add deep perspective in his paintings with a light blue color of the sky to show the most distant point.
You will also notice the 3D effect he creates with the columns and even the dove in the distance. This painting resembles a similar painting by his teacher Perugino. Raphael would have studied under the Early Renaissance master and it got to a point, where many said that they couldn't tell the difference between master and student.
11. Vision Of The Cross
Giulio Romano (Raphael's Drawing) | Sometime after 1520 | Fresco | Raphael Rooms- Hall of Constantine
As mentioned earlier, Raphael died quite young, therefore he didn't actually paint any of the frescos in the Hall of Constantine. Why are they attributed to him then? Because he made the actual drawings and his students painted according to his plans. For example, this particular painting was done by his best student, Giulio Romano.
The night before the decisive battle against his enemy Maxentius, Constantine sees in the night sky a white cross, burn across the sky. This premonition that he had made clear that if he replaced the emblem of eagles, with the cross he would be victorious. Remember that Christianity up to this point in the Roman Empire wasn't pretty much illegal, although widely tolerated. Needless to say, having the Emperor replace the Eagle with a Christian symbol was a pretty big deal.
In the lower right corner of the fresco, we see a dwarf who carries an enormous gold helmet. This is not an invention of the painter, but rather a graceful homage to a dwarf who actually lived at the papal palace as the court jester of Pope Leo X and whose name, fortunately, has been conserved: Gradasso (the Boaster) Berrettai.

Enrico Bruschini- Art Historian
10. The Victory Of Christianity Over Paganism (Ceiling)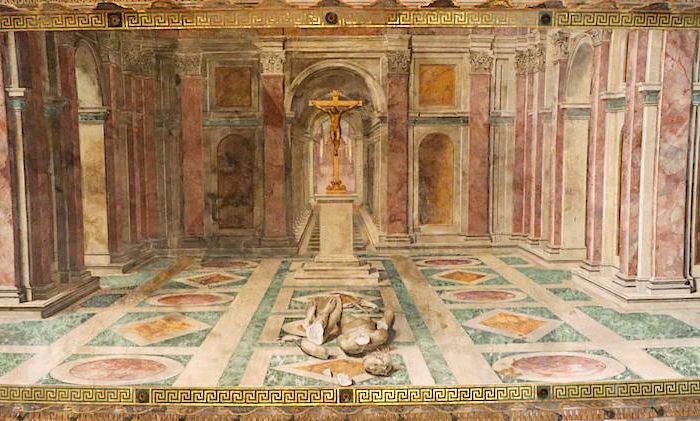 Tommaso Laureti | 1585 | Fresco | Raphael Rooms- Hall of Constantine
This jewel of a painting is missed by most people (Look up at the ceiling)! If ever there was one picture to promote the expression " A picture paints a thousand words", this is the one.
What better way to show one's triumph over another? You replace the exact thing you triumphed over! Originally, on the pedestal, there was a pagan statue of the pagan god Mercury ( Greek Hermes). It was been replaced by a Christian cross and the previous statue (or symbol) has been crushed to pieces below. There is no truth behind this, but I imagine that this scene actually happened at one point.
I have probably stared at this painting literally a hundred times. What never ceases to amaze me is the depth that Laureti was able to enable in the painting. The 3D effect in a 2D platform is mesmerizing.
Popular Vatican Tours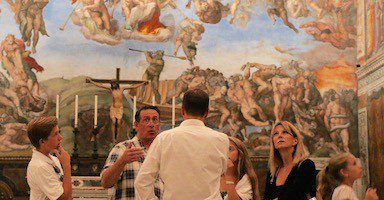 Best Selling Tour
Privileged Entrance Vatican Tour with Sistine Chapel
This our most popular and longest-running Vatican tour to date. It enters the Vatican City & Museums an hour before the public opening and visits the Sistine Chapel as it opens. Admissions are included and our English-speaking guides do a wonderful job bringing the museums to life!





See Prices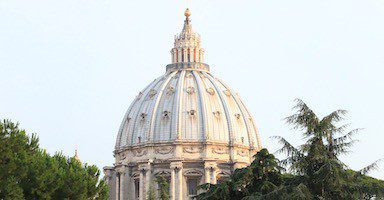 Top Rated Tour
Ultimate St. Peter's Basilica Dome Climb Tour with Papal Tombs
Get the most out of your visit to St. Peter's Basilica by joining a guided tour up to the top of the tallest dome in the world! Our tour includes all admissions including an elevator to the highest possible point and an English-speaking guide.





See Prices
9. Liberation Of St.Peter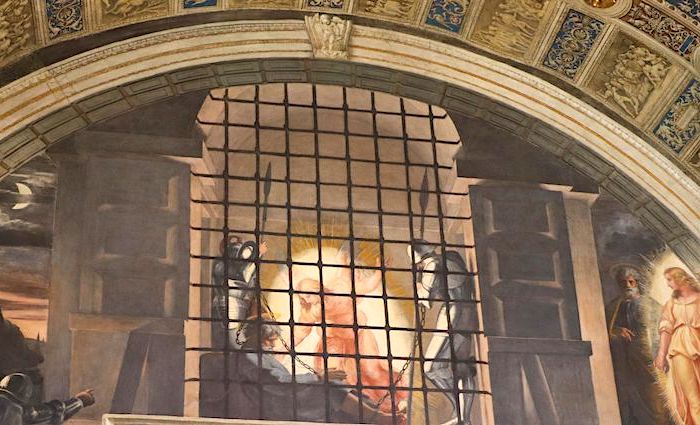 Raphael | 1512 | Fresco | Raphael Rooms Room of Heliodorus
Have you ever heard of art critics or people in a museum speaking about the " light" the artist employed in the painting? Well, this painting portrays light in the most fascinating way possible! I would even say the usage of light on steroids. Raphael was able to show, 500 years ago, how a room could be lit up in a painting by playing with the light. Besides the light, the actual robust colors used makes this painting shine.
I remember walking into this room for the first time after it had been cleaned and the vibrance of colors was shocking! Remember as well that the medium used to paint this was fresco. Fresco painting is unforgiving with no mistakes allowed and you have to be fast. That statement renders this painting even more precious.
The story is about the first pope St. Peter who is a prisoner in Rome and during the evening an angel comes and breaks his chains to set him free. Julius II commissioned this painting since, before coming to Pope, he was the Titular Cardinal of St.Peter in chains in Rome. In that church, you can still see even today the chains that St. Peter wore which were broken by the angel.
8. Fire In The Borgo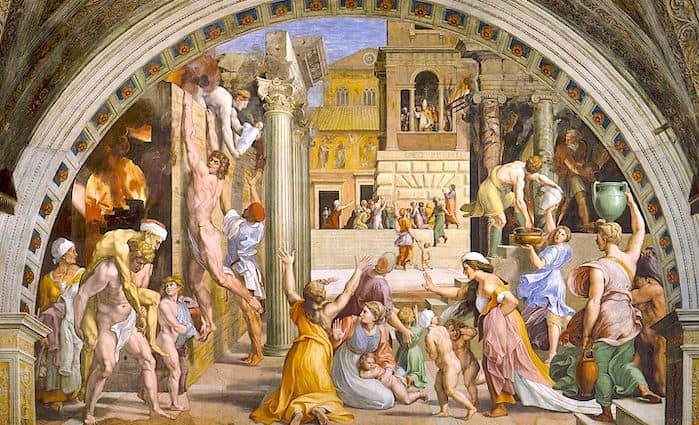 Raphael | 1514-1517 | Fresco | Raphael Rooms- The room of the Fire of the Borgo
By now I think you can understand that I am a fan of Raphael's work. Having said that, I can still call him out when he does some weird stuff. What is the first thing that you notice in the painting? Forget about the story and look at the muscles! The women and children look like they come from some futuristic world where big muscles are the norm. As for the men? They have muscles popping out of places where muscles don't even exist! More on this later.
This painting shows a story from the Liber Pontificalis that spoke about a huge fire breaking out in the Borgo ( the area around St. Peter's church) in 847. The story relates that everyone was in a panic and Pope Leo IV (847 to 855) solemnly walked out on the balcony of his palace and blessed the fire and it was extinguished immediately.
When they were painting this room, the Sistine Chapel had been unveiled already. Arguably, Michelangelo's muscular figures would have had a huge impact on not only mediocre painters but even on Raphael himself. They adopted this style as you can see in the painting. However, they should have studied anatomy a bit more!
7. Crucifixion Of Saint Peter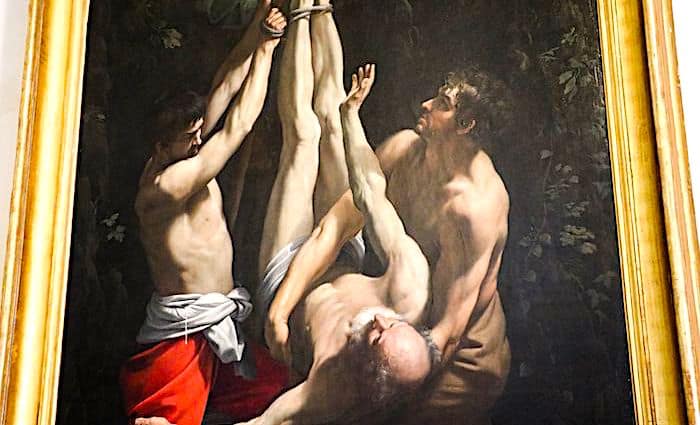 Guido Reni | 1604-1605 | Oil on Wood | Pinacoteca Room XII
Disclaimer- I really really like Baroque artwork. However, I will keep myself from rambling here. Suffice to say that I think these next few paintings are awesome! It is impossible to not speak about Caravaggio when you see this painting. Caravaggio himself will be described below, Caravaggio's influence on Guido Reni in this painting is undeniable.
The first thing you notice is the real-life muscle tone of St.Peter. You can see that there is nothing idealized here and this could have been a real representation of what his body looked like. Next, you notice that there is no perspective, so nothing is happening in the background, there is only blackness. This allows you to focus 100% of your attention on the scene taking place.
This painting marks Guido Reni's first success in Rome. This was commissioned for the Cardinal Pietro Aldobrandini for S. Paolo alle Tre Fontane. It was afterward sent to Paris like so much other artwork and brought back to Rome in 1819 by Pius VII where it has remained in the Pinacoteca ever since.
St. Peter is being crucified for being a Christian during the reign of Nero in 68 AD. St.Peter, not feeling worthy to die the same way Jesus did, requests to be crucified upside down and that is what you see happening here.
Almost all of the painters of the day, and those who followed, were strongly influenced by Caravaggio's use of new colors as well as by his new and powerful naturalism. No one has ever been able to imitate him, however.

Enrico Bruschini- Art Historian
6. Martyrdom Of St. Erasmus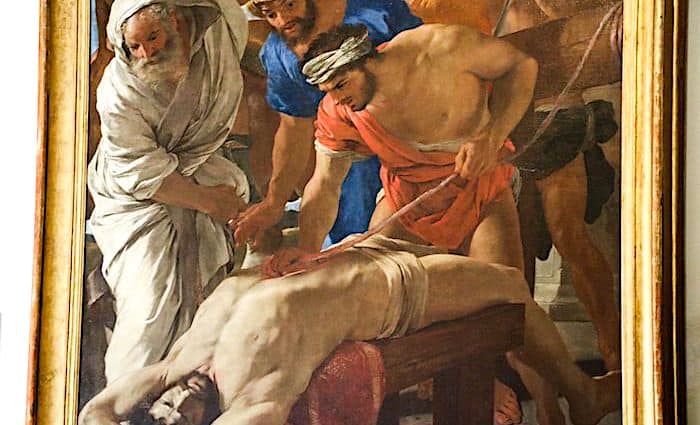 Nicolas Poussin | 1629 | Oil on Canvas | Pinacoteca Room XII
Nicolas Poussin ( pronounced POOH-SAHN) was born in Normandy, France, but he was definitely Italian at heart and spent most of his life there. Like many, ( myself included) once in Italy, the magical spell of this country trapped him. This dramatic painting is Nicolas Poussin's first in Rome and not for the faint-hearted!
The painting depicts the martyrdom of St Erasmus during the persecutions of Emperor Diocletian in 303 AD. The future saint is stretched out with his hands behind his back, while the executioner is pulling his intestines from his body and rolling them around a sailor's capstan. Above him is a pagan priest who is pointing at a statue of Hercules that Erasmus refused to pray to. Above him are angels who are coming down to him and offering him the palm and crown which are both symbols of martyrdom.
Besides the graphic nature of the painting, Poussin used extremely vivid colors in this painting, especially white, blue and red. At this point, we are at the height of Baroque and also the realist movement started by Caravaggio (see below). Most people don't know that this painting was actually given to the painter Pietro da Cortona as a commission, but was then handed over to Poussin who even used the preparatory sketches made by da Cortona for the painting!
5. Deposition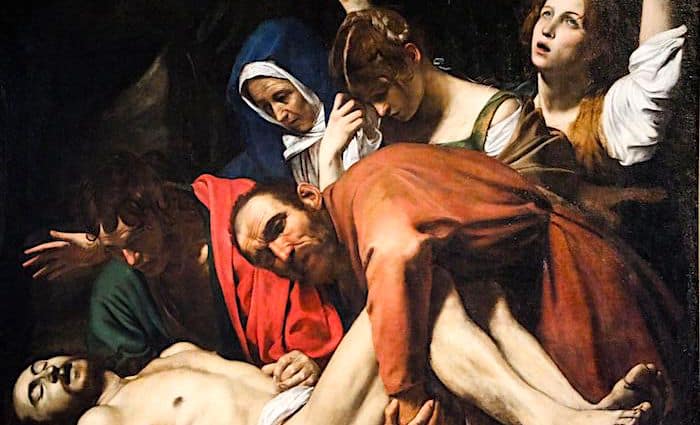 Caravaggio | 1604 | Oil on Canvas | Pinacoteca Room XII
Caravaggio would have been the kind of dude you want to hang out with at a bar. But probably would not want to introduce to your family. Caravaggio's life was anything but usual. For example, he walked around Rome with a sword, was supposedly part of a local gang, and even killed a man in a duel.
As a result of the killing, he was forced to flee Rome and traveled south painting along the way from Naples, to Sicily to Malta and back. As the legend goes, he was waiting for a pardon from Pope Urban VIII when one of his enemies finally caught up with him and killed him in Porto Ercole.
It would be difficult not to write an entire book about this painting or about Caravaggio's artwork in general. Up to now, there were set templates of how to paint saints and holy people (being painted with ideal beauty and purity). Caravaggio smashed these concepts into the ground by painting saints and holy people as ordinary people with ordinary defects. This revolutionary idea forever changed the art world.
In one of Caravaggio's greatest masterpieces, we see Jesus not being laid in the tomb, but on the anointing stone by Nicodemus and John. Close to him are the Virgin Mary, Mary Magdalene, and Mary of Cleophas who is raising her arms and eyes towards heaven in prayer. It is an extremely pious moment with everyone's expression that of sadness. There is no perspective, only blackness and you can see the muscles bulging out of the legs of Nicodemus. There is nothing ideal expressed here except the extreme agony that everyone present is experiencing.
Why follow the manner of other artists when you can follow nature itself?

Michelangelo Merisi- Caravaggio
4. School Of Athens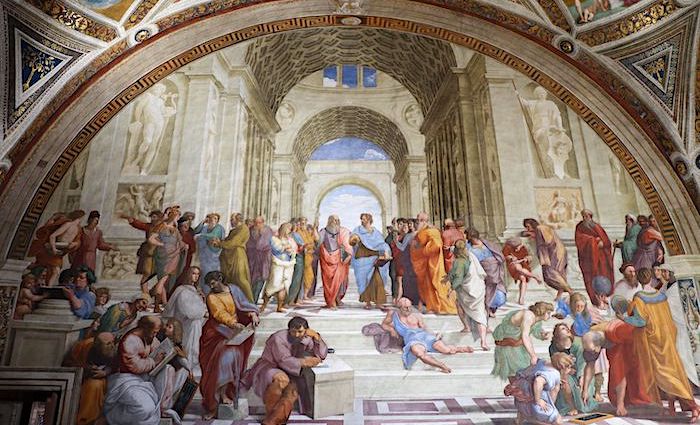 Raphael | 1508-1511 | Fresco | Raphael Rooms- Room of the Segnatura
The "School of Athens" is arguably one of the most famous paintings by Raphael due to its widespread use in textbooks. With this painting, he established himself as one of the most famous high Renaissance painters in the world. The painting, for our purposes, is actually famous for 2 reasons.
Firstly it is harmonious, symmetrical, and celebrates ideal beauty in all its forms, which was important in Renaissance paintings. Secondly, this painting is basically a yearbook of the most famous artists of the early 15th century. Raphael used the faces of his friends as models for some of the famous people:
Leonardo Da Vinci is Plato pointing a finger in the air
Bramante is Euclid, bending over a chalkboard
Raphael puts himself in the painting on the far right side staring directly at us.
According to legend, as he was painting this room, Michelangelo was painting the Sistine Chapel. One day Raphael got a peek of what Michelangelo was doing and was so impressed that he came back upstairs and broke a piece of plaster off the wall and put the face of Michelangelo as a tribute to how good he was!
Raphael saw the frescoes of Michelangelo and changed style

Giorgio Vasari- Contemporary of Raphael & his biographer
3. St Matthew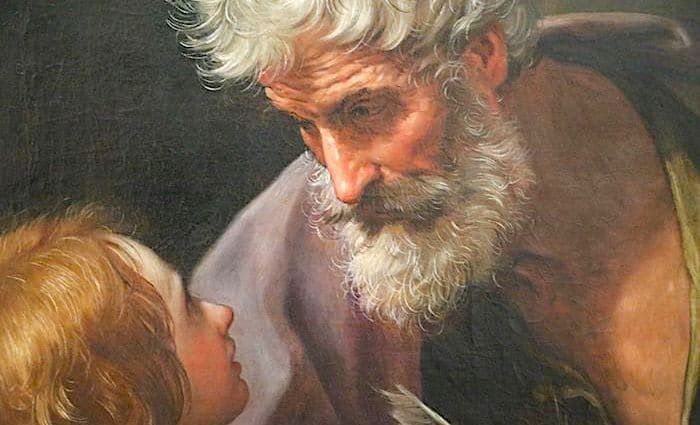 Guido Reni | 1635-1640 | Oil on Canvas | Pinacoteca Room XII
Sometimes in life, you see a piece of artwork and it just mesmerizes you. It's hard to describe if you haven't felt this before, but if you have then you understand. The intensity of the gaze and connection between these two figures is the most profound I have ever found in a painting.
The magic is the inaction itself. Neither of them is speaking. The Angel is looking up at St Matthew in a loving manner and St Matthew is reciprocating that look of affection with his own loving gaze. If this scene was taken out of context, you would simply imagine a painting of a grandfather and grandson expressing their love for each other. They don't need to speak but understand each other perfectly.
Therefore, I have made this one of the top paintings to see at the Vatican. If you don't share my feelings and don't really like it, that's ok. However, I recommend when you are at the Vatican Museums to stand in front of this painting in real life and see if the same effect doesn't hit you too.
The painting is showing the Apostle Matthew as he takes a break from his writing to look at an Angel. The apostle is an old man that we can see today in the real world-wrinkles in the forehead, the disheveled hair, and the straining veins of the neck. The angel possesses rosy cheeks and an almost anemic look that you could find in many boys today.
2. The Last Judgement
Michelangelo | 1536-1541 | Fresco | Sistine Chapel
I want you to picture anyone you know who is 61 years old and male. Got it? Now I want you to imagine that person for the next five years is painting a wall that is 42ft high and 39ft long. I personally don't know any 61 years who could do that today. The one condition I forgot to add is that the painting they create has to be so good, that it will be described as one of the best ever created in the history of man. Now you understand why Michelangelo is arguably the greatest of all time.
In the upper lunettes, angels are carrying instruments used during the passion of Christ ( the cross, the whip and column he was whipped on, and the crown of thorns. Below, an extremely muscular Jesus with no beard in a powerful position is presiding over the entire scene with a radiant halo bursting behind him. Figures that are recognizable are John the Baptist, the Virgin Mary, St Peter holding the keys, and various other saints holding the instrument in their hands with which they were martyred.
Below, a group of Angels is blowing trumpets and holding 2 books that decide their fate ascending. to heaven or going to hell. Those redeemed are ascending from their graves while the condemned are descending into the underworld.
Here Michelangelo alludes to Greek mythology with the demon ( Charon) on a boat who is bringing all the damned souls over to the underworld. On the far right side, you will see the Devil himself and all the damned and lost souls behind him in Hell.
Interesting Facts
When the painting was unveiled, many were shocked by the amount of nudity in the painting. Biagio da Cesena who was a Cardinal said that this was better suited for a tavern than the holy chapel of the Pope. It is said that Michelangelo then changed the face of the devil to that of the Cardinal and wrapped a snake going around his body and biting him in the groin area.
Below Jesus, you will find St Bartholomew who was skinned alive. In his right hand, he is holding a knife, and in his left hand his own skin! Many contemporaries suggested that Michelangelo did a self-portrait in the skin!
If people knew how hard I worked to get my mastery, it wouldn't seem so wonderful at all

Michelangelo
Popular Vatican Tours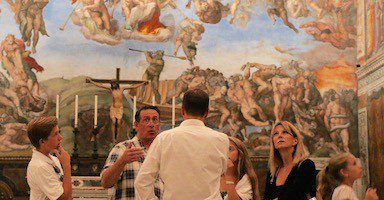 Best Selling Tour
Privileged Entrance Vatican Tour with Sistine Chapel
This our most popular and longest-running Vatican tour to date. It enters the Vatican City & Museums an hour before the public opening and visits the Sistine Chapel as it opens. Admissions are included and our English-speaking guides do a wonderful job bringing the museums to life! Admissions included.





See Prices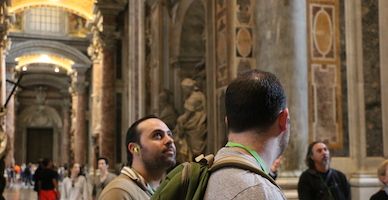 Best Price!
Skip the Line Vatican Tour with Sistine Chapel & St. Peter's Basilica
One of our most popular Vatican tours since it is such an amazing value. Skip the line to get inside with a super-knowledgeable English-speaking guide that will bring the museum to life. Stories of the artists, popes, conspiracy, love, and of course tragedy! Admissions included.





See Prices
1. The Sistine Chapel Ceiling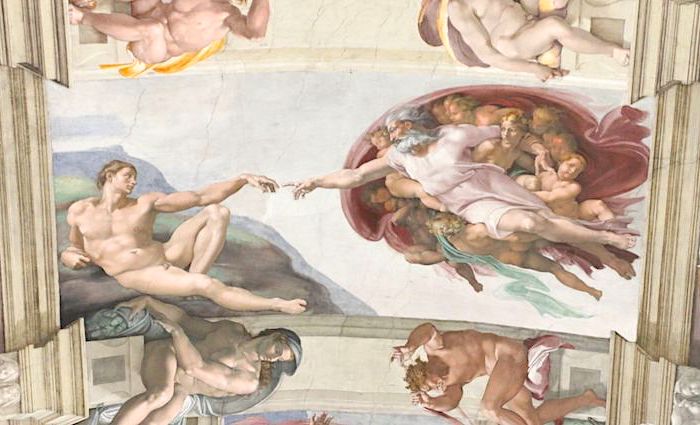 Michelangelo | 1508-1512 | Fresco | Sistine Chapel
I cannot tell you how much I wished you were here, for until you have seen the Sistine Chapel, you can have no adequate conception of what man is capable of accomplishing.

Johann Wolfgang von Goethe
The above quote by Goethe pretty much sums up all there is to say. The Sistine Chapel ceiling is unlike anything else and has no equals. This is why it is number 1. Add to the fact that he did it pretty much alone and he becomes part of the supernatural. Read these below bullet points, and he will seem alien-like:
He was a Sculptor, not a painter
He had to paint in fresco but had never really painted in this medium, so basically, his first attempt at fresco painting becomes the most famous painting in the world
There was no scaffolding. He had to build his own scaffolding first to even reach the ceiling which was 60ft high
Since he was a perfectionist, he basically painted the entire thing by himself
No centralized heating, so he complained of stifling heat in the summer and numbing cold in the winter
Developed an eye disease during the painting, which only went away once he finished the ceiling years later
The heart of the ceiling is the 9 central panels with arguably the most recognizable painting in the world being the Creation of Man panel. Here they are:
Separation of Light from Darkness
Creation of the sun, moon, and planets
Separation of Land from Sea
Creation of Man
Creation of Eve from the Body of Adam
Banishment from the Garden of Eden
The Sacrifice of Noah
The Flood
The Drunkenness of Noah