Christmas is a magical time of year anyway, but if you add Italy to that mix, it becomes a fairytale. While there's an extensive list of festive celebrations in Rome, seeing the pope present his Christmas Eve Mass at the Vatican is at the top. Read on to find out everything you need to know about attending the Vatican Christmas Mass and other papal ceremonies during the holidays.
---
Pro Tip: Planning to visit the Vatican at Christmas? Bookmark this post in your browser so you can easily find it when you're in the city. See our comprehensive guide to Vatican City for more planning resources, our curated list of Rome Christmas tours for a memorable trip, and how to spend Christmas in Rome.
Vatican Christmas Eve Mass
Regardless of religion, the Vatican Christmas Mass is a special and exciting occasion all about spreading unity and peace. Not to mention, you see Pope Francis deliver the most-watched mass in the world. Join a congregation of roughly 15,000 people celebrating the joyful holiday.
If you're one of the lucky ones in the square, it'll almost feel like a rock concert. Groups of people will be singing and waiting for the pope to appear.
Some may think there's an obvious answer to the question "what time is the Christmas Eve Midnight Mass at the Vatican?" Don't be fooled; it's not as obvious as you'd think. The Christmas Eve "Midnight" Mass is on December 24th at 9:15 pm—not midnight.
Where Is the Vatican Christmas Mass?
The Christmas Eve Mass is traditionally celebrated in St. Peter's Basilica. If you've ever been inside this massive basilica, you can understand the profound piousness of the site.
This ancient Roman-style basilica captivates audiences with its exquisite design alone. Add a papal mass to the mix and you've got quite a spectacle.
If you've never seen the inside of the basilica, you should consider taking a guided Vatican tour during your stay in Rome. When it's filled with people, it can be easy to miss all of the iconic details that make the basilica so famous.
How To Get Vatican Christmas Mass Tickets
All tickets are free. Keep in mind that tickets to attend the Vatican Christmas Mass are in high demand, so you'll need to plan ahead.
Here's the process:
Book in advance. Tickets aren't available until November, but try to book as soon as you can.
Keep in mind that you have a bigger chance of receiving your tickets if you reserve a smaller number. For example, a group or family of two to six people will have more of a shot than a group of 15 people.
Check the Vatican's site for the information you'll need to send to request your tickets.
Send an email to ordinanze@pontificalisdomus.va
Or send a fax. Fax number: +39 06 6988 5863. (My fellow millennials, accept this challenge and believe anything is possible.)
You'll receive an old-school letter from the Vatican (cool souvenir?) confirming that they received your request. This is not a confirmation of your tickets.
When you arrive in Rome, you need to confirm that they will give you tickets.
Go to the Prefettura Vaticana. This is an office on the right-hand side of the basilica, just after the unmissable "Bronze Doors." This step should be completed 1-5 days before the mass. The Prefettura Vaticana is open from 9 am to 7 pm.
Get ready to celebrate!
For those who didn't get tickets, join the masses outside in St. Peter's Square for a live televised version. Arrive early for both, as it gets pretty crowded.
Not ready to book a tour? Check out our Rome Guide for more info.
Other Papal Ceremonies
If Christmas Eve isn't in the cards for you, fear not! There are many other opportunities to see the pope and walk away with the experience of a lifetime. Here are some papal ceremonies you can attend:
December 25th: Urbi et Orbi, 12 pm in St. Peter's Square. No tickets required.
December 26th: Angelus/Papal Blessing, 12 pm in St. Peter's Square. No tickets required.
Papal Audience: Almost every Wednesday (assuming he is in town), the pope conducts his Papal, or General, Audience. This is not technically a mass. Instead, the pope addresses the audience with a themed speech followed by different blessings (in various languages) and hymns. Tickets are free but required.
Easter Mass: the process is exactly the same as the Christmas Eve Mass, including the free tickets. However, book now! Just as with the Christmas Eve Mass, tickets are limited on a first-come, first-serve basis.
For a Vatican Mass schedule, you can visit the Vatican News website for more detailed info about mass in general inside the Vatican. You can also watch rebroadcasts on this channel of the Christmas Mass at the Vatican.
Popular Vatican Tours
Best Selling Tour
Privileged Entrance Vatican Tour with Sistine Chapel
This our most popular and longest-running Vatican tour to date. It enters the Vatican City & Museums an hour before the public opening and visits the Sistine Chapel as it opens. Admissions are included and our English-speaking guides do a wonderful job bringing the museums to life! Admissions included.
See Prices
Exclusive Value
First Entry Vatican Gold Tour with Sistine Chapel
Only a select few tour providers can enter the Vatican Museums a full 90 minutes before the general public. As one of the first to enter the Sistine Chapel that day, enjoy the Vatican with only a few other groups inside. This, combined with your passionate English-speaking guide will make your experience very memorable. Admissions included.
See Prices
Not ready to book a tour? Find out if a Vatican tour is worth it.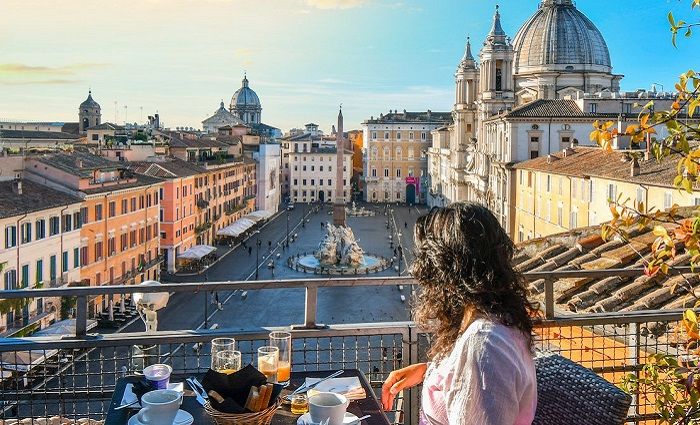 Find the best places to stay
Where To Stay in Rome
Rome has a rich cultural history and many iconic landmarks to explore. Plan where to stay in the magnificent Eternal City in the best neighborhoods.