St. Peter's Basilica rests in the center of Vatican City, easily one of Rome's most recognizable buildings. The Basilica's elaborate dome reigns over the Eternal City's skyline – a compass for all who wander Rome's streets. Here's our guide to how to visit St. Peter's Basilica.
---
Want to visit St. Peter's Basilica?
We don't blame you. Join us on a guided St. Peter's Basilica tour. Better yet, climb St. Peter's Dome on our new Ultimate St. Peter's Dome Climb tour.
Visiting St. Peter's Basilica
Entry to St. Peter's Basilica is free, so no ticket is required for entry. If you decide to forgo a guided tour and decide on a solo visit instead, we recommend getting to the Basilica as early as possible to avoid the long lines.
When looking at the Basilica's facade, the line to enter is situated on the right. Because the Basilica is a free attraction, skip the line tickets are not available.
St. Peter's Basilica Hours
1st April – 30th September: 7 a.m. – 7 p.m.
1st October – 31st March: 7 a.m. – 6 p.m.
St. Peter's Basilica's Design
The original design for the new basilica was created by Donato Bramante. Bramante's drawings featured a floor plan shaped like an enormous cross and a Pantheon-inspired dome. Pope Julius II's death in 1513 led to Bramante ultimately being replaced by Raphael in 1515.
Raphael's design featured reduced tower sizes which defined the squareness of the building's exterior walls. Unfortunately, Raphael died in 1520 after only five years of planning the basilica's design.
Michelangelo was appointed by Pope Paul III in 1547 to finish overseeing the design and construction of Saint Peter's Basilica. Highly regarded as the basilica's principal designer, Michelangelo was coerced into the job by Pope Paul. Michelangelo's design paid reverence to the original aspects of Bramante's design while reducing the definition of its geographic forms.
The Dome of St. Peter's Basilica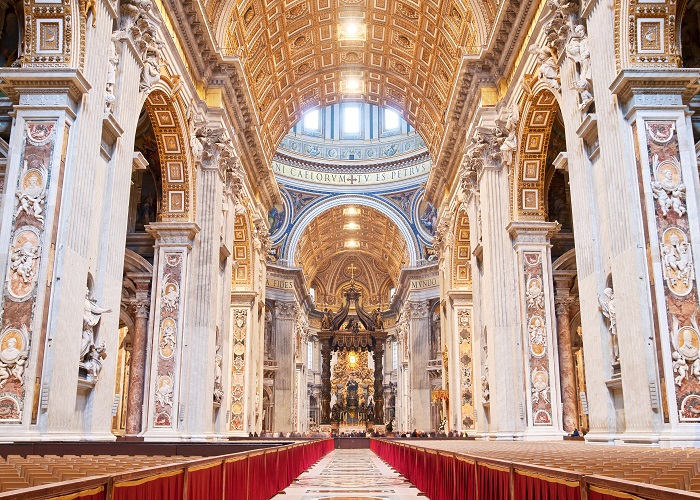 St. Peter's Basilica's dome was inspired by that of the Pantheon. Its structure was also inspired by Brunelleschi's Duomo di Firenze. The dome of Saint Peter's bears the distinction of being the tallest dome in the world. Its presence stands out amidst Rome's skyline.
Bernini's Baldacchino
Bernini's Baldacchino is a 66-ft tall bronze canopy that towers inside of St. Peter's Basilica. The Baldacchino was designed by Gian Lorenzo Bernini with the purpose of marking the tomb of Saint Peter. This imposing sculpted canopy is one of the basilica's most renowned works of art.
The Basilica's Earthly Treasures
St. Peter's Basilica is also home to the papal tombs, which hold the remains of 91 popes, including Pope John Paul II who was the Papal Tombs' most recent interment, buried in 2005. Queen Christina of Sweden is also interred here. The basilica also contains a stunning array of artwork and sculptures including the Holy Door and Michelangelo's Pietà.
---
I Want More Italy!
Check out our YouTube video and step-by-step guide about how to do

Rome in a Day

. If you'd rather let us guide you, check out our

Rome tours

.

Not sure where to stay in Rome?

Read this guide

!