Getting into these tours used to be pretty easy, but recently, security has been significantly heightened at major tourist attractions in European cities. Not only is this a pain for the queues, but it also dictates what you can bring in with you!
---
If you're planning on taking a tour around one of Rome's main attractions, check out our rundown of what to bring – and what not to bring, to avoid any sticky situations.
What to Bring on Tours 
Comfortable clothing: it may sound obvious, but the best way to enjoy a tour is to wear something comfortable! You're going to be on your feet for a couple of hours, and there's nothing worse than trying to enjoy your tour when your shoes are rubbing and your jeans too tight.
This means, ideally, trainers or supportive shoes and the right kind of clothing for the weather – in winter it can get surprisingly cold, and many attractions, such as the Roman Forum or Colosseum, are open air. We're talking sweaters, coats, and raincoats, to be on the safe side.
In summer, dress as cool as possible – open-air attractions also mean there's little respite from the sun, which is fierce in the summer months. Light, loose clothing is best, and bear in mind that many sites require you to dress modestly – a breezy long dress or trousers (for knee coverage) and a light removable layer or scarf you can wear to cover your shoulders once inside.
Sunscreen: whilst you're caught up in your tour, it's easy to forget that you're standing around under the hot sun for a long time. Sun cream is essential if you want to avoid spending the rest of your trip in bed with sunstroke!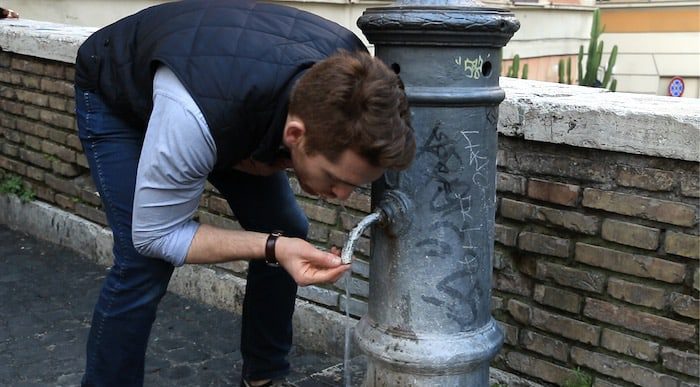 Camera: Although there are places where you can't take photos, most attractions are just begging to have their photo taken.
Water: Always bring water on a tour, as seeing all those incredible sights will make you thirsty. Even better, bring a reusable water bottle and fill it up at many of the public fountains around Rome – download the free Nasoni app to find your nearest one!
Popular Rome Tours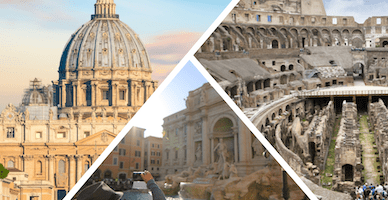 Best-Selling Tour
Rome in a Day Tour with Colosseum and Vatican Museums

Our "in a day" tour is best way to get your bearings all in one day. Visit the Sistine Chapel, Colosseum, Trevi Fountain, and more with a licensed, fun English-speaking tour guide. They'll add tons of insights and make the entire experience so much more memorable. Also, you'll get a feel for the city, so it's a great option on one of your first days in Rome. Bring your walking shoes and water bottle!





See Prices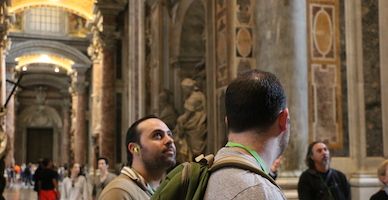 Best Price!
Skip the Line Vatican Tour with Sistine Chapel
One of our most popular Vatican tours since it is such an amazing value. Skip the line to get inside with a super-knowledgeable, English-speaking guide who will bring the museum to life with stories of the artists, popes, conspiracy, love, and even tragedy! This tour has start times throughout the day so you can choose when to visit based on your schedule!





See Prices
What Not to Bring
For what not to bring, we've made it easier by showing you attraction by attraction.
Colosseum
Visitors are not allowed to enter with glass bottles, sprays, knives (even small ones) or scissors. No drinks are allowed either, apart from water – plastic water bottles are permitted.
Big bags are not permitted inside the Colosseum, but regular day-size rucksacks are fine.
There are no designated areas for storing bulky personal possessions such as suitcases or heavy backpacks, so if the staff at the entrance see you carrying them, you won't be allowed in. Quite apart from the rules of the security check at the Colosseum, your tour won't be quite as enjoyable if you're struggling with luggage – so make sure you pack light!
Vatican
Unlike the Colosseum, the Vatican does have a cloakroom where you can store larger items, including suitcases, backpacks and large umbrellas (but not clothing or valuables). It is free!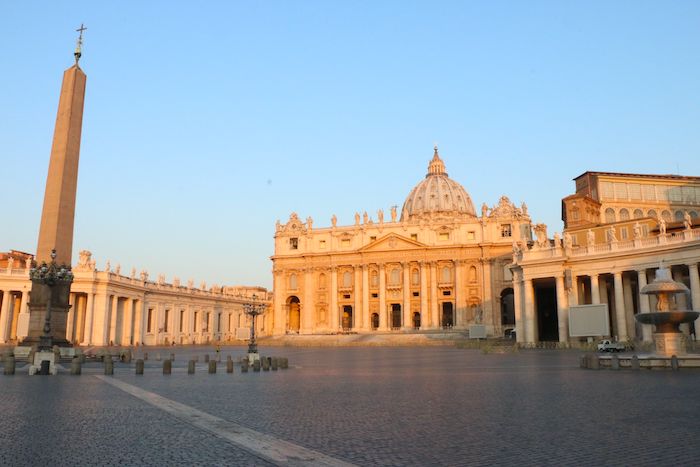 According to the website, you can even store your knives, scissors and 'metal tools' there too… should you find yourself in that situation!
It is also not permitted to bring alcoholic beverages inside the Vatican Museums (these must be left in the cloakroom for the duration of the visit). It's probably best not to bring food in too since it is forbidden to consume food and drink inside the exhibition halls. There are plenty of places to stop for refreshments in the museum though.
In St. Peter's Basilica and the Sistine Chapel, there is a very strictly enforced dress code – no low-cut/sleeveless tops, shorts, mini-skirts or hats. If it's a really hot day, it's best to bring a scarf to drape over your shoulders when you go in.
Catacombs
The underground corridors in the catacombs across Rome are sacred places, so the first thing to remember is to wear appropriate clothing. Like in the Vatican, shoulders, and knees must be covered – but then, even on the hottest days it's pretty cold down there, so you'll probably want to bring a jumper just for that reason!
You cannot take any pets to the catacombs either. It is also forbidden to take pictures or videos inside the Catacombs of Rome.
Pompeii
At Pompeii, there is a free cloakroom because bags, backpacks, luggage, and cases with dimensions exceeding 30x30x15cm are not allowed on the sites of Pompeii, Oplontis, Stabiae and the Museum of Boscoreale. Pictures and videos are allowed, as long as you don't use a tripod – but bear in mind that to fly drones you need to acquire a special permit before going. 
Popular Tours from Rome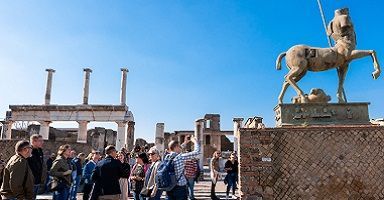 Best Seller
Unforgettable Rome Day Trip to Pompeii and Sorrento
This is the best way to see Pompeii and the Amalfi Coast from Rome. You'll take private transportation with our guide down to Pompeii where an archeologist will tour our small group through the ruins. Then we'll head over to Sorrento which is the tip of the Amalfi Coast before returning to Rome. Tickets, transportation, and guides are included in the price.





See prices and more info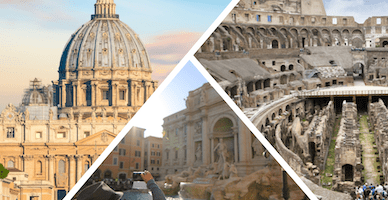 Best Seller
Rome in a Day Tour with Vatican, Sistine Chapel, Colosseum, and More!
Looking to get much of your sightseeing done in one day? This tour enters the Vatican an hour before opening and visits the Colosseum along with other sites like the Pantheon, Spanish Steps, and Trevi Fountain. All admissions and transportation are included as well as a licensed English-speaking guide!





See prices and more info