Planning to spend time in Rome's Campo de' Fiori neighborhood and want to know what there is to see and do? You've come to the right place. In this article, discover the top things you should check out around Campo.
---
Pro Tip: Planning what to do on your trip to Rome? Bookmark this post in your browser so you can easily find it when you're in the city. See our guide to Rome for more resources to help you plan your trip. Also, check out our best Rome tours so you can see the Eternal City right.
What To See and Do Near Campo de' Fiori, Rome
The name Campo de' Fiori means field of flowers in Italian. Geographically speaking, Campo de' Fiori is defined as a piazza, which is lined with bars and restaurants. It's a Roman favorite for late nights out.
The official name of the neighborhood in which the piazza is located is Rioni Regola. However, both the square and the area are referred to locally as Campo. This is important because, nowadays, you wouldn't tell a local in Rome that you're heading to Rioni Regola for the evening. It's unlikely they'd know where that is. Instead, you'd say, "Vicino di Campo," which means near Campo.
If you're heading to the area, be sure to check out these top things to see and do. There are also many great places to eat near Campo de' Fiori. When you're done exploring Campo, you can choose another of Rome's neighborhoods and most famous attractions by clicking the icon below.

---
Already in Rome? Book a last-minute food tour or purchase tickets and tours for the hottest attractions!
Planning in advance? See if Rome Tours are worth it.
1. Giordano Bruno
The bars and restaurants in Campo de' Fiori are all centered around one statue, Giordano Bruno. He was born in 1548 and died in 1600 of very unnatural causes. He was a Dominican friar, which normally gave people a lot of free time for further learning. If you wanted to pursue a career in science or philosophy in the 16th century, you'd normally join a religious group to help support your studies.
Bruno and Geocentrism
Bruno was a mathemetician and early cosmologist. These areas of study were dangerous territory at the time. Catholic dogma declared the Earth was the center of the Universe and all other celestial spheres revolved around the Earth. There wasn't much science behind this—it was God's will.
The big challenge for people like Bruno was the stars. Except for one star, the North Star, they seemed to dance across the sky instead of following consistent paths as one would while in orbit. Copernicus was the first to theorize that the Earth was not the center of the universe and that, in fact, we revolved around the Sun. Bruno went a little further to say that other planets may be home to other living species and that the Universe was likely infinite, which means there could be no center.
For such bright theorists, Bruno made some risky life decisions. His anti-dogmatic theories, which extended far past contesting geocentrism, were not welcome anywhere he went. So, every time he went to a new destination he was either prohibited from teaching or ousted by force. He slowly moved around central Europe coming closer and closer to Rome.
Martyrdom
His journey came to an end in Venice where he was put up in front of an inquisition. The Venetians handed him over to Rome where he was jailed and put on trial for seven years. Finally, on February 17th, 1600 (Ash Wednesday) he was burnt alive for his beliefs in Campo de' Fiori where his statue stands.
He was hung upside down naked and gagged so he couldn't speak. Then he was set on fire—certainly a horrible scene to witness. Due to his persecution, his statue now stands for freedom of speech and its oppression.
Address: Campo de' Fiori
2. Campo Market
Campo de' Fiori Market is a large open-air market in the center of Rome—undoubtedly the largest and most central of its kind in Rome. The daytime market was originally in Piazza Navona up until 1869 when it was moved to Campo de' Fiori. Today, the market is mostly outfitted for tourism. That said, it's still a cool place with fresh produce and products.
There is a great drive-up stand to get porchetta sandwiches in Campo and a cured meat shop, Norcineria Viola, which claims to have been open and under the management of the same family since 1890. We go there on our food tour for the delicious meats and the really fun people.
The market is open from 7 am to 2 pm daily. Some stands stay open a bit later, but the market is completely closed down by 4 or 5 pm each day. You'll want to show up around 9 or 10 am to have the true experience. Again, some locals purchase products there, but it's mostly supported by tourism these days. Regardless, it's a cool experience you should definitely check out.
Address: Campo de' Fiori
Popular Tours from Rome
Best Seller
Unforgettable Rome Day Trip to Pompeii and Sorrento
This is the best way to see Pompeii and the Amalfi Coast from Rome. You'll take private transportation with our guide down to Pompeii where an archeologist will tour our small group through the ruins. Then we'll head over to Sorrento which is the tip of the Amalfi Coast before returning to Rome. Tickets, transportation, and guides are included in the price.
See prices and more info
Best Seller
Rome in a Day Tour with Vatican, Sistine Chapel, Colosseum, and More!
Looking to get much of your sightseeing done in one day? This tour enters the Vatican an hour before opening and visits the Colosseum along with other sites like the Pantheon, Spanish Steps, and Trevi Fountain. All admissions and transportation are included as well as a licensed English-speaking guide!
See prices and more info
Not ready to book a tour? Check out our Rome Guide for more info.
3. Adjoining Roads
One of the most interesting local facts about Campo and the area is the story behind how they named the roads. Italian is a very beautiful language based on Latin, which also makes it a very literal language.
The area around Campo in Rome was a textile heavy area. The roads surrounding the piazza were mostly named for the types of shops you found there, which made things pretty easy to find. Take a walk and explore these adjoining streets:
4. Piazza Farnese
Piazza Farnese is a quiet little piazza, making it one of the most enjoyable places to sit and have lunch in the area. If you like a lot of hustle and bustle, definitely dine in Campo. However, I prefer a relaxing lunch with a view and Piazza Farnese definitely provides that.
The piazza didn't always exist. Alessandro Farnese purchased some of the houses in the square in the 16th century and leveled them to form the piazza. Once he became Pope Paul III (1534 – 1549), he hired Michelangelo to renovate his palace, Palazzo Farnese.
The piazza features two fountains that arguably came from the Baths of Caracalla in Rome. They are both beautiful and were installed for looks only. The fence built around them denied locals the use of this water system, but the Farnese did build a functional fountain on Via Giulia known as La Mascherone, which can still be seen today.
Address: Piazza Farnese
5. Palazzo Farnese
The centerpiece in Piazza Farnese is most definitely Palazzo Farnese, a 16th-century construction. As mentioned above, the building was renovated by Michelangelo but he did not do it alone. Giacomo della Porta, among others, made an impression on its footprint.
Today, the building serves as the French Embassy but will be handed back to the Italian government in 2035 per the terms of the lease. That said, it can be visited as a museum, which we highly recommend. There is a high concentration of artwork inside but few visitors due to how complicated it is to make a reservation. You have to call in advance to make a reservation and they offer guided visits only at certain times.
Address: Piazza Farnese
6. Via Giulia and Arco Farnese
Via Giulia is one of Rome's most prestigious addresses. It is a beautiful and centrally located road with access to Rome's main roads and follows the Tiber river. There is also ample free parking there, which makes it desirable.
The historic road was created by Pope Julius II (1503 – 1515) who also commissioned the Sistine Chapel ceiling by Michelangelo. Donato Bramante designed the road. He was also in charge of an important church in Trastevere, San Pietro in Montorio, built over the point where St. Peter was martyred upside down. While you've likely not heard of Donato, you will hear his name more often as you dive deeper into Rome's 16th-century history.
Rome may appear to be extremely confusing today with its winding streets but this is much better than 14th century Rome. Many projects were put into place to install straight roads connecting different parts of the city and Via Giulia was one of them. The road became a cultural center for Rome upon its completion. Raffaello Sanzio (Raphael) chose it as the location for his palace.
You'll find churches and architecture by Borromini, Moderno, and Giacomo della Porta. The road is the only main road that completely intersects Rioni Regola which locals refer to as Campo—defined by Piazza Campo de' Fiori.
A point of interest is Palazzo Farnese, which can be accessed from Via Giulia and Piazza Farnese. On the Via Giulia side, you'll see L'Arco Farnese, a bridge for the Farnese family connecting Palazzo Farense to Villa Farnese and the Church of Santa Maria dell'Orazione e Morte. The idea was to avoid having to leave your complex even when crossing the road to your other complex. Also, it would have provided the Farnese family with direct access to the church.
Address: Via Giulia
7. Supplizio
€ | Casual and Quick | Kids | Outdoor Seating | Great Beer
If you don't know what a suppli is, you can thank me later. It's the go-to energy snack street food of Rome and even of Italy. Kind of like a PowerBar but with fried rice and mozzarella instead of whatever they put in PowerBars.
This place is pretty cheap and really cool. They have little tables where you can grab a quick suppli, a beer or glass of wine, or a lasagna dish. You won't write home about it but if you're getting hungry and you're in the area, you'll probably revisit this hole in the wall.
Address: via dei Banchi Vecchi 143
Best Seller
Colosseum Underground Tour with Roman Forum and Palatine Hill
This is our most popular Colosseum tour due to the incredible access to non-public areas like the underground chambers. All admissions are included and it is lead by an English speaking licensed guided and Colosseum expert.
See Prices
Best Seller
Local Rome Food Tour in Trastevere Neighborhood
Are you looking for the best food tour in Rome? Embark on a Trastevere food tour that offers an excellent introduction to some of the best food in Rome. Led by a local foodie guide, visit some of our favorite restaurants and trattorie in Rome
See Prices
Not ready to book a tour? Check out our Rome Guide for more info.
8. Have a Drink
If there is one thing Campo de' Fiori is known for today, it's drinking. The square is Rome's largest piazza dedicated to bars and nightlife. Well connected to Trastevere, another great area for nightlife, the area is even more desirable for those wanting to let loose. Here are some of our favorite spots:
Jerry Thomas Speakeasy
€€€ | 20s Themed Bar | Great Cocktail Experience
This 1920s-inspired speakeasy, named after the inventor of cocktails, has been all the rage in Rome for the last five years or so. It's never really crowded but it's always fun and intimate. You have to call ahead to get the password, which changes every night. If you love the 20s (the 1920s—no place for 2020 lovers here), then Jerry Thomas is your joint.
Address: Vicolo Cellini, 30
Sofà Bar Restaurant and Rooftop Terrace
€€€ | Rooftop Terrace | City Views
Looking for fancy? This rooftop bar and restaurant is the place to be for anyone who has money to spend and wants a great view. Sit high above the commoners and enjoy an expensive drink with a view that makes it all worth it.
Address: Via Giulia, 62
The Drunken Ship
€€ | Relaxed Pub | Large Outdoor Seating Area
Looking to exaggerate with some friends in the company of other English speakers? This bar holds a special place in the hearts of many study-abroad students and anglophone travelers. You won't find great food or amazing wine, but they have cold beer and great drinks. Irish Dave is the local celebrity bartender you'll likely see while visiting.
Address: Campo de' Fiori, 20/21
9. Theatre of Pompey
Completed in 55 B.C., the Theatre of Pompey (Pompeii in Latin) is best known as the location where Gaius Julius Caesar was murdered by a group of Roman senators in 44 B.C. Prior to that day, the theatre was most commonly used for non-violent theatrics.
Pompey was a Roman General and statesman, titles which would have brought him great wealth during that period. With important titles and large amounts of money comes a large ego. Pompey would have wanted to be remembered in history and there's no better way to ensure that than by building a large public-use building and naming it after yourself.
When the building was completed, he must have felt insecure about how well he would be remembered and decided to start plotting Caesar's death. Now, all Roman history buffs know Pompey!
A theatre at that time would have been a place for people to get together and watch plays and dramatics. Its decor would have been so elaborate that it would have had a museum-like feel. In addition, it was also used for Roman senators to meet, which is why Caesar would have not suspected any foul play meeting there on that fateful day in March.
Today, not much remains of the theatre or the gardens attached to the theatre. That said, the foundation was re-used to build many Roman houses and apartments. If you walk over to Via di Grotta Pinta, you'll see an oddly curved street that resembles a theatre—that's because it once was a theatre!
There also is a small and slightly creepy passageway named Passetto del Biscione, which was built into the only visible remains of the structure. Also, there are some ruins in Largo Argentina, below, which are believed to have belonged to Pompey's structure.
Address: Via di Grotta Pinta, 39
10. Sant'Andrea della Valle
Completed in 1650 after over 60 years of construction, the Church of Sant'Adrea della Valle or Saint Andrew of the Valley is a pretty amazing minor basilica.
It is a shining example of how there is simply too much amazing artwork and architecture in Rome for any person to see in one trip. Inside the church you'll find work from Giacomo della Porta, Carlo Moderno, Giovanni Lanfranco, and Domenichino, to name a few.
If you head in, be sure to take a look at the Strozzi Chapel, which is the first on your right. Also, the bronze sculpture of Pieta, Leah and Rachel is a copy of Michelangelo's original.
Address: Corso Vittorio Emanuele II
11. Largo di Torre Argentina—Republican Temples
The area of Largo Argentina was forgotten for some time before its rediscovery in 1928 as a result of demolition done to widen some of Rome's streets and make way for innovation—something which is difficult to do in a city like Rome. Inadvertently, they found four temples dating back to the early Republic of Rome. They are considered to be possibly the oldest temples in Rome.
The speed of the excavations in the 1920s left a lot of unanswered questions. Specifically, which deities the temples were built for and when. Estimates place Temple C, arguably the oldest, in the third century B.C., which could be dated back to 290 BCE.
Today, the piazza, which is considerably lower than the street level, is home to a cat sanctuary. So, go there to see cats spread about in a lazy fashion—it's good for a photo.
Address: Largo di Torre Argentina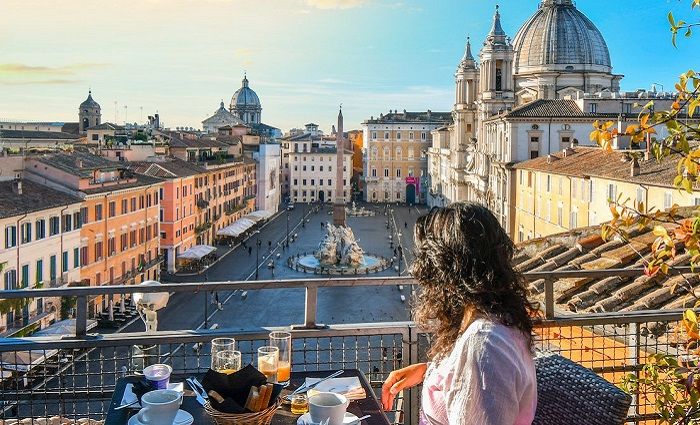 Find the best places to stay
Where To Stay in Rome
Rome has a rich cultural history and many iconic landmarks to explore. Plan where to stay in the magnificent Eternal City in the best neighborhoods.