Planning on a visit to the Jewish Ghetto in Rome?
You've come to the right place! This post goes through all the must-see areas of the Jewish Ghetto.
We even threw in some hidden gems!
---
Last Updated: Aug 13th 2020
Tips & Structured Options
Planning for your upcoming trip to Rome?  Bookmark this post in a "Rome" folder in your browser.  This way you can circle back to it and other neighborhood guides like Vatican, Monti & Campo dé Fiori. 
Structured activities are a great way to make a city come alive.   Check out our Trastevere & Jewish Ghetto Private Tour or our other Rome tours.
Watch our Jewish Ghetto YouTube Video



Rome Jewish Ghetto Neighborhood
What does the word "ghetto" mean to you? The word can derive from two possible meanings:
1. "Borghetto" – meaning "small borough"
2. "Getto" – meaning "foundry" or "factory"
The second, although spelled differently, is most likely the origin. The first Jewish Ghetto was created on the site of a foundry in Venice in 1516. For almost 500 years, the conditions of the Rome Jewish Ghetto and the Venice Ghetto were horrendous.
They were flooded and living conditions were appalling, perhaps inhumane. Now, it's a very different story and real estate values in these areas have blown through the roof.
Where is the Rome Jewish Ghetto?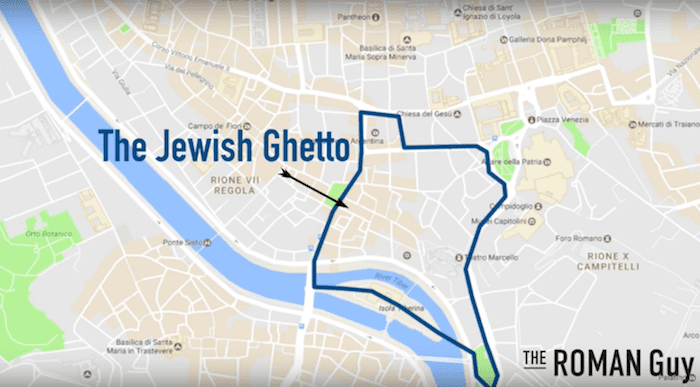 The Rome Jewish Ghetto is center on the map, just on the other side of the street to Campo de' Fiori. You can walk between the two neighborhoods in about 3-5 minutes. 
The adjacent map highlights the "Ghetto" in red. South-East of the neighborhood you can see the "Colosseo e Foro Romano" Colosseum & Roman Forum, which is only a 15-20 minute walk away.
Looking Northwest, you can see St. Peter's Square and the Vatican – again about a 15-20 minute walk away or four stops on the '23' bus to Clodio if you're going towards the Vatican. 
We urge everyone to take to the city of Rome by foot so you can really appreciate the beauty of the city and stumble across gems you may never find on a taxi route.
If you're not a fan of getting around by foot, however, you can see our 'Roma How To: Using the Roman Bus System' video to help you learn how to use local transport in Rome.
Rome Jewish Ghetto Attractions
The Jewish Ghetto is not a boring area or a dangerous one. There are lots of different cool things to do and see – an ancient market and theatre, an island, an impressive synagogue, a lot of tasty restaurants, a postcard-perfect fountain, gelato and many more attractions.
So, we've compiled the following neighborhood bucket list for you to tick off when you visit the Rome Jewish Ghetto. 
Tiber Island – "Isola Tiberina"


Sitting pretty in the middle of the Tiber river with bridges connecting Trastevere to the Jewish Ghetto is the Tiber Island. But this isn't any ordinary island. 
Many Romans believe that you are not a true "Roman" unless you were born on the Tiber island.
Yes, you read that right. But don't fret, there is a hospital on the island. The Fatebenefratelli hospital has been curing the sick and delivering little Roman babies for over 500 years.
Ponte Fabricius, a bridge connecting the island to the Jewish Ghetto, is the oldest standing bridge in Rome, dating back to 62BC – that's over 2,000 years old!
The original inscriptions can still be read on the side of the bridge and the views of this ancient bridge are perfect for photo memories.
Via del Portico d'Ottavia



Named after the ancient structure sitting at the end of the road, "Portico d'Ottavia", Via del Portico d'Ottavia is considered the main drag in the Jewish Ghetto. There are many things to see on and off this street. 
The Portico d'Ottavia was built by Augustus for his sister sometime around 27BC. Once home to a library and school, the Portico turned into the site of one of Rome's biggest fish markets in Medieval times.
In more modern times, the church attached to the Portico was where Jewish Romans were forced to visit on Saturdays to listen to sermons held with the aim of converting their religious beliefs.
Now, you can wander down to the ancient street level of the structure, walk through the back alley and visit the church attached.
Marcello's Theatre – "Teatro Marcello"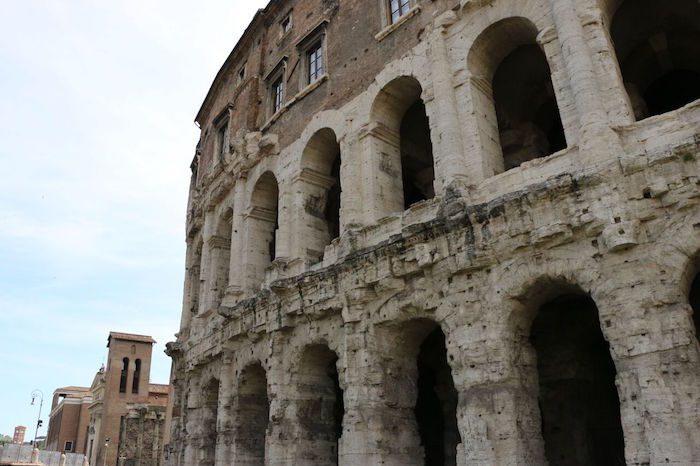 Many people mistake this structure for the Colosseum when they first visit Rome. It does look similar! But actually, this theatre was built BEFORE the Colosseum!
However, unlike the Colosseum, you can only visit the outside of this cool ancient theatre.
Once being able to hold up to 20,000 spectators, theatre and dramatics used to be shown here for entertainment.
Now, the theatre is owned by the Italian noble family – the Orsini's. One of the oldest bloodlines in Rome, this family actually has rights to and lives INSIDE a property older than the Colosseum!
Turtle Fountain – "Fontana delle Tartarughe"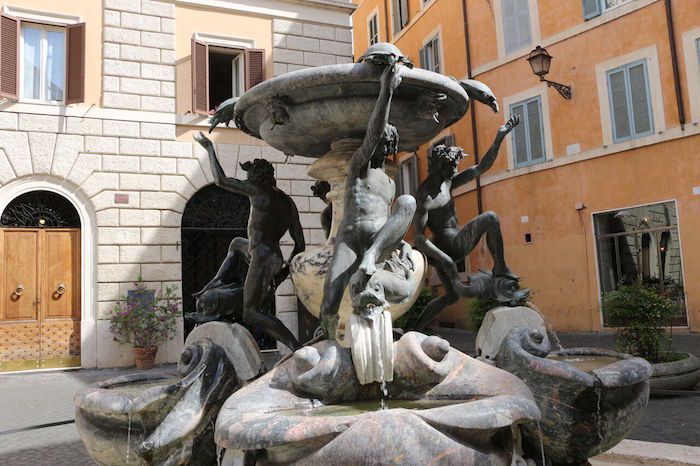 The turtle fountain sits just one street back from the main drag, in a little piazza called Piazza Mattei.
It was built in the 16th century by Giacomo della Porta and sculptor Taddeo Landini. Rumour has it that the turtles sitting around the edge of the fountain were the works of Bernini.
This piazza in general is a great place to people watch and grab a frozen yogurt from the Yogurteria.
Synagogue – "La Sinagoga"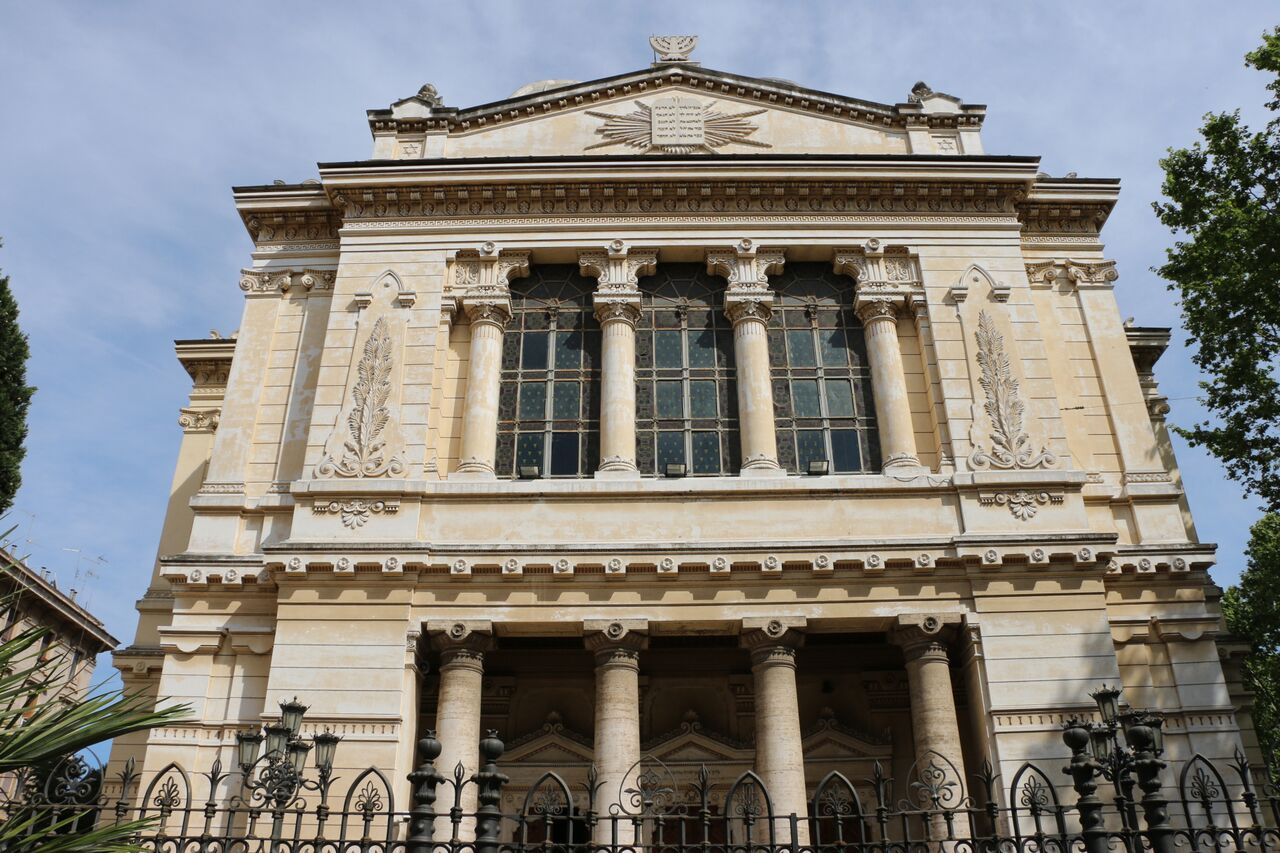 The star of the Rome Jewish Ghetto is, of course, the Great Synagogue. Built just after the unification of Italy, it differentiates itself from the rest of the dome-topped buildings in Rome because of its square (not circular) dome.
This means you can spot it from most panoramic viewpoints in the city. Definitely worth the visit and ask inside for a local guide to show you around!
Address: Lungotevere de Cenci | Phone: +39 06 6840 0661 | Website: www.romaebraica.it | Hours: Sun-Thu 10:00-17:00: Fri 09:00-14:00 | Admissions: €11 | Guided Tours: http://lnx.museoebraico.roma.it/w/?page_id=5010&lang=en
Largo di Torre Argentina

This may not technically be in the vicinity of the Rome Jewish Ghetto, but it's right next door!
Now a famous cat sanctuary in Rome, these ruins witnessed the death of Julius Caesar. Many think he was murdered in the Senate House, but the Ides of March took place among these temples.
Today, locals and visitors alike play "spot the cat." Hundreds of feline friends inhabit this top real estate in Rome's historical center.
You can't walk around among the ruins, but once a year, the cats home is invaded by local Romans to reenact the Ides of March. This is definitely worth seeing if you're in town over March 15th!
Address: Largo di Torre Argentina
Eat & Drink
Nonna Betta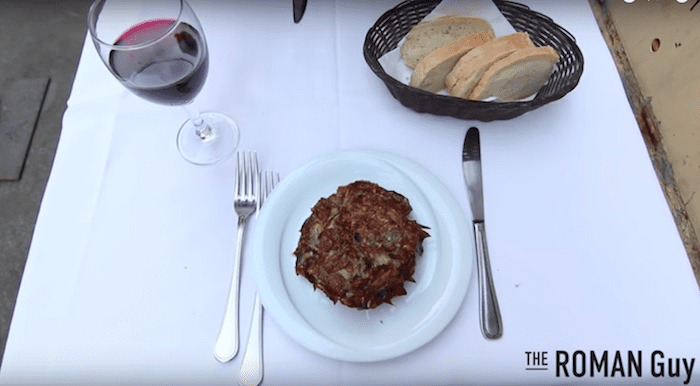 If you ask a Roman to finish this famous food "Jewish style….?", 100% of the time you'd get the answer "artichokes!" Why? Because Rome is famous for its two types of artichoke.
Firstly, the Jewish-style artichokes "Carciofi alla giudia", which is a twice-fried artichoke.
Secondly, the Roman-style artichokes "Carciofi all Romana", which is steamed then served in oil and herbs. Our preference? Oh, don't ask us that! They're both so good!
If you want to try a Jewish artichoke, we'd recommend you stick to the right season to make sure they're romaneschi artichokes, fresh from Feb-May. Then, we'd say "Go to Nonna Betta!"
Now run by Nonna Betta's grandson, this family establishment claims they are the only real Roman Jews to have kept Roman-Jewish cooking alive and on people's plates for centuries.
Address: Via Del Portico d'Ottavia, 16 | Phone:+39 06 6880 6263 |Price: €25pp  |Hours: Wed-Mon 11:00-23:00 | Website: www.nonnabetta.it
Da Beppe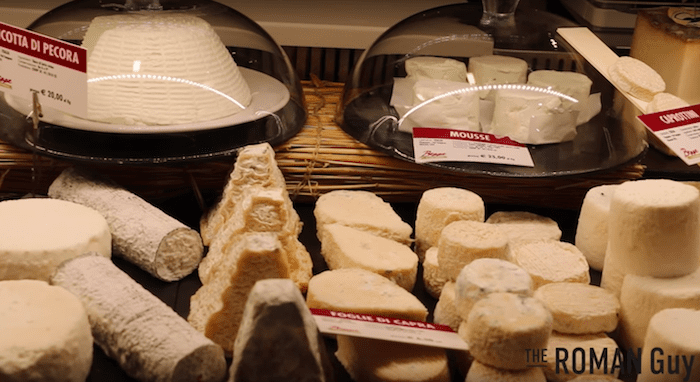 On the same street as Nonna Betta but a little further away from the ancient ruins is da Bepe. This place is a cheese and wine lover's dream. 
They also serve hot dishes and you can buy picnic supplies to take away with you. #nomnomnom
Address: Via di S. Maria del Pianto, 9A/11 | Phone:+39 06 6819 2210 | Price: €  |Hours: Mon-Sat 09:00-22:30 | Website: www.beppeeisuoiformaggi.it
Boccione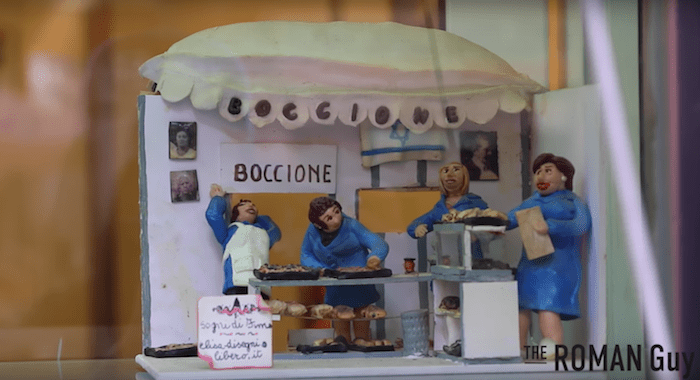 Also on Via del Portico d'Ottavia, this little bakery is run by ladies who make the famous local Jewish dessert – "pizze". 
It may sound familiar to pizza, but it's nothing like it. It's a dried fruit pastry dessert that you'll see people lining up outside for during the day. Once you catch a whiff, you'll need some yourself.
Address: Via del Portico d'Ottavia, 1 | Price: €  |Hours: Sun-Thu 08:00-19:30; Fri 08:00-17:30
Pane Vino e San Daniele
Many complain about the standard of service in restaurants in Italy. It seems you pay for the food, wine and not much else. But this place is an exception. The food is fab, with great dishes like risotto on the menu. The wine is tasty – we suggest trying something from northern Italy. The service is very friendly! What more could you want from a place to sit down and enjoy a delicious cozy lunch.
Address: Piazza Mattei, 16 | Phone: +39 06 687 7147  | Website: www.panevinospa.it | Price: €€  | Hours: Mon-Sun 12:00-01:00
Bartaruga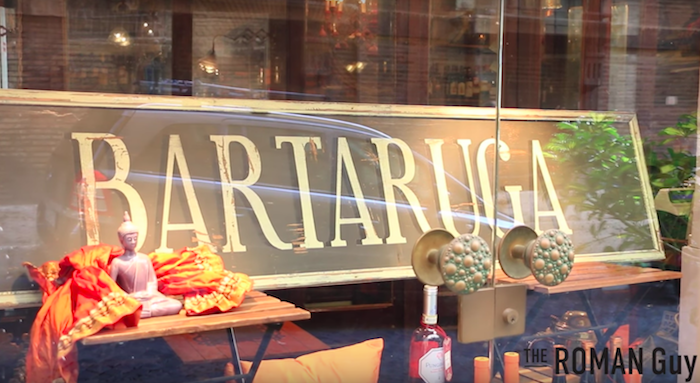 If you find yourself in the area in the evening, you might fancy a craft cocktail or glass of wine. If you're in the Jewish Ghetto area, this is the place to go. The owner is super welcoming and if you check their Facebook page you can plan a visit on a night with live music! 
Address: Via dei Funari, 26 | Phone:+39 06 6476 0525 | Price: €€  | Hours: Tue-Sun 16:00-00:00
Corona Gelateria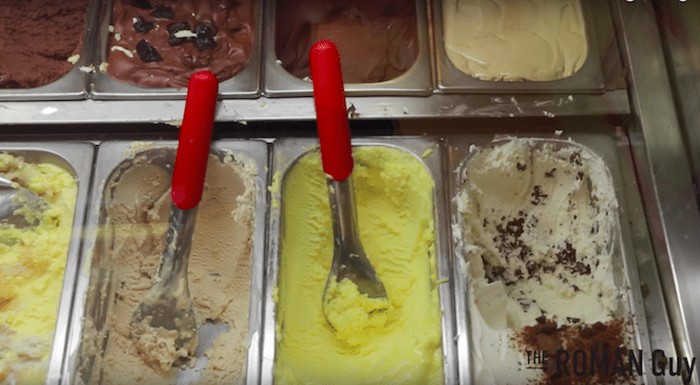 Last, but certainly not least, is our favorite gelateria in all of Rome! The family who runs this little shop near to Largo di Torre Argentina use nothing but fresh seasonal ingredients to make their gelato.
The pistachio is a brown-green color, meaning it doesn't have any additives. They also serve weird and wonderful flavors like lemon and basil and sometimes even tobacco.
Expect richer flavors in winter and zestier flavors in summer. We promise you won't regret the visit. Have fun in the Rome Jewish Ghetto!
Address: Largo Arenula, 27 | Phone:+39 06 6880 8054 | Price: €3