Florentine dining embraces everything from delectable street food to vibrant food markets and centuries-old trattorias. The city is also the gateway to Tuscany's celebrated wine country, which means some of the best wine in the world is at your fingertips. Avoid the crowds and tourist traps and have a world-class culinary experience with this guide to the best places to eat in Florence.
---
Pro Tip: Planning where to eat on your trip to Florence? Bookmark this post in your browser so you can easily find it when you're in the city. Hangry is the enemy of a fun trip. Also, see our guide to Florence for more planning resources, our best Florence tours for a memorable trip, and how to see Florence in a day.
Best Places To Eat in Florence
In my opinion, Florence has the best winter-dining cuisine in Italy. Thick dark sauces filled with meat, hearty vegetables, fungi, and delicious red wine with great depth. Like all top destinations, there are certain dishes that reflect the unique culture of the city. Knowing where to eat them is important, though.
In this guide, I'll show you the best places to eat in Florence so you can avoid the tourist traps and get straight to enjoying authentic cuisine in this beautiful city. If you're a real foodie, check out our popular local food tour (with famous Florentine steak) and our day trips to Tuscan wine country.
Da Nerbone
€ | Lunch | Lampredotto Sandwich | Traditional Florentine Cuisine
The "best" can be widely misinterpreted or misrepresented. It could mean the nicest, oldest, tastiest, most authentic, or most revolutionary to name a few adjectives. Il Nerbone is not the nicest or most revolutionary of restaurants. It could be the tastiest and possibly even the oldest, "dal 1872."
You're going to want to come here for lunch as this part of the market is closed for dinner. The food is traditional Florentine cuisine. The bollito is among the most famous, but they will host a variety of options.
As always, ask the person serving you what you should get. If you're nervous by the looks of things, order it anyway and pick a backup plan. Worst case scenario, you like everything and will need to walk off your larger meal.
This location is not for the faint of heart. They have cafeteria-style seating and possibly the drunkest and grumpiest staff in Italy. I've heard them say things I wouldn't want to repeat but I go continue to go back for the grub.
Address: Piazza del Mercato Centrale, Inside Mercato Centrale (East Corner)
Floret Artisan Kitchen and Bar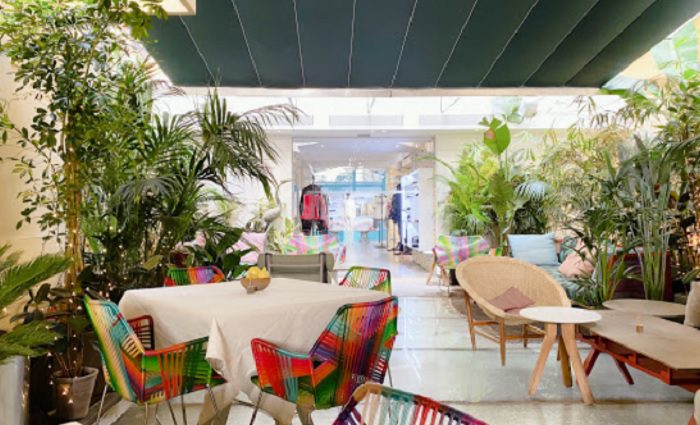 € | Ideal For Brunch | Healthy Food | Great Drinks
I absolutely love this place. Not a true restaurant, it's more of a cafe with a really cool interior garden/terrace. It's a great place to have a cappuccino, prosecco, juice, or light lunch. Definitely perfect for a cool mid-afternoon pick-me-up.
Address: Via Roma 19/21
 Caffe dell'Oro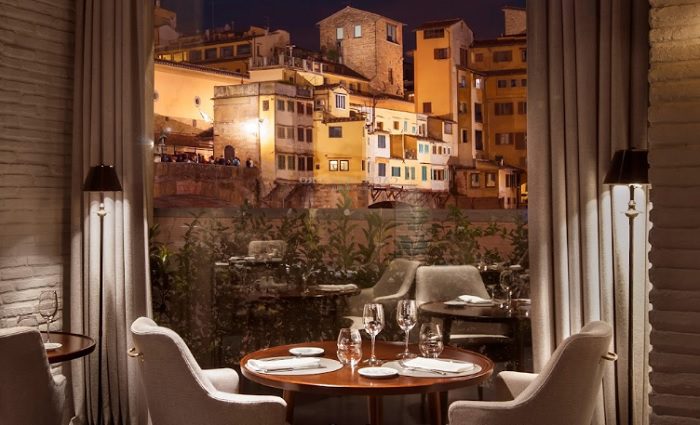 €€€ | Michelin Recommended | Ponte Vecchio Views
This treasure is the polar opposite of Nerbone in price, food, and ambience. It just goes to show what an amazing city Florence is to have them on the same list.
Caffe dell'Oro is traditional Florentine cuisine in an upscale yet comfortable setting. It's the perfect spot for an evening date or extravagant lunch.
While it does not have an official star, it is recommended by the Michelin guide. This means the prices are high but not outrageous. The view and feel of this restaurant make it one of the best places to eat in Florence.
Address: Lungarno degli Acciaiuoli 4
L'Brindellone
€€ | Florentine Steak | Tuscan Cuisine | Relaxed Atmosphere
Like all regions of Italy, Tuscany has famous and historical cuisine—food that describes the agriculture and spirit of the area. One such all-star in Florence is a thick, juicy bistecca (steak).
There are three important characteristics of the bistecca Fiorentina: Its 20-day drying period, its two-inch thickness, and its ingredients in both sirloin and tenderloin cuts. This is the place to go for one of the best Florentine steaks served in Florence. Word to the wise, don't ask for your steak well- done. Just order it and eat it as it comes.
Walking in, you feel as if you're in somebody's dining room. The walls are covered with photographs and jerseys from the local football team, Fiorentina. Aside from the steak, I'd recommend the crostini starters, toasted bread with various savory spreads. If you're a vegetarian, or simply not in the mood for steak, try the minestrone Toscana or pasta with truffles. Reservations are recommended.
Address: Piazza Piattellina, 10 
Il Carduccio
€ | Healthy Breakfasts | Vegan and Vegetarian Options
The two owners of this farm-to-table hotspot in Florence have their fresh fruit and veggies delivered straight from a farm every morning. Although the specifics are created every day, you'll see juices, soups, vegetable patés, oven-baked dishes, and cakes.
Carduccio incorporates eco-friendly practices into their business, so you can eat food that is good for your body and the environment. This is a great choice for vegans or vegetarians looking for a meal in Florence or for any carnivore looking for a healthy farm-to-table meal.
Address: Sdrucciolo de' Pitti, 10/R
Antica Trattoria da Tito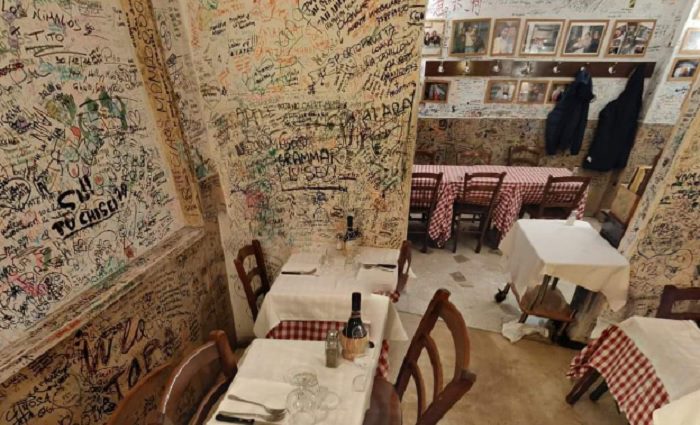 €€ | Traditional Tuscan Food | Florentine Steak | Great Atmosphere
A typical old-school trattoria means simple decor, traditional methods of cooking, and classic recipes (often handed down through families). That's what you get here.
Serving loyal Tuscans since 1913, it has some of the most famous fresh pasta and meat and cheese platters in the city. The chefs use many recipes that were once used by their grandmothers, as they try to recreate that cozy environment of eating a family meal together
For starters, try the fried polenta and a selection of the meat and cheese platters. Order a typical Tuscan soup called ribollita, a hearty vegetable delight, or another typical dish of pappardelle with wild boar. They are also known for the tripe and Florentine steak. Be sure to order at least one of these specialities.
Address: Via San Galle, 112/R
Ará é Sud
€€ | Sicilian Cuisine | Cannolo Dessert
This is the perfect solution if your taste buds are craving Sicily but you can't fit a visit into your itinerary. Chef Carmelo Pannocchietti uses the rainbow of Sicily to create contemporary meals of the region, using fresh locally-sourced vegetables and the highest-quality fish.
If you're trying to save room for gelato, stick with these menu picks: For starters, the Caponata (a blend of eggplant, carrots, tomatoes, celery, olives, capers, raisins, pine nuts and mint) and the typical Sicilian Sarde Beccafico al Forno (oven-baked sardines with breadcrumbs, wild fennel, and spices).
Next, go for the rigatoni all norma (rigatoni with eggplant, tomato, ricotta, and basil) and the grilled mixed seafood. Perhaps the most important things on the menu, though, are the desserts.
Sicilian desserts make the world go round. So take a vow right now to order (at least) one Cannolo and Cassatina—a small dome of marzipan over layers of sponge cake and sweet ricotta.
Address: Via della Vigna Vecchia, 4 
Il Teatro del Sale
€ | Theater Dining | Tuscan Food Buffet | Great Experience
For a livelier dining experience, head to this restaurant that also functions as a theater. As the food is served only buffet-style with the wait staff and chefs yelling out which dish is ready to be swarmed, it's worth it just for the people-watching alone.
Diners are required to become members—€7 for non-resident foreigners and you pay on arrival. The lunch/brunch buffet prices are set at €15 per person during the week and €20 per person at the weekends. The theatrical experience takes place during the evening at a price of €35 for food plus the show.
The show varies from select musicians to theater performances. The endless rounds of the buffet will last until you are in a deep food coma. There isn't a set menu for the buffet, but some of my favorite dishes in the past have been gnocchi, crispy fried anchovies, eggplant, swiss chard, and grilled peppers. It's definitely one of the best places to eat in Florence for a different experience.
Address: Via dei Macci, 111/R