The Colosseum, Roman Forum, and Palatine Hill are the ancient heart of the city of Rome. There is a tremendous amount of history and a lot to see here. We highly recommend taking a guided tour of the area, but if you go it alone you should definitely take this guide along with you. Make sure you don't miss these six things on Palatine Hill.
---
Pro Tip: Doing some research ahead of your trip to Rome? Bookmark this post on your internet browser. This way you can circle back to it when you're exploring Palatine Hill. See our guide to Rome for more resources to help you plan your trip. Also, Check out our top-rated Colosseum tours, which include admission for the entire area, including Palatine Hill.
Top Things to See On Palatine Hill
As you explore the sites of ancient Rome in the heart of the city, you may already have visited the Colosseum and the Roman Forum. Now it's time to visit Palatine Hill. Make sure you have your ticket in hand and head to the Palatine Hill entrance on Via di San Gregorio, 30. Use this list of the top six things to see to guide your journey back in time.
6. Aqua Claudia (Claudian Aqueduct)
If you appreciate engineering, then seeing an aqueduct first-hand is definitely a bucket-list item. The Aqua Claudia or Claudian Aqueduct is the most productive and possibly the most impressive of all.
People often take the idea of indoor plumbing for granted. How does the water even get to your house? Getting water from its source into the homes or common areas of a city of people has its challenges. Even more so if you live on a hill.
Rome was a large city 2,000 years ago with a population of over a million people, according to some estimates. People needed water each day to drink, bathe, and for sewage. How much water would a million people need per day? Perdue University estimates it could have brought 300 million gallons of water each day or more.
Under Caligula
Aqua Claudia was one of the four great Roman aqueducts. Caligula started the project and Claudius completed it. It is approximately 43 miles long (69 kilometers), most of which is underground. The duct emerges from the ground as it reaches Rome and is over 100 feet (32 meters) from the ground as it slopes downward.
This was important if you wanted good water pressure on the top of a hill. As many as 700 engineers monitored these ducts to ensure they were working properly. It was necessary for Rome's prosperity and prosperous it was. A wealthy Roman lived a luxurious life even by today's standards.
You'll see a piece of this structure after entering the Palatine Hill entrance on your left. It was one of ten aqueducts and likely the most productive. I highly recommend seeing this engineering feat.
Address: Aqua Claudia
5. Hippodrome Stadium of Domitian

What is the point of having a palace if you can't have your own stadium inside it? I imagine Domitian told his architect this when he was designing this elaborate and opulent feature of his home. It was 150 feet wide and 500 feet long (160 by 48 meters).
The purpose of the stadium may have been to serve as a garden area for leisure activities where you could practice riding a horse and enjoy nature in the middle of a bustling city. There was an elaborate area used for guest seating and private gladiatorial events, but there is not much mention of it in history.
Pliny the Younger, one of Rome's historians wrote of a "Hippodromus Palatii" when describing the martyrdom of Saint Sebastian in the Hippodrome of Domitian, but they martyred Sebastian in 286, which was 200 years after Domitian.
The area likely had multiple functions—as an indoor/outdoor garden in the palace, a place to hold private events or to display the strength of Rome's water systems with multiple fountains. However the space was used, it is certainly a must-see on Palatine Hill.
Address: Palatine Stadium
Best Seller
Colosseum Underground Tour with Roman Forum and Palatine Hill
This is our most popular Colosseum tour due to the incredible access to non-public areas like the underground chambers. All admissions are included and it is lead by an English speaking licensed guided and Colosseum expert.
See Prices
Best Seller
Local Rome Food Tour in Trastevere Neighborhood
Are you looking for the best food tour in Rome? Embark on a Trastevere food tour that offers an excellent introduction to some of the best food in Rome. Led by a local foodie guide, visit some of our favorite restaurants and trattorie in Rome
See Prices
Not ready to book a tour? Check out our Colosseum Guide for more info.
4. Hypocaust for Heating
They won't look like much, but as you pass by the north-facing end of the Hippodrome (the only way you can walk) you'll see some ruins on your right.  This area was likely a heating system that could warm the palace on cooler nights in Rome.
The system provided under-floor heating and basically produced the same effect as a forced-air furnace does today. It was common in lavish palaces and many rooms had heated floors.
3. Mosaic Palace Floors
As you pass into the Domus Augustana or House of Augustus, be sure to look down and admire the mosaic floors beneath you. Many famed personalities in Rome of the first, second, and third centuries would have walked on these same pieces of tile.
Globalization has taken a lot of the romance out of travel and there are very few surprises today. You can order tile from Morocco and tea from China, and it will likely arrive at your house in a few weeks or less. In the first century, purple cloth was a rarity and extremely expensive. Yellow marble didn't even exist until the Romans ventured to Numidia (Algeria) and defeated Jugurtha, king of Numidia. Prior to that, yellow simply wasn't a color marble came in.
When you walked into the palace of Domitian, there was yellow, green, white, black, and even purple marble and granite. These are things most people had never even seen before. It was certainly very impressive then and it remains so.
Address: House of Augustus
2. Circus Maximus Balcony
As you walk across the hill, step inside the walls of the palaces and turn towards the circus Maximus. You'll be standing on a massive balcony that was part of the structure of the Temple of Apollo and you'll have the best view of the Circus Maximus.
At this point, you'll begin to understand how the Romans operated. The idea was "think big and only big." Imagine you've just been conquered and have joined the Roman Empire to avoid having your civilization erased from history and salt sowed into your land. You've suffered losses, but agree to come to Rome to see what you've just been forced to buy into.
As you're heading in on paved roads, which you've never seen before, you pass by seemingly endless aqueducts standing 100 feet tall or more. You see one impressive structure after another. Then, you see the Colosseum, which holds around 50,000 people. Heading up to the Palatine Hill, the Emperor is riding a horse in his own stadium that happens to be heated. He welcomes you and says, "I almost forgot, the game is on." You arrive to his balcony seating in the Temple of Apollo where he watches the chariot races in the Circus Maximus. You ask, "How many people in this one?" We just put an addition on it so now it fits 250,000 people.
The Circus Maximus would have been one of the most impressive buildings in history. Including all modern stadiums built today, the Circus Maximus would be tied for the fourth largest stadium in the world. When you arrived in Rome and saw it, you wouldn't feel as bad about being conquered. With its fantastic view, this is one of the top things to see on Palatine Hill.
Address: Temple of Apollo
1. Casa di Livia
Attached to the House of Augustus on the east-facing hill, you'll find the Casa di Livia. It's a small structure but an important feature that has stood the test of time. 
This multi-room structure on the northwest corner of the Palatine Hill houses frescoes dating back to the last century B.C. It gives you a clear idea of how the empress lived. To visit Casa di Livia, follow the signs it once you're on the hill. It is not always open, so be sure to check ahead of time. 
Address: Casa di Livia | Hours: Mon – Fri, 9 am – 1 pm and 2 pm – 5 pm; Sat 9 am – 2 pm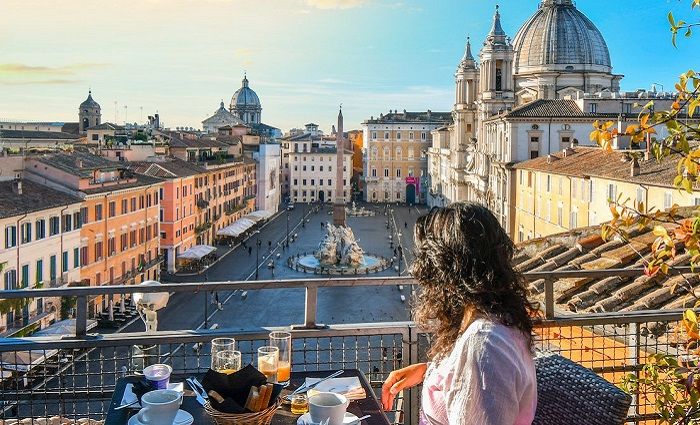 Find the best places to stay
Where To Stay in Rome
Rome has a rich cultural history and many iconic landmarks to explore. Plan where to stay in the magnificent Eternal City in the best neighborhoods.