So you've found out about Rome's best-kept secret, the Borghese Gallery, and now you're wondering if a tour is worth it? You're probably a polyglot history buff who knows everything so what is a guide going to teach you, right?!? This article is all about why the Borghese Gallery should absolutely be seen with a tour guide regardless of your background.
---
Pro Tip: You're headed to Rome, right? How'd we know? Take a minute and bookmark our page dedicated to Rome, which has restaurant recommendations, things to do, history factoids, and more.
Not ready to book a tour? Read more about the Borghese Gallery.
What Does It Mean To Visit the Borghese Gallery?
The Borghese Gallery is a museum inside Rome's Villa Borghese, which was originally built as a private residence with impressive gardens. If you visit Villa Borghese, you're most definitely not visiting the Galleria Borghese or Borghese Gallery.
The galleria was the home of Cardinal Scipione Borghese outside the Vatican walls. The property was purchased and developed to throw extravagant parties. The collection you see today was commissioned (purchased) to show off the family's extreme wealth.
So what does it mean to visit the Borghese Gallery? It means that you purchase a ticket to the gallery and enter during your designated time slot. For 10 months of the year, you cannot walk up and purchase a ticket. You have to reserve in advance.
Is a Tour of the Borghese Gallery Worth It?
Short Answer: Yes. Yes. Yes.
The Borghese Gallery is one of the world's greatest museums—pound for pound. It is a smaller museum, but it's filled wall-to-wall with some of the greatest sculptures ever produced. It has not one, but over five crowning jewels—all of which have complicated and profound backstories.
The gallery itself makes a guide's job easy. I've had numerous groups ask me to go back inside this gallery and do the tour again—it was that good. I'm a Rome tour guide and I wouldn't hesitate to take this tour myself to her another guide's version of it. Everyone should find time for the Borghese Gallery. Here are some of the reasons a Borghese Gallery tour is worth it.
Limited Entrances
The historical and learning aspects are undoubtedly the primary reasons to book a guide. That said, getting tickets is difficult at the Borghese Gallery. There are only a few hundred entrances allowed every two hours. This makes it difficult to enter but it also makes it a pleasure to visit once you're inside. Why?
There are fewer people inside. It's a controlled environment without crowds and people bumping into you. This makes the tour of the Borghese Gallery one of the classiest tours you'll take in Europe.
Incredible Backstories
The best part of a tour of the Borghese Gallery is that the art is heavily baroque. The baroque period gave life to extremely passionate works of art layered thick with context.
You can try and pull these from a guidebook, or our article on the top things to see, but a great guide will bring the museum to life right in front of you.
Guides Love Borghese
Another great reason to take a tour here is that you'll get a completely refreshed and excited guide. Due to the volume and demand, guides can do Vatican and Colosseum tours all day every day.
When they get a request to do a Borghese Gallery tour, they are thrilled. It's smaller, less crowded, and has many stunning pieces to get close to. Great guides still get excited by the Vatican Museums, but you'll get the best version of your guide at the Borghese Gallery.
Not ready to book a tour? Read more in our Borghese Gallery Guide.
Areas of Interest
The Borghese Gallery exhibits must-see works by world-renowned artists. Here are some of the gallery's highlights. For a full breakdown, see the top things to see at the Borghese Gallery.
The Bernini Sculptures
Gian Lorenzo Bernini is the highlight and centerpiece of this museum. His mastery of sculpting is trumped by few. You'll see multiple sculptures, which will consume large quantities of your time inside.
There are over a dozen inside, but the main ones to visit are the Flight from Troy (unofficial name), Apollo & Daphne, Pluto and Proserpina, and David. This David you see to the right is an incredibly fresh perspective of young David's determination to slay Goliath. It's a stark contrast to Michelangelo's David and totally worth seeing.
Raphael Deposition
One of Rome's most famous painters, sculptors, architects, and playboys was the Raphael. You can see a few works by him including Girl with Unicorn and a masterpiece, the Deposition.
The stories behind each work are immense and full of drama. Definitely not something you should miss.
Caravaggio Paintings
If Raphael was a playboy then Caravaggio was the bad boy of the baroque period. He was the embodiment of mischief and tomfoolery.
His paintings are dark (figuratively and literally) and full of emotion. You'll see a few works including Boy with a Basket of Fruit, St. Jerome, David with Head of Goliath, Sick Baccus, and more.
Popular Private Borghese Gallery Tour
The Borghese Gallery is a truly one-of-a-kind museum that should be high up on anyone's list. It's a must-see for art lovers, and even if you're not an art aficionado, this gallery will rope you into our circle.
It's one of the greatest baroque galleries on Earth with headliners like Gian Lorenzo Bernini (sculptor) and Caravaggio (painter). Baroque, if you're unfamiliar, is a style of art incorporating passion, strong movement, and heavy narrative, which makes it easy to love.
In our private Borghese Gallery tour, you'll see the top works of art in the gallery with a passionate guide. The tour lasts for 2 hours as the museum only allows people to enter for 2 hours at a time. Not only is a private tour of the Borghese Gallery a must but it's also reasonably priced for what you get—the tour has amazing reviews!
Not ready to book a tour? Find out how to visit the Borghese Gallery.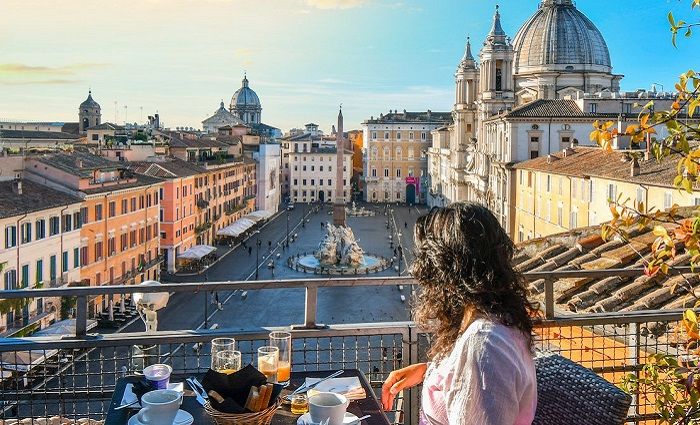 Find the best places to stay
Where To Stay in Rome
Rome has a rich cultural history and many iconic landmarks to explore. Plan where to stay in the magnificent Eternal City in the best neighborhoods.