Who has never planned a trip to Italy without thinking about the delicious food you'll eat when you get there? Yes correct, nobody. Pasta has a strong role in Italian history; it has marked generations and evolved with the country over the centuries. It still remains the bond that every Italian keeps with their roots and no matter where an Italian will be, they will always bring along his family's recipes. Let's discover then the history behind the most famous types of pasta.
---
Spaghetti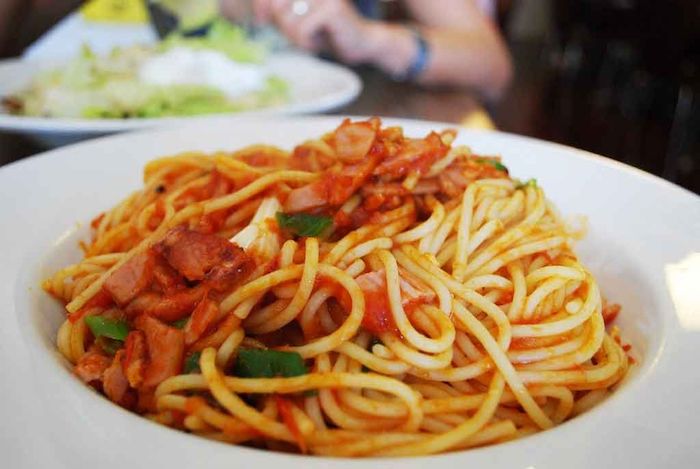 How not to start from spaghetti, the world-renowned pasta. Do Italians eat spaghetti? Of course, they do! This pasta type is mentioned for the first time in a book from 1154 written by the geographer Aldrisi who worked and lived in Palermo at the court of Ruggero the 2nd. According to him, spaghetti was the evolution of an ancient Roman plate that changed throughout the centuries thanks to the Arabic influences on Italian soil.
Also, Aldrisi confirms that in 1154, this product was already sold around the whole Mediterranean area. At the time though, there weren't many recipes to cook spaghetti. Actually, there was only one. Italians used to eat spaghetti dressed only with olive oil, cheese, and pepper.
The tomato sauce was added on spaghetti for the first time only between the 17th and 18th centuries at the Caserta palace and we will have to wait one more century just to see the first published recipe describing how to add tomato sauce on spaghetti pasta. Also, the very famous Ragù will appear in the Italian recipes only in 1839. Since then, anyway, Italians have never stopped inventing new sauces for this pasta type and they continue every day to innovate this traditional dish.
Penne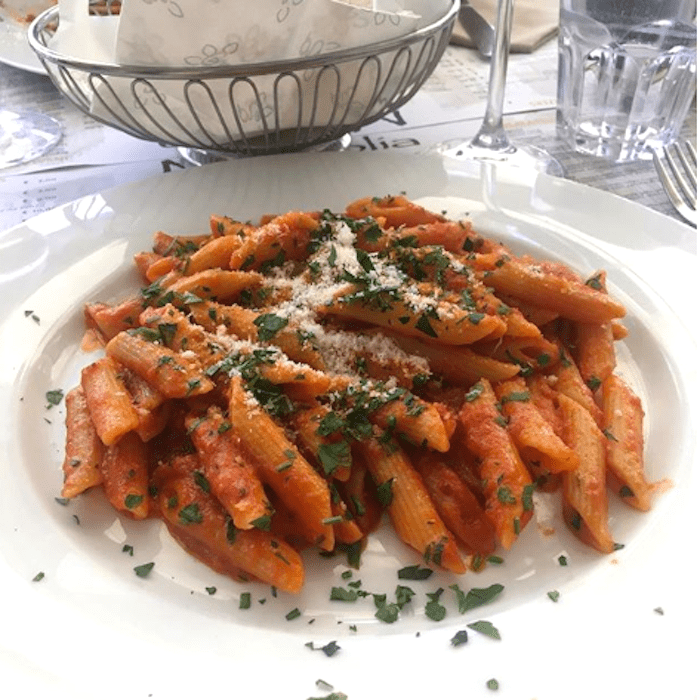 Of course, you've already heard about penne. This kind of pasta though, despite its fame, has a much more recent history than other pasta types. It was created for the first time in 1865, exactly on March the 11th, by Giovanni Battista Dapurro in a town close to Genoa.
Why was penne pasta invented? This man, sick and tired of having to cut pasta with scissors with an irregular and ugly final result, invented the machine able to cut pasta in a more efficient way. This allowed the production of penne, cut in a diagonal way at the end. Why is it called penne pasta? The word penne in Italian means "pens," because this pasta type reminded people of the shape of a fountain pen, widely used at the time.
Thanks to this revolutionary pasta type, Italian cuisine evolved and opened to many new ingredients to be used as dressings. For example, the use of vodka! One beloved way to cook and dress penne is by using a dressing made with salmon a vodka, a delicious combination that it's still constantly used by all the Italians.
Popular Vatican Tours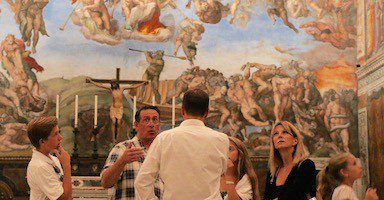 Best Selling Tour
Privileged Entrance Vatican Tour with Sistine Chapel
This our most popular and longest-running Vatican tour to date. It enters the Vatican City & Museums an hour before the public opening and visits the Sistine Chapel as it opens. Admissions are included and our English-speaking guides do a wonderful job bringing the museums to life!





See Prices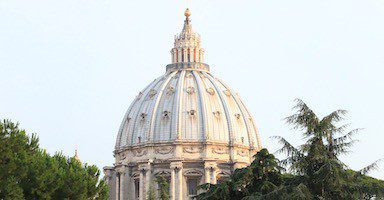 Top Rated Tour
Ultimate St. Peter's Basilica Dome Climb Tour with Papal Tombs
Get the most out of your visit to St. Peter's Basilica by joining a guided tour up to the top of the tallest dome in the world! Our tour includes all admissions including an elevator to the highest possible point and an English-speaking guide.





See Prices
Farfalle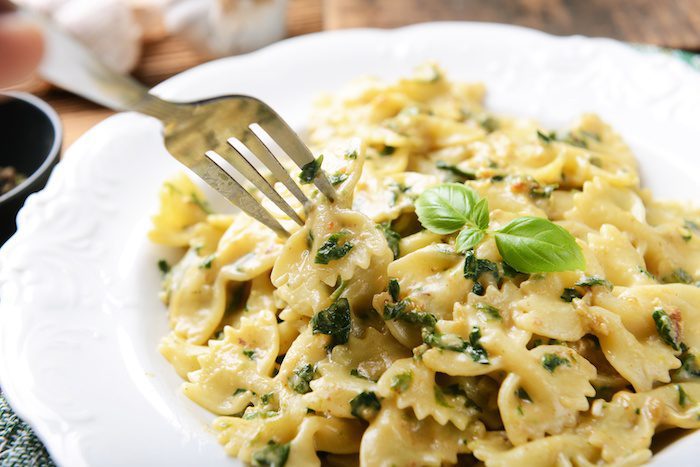 It's the 16th century when farfalle pasta makes the first appearance in the Italian cuisine. History teaches that this pasta shape was invented by some Italian housewives from the Emilia Romagna region. These women, in fact, were tired of having to trash so many pasta leftovers after having prepared the cappelletti pasta and began to use them to prepare another kind of pasta with the shape of butterflies (farfalle in Italian means butterflies).
Outside of Italy, this farfalle pasta is better known with the name of "bow-tie" as it also resembles this kind of shape. Even in Italy, it is called different names depending on the region. For example, in Modena, a town not so far from Bologna, farfalle is also called strichetti.
Depending on the size, farfalle pasta can be called farfallone if it's bigger than the usual size or farfalline if it's smaller. This pasta can be smooth or striped and it also comes to find it with other colors other than the usual yellow from grain: it can be green if colored with spinach or red if tomatoes were used.
Rigatoni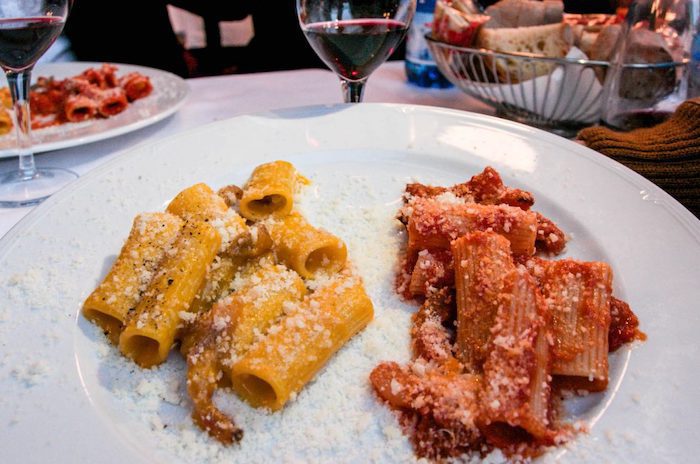 You may or may not have heard about this pasta type which appears to be the most common, especially in the southern Italian regions. Rigatoni were first created in the 19th century when machines started to appear in Italian cuisine to prepare several types of pasta. The name should remind the fact that this pasta type is detailed with small stripes that enable the pasta to better hold the sauce.
According to tradition, rigatoni was widely used by Sicilian families back in the days to prepare a local dish called taganu. This pasta was cooked in a special terracotta bowl and the bowl itself was directly broken before serving the pasta in order to maintain the round shape of the dish and not ruining it while removing it from the bowl.
Rigatoni pasta is not so different from the famous maccheroni pasta. The only difference is on the surfaces: rigatoni has stripes while maccheroni has a smooth surface.
Tortellini
Tortellini is the kind of pasta able to make every Italian happy. Three cities, such as Bologna, Modena and Castelfranco Emilia, fight to state their paternity over this pasta type. Apparently, tortellini were invented by a cook who used to work in one of these cities.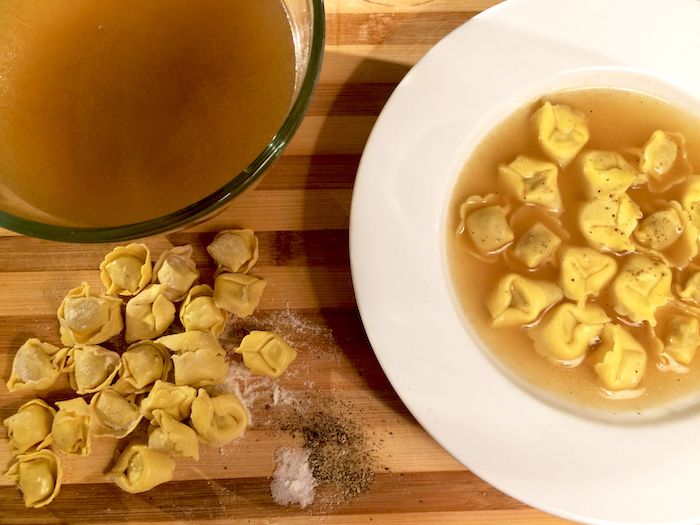 One day, the cook saw a beautiful woman at his inn. Before dinner, the noblewoman used her room to refresh a bit and the cook spied on her by using the hole in the door lock. The man felt completely in love and decided to prepare a special dinner for the woman: a pasta inspired by her belly button! Since that day on, tortellini fame never stopped growing.
This kind of pasta is prepared by using egg, so it's also called in Italian pasta all'uovo (where uovo stays for egg in Italian). For many families, tortellini are the typical Sunday meal, and for others, this pasta type is the classic Christmas lunch first course where tortellini are served with broth.
Hey, we sell tours too!
The information provided is free, but we also sell tours in Italy at pretty reasonable prices. We serve up some pretty sweet food tours, as if pasta makes you swoon, we recommend our brand new Rome Walking Tour with Pasta Making and Lunch. Looking for more experiences in Rome? Check out our selection of killer Rome tours.
---
I Want More Italy!