Florence's Uffizi Gallery is home to some of the world's most treasured masterpieces, including Botticelli's Birth of Venus.
We wouldn't be a tour company if we didn't recommend taking a guided tour but if you are going to see it on your own make sure you stand in front of these works of art and let your jaw drop!
---
Tips & Structured Activities
You're probably at home looking at this site thinking, I gotta make sure we don't miss anything on our trip to Florence.  Be a pro and bookmark this page in a "Florence" folder on your browser along with our list of things not to miss while in Florence.  This way you can circle back to it at a caffé in Florence before going inside the Uffizi.
Beaches are for hanging out and relaxing.  Cities are for structured activities.  I recommend one per day.  Check out our best selling Florence tours including our Florence in a day tour with Accademia and Uffizi.
1. Birth of Venus – Sandro Botticelli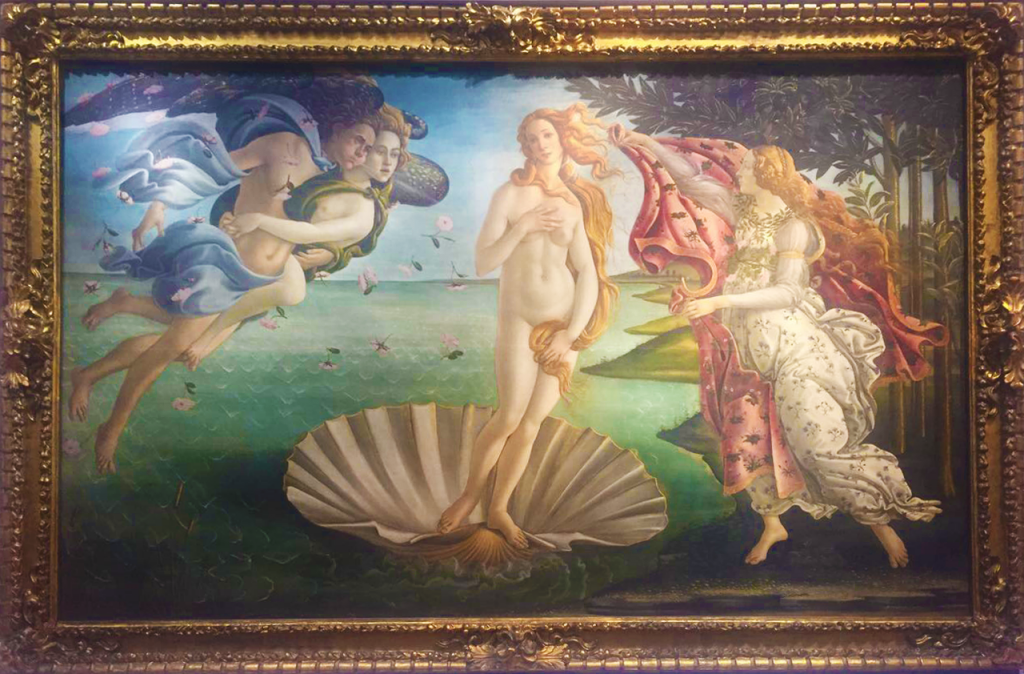 The Birth of Venus has become one of the world's most famous Renaissance masterpieces.
It was painted by Sandro Botticelli between 1482 and 1485 for the Medici family.
In the painting you can observe Venus, the goddess of love, standing on a seashell in the center. To the right of her, Zephyr, the god of the west wind is blowing her to the shore. There, Pomona, the goddess of spring, is waiting with a cape to clothe the newborn deity.
Location in Uffizi:  Botticelli Rooms (10-14)
2. La Primavera – Sandro Botticelli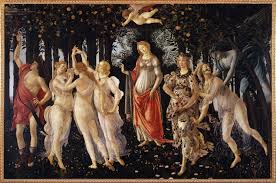 La Primavera or Spring in English is considered to be one of the greatest paintings ever produced.  That statement goes far beyond its beauty and artistic expression.
Along with the Birth of Venus, La Primavera depicts pagan figures and symbolism openly.  Art outsiders may ask, "are pagan symbols not used all the time in works?"
Yes, but not for about over thousand years (380/392 A.D. to mid 15th century) on the public stage in a Catholic city. People were burnt at the stake for less.
La Primavera defied the oppression of artistic expression which arguably could have inspired a massive leap forward in art history.  Some of the greatest artists that would ever live followed the career of Boticelli.
The Birth of Venus is undoubtedly more famous than the Primavera.  That said, the Primavera is considered more complex and intricate as a work of art.
The field of la Primavera contains between 150 – 200 different species of flowers all individually painted.  Boticelli went to painstaking lengths to add incredible amounts of detail to this masterpiece.
Don't miss either of these paints while visiting the Uffizi and plan on spending 10 minutes or so admiring each one. Put the camera down and really appreciate them.  These paintings are the reason I, Sean from the Youtube Channel, started a The Roman Guy and eventually The Tour Guy.
Location in Uffizi:  Hall of Botticelli (10-14)
3. Madonna del Cardellino – Raphael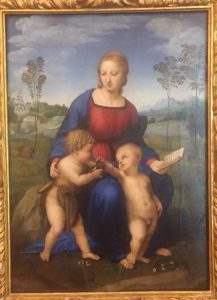 The Madonna del Cardellino or also known as Madonna of the Goldfinch was painted by Raphael (Raffaello in Italian) in 1506 as a wedding gift for his friend Lorenzo Nasi.
Looking at the painting, the Madonna is shown young and beautiful. She is clothed in red and blue, the red signifies the passion of Christ and the blue signifies the church.
Christ and John are still young babies.  John holds a goldfinch in his hand, and Christ is reaching out to touch it.
The painting suffered damaged during an earthquake in 1548. After various restorations projects, with the recent one finishing in 2008, you can now enjoy the history of this artwork
Location in Uffizi:  Hall #66.
4. Annunciation – Leonardo Da Vinci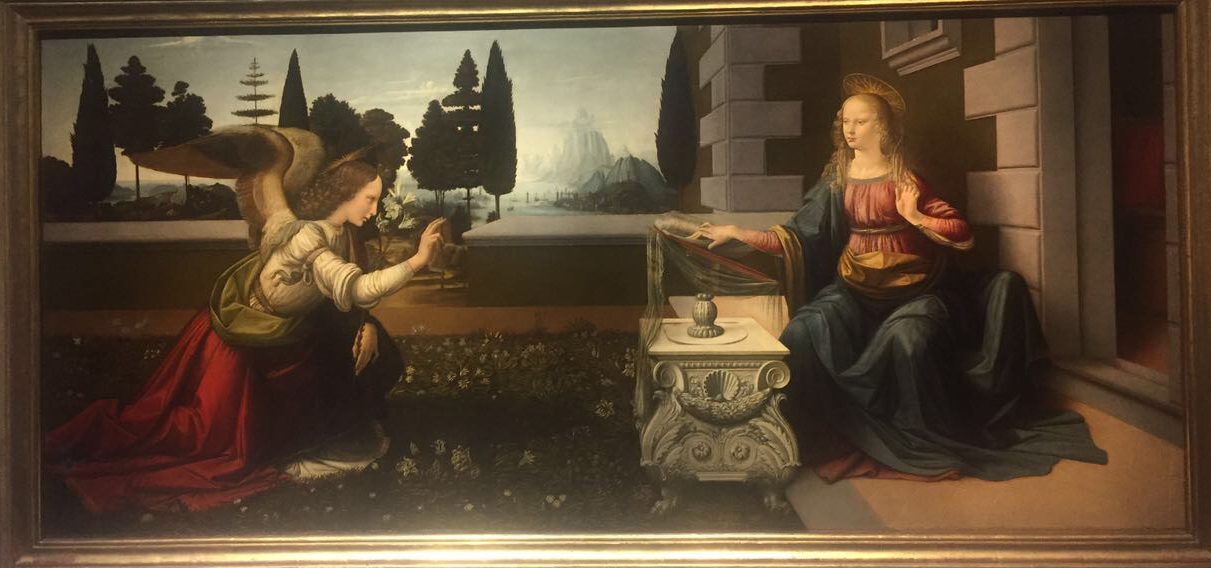 The Annunciation was painted by Leonardo Da Vinci and Andrea del Verrocchio around 1472-1475. The painting depicts the moment Angel Gabriel announces to the Virgin Mary that she will conceive and give birth to a son to be named Jesus, "Son of God".
This was a very popular subject for paintings at the time. An interesting detail to look out for is the lilies that the angel is holding, which symbolize Mary's virginity.
Location in Uffizi: Hall #15.
5. Venus of Urbino – Titian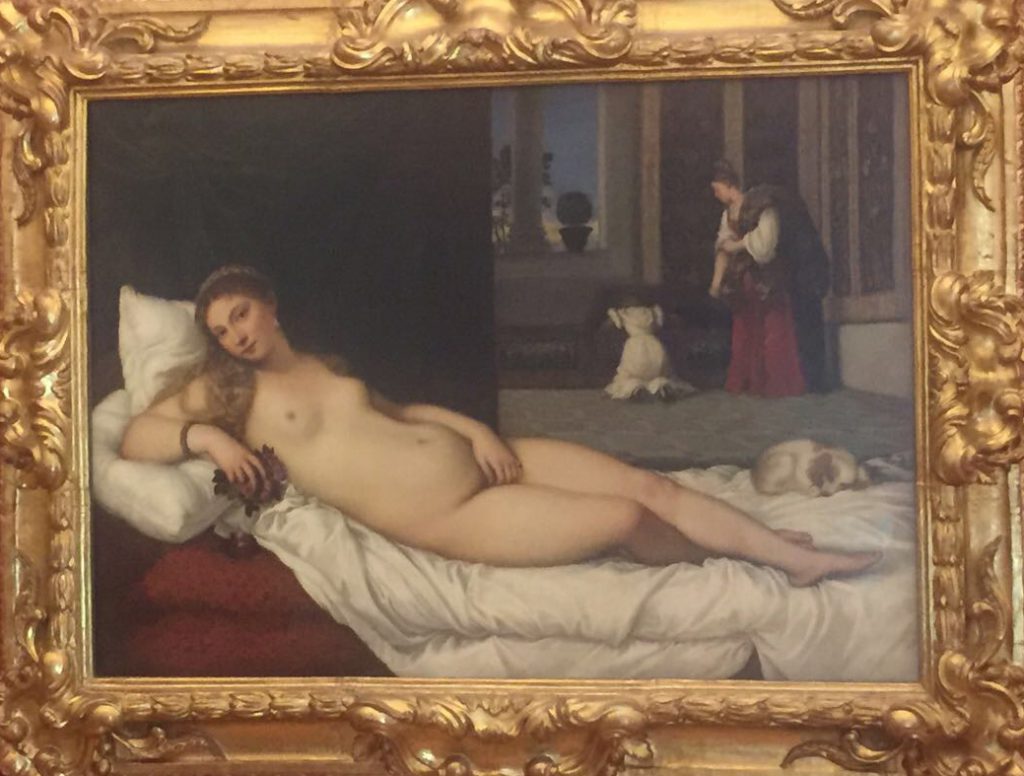 The Venus of Urbino was completed by Titian in 1538, commissioned by the Duke of Urbino, Guidobaldo II Della Rovere. The painting was a gift from the Duke to his young wife.
It represented the allegory of marriage; eroticism, fidelity, and motherhood. The eroticism is evident in the representation of Venus, the goddess of love. The dog at her feet represents marital fidelity, while the girl looking through the chest in the background represents motherhood.
Location in Uffizi: Venus of Urbino by Titian is in the Hall #83.
6. Medusa – Caravaggio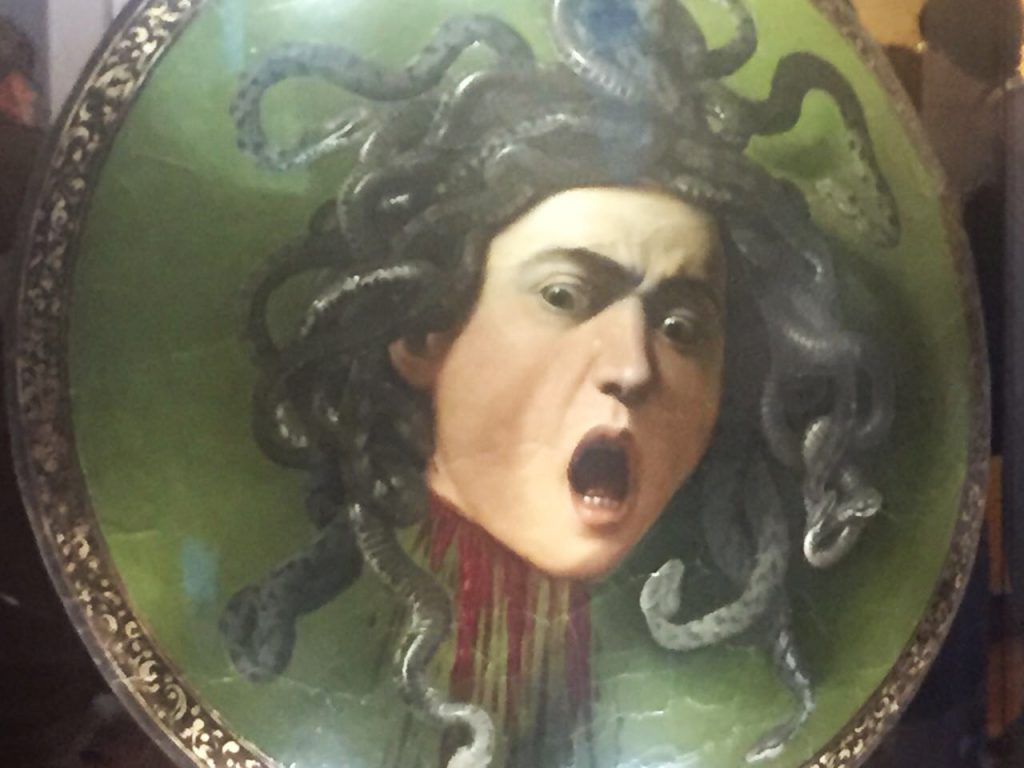 Medusa was commissioned to Caravaggio by Cardinal Francesco Maria Bourbon del Monte in 1597 who then gave it to the Grand Duke Ferdinando I de' Medici as a gift.
In Greek mythology, Medusa was a Gorgon that had venomous snakes as hair and had the power to turn anyone who gazed at her to stone. Perseus was given a shield by the goddess Athena to avoid looking at her as he decapitated her.
Caravaggio's painting portrays the moment that Medusa is decapitated, as she realizes that her head and body are no longer one.
Location in Uffizi: the Medusa shield in the Hall #90 dedicated to Caravaggio.
7. The Holy Family with Young St. John the Baptist – Michaelangelo
This lands in sixth place only to make sure you read the article top to bottom ( ;
To call Michelangelo a gifted and talented artist is an understatement.  He was born with talent and dedicated his life to be the best.  This said, he felt that painting was of the "lesser" arts.
A mistake in marble cannot be hidden nor reversed.  Painters had many tricks that were not options for sculptors.
And still, he has a few paintings. Doni Tondo or The Holy Family is one of a literal handful of free-standing (panel) paintings Michaelangelo worked on and apparently the only panel that was completed.
It was commissioned by a merchant Agnolo Doni to commemorate the birth of his child. It's a beautiful work of art that commemorates a sort of golden era for Rennaissance art in Florence.
This is when Da Vinci, Raphael, and Michelangelo were all living in the city and treated like the celebrities they were.  A definite must for your visit.
Location in Uffizi: Hall 35
Uffizi Gallery Opening Hours



The Uffizi is CLOSED on Mondays.
Opening hours: Tuesday to Sunday, 8:15 am – 6:50 pm.
Ticket office closes at 6:05 p.m. and the museum starts closing down at 6:35 pm.
The museum is closed: every Monday, January 1, May 1, December 25.
---
I Want More Italy!
If you want us to arrange the entertainment in Rome (and beyond), contact our Trip Planning Team to coordinate an unforgettable Italian experience.
Check out our YouTube video and step-by-step guide about how to do Rome in a Day. If you'd rather let us guide you, check out our Rome tours.