The romantic Venetian canals can seem inviting for a refreshing dip. So, can you swim in the Venice canals?
The simple answer is: no, you are not allowed to swim in the Venice canals, nor in any other place of the historic center of Venice.
In this guide, find out about the rules and regulations that surround swimming in the Venice canals, and discover some alternatives to cooling off in the city's heat.
---
Last Updated: August 13, 2020
Tips & Structured Options
If you like this post and are planning a trip, create a "Venice" folder in your browser and bookmark it.  You can treat our blog like a lightweight Italy guide book that you can take with you anywhere! Check out our post on some hidden gems in Venice.
We also run tours in Venice! Check out our best Venice tours.
Could You Ever Swim in the Venice Canals?
You might see some black and white pictures hanging in bars and restaurants depicting Venetian children jumping into the canals.
People actually used to swim in the canals, but since then, the city grew and rules have been adjusted. The local police will now fine you up to 500 euros if you opt to ignore this rule.
There are a few reasons why swimming is not allowed in Venice. But don't worry, if you need to refresh after a long city tour in the summer sun, there are possibilities for relief.
Why You Can't Swim in the Canals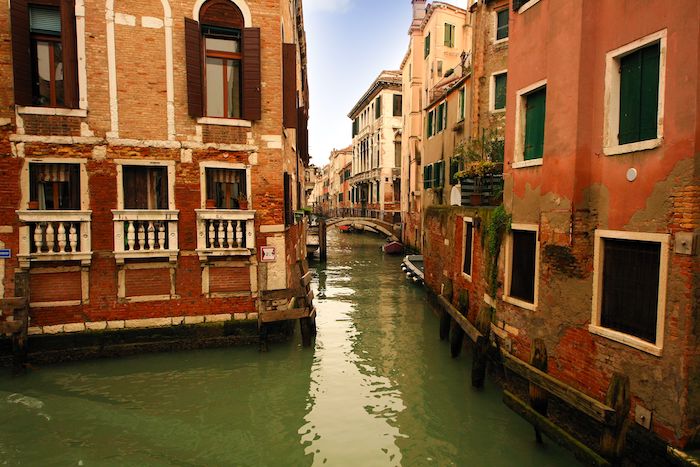 Simply, the water is dirty.
The use of canals as a sewage disposal system in Venice surprises many visitors. You really should not bathe in the water.
Some islands and parts of the historic center use more modern sewage systems, but still, a lot of the wastewater in big parts of the city is disposed of in the lagoon.
Twice a day, the tides pull the dirty water out of the lagoon and bring fresh seawater in.
But even though this might be true, tourists still experience a bad smell in the air, when they walk the city or cross a bridge over a small canal.
The locals do not take notice of this smell anymore, because they are simply used to it from their early childhood.
It is also very dangerous to swim in the canals because of motorboats and gondolas circulating the canals constantly and at a rapid pace.
Not even on the so-called "fondamenta", the seashores, are you allowed to swim. It is even more dangerous, since bigger boats are regularly stopping by.

Where to Swim in Venice
If you do not want to leave the lagoon area, take the water taxi to one of the more isolated locations in the lagoon.
For example, venture to the island of Sant'Erasmo, famous for its artichoke cultivations in spring. You can reach it in approximately 1h 15 min by public transport.
The small beach on the southern tip is not very big, but still worth a visit. Chill out with locals and enjoy tasty seafood in the beachside restaurant. The water is clean and not dangerous.

Your best option for a refreshment on a sandy beach, with modern infrastructure including Wi-Fi, showers, dressing rooms and bathrooms lies outside of the lagoon.
These places include Lido di Venezia, Jesolo and Bibione, three of the main beach resort areas in the Veneto region.
Lido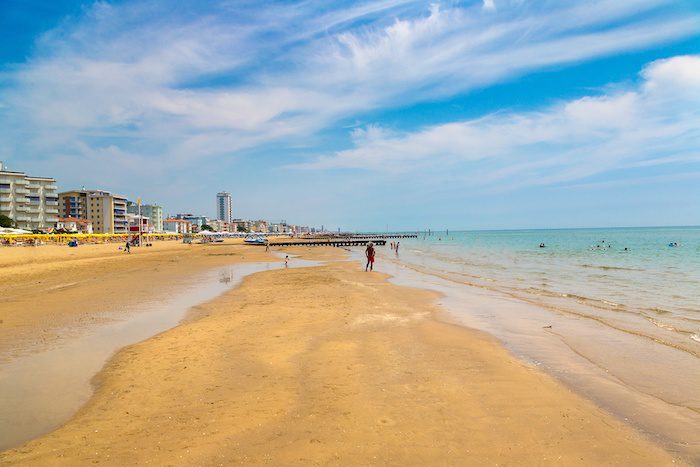 Lido di Venezia is peaceful and luxurious during the summer. It is full of Venetian villas, which continue to be occupied by Venice's noble families.
Find a bike rental shop or choose the bike-sharing option to cycle to the seafront. Stop at "Palazzo del Cinema", the location where the annual Venice Film Festival is held.
If you like the relaxed vibe of this island, stay longer in the many hotels or B&Bs you will find there.
The boat ride from the city center is short, it will take only 25 minutes from St, Mark's square and another 5 min by bicycle or 10 min by foot to step onto the beach.

Jesolo
Jesolo is all about staying up late and partying. This town is a magnet for many young Italians living in the northeastern part of the country.

But also, families and tourists from abroad love the city too. The city can get very crowded, especially in August. You can reach Jesolo by car and bus in approximately 1 hour from Venice.
Bibione
Enjoy miles of family-friendly golden beaches. The beach of this town is located on the Adriatic; it's very wide and stretches eastward up to an idyllic lighthouse. It is more relaxed than Jesolo and perfect for families, because of the many attractions and resorts for kids.
In this town, you can find Bibione Thermae, a wellness and spa retreat directly on the beach, as well as hundreds of hotels of all price ranges. This location is farther from Venice, but you can reach it by car in 1h and 20 minutes and in 2h with public transportation.
Hotels with Outdoor Pools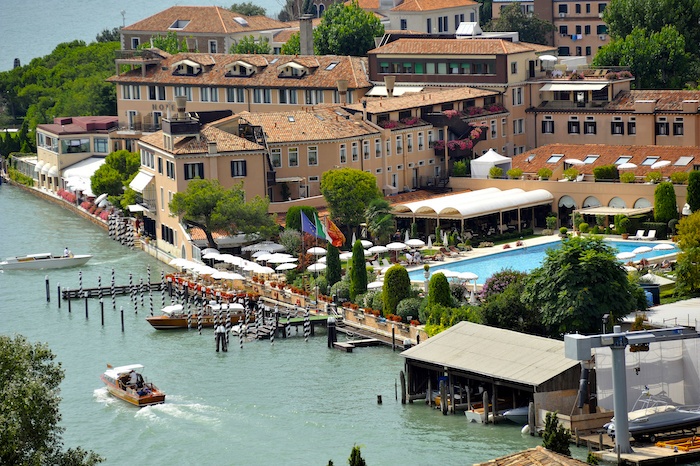 Truly, the easiest option for swimming in Venice is choosing a hotel with an outdoor pool. Unfortunately, your options are very limited.

You can find a big outdoor pool in the quiet Gardens of Hotel Cipriani on Giudecca Island, located in the south of the city.
JW Marriott Venice Resort & Spa is located on a remote island in the lagoon and offers in addition to the pool a whole spa and wellness facility.
Alternatively, book your stay at the Hilton Molino Stucky, a striking palazzo on the western end of Giudecca Island. Here, you can swim in a rooftop pool, overlooking the whole city.
---
I Want More Italy!
Check out our YouTube video and step-by-step guide about how to do Venice in a Day. If you'd rather let us guide you, check out our Venice tours.