Planning a trip to Italy and want to know where the Colosseum is? You probably know it is in but where exactly is it and what has happened over the last 2000 years? In this article we'll explain where the Colosseum is, how it became to be, and all the drama in between!
---
Where is the Colosseum Today?
The shortest answer is the Colosseum is in Rome, Italy at the very center of the city. On my first journey to Rome long ago I couldn't believe it was in the center of town. It makes sense that the Romans would build it there but in my experience stadiums are normally constructed closer to the outskirts of town.
That said, the Colosseum is at the end of Via dei Fori Imperiali or the road of the Imperial Forum. It stands in Piazza del Colosseo which is obviously named after the monument. The area is almost completely pedestrian with the exception of a road on the south and southeastern side of the building named Via Celio Vibenna.
Pedestrian Areas
The pedestrian area of the Colosseum, Palatine Hill, and Roman Forum is slightly larger than a square kilometer which is slightly less than half a square mile. The area is an extremely enjoyable area to walk around with little interference from traffic. Via dei Fori Imperiali used to be open to regular traffic but that changed in recent times to the delight of travelers. The area is very walkable and enjoyable.
Now that we've covered where it is today and the general aesthetic of the area, lets jump into why it was placed there in the first place.
---
Top Colosseum Tours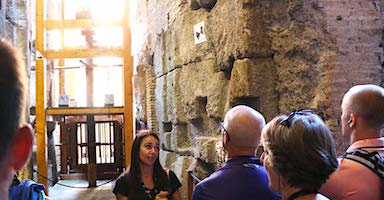 Best Seller
Colosseum Underground Tour with Roman Forum and Palatine Hill
This is our most popular Colosseum tour due to the incredible access to non-public areas like the underground chambers. All admissions are included and it is lead by an English speaking licensed guided and Colosseum expert.





See Prices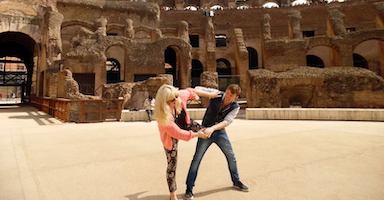 Customer Favorite
Special Access Colosseum Arena Floor Tour Through the Gladiator's Gate
You'll enter the Colosseum through the back door entrance avoiding lines and crowds, which is ideal! You'll step through the gladiator's gate and your English-speaking Colosseum guide will bring the stories to life. Next, on to the Roman Forum. All admissions are included.





See Prices
What Was There Before the Colosseum?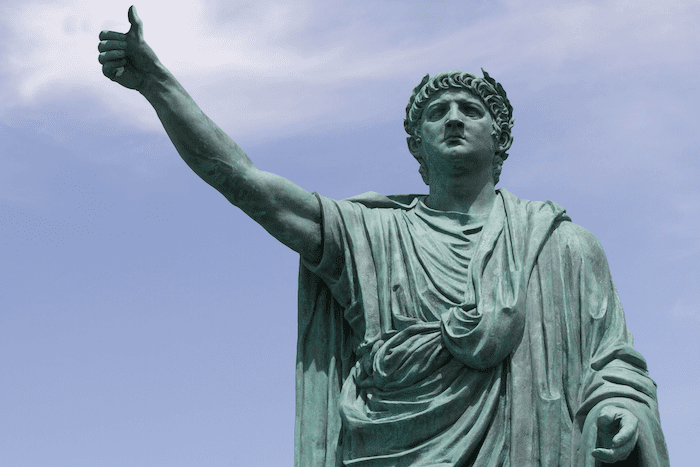 The present-day square, known to everyone as the "Piazza del Colosseo," was once a valley enclosed by the Palatine, Caelian, and Esquiline Hills, through which a creek flowed into the Tiber River. By the first century A.D. the area became populated by populous housing in the lower valley surrounded by some of Rome's greatest palaces on the Palatine and Equiline hills.
Great Fire of Rome

64 A.D.

Emperor Nero had his eye on this valley leading up to the Great Fire of 64 A.D. Not to build the Colosseum or anything of the sorts. Nero wanted to build a massive palace fit for an Emperor as important as himself. His construction plans were vast and he had the financial resources but there was one main issue. Part of the property was densely occupied by his citizens and he could not displace them. Nero did have one thing going for him. The housing was so densely packed that it was at great risk of fire but he would have to be crazy to burn down his own city.

Try to imagine first century AD Ancient Rome and its narrow roads, tall buildings, houses without kitchens, and no running water. Obviously no electricity, so fires were used to cook, to see at night and to heat homes.

Thus, rampant fires were quite prevalent, due to the wooden infrastructure that could easily ignite and fire being the main resource for survival. For this reason, Emperor Augustus founded the "Vigiles" in 6 A.D., whose main task was to supervise roads during the night hours so as to protect the town from fire.

At the beginning, the number of Vigiles reached around 600, but later increased to 7,000. Consider that the area to be monitored was the entire city, which at that time included 423 neighborhoods with over 147,000 buildings and more than 1 million inhabitants.
Who caused the Great Fire of Rome?
On July 18 of 64 A.D., a catastrophic fire caused widespread devastation in the city. How long did the Great Fire of Rome last? It was out of control for several days. and destroyed half the city. The fire was finally extinguished 9-10 days later. This Great Fire of Rome caused thousands of deaths, 200,000 homeless, destroyed numerous public buildings and monuments, and annihilated more than 4000 "insulae" (buildings) and 130 "domus" (private houses). The entire Valley was buried beneath the ashes and Nero had room to build his palace!
Differing accounts blame different culprits for the cause of the fire. Some say Emperor Nero was to blame, others claim he was in Anzio (his hometown, south of Rome) when the fire started, so he actually took great measures to contain it and provide relief for refugees. Nero blamed the Christians, a new cult in town, which lead to the death of St. Peter.
Emperor Nero's Domus Aurea
Today, even archaeologists have differing opinions about Nero. So—guilty or not guilty? All we know is that post-fire Nero reused the entire area to build his private palace, so big that it covered the entire expanse of the valley. This was his Domus Aurea (Latin for "golden home") because was extremely elaborate and decorated with the most precious metal.
Ancient authors describe in great detail how large his residence was, containing a big artificial lake, and even a wild animal park! It was truly a city within a city: a testimony of the sovereign's megalomania.
In the center of Domus Aurea lived a massive lake surrounded by structures that looked like small cities across the lake. The lake played a part in the larger structure which screamed opulence. Ivory dining rooms, gold ceilings, vineyards, triple colonnades described as a mile long all built for the Emperor Nero.
Nero had a 120 roman foot tall statue of himself known as the colossal statue which no longer exists today but is how the Colosseum got its name.
Building the Colosseum on a Lake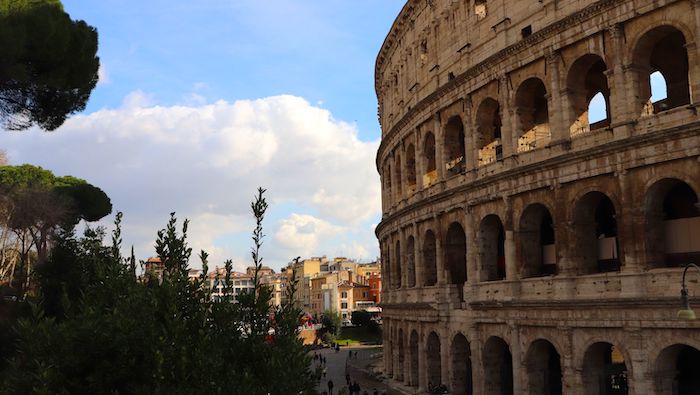 In 68 A.D. the Roman Senate deposed Emperor Nero who fled and subsequently committed suicide in the same year. After his death, the Senate proclaimed the "damnatio memoriae" (Latin for "condemnation of memory"). This was a Roman penalty by law that required completely destroying any trace of a person, as if the individual never existed.
After the death of Nero, there was a very turbulent year with three emperors until Emperor Vespasian took control. Vespasian began the Flavian dynasty which would be the last blood-line dynasty for over a century. It was a great start to a very prosperous time in Rome.
When and How Was the Colosseum Built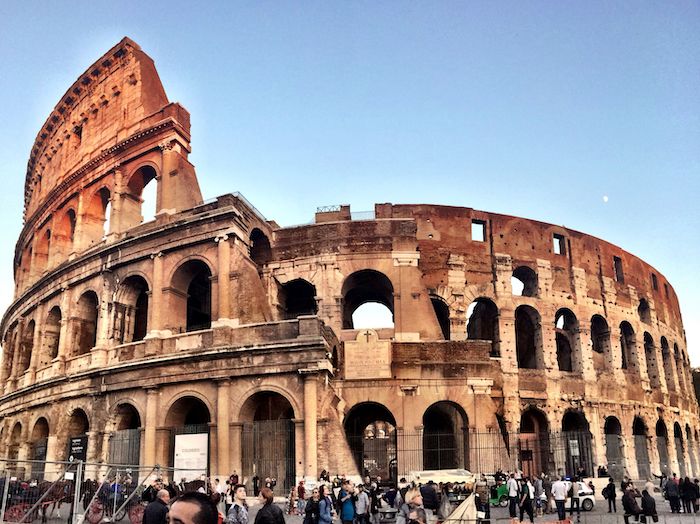 Why and How the Colosseum Was Built
Construction of the Colosseum began in 70 A.D. around when Titus returned from Jerusalem with many spoils of war and tens of thousands of slaves. At this point in history, gladiatorial fights were extremely popular in the Roman Empire and its capital city appeared to be the furthest behind. There were many amphitheaters (colosseum-like buildings) in places like Pompeii, Capua, and Spain. Rome appeared to be the only city without one.
Gladiatorial events had begun hundreds of years earlier in 264 B.C. at the funeral of Junius Brutus Pera. They may have been done prior but this the first documented event. What better to do at a funeral other than having more people die, right?
They obviously became more and more popular over time and make-shift arenas were built out of wood in the forum. These were plagued by fire and poor construction and the Colosseum would become their solution and successor.
What Existed in the Colosseum Valley
Remember that huge lake that Nero built? The Colosseum is built on that very area and is a testament to Roman ingenuity. The lake was man-made but had to be drained in order to start construction. The area is also a valley which was home to a small stream leading to the Tiber. This was all handled by the Cloaca Maxima which is a century 6 B.C. sewer which is used even today.
They drained the valley and began to carve the area out for one of Rome's most impressive structures.
Construction
The Colosseum was originally built by the Flavian Dynasty under Emperor Vespasian Flavian. It was financed by his son Titus' spoils of war and built by the slaves he brought back from Jerusalem. The name Colosseum is a nickname brought forth likely hundreds of years after it's construction or even after its demise. Emperor Vespasian named it the Flavian Amphitheater which lacked creativity but made a lot of sense. They gave it the family name and architectural description.
The construction would have lasted about a decade starting in 70 A.D,. Most of the structure completed in 79 A.D. for a "soft opening" prior to Vespasian's death. Then, final construction is believed to have finished by 80 A.D. under Emperor Titus. Upon completion, the structure would have been vastly greater than other amphitheaters in the empire.
Over 100,000+ cubic meters of travertine and 300 tons of iron clamps to bring the Colosseum to life. There was also an equally vast amount of tufa, brick, wood, rope and other material used in construction.
---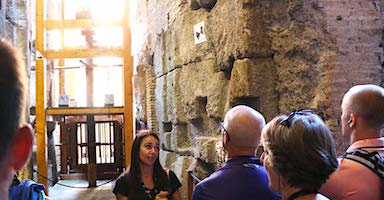 Best Seller
Colosseum Underground Tour with Roman Forum and Palatine Hill
This is our most popular Colosseum tour due to the incredible access to non-public areas like the underground chambers. All admissions are included and it is lead by an English speaking licensed guided and Colosseum expert.





See Prices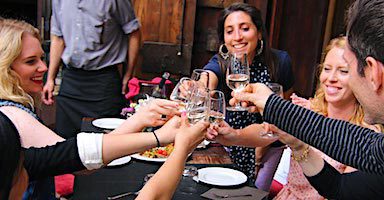 Best Seller
Local Rome Food Tour in Trastevere Neighborhood
Are you looking for the best food tour in Rome? Embark on a Trastevere food tour that offers an excellent introduction to some of the best food in Rome. Led by a local foodie guide, visit some of our favorite restaurants and trattorie in Rome





See Prices