When Mount Vesuvius erupted in A.D. 79, it led to the destruction of Pompeii. In this guide, discover the history of this famous volcano, whether it will erupt again, and how you can visit Mount Vesuvius—if you dare!
---
Discover Mount Vesuvius
Imagine discovering an ancient city under what you'd always thought was just a wasteland of rubble and volcanic ash. Essentially, that was what the discovery of the city of Pompeii was like. The great eruption of A.D. 79 covered Pompeii in ash and pyroclastic material to a depth of 13-20 feet, immortalizing the moment. But before this eruption, Mount Vesuvius had been dormant for centuries. In this guide, we'll give you a brief introduction to the volcano, a history of its eruptions (and if it could erupt again), and tell you how you can visit Mount Vesuvius and peer into the crater.
What is Mount Vesuvius?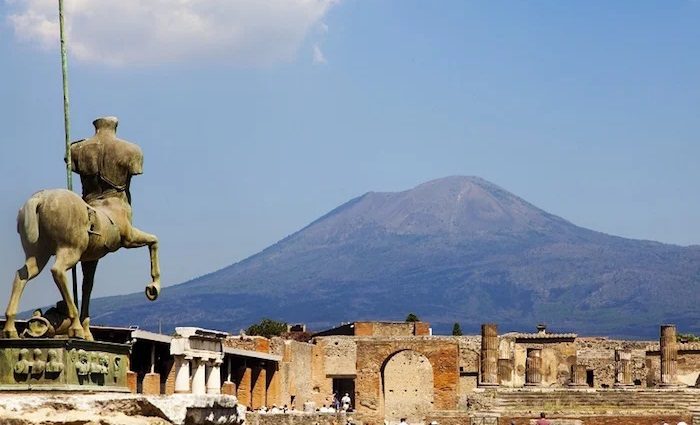 Located in the Gulf of Pompeii, Mount Vesuvius is a stratovolcano most famous for its eruption in A.D. 79, which destroyed the cities of Pompeii and Herculaneum.
In the last 17,000 years, the volcano has had eight major eruptions. But the one that made Mount Vesuvius famous was the eruption in A.D. 79, which killed more than 16,000 people, spewing lava and ash over the local towns. This catastrophic event preserved the towns it destroyed, which can still be uncovered today in remarkable detail, even though the eruption took place thousands of years ago.
Ironically, the thing that led to the death of so many is what keeps their stories alive today. When you visit Pompeii, you can see bodies, faces, clothing and other artefacts preserved from the day of Mount Vesuvius's tragic eruption.
Mount Vesuvius Facts
What type of volcano is it? Somma-Stratovolcano.

Where is Mount Vesuvius? Campania, Italy

.

How tall is Mount Vesuvius? 4,203 feet tall

.

When was Mount Vesuvius's last eruption? March, 1944.

Is Mount Vesuvius active? Yes. Read on to learn more.
History of The Volcano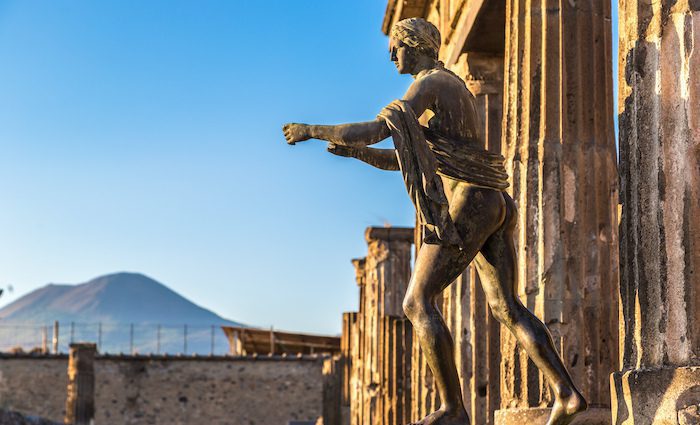 The history of Mount Vesuvius goes back roughly 25,000 years when it was formed due to the collision of the Eurasian and African tectonic plates. Though several eruptions occurred prior to A.D. 79, this eruption is widely considered one of the most catastrophic volcanic eruptions of all time.
It was preceded in A.D. 62 by a powerful earthquake, which destroyed a great deal of the Bay of Naples area, including Pompeii. Much of the destruction had not even been repaired by the time of the great eruption 17 years later.
The events of the A.D. 79 eruption are famously recounted by Pliny the Younger in two letters he wrote to historian Tacitus. Combined with geological evidence, much of the information we have now about Mount Vesuvius and this eruption is thanks to Pliny the Younger, who provided the only surviving eyewitness account of these events.
In the letters, Pliny the Younger describes the last days of his uncle, Pliny the Elder. He wrote that his uncle noticed early volcanic activity occurring across the Bay of Naples and organized a rescue mission. He describes how his uncle died due to a mass of sulfurous gas.
One of the best Mount Vesuvius facts is related to this: the term "Plinian eruption" comes from the account of Pliny the Younger. These eruptions created a column of volcanic ash and gasses that can rise miles into the earth's atmosphere and up into the stratosphere. These types of eruptions are also widely known as "Vesuvian eruptions."
Mount Vesuvius Eruptions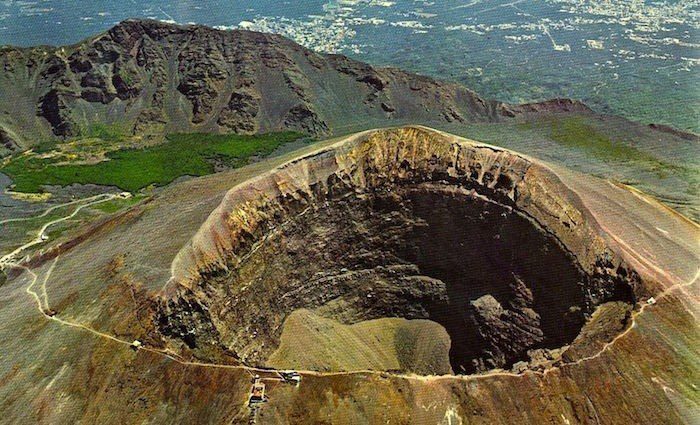 Geologists believe there were three significant Mount Vesuvius eruptions prior to the eruption in A.D. 79. The most famous of the three was the one in 1800 B.C., which engulfed a number of Bronze Age settlements.
In 1631, the volcano entered a period of frequent volcanic activity, erupting 15 times from that year to the end of the 19th century. The most violent of these eruptions was in 1872 and the most recent occurred in 1944.
Could It Erupt Again?
Yes! Mount Vesuvius is considered an active volcano that sits on top of an extremely deep layer of magma—154 miles into the earth. Geologists think the volcano is overdue for an eruption, so it is likely to happen and it won't be pretty.
Luckily, the Vesuvius Observatory is constantly monitoring the volcano's seismic activity, which will give the local communities more warning and enough time to evacuate next time.
How To Visit Mount Vesuvius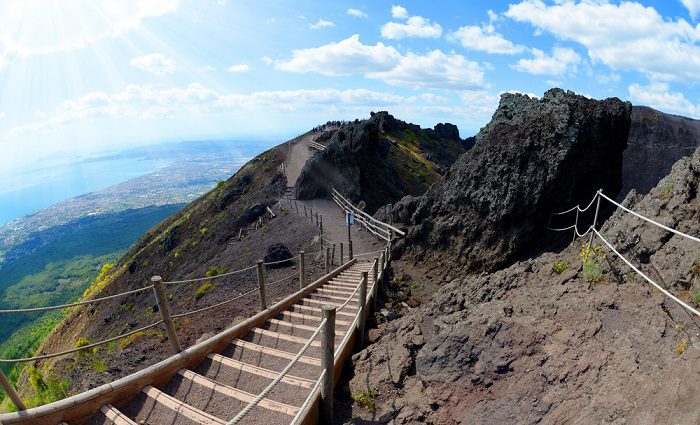 You may be wondering if you can visit the volcano. Yes, you can! Imagine hiking up to the top of Mount Vesuvius and peering down into its vast crater knowing what you do about the history of destruction it has wreaked on the surrounding area. Powerful stuff! You will also have some magnificent panoramic views from up there.
A trip to Mount Vesuvius is a great way to complement your visit to the archeological wonder and time capsule that is Pompeii. How often do you get to explore an ancient Roman town and climb the volcano that froze it in time? Mount Vesuvius' eruptions, like many volcanic eruptions, did not only destroy but also created fertile land on its slopes, which today are covered in vineyards—a great place to stop and have lunch!
You can hike Mount Vesuvius on your own or you can join our guided tours that also include a visit to Pompeii with an expert guide, transport from Rome, Naples, or the Amalfi Coast, and some other options to make your day even more memorable.