The Colosseum is at the top of many people's travel bucket list and is one of the most popular attractions in Rome. Standing proud at almost 50 meters tall, it is more impressive in person than in photographs.  The largest Roman amphitheater was started in 72 AD and was finished a decade later. The emperor at the time, Titus, used it to gain popularity by hosting the famous gladiator battles we are familiar with today.  Let's be glad there are now other ways of becoming popular, am I right?]
---
The shape and structure itself has impressively stood the test of time, and just begs for a visit. What kind of people would we be if we didn't eagerly respond? But, we want our visits to be as unique as the amphitheater itself.  So, here are our Best Ways to Visit the Colosseum. Because there's no better way to travel than to travel smart.
Sightseeing has never been easier in the history of travel. Travelers are constantly looking to save time and money by booking a guide, tour or museum admission over the internet. There are 2 sorts of travelers, those who stand in queues, and those who don't! Smart travel can easily save you loads of time, money and make travel so much more fun. – Angel Catsellanos,

Angel's Travel Lounge
---
1. Happy hour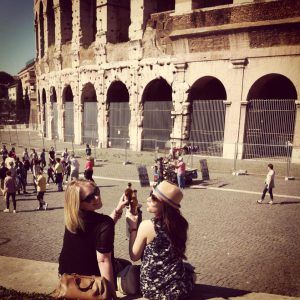 Whether it's a romantic sunset glass of wine, or a pre-dinner rest bit, experiencing the Colosseum over some nice refreshments is a great addition to any holiday.
Insider Tip: Avoid the Tourist Traps!
Being a highly visited place, there are tourist trails galore. We don't want you wasting your time or money on anything that's not going to enrich your experience, so stick to the places below and you can happily cheers into the night.
Behind the Colosseum there is a small hill along Via Nicola Salvi. On this street is a cafe called Oppio Caffè.  They have a great aperitivo (happy hour) buffet and drinks to go if you want to take in the view from the outside hill.
Want something more up close and personal?  Take a drink from Oppio and head to the entrance of the Colosseum – just walk down the small hill and loop around to your right.  Enjoy the benches right in front as you sip your yummy treat.
This also gives you a chance to discover a local neighborhood in Rome – Monti.  Right behind the Colosseum, it boasts some unbeatable views of the structure peeping out between other buildings. Start from Piazza della Madonna dei Monti and grab a drink to go from either Bar La Licata or La Bottega del Caffè. Next, start walking on Via dei Serpenti and you'll run right into the Colosseum. Bellissima!
Want some hearty food after your happy hour? Try some local cuisine in one of these places or opt for some authentic Italian pizza.
---
2. Full experience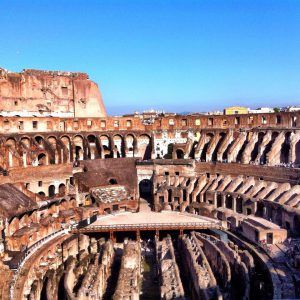 This is for the traveler who wants to be in the thick of it, not missing a single inch of the Colosseum.  We know how valuable your time is while on holiday, so let's not waste any of it waiting in long lines or skimping out on the who, what, where, when, why, and how of the Colosseum. A small group tour is the way to experience all the restricted areas of the amphitheater while skipping the lines and having an intimate visit.
Insider Tip: Go on a Small Group Tour!
Want to see the Colosseum through the eyes of a gladiator? A small group tour allows you to stand in the underground dungeons where the gladiators and animals were once held. Standing on the arena floor, as your eyes wander upwards imagining the thousands of screaming spectators there would have been,  gives you just a sampling of the magnitude of the Colosseum.  With exclusive access to both of these behind-the-scenes areas, you'll learn about some of the last remaining secrets of the icon of Rome.
If this sounds like your cup of tea, our restricted access Colosseum Underground Tour is the right fit for you! Yes,  of coooooourse we're going to recommend our tours (hehe), but in reality, for a 100% behind the scenes look into the lives of gladiators and ancient Roman culture, we've got ya covered.
---
3. Flying solo
If group tours aren't your cup of tea, we'll still get you to where you want to be.  Poetry on top of adventure! Visiting the Colosseum alone can be a refreshing experience.  Take your time, explore at your own pace, and have the rest of the day open for new adventures.
Insider Tip: Go in the morning with pre-booked tickets!
First thing in the morning is always best.  Not only will it be cooler, but the battle of the tourists will be far more manageable. This way you have your entire day ahead of you instead of planning your afternoon around the tour time. In terms of the time of year, summer is always the most crowded so the other seasons are better if your goal is to skip the crowds.
I always recommend buying your ticket in advance.  If not, you'll inevitably have to wait in line, and plus it helps you plan your day/avoid the hagglers that will try to sell you tickets on the grounds.  If you decide on an impromptu visit and don't buy in advance, get there around 8, or a few minutes earlier, to make sure you spend your time where gladiators once stood, not outside in a line.
Opening and closing times vary by season:
     Jan 2-Feb 15                                       8:30am – 4:30pm
Feb 15-March 15                                8:30am – 5:00pm
March 16- last Sat. of March              8:30am – 5:30pm
Last Sun. of March-Aug 31                 8:30am – 7:15pm
Sept 1-Sept 30                                     8:30am – 7:00pm
Oct 1-last Sat. of Oct                          8:30am – 6:30pm
Last Sun. of Oct-Dec 31                      8:30am – 4:30pm
---
4. VIP express experience
Busy traveler with not a lot of time to spare? Still want to see the top and most restricted areas of the Colosseum but don't have a couple hours to give?  No problem!
Insider Tips: Skip the line, save time, and still see the best restricted area!
Nobody should spend their vacation waiting in endless lines and being pushed around by impatient tourists.  I'm sure you're after endless laughs, adventures, and memories instead, right?
The arena floor in the Colosseum is where the action happened, and an express tour doesn't have to mean you miss any of the highlights on your bucket list. Our Colosseum Express Tour gets you in the door faster and takes you to the #1 restricted area: the arena floor.  This is where all the action happened. Standing in the same place as gladiators once did, with the expansive stadium around you, your mind quickly creates the scene of what it would have been like in its hay day.  Un giorno perfetto!
---
5. Night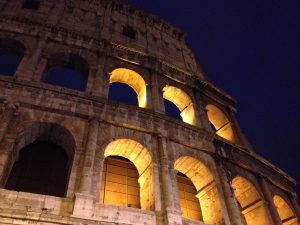 Another way to say ciao ciao to the crowds is to experience the Colosseum at night.  Most people crowd around it in the afternoon, so you'll be out smarting the rest of your fellow travelers with this move.
Insider Tip: Combine happy hour with a night view of the Colosseum!
You can take in the view from the "happy hour" spots mentioned above, or simply walk around the theatre.  The lights around the structure emit a golden hue and against the backdrop of the night sky, it pops even more.  Time saving tip: go on the last tour of the day, grab a drink after the tour, and wait for the sunset and night fall.  Talk about a package deal!
Start at Piazza Venezia.  A good place for happy hour or dinner nearby is Terre e Domus, which specializes in all local food and wine. Next, join the locals on arguably the most beautiful walk in Rome, Fori Imperiali, which takes you through the ancient Forum. The Colosseum waits for you at the end of this street, so you'll see it getting closer and closer.  Trust me, with the backdrop of a night sky, it's not something you'll soon forget.
---
6.

 With the kids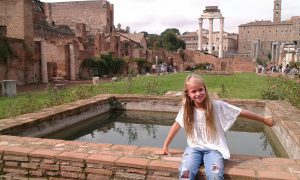 The Colosseum is a kid's paradise.  Their imagination will be on overload and there isn't the pressure of remaining calm or quiet like in an art museum- bring on the energy! But, how can you ensure a positive experience for both mini gladiator and mamma and papa?
Insider Tip: Turn the Colosseum into an interactive treasure hunt!
Traveling with kids is a balancing act between entertaining them and taking moments of the holiday for yourself.  Rome is great for kids because of all the stories and legends that can keep them guessing for hours.  Plus, what person….I mean kid…doesn't like a treasure hunt in the eternal city?  You can have it all in the Colosseum.
On a family family tour, kids can enjoy an interactive treasure hunt that has them lead the way through the Colosseum. Mamma and Papa are free to take in the historical facts and figures, while their mini gladiators are actually enjoying the visit, and learning a thing or two on the way.
---
Useful info:
Wear comfy shoes! Not only will you walk during the tour, but the ground outside the Colosseum is cobblestone and can be slippery/uneven.
Keep two eyes open and on your belongings. It's a crowded area with a lot of people looking for distracted tourists.
Water! Bring a reusable bottle and fill it up with the wonderful fontanelle around the Colosseum (and the rest of the city).
Address: Piazza del Colosseo
By public transport:

Metro B – "Colosseo"
Bus: Line 75-81-673-175-204
Tram: Line 3
---
Discover More
Coming to Rome with your gal pals? Find out more about the perfect weekend away here!
Share your favorite memories with us on Facebook, Twitter and Instagram!
Contact our Italy Trip Planning department or call us toll free on +1 888 2905595 and we'll help you build your vacation itinerary so you get to make the most of your girls weekend getaway.