Rome is a big city to conquer during one vacation. But a good way to plan out your days is by neighborhood. We've already covered Trastevere on our Hidden Gems Guide to Rome – Trastevere and Hidden Gems Guide to Rome – Campo de' Fiori, so now it's time to get a little more local and discover the neighborhood of Monti, known as the favorite place for local"hipsters" to hang out in Rome.  So, you've just taken a Colosseum tour and want to know where to grab a great bite to eat and what's worth exploring nearby – the Monti of Rome has all the answers.
Rome is made up of several different neighborhoods (you may know this already if you've watched any of our videos form our Rome Neighborhoods series on Youtube). Monti is definitely one of our favorites and, unlike Trastevere, is often overlooked by visitors to the city even though it's located a 10 minute walk form the Colosseum.  The Roman Guy has eaten, shopped and drank his way through Monti to tell you the best that this nieghborhood has to offer (you're welcome 😉 ).
Monti neighborhood Rome
The name "Monti" actually translates as "mountains" in English, because this little area was home to four of the seven famous hills that once made up the city of Rome. Centrally located, it's just a short walk from the Colosseum and Piazza Venezia.
The district was traditionally a poor area, crowded with prostitutes and swindlers Now, this area is considered one of the coolest places to hang out, shop, eat and drink with friends in Rome. It's an expensive place to live and many of the inhabitants you'll find here are now artists, musicians and fortunate Italian families who have inherited apartments along the pastel colored streets. To understand the importance and central location of Monti, it is titled as the first district of Rome, out of a total of 22.
WHERE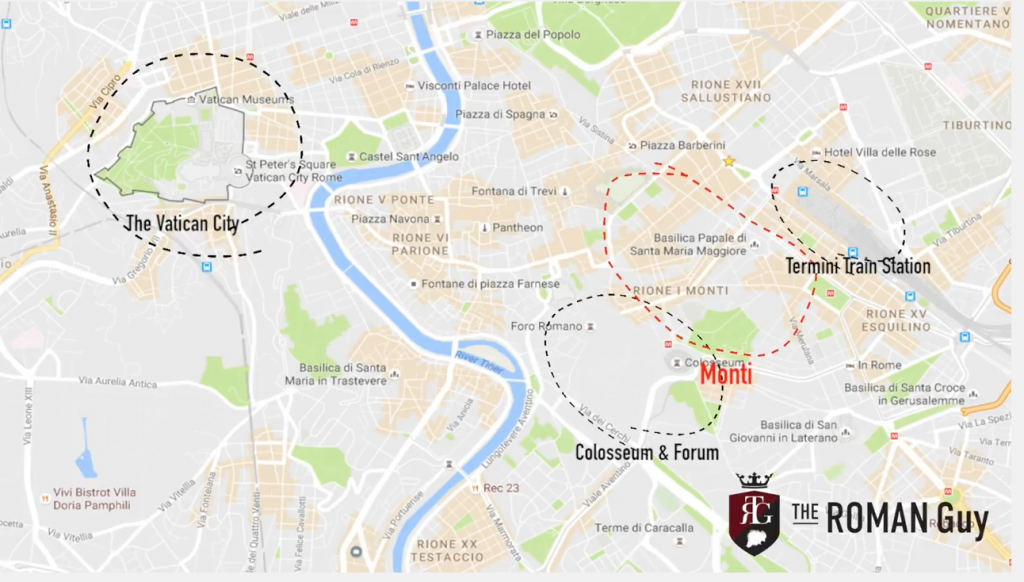 If you're spending your vacation in the centre of Rome, you can reach Monti in no time at all, either with a short walk or bus ride.
The adjacent map highlights Monti in red. South-West of the neighborhood you can see the Colosseum, which is only a 10 minute walk away. Looking North-East you can see Rome's Central Station (Termini Station) – just a 15 minute walk away or one stop on the B line metro to Cavour from Termini. If you're staying North West, near the Vatican, a 20 minute ride on the '64' or '40' bus will bring you near Monti from Santo Spirito Hospital on the Tiber river to Palazzo Esposizioni with the '64' bus and Quirinale on the '40' – both on via Nazionale. (You can see our 'Roma How To: Using the Roman Bus System' video to help you learn how to use local transport in Rome.)
---
SEE!
Monti is home to some of the best hidden gem bars, shops and restaurants of Rome. From local designers and art pop-up stores to some of the city's coolest bars and restaurants. There is so much to see and do in Monti, but we've selected some of the best places organized by the streets of the neighborhood that are worth visiting so you can make the most of your afternoon or evening in this area of Rome.

Piazza della Madonna dei Monti
The fountain that sits in this piazza is the main attraction in the area. During the day you'll see locals relax during their lunch breaks and visitors unfold their maps to get their bearings.
In the evenings, this area is perfect for people watching. Locals and expats sit at the fountain with a beer or wine bought from shops nearby the square and kick back and relax as the sun goes down.
Address: Piazza della Madonna dei Monte | Hours: Always (it's a public square!)


Trajan's Market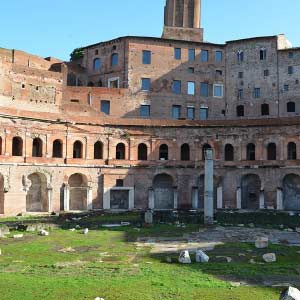 For a taste of local life and local food, walk south of Piazza Sant Maria and you'll find a local fresh food market in Piazza di San Cosimato that was first. The market has been open since '900 and many of the local vendors you find there today are descendants of the first vendors.
Less touristy and more reasonably priced than Campo de' Fiori, if you're staying in accommodation that allows you to cook or are just looking to enjoy some good Italian produce on the go, this market is a hidden gem in Rome that is not to be missed – especially because you'll be buying your fruit and veg in a place that was once walled off, flooded and used for naval battles. Pretty cool.
Address: Piazza di San Cosimato | Hours: Mon-Sat 06:00-13:30
Mercato Monti
If you are in search of unique and vintage items in one of the trendiest areas of Rome, Mercato Monti is a great market that supports fresh and young designers, craftsmen, artists, and innovators of the city. While the market itself is small in size, it is full of culture, art, music and fashion. This urban market has one of a kind items that allow shoppers to enjoy live music while helping up-and-coming artists.
Address: Via Leonina 46, 00184 | Hours: Sat-Sun 10:00-20:00 Free Admission | Website: www.mercatomonti.com
Pop Up Art Studios
A 15 minute walk from the Colosseum lies one of Rome's most intriguing art galleries. Palazzo delle Esposizioni was built in 1883 with a neoclassical architecture style, and modified during the fascist era. This galleria contains a 139-seat cinema, a cafe, and a large restaurant. Palazzo delle Esposizioni regularly hosts unique exhibitions along with activities and workshops for children. Guests definitely get the most out of the small 12€ entry fee.
Address: Via Nazionale 194, 00184 | Hours: Tues-Thurs, Sun 10:00-20:00 | Website: www.palazzoesposizioni.it
Shopping & Window Shopping
It's common to be casually walking down a street in Monti and soon find
yourself digging through a rack of clothes from a local fashion store with "50% Sconto" pasted on their window. One store that can easily capture a wandering fashionista is Abito. This historic shop is recognized for
the stylish clothes carefully handmade by the owner herself. All of the designs are noticeably original and the shapes are far removed from the conventional styles of large corporations.
Address: Via Panisperna, 61-00184 | Hours: Mon-Sat 10:30- 20:00
If you're into vintage clothing and unique looks, Pifebo is your chest full of gold. This dimly lighted, boldly painted shop has everything cool, trendy and hip for fashionable people of all ages. With fairly reasonable prices and lightly used items ranging from 1950 sunglasses to 2001 furry stilettos, Pifebo can easily be labeled as one of the best vintage shops in Monti.
Address: Via dei Serpenti 141 00184 | Hours: Mon-Sat 11:00- 20:00
---
EAT & DRINK
The historical neighborhood of Monti is full of character, culture and life. Many locals will say you haven't actually explored Rome if you leave without seeing Monti. Hidden behind the Colosseum,  Trajan's Market, and Domus Aurea lies some of the best food, vino, and gelato in Rome.
Urbana 47

Located on Via Urbana, Urbana 47 is named after its address on the lively street.  If you are looking for a trendy spot to eat small plates and non traditional Mediterranean dishes this local kitchen is open for breakfast, lunch and dinner. The warmth of good company, friends and family is accompanied by aromatic coffee and classic cocktails.
Address: Via Urbana 47 00184 | Price:€10+ |Hours:08:00-00:00 | Website: www.urbana47.it
Aromaticus

This family-owned herb shop was inspired by a childhood terrace garden. After growing up eating fresh basil and tomatoes outside with locals, the owner hopes her customers have the same experience with all organic produce. Aromaticus is popular for their authentic juices, home-grown herbs, and healthy meals. This restaurant gives travelers and residents alike a nice break from the pasta and pizza they are used to eating in Rome.
Address: Via Urbana 134, 00184 | Price: €10+ |Hours:08:00-00:00 |Website: www.aromaticus.it
Fatamorgana

For those who appreciate simple, well-made gelato, Fatamorgana may arguably be the best gelato shop in Rome. This creamy, rich, ice cream is recognized for having all natural ingredients from recipes that have been passed down for generations. Fatamorgana's desire to preserve culture by using organic products rather than artificial flavors is synonymous to Italians' appreciation for quality over quantity.
Address: Piazza degli Zingari, 5-00184 |Price:€5+ | Hours: 12:00- 00:00 | Website: www.gelateriafatamorgana.com
Ai Tre Scalini

Tucked underneath draping ivy hides one of the best bottiglierias in the heart of the Monti district. While Al Tre Scalini is great to visit year-round, the wine bar has the perfect atmosphere for spring, fall and winter nights. The large selection of wine and culinary specialties enjoyed with relaxing jazz tracks definitely give this bottiglieria a warm energy.
Address: Via Panisperna 251 00184 | Price: €11-20 |Hours: 12:30- 1:00 | Website: colosseoorg.wix.com
Black Market

Black Market is an art gallery, bar, and venue for live music is the perfect scene for anyone who enjoys the night-life. This intimate venue frequently has new artists and exhibits to keep guests entertained. More than anything, Black Market is known for their specially crafted cocktails and delicious aperitivo. After a long day, this bar is the perfect way to unwind with friends, coworkers and family.
Address: Via Panisperna, 101, 00184 |Price:€10+ |Hours:17:30- 2:00 | Website: www.blackmarketartgallery.it
Monti neighborhood Rome
---
 #ItalyOurWay
Find out more about Rome & Italy for your next vacation on our Facebook, Instagram, Youtube, Italy city tours and Blog. We'd love to hear form you if you have a question about travel, events and advice on vacations in Italy. Our local Italy experts are waiting to hear from you and teach you a little more about #ItalyOurWay
Discover More
If you want to experience the Colosseum like nobody else, then take the VIP Colosseum Dungeons tour with The Roman Guy. In your small group you'll access areas of the stadium that are restricted to regular tour groups and the general public. You'l go underground, walk out onto the arena floor and take int he view form the VIP third tier.