Christmas in Italy is one of the most magical things you'll ever experience! The nativity scenes, strung-up lights, cool & crisp weather, and amazing food & wine put it at the top of the list. That said, you need to book in advance because you are not the only person considering Florence for Christmas. We'll explain all the need to know information for an amazing Christmas in Florence.
---
Planning Ahead for Christmas in Florence
If you are planning on spending Christmas in Florence, book everything in advance! Christmas through New Year' is the high season, everything is open, and everything books up in advance. From Dec 24th until Jan 5th you are looking at the same number of visitors as the summer so be prepared for high season rates and book ahead.
Restaurants
Therefore check out our list of the best restaurants in Florence by attraction and reserve in advance!
Hotels & Accommodation
Expect to pay the same rates as the high summer season in Florence and definitely book in advance. If you are shopping for a particular room typology or adjoining rooms, consider booking 3 or so months out. For more information on the best hotels and where to stay, take a look at our articles on Florence accommodation.
Tours & Activities
Same as hotels and restaurants, the best tours sell out quickly. You are going to want to visit at least the Uffizi Gallery, Accademia, the Duomo, and a guided tour is the best way to go. They will elevate your experience, take the guesswork out, and make it much more memorable. Have a look at our Uffizi tours, Accademia tours, and other tours of Florence & Tuscany!
Christmas Market and Holiday Shopping
The largest Christmas market in Florence is in Piazza di Santa Croce, the beautiful square outside of Basilica di Santa Croce. Here, you can find a traditional German-inspired Christmas market with wooden kiosks and pinstriped awnings. The market will close on December 20, so make sure you get your shopping done soon.
For other Florence shopping, there are tons of options. Check out the San Lorenzo Market and surrounding stores for budget-friendly leather goods. If designer brands and posh fashion is more your scene, you'll find high-end shopping surrounding Piazza della Repubblica. For department stores, check out La Rinascente in Piazza della Repubblica. In the same area, you can even find two Zaras across the street from one another. Florence shopping is pretty sweet.
Religious Rituals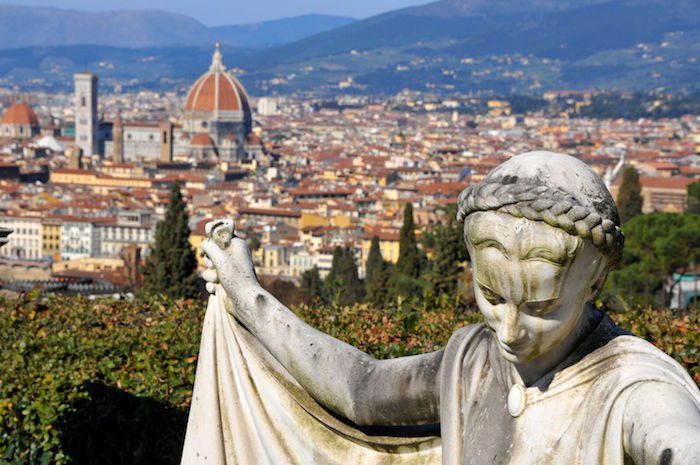 The most iconic building in Florence is without a doubt the Church of Santa Maria del Fiore, popularly known as "the Duomo." It would be a shame to celebrate Christmas in Florence without fully taking advantage of this religious spectacle. Celebrate Christmas Eve Mass at the Duomo at midnight. Arrive at 11 pm if you'd like to take part in Vigil prayers. At this holy religious tradition, you'll be able to join thousands of other Florentines, travelers and even the Cardinal of Florence.
Holiday Displays
Piazza della Repubblica
As someone who lived in Florence during holiday season, I can say wholeheartedly that my favorite holiday display was in Piazza Repubblica. You may recognize this piazza from pictures of its alluring golden archway or colorful carousel. During the holidays, though, this area is even more majestic. On a chilly December or January evening, grab a cioccolata calda and stroll through the bright piazza covered in elegant Christmas lights.
Piazza del Duomo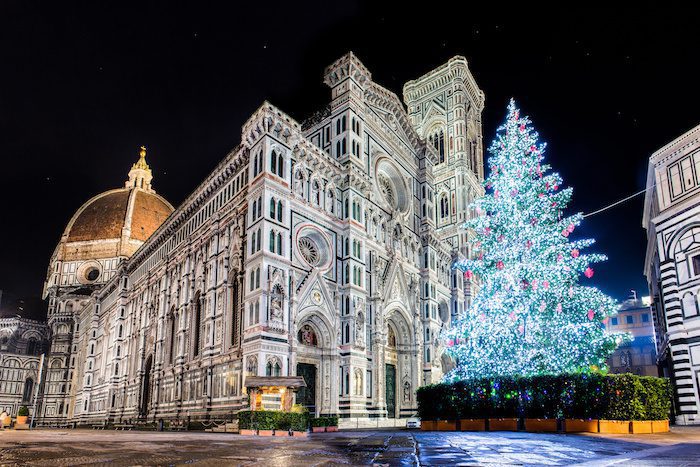 Next to the Baptistery of St. John, you can find a beautiful Christmas tree. During the holiday season, this piazza can get quite crowded. Meander the less crowded alley ways and corridors to get a sense of the local community. If you want to experience the magic of the Duomo's interior, consider our Florence Walking Tour.
Piazzale Michelangelo:
Observe the wonder of Christmas in Florence on top of it all, overlooking the entire city. Here, you can get a glimpse of the city's skyline, looking down upon all of the holiday splendor. If you're lucky, you may be able to experience the beautiful lookout in the snow. There's nothing like a white Christmas, especially in Florence.
Ice skating
Looking for the ice skating in Florence scene? Unfortunately, there aren't too many options within the city. Since Florence is more like a town and less like a metropolitan city, there isn't too much open space for a rink. The best place to go if you're really itching for a skate is Firenze Winter Park in eastern Florence. To get there, we recommend taking a taxi. Public transportation in Florence is pretty lacking, unfortunately.
Museums & Tours
So, are the museums in Florence open on Christmas? Unfortunately, no. Luckily, the city of Florence is basically an open air museum. If you're in Florence for more than just Christmas Day, check out our selection of Florence tours. It would be a shame to miss out on the David, Uffizi Gallery and Florentine cuisine because of the holiday. Make tourism a priority for sure.
Hey, we sell tours too!

While the information we provide here is free, we also sell tours at very reasonable prices. Taking on the beautiful city that so many iconic Renaissance artists called home? No need to conquer it alone. Our excellent guided Florence tours will show you the best parts of the city led by a local. See Michelangelo's David, the Uffizi Gallery, and maybe even consider an outing to the Tuscan countryside.
I Want More Italy!