Rome is a big city to conquer during one vacation. It takes several visits to make the most of even just the main attractions it has to offer! But once you've taken a Colosseum tour, visited sights like the Pantheon or Piazza Navona, there's nothing better than spending some of your vacation trying to immerse yourself in real Roman life. The best way to do this is to dig deeper into Rome's history and culture by exploring some of its many neighborhoods. We've already covered Hidden Gems Guide to Rome – Campo de' Fiori and Hidden Gems Guide to Rome – Monti, but the star of this post is…TRASTEVERE!
---
Rome is made up of several different neighborhoods (you may know this already if you've already seen out Rome Neighborhoods: Hidden Gems of Trastevere video), some of which are home to major sights and some others are a little more off the beaten track. So, to help you make the most of your vacation to Rome, The Roman Guy has put together a series of helpfulRome travel videos and blog posts that outline each must-visit neighborhood, what you can do and see in each one and where to spot some of the Rome hidden gems and, today, we explore Trastevere's hidden gems.
Trastevere
"Trastevere" neighborhood's name derives from the Latin "Trans Tiberim", meaning beyond the Tiber river, is one of Rome's most popular neighborhoods for locals and visitors alike. Centrally located, it's just a short walk across the Tiber river from Campo di Fiori and Piazza Venezia.
The district was once inhabited largely by fishermen and sailors due to its close proximity to the Tiber. With the Imperial age, money came into the district with many important figures like Julius Caesar choosing to build their Villas in the area. It is this mix of wealth combined with architecture from the Middle Ages that gives Trastevere its neighborhood charm. Cobbled streets are now embraced by clusters of shops, bars and restaurants  that have blended into its old buildings with exposed woodwork giving the place an intimate feel. Simply idyllic!
---
WHERE
If you're spending your vacation in the center of Rome, you can reach Trastevere in no time a tall either with a short walk or bus ride.
The adjacent map highlights Trastevere in red. North of the neighborhood you can see the Vatican City, which is only a 20 minute walk away. Looking East you can see how close Trastevere is to the Colosseum and the historical central of Rome – just 15 minutes walk away or three short stops on Tram number 8 from Piazza Venezia. If you're staying North East, near Termini Station, a 15 minute ride on the 'H' bus will bring you right into Trastevere to the bus stop 'Piazza Belli'. (You can see our 'Roma How To: Using the Roman Bus System' video to help you learn how to use local transport in Rome.)
---
SEE
Trastevere is home to some of the best hidden gems of Rome. From historical churches and fresh food markets to some of the city's coolest bars and restaurants. There is so much to see and do in Trastevere, but we've tried to narrow down this never ending list for you so you can make the most of your afternoon, evening or full day in this area of Rome.
Santa Maria in Trastevere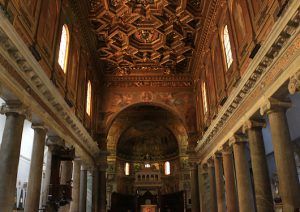 Piazza Santa Maria in Trastevere is the main square in this neighborhood and is a must see while you're strolling around the area's beautiful cobbled backstreets. Home to one of the oldest churches in Rome and a primary hangout in the evening to watch street performers and entertainers, there's no doubt you'll fall in love with this square the moment you set foot in it.
Within the Piazza you'll find the Basilica of Santa Maria in Trastevere. The church as you see it now mostly dates back to the 12th century, with its tall 'campanile' (bell tower) and embellished facade with golden mosaics. The church sits on it's original 4th century foundation and its interior is definitely something worth seeing whether you are religious or not.
Address:Piazza Sant Maria in Trastevere  |Hours: 07:30-21:00

Piazza di San Cosimato: Fresh Market
For a taste of local life and local food, walk south of Piazza Sant Maria and you'll find a local fresh food market in Piazza di San Cosimato that was first. The market has been open since '900 and many of the local vendors you find there today are descendants of the first vendors.
Less touristy and more reasonably priced than Campo de' Fiori, if you're staying in accomodation that allows you to cook or are just looking to enjoy some good Italian produce on the go, this market is a hidden gem in Rome that is not to be missed – especially because you'll be buying your fruit and veg in a place that was once walled off, flooded and used for naval battles. Pretty cool.
Address: Piazza di San Cosimato | Hours: Mon-Sat 06:00-13:30
Piazza Trilussa & The Drunken Poet
If you're walking to Trastevere from the center, you'll pass over one of Rome's favorite bridges – Ponte Sisto. Pass over this bridge in the evenings and you'll find musicians and street performers entertaining passers-by.
Once you reach Trastevere on the other side, you'll walk into Piazza Trilussa. This square is named after the Roman Poet Trilussa, a local Trasteverino who found inspiration for his poetry in his home neighborhood, and at the bottom of a liquor bottle.
The Piazza is a favorite hang-out at night with locals and students as the performers stretch from Ponte Sisto into the piazza, entertaining those sitting on the steps of the fountain that dominates the square.
Address: Piazza Trilussa
Villa Farnesina
This impressive Villa sits on the Trastevere bank of the river Tiber. Inside you'll find works of art from the likes of Raphael and outside it has a beautiful garden, perfect for sitting and relaxing during a sunny spring day in Rome. Tickets can be purchased on site.
Address: Via della Lungara 230 | Price: €3-6 | Hours: 09:00-14:00 | Website: www.villafarnesina.it
---
EAT & DRINK
Trastevere not only has lots of hidden gems in Rome to see, but it is also one of our favorite foodie neighborhoods in Rome. With lots of places to eat and drink, day and night, you won't be short of places to stop and grab a slice of pizza, a gelato or a glass of vino Rosso.

Freni e Frizioni
Open in the evenings, 'Freni & Frizioni' means 'breaks and clutches' and features an old car garage turned into a bar. You must have aperitivo when visiting this local watering hole, we can assure you it's one of the best in town. Cocktails are a plentiful and the food is to die for! But remember, aperitivo isn't dinner, it's simply a way of kick-starting your metabolism for dinner. So, although the food is great, don't eat too much because you won't want to miss out on any of the restaurants in Trastevere.
Address: Via del Politeama 4/6 | Price: €10 for Aperitivo  | Hours: 18:30-02:00 | Website: www.freniefrizioni.com
Tastevere KmZero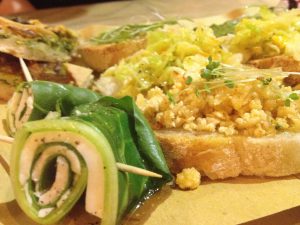 Owned by local farmers, you can guarantee everything sold in this place, from its chilli jam to its wine, is made from local produce. You might even see one of the farmers bringing in freshly made ricotta, so fresh it is still warm! We also recommend visiting this place for an aperitivo. You'll be served a glass of wine accompanied by meats, cheeses, pestos and bread. Yum! What's more, they get their bread from the bakery around the corner La Renella.
Address: Vicolo de' Cinque 30 | Price: €10+ | Hours: Tue-Sun 11:00-00:00 Mon:18:00-00:00 | Website: Facebook.com/tastevere.kmzero
Vin Allegro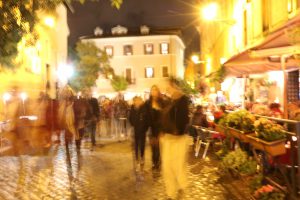 A favorite 'Entoeca' (wine bar) in Trastevere and true hidden gem of Rome. You'll find more locals here than tourists and when you get given the long wine list, you'll understand why. There are so many local and foreign wines to choose from, you could spend your evening and several bottles only tasting the grapes grown in the Lazio region!
Address: Piazza Giuditta Tavani Arquati 114 | Price: €5-10 | Hours: 12:00-02:00 | Website: www.vinallegro.com
Pimms Good
Another of the hidden gems of Trastevere is the bar 'Pimms Good'. Perfect for breakfast, lunch, dinner or just drinks, this bar serves some of the best cocktails in Rome. The barmen here are the craftsmen of cocktails, shaking or stirring you up something unique every time. The food is good, the drinks are works of art and the atmosphere is perfect.
Sit outside spring to summer and watch Trastevere life pass you by. In winter or rainy days sit at the bar for cocktail hour and watch the artists at work or just grab a table inside and indulge in one of the many delicious dishes they serve up throughout the day.
Address: Via di Santa Dorotea 8 | Price: 10€ cocktails & food €7+ | Hours: 10:00-02:00 | Website: www.pimmsgood.it
Fish Market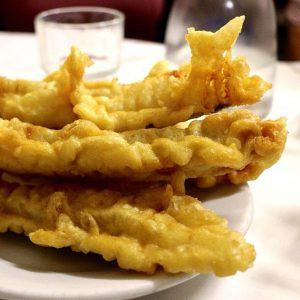 A neighborhood once home to many of Rome's fishermen, you can expect to find a good few fish restaurants in the area. One of our favorites is Fish Market. Not a typical Roman restaurant, this restaurants serves some of the freshest fish in town. The concept of the place surrounds the idea of market eating. You approach the counter, select your fish, tell the chef how you'd like it prepared and take your seat. This is a relaxed restaurant on the east side of Trastevere, taking you away from the bustle of the piazzas and into the residential section of the neighborhood. Book in advance to avoid disappointment.
Address: Vicolo della Luce 2 | Price: €€ | Hours: Mon-Fri 19:30-01:00 Sat-Sun  13:00-16:00 & 19:30-01:00  | Website: www.fishmarket-roma.com
Le Mani in Pasta
If you're looking to have lunch in Trastevere, or even dinner, on the same side of Trastevere as the Fish Market, you'll find The Roman Guy's all-time favorite restaurant. 'Le Mani in Pasta' (the hands in the pasta) serves fish and pasta of unbeatable quality. Trust us, if there is one place you can't miss in Trastevere, it's this one.
The staff like to say "leave your diet at the door!", because if you're choosing this place for lunch or dinner, then you'll be eating well. Everyone who works here will make you feel at home and make sure to ask their opinions on what you should eat should you find yourself spoiled for choice when looking at the menu. Book well in advance and our top-tip is to request to be seated upstairs in the non-smoking area.
Address: Via dei Genovesi 37 | Price: €€ |Hours: Tue-Sun 12:30-15:00 & 19:30-23:30 | Website: www.lemaniinpasta.net
---
Discover More
If you want to eat and drink your way through Trastevere, The Roman Guy offer a Local Trastevere Food Tour. You'll be given backdoor experience at some of the best local vendors in Trastevere and Campo de' Fiori.
Find out more about Rome & Italy for your next vacation on our Facebook, Instagram, Youtube, Italy city tours and Blog.
We'd love to hear form you if you have a question about travel, events and advice on vacations in Italy. Our local Italy experts are waiting to hear from you and teach you a little more about #ItalyOurWay