Planning a trip to Italy and want to know where the Pantheon is? You probably know it is in Rome, but where exactly is it, and what has happened over the last 2,000 years? In this article, we'll explain where the Pantheon is, how it became to be, and all the drama in between!
---
Editors Note: From July 3 2023, a paid ticket will be required to visit the Pantheon in Rome. Tickets cost €5 for adults and free for children. At the time of writing the tickets can only be purchased on site, but will be available online by the end of the year. (Updated 7 Jul 2023)
Where Is The Pantheon Today?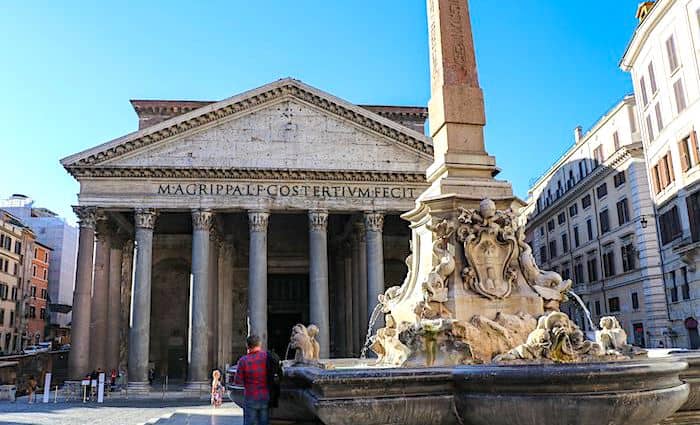 Short Answer: Center of Rome
How long to get there from other famous sites?
Spanish Steps by Foot: 15 Minutes
The Trevi Fountain by Foot: 10 Minutes
Piazza Navona by Foot: 5 Minutes
Address: Piazza della Rotonda, 00186 Roma
I have what I call an impact scale from 1-5 which is when you see something for the first time, how it " hits" you. This monument definitely ranks up there as a 5 together with the Colosseum and Sistine Chapel.
One of the reasons is that you are walking down some charming winding roads, and then all of sudden, out of nowhere-literally the most amazing, fully intact ancient monument you have ever seen just opens up in front of you.
I still remember the first time that I saw it over 20 years ago- it's that memorable.
Pedestrian Areas
In order to see the Trevi Fountain you will have to come on foot. In the center of Rome they have what is called ZTL which is an Italian abbreviation that means that only local residents are allowed, with a special permit, to drive in this area. You can take a taxi, which can let you off close, but you will still have about a 5 min. walk from any direction.
One of the magical things about the center of Rome is that there is no rhyme or reason to the way the streets were made. One theory is that after Rome was defeated back in the 4th century BC by the Gauls, they rebuilt the city so fast that it still reflects the haphazard streets you see today.
Now that we got that covered, let's take a closer look into why the Pantheon was built and what it means to people today.
---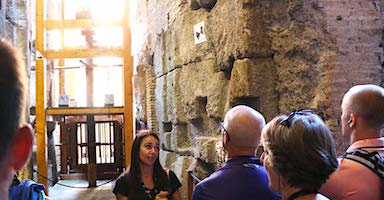 Best Seller
Colosseum Underground Tour with Roman Forum and Palatine Hill
This is our most popular Colosseum tour due to the incredible access to non-public areas like the underground chambers. All admissions are included and it is lead by an English speaking licensed guided and Colosseum expert.





See Prices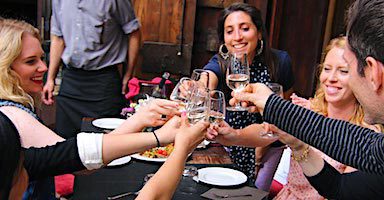 Best Seller
Local Rome Food Tour in Trastevere Neighborhood
Are you looking for the best food tour in Rome? Embark on a Trastevere food tour that offers an excellent introduction to some of the best food in Rome. Led by a local foodie guide, visit some of our favorite restaurants and trattorie in Rome





See Prices
What Is the Pantheon?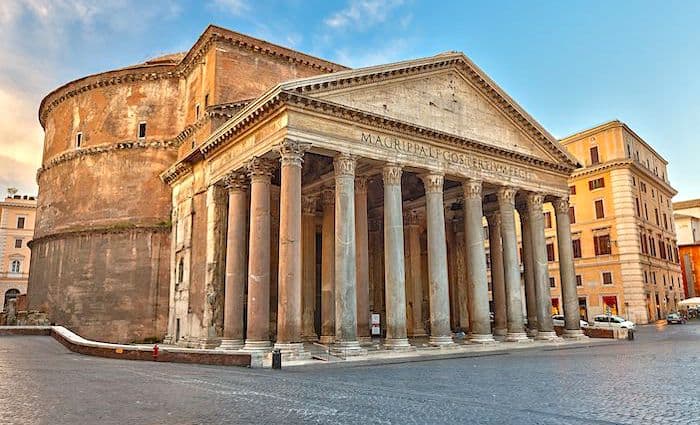 The word Pantheon translates to all-worship or all-gods depending on how you look at it. Contrary to what many have written on the internet, the use of the building was not to worship all pagan gods. Pagan gods didn't appreciate sharing a temple with other gods.
Some exceptions are for gods conjoined in their purposes like Castor & Pollux. Also, a deified couple like Antonius Pius and Faustina his wife share a temple. But in general, the Romans built temples individually dedicated to a single deity. This is a reason the Pantheon is so famous. Since we are just not sure what it was used for.
What the Roman used the Pantheon for is undocumented at best making any reason I provided mostly assumption or guess. A strong theory from Professor of Archeology Amanda Claridge is that the Pantheon existed for the worship of Emperors yet to be deified. It is no mystery that Romans did not like to worship Emperors as gods until after their death. Claridge states in her Rome Archeological Guide, "the Pantheon provided a setting–not a temple in the conventional sense–in which the living emperor would appear in the company with the gods (including his own deified predecessors).
Construction & Reconstruction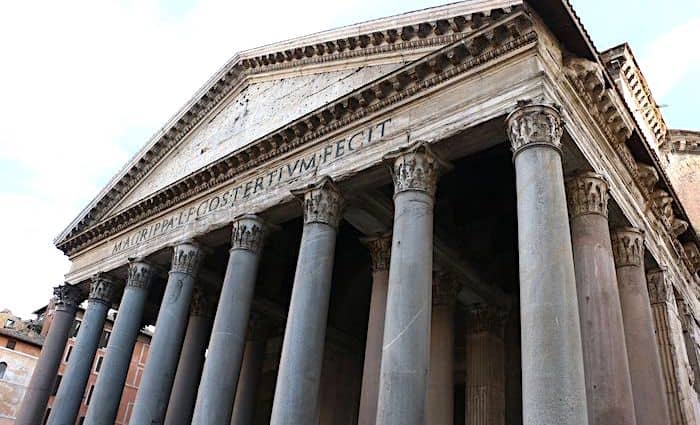 One of the reasons the Pantheon is so famous is the number of times it was rebuilt. According to Amanda Claridge, the Pantheon was first built between 27-25 BC but that building would not be recognizable today. The first structure was built by Marcus Agrippa who was a Roman Consul under the first Emperor of Rome. The original structure was built primarily out of wood and subsequently burnt down about 100 years later in 80 AD.
Domitian took a second shot at it and the structure was struck by lightning and burnt to the ground in 110 AD. You have to realize that these incidents would come across as very bad omens for Rome during this otherwise prosperous time. Lightening was controlled by Jupiter (Zeus) and if it struck the building it would likely signify he was unhappy with it or the Romans in general.
Trajan, emperor at the time, would have likely begun the structure and Hadrian would have finished it. Hadrian was a great Emperor and very humble so he did not dedicate the structure to himself. He instead dedicated it to the man who originally built it; Marcus Agrippa. We will get to that when we go over the porch.
Who built the Pantheon? Many believe the architect responsible is Apollodorus of Damascus but this is again speculation. We do know that Hadrian commissioned renovations on the Pantheon which were completed between 125 AD and 128 AD.
Did you Know There is a Hole In the Dome?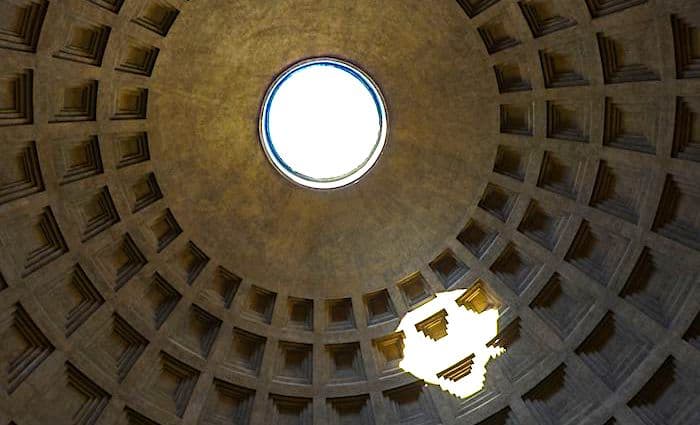 Once you walk inside your eyes will be drawn to the dome above you. Many people stop in the doorway causing traffic jams and we can't blame you. That is the effect the architect would have longed for. The architecture of Rome was heavily focused on showing the superiority of the Romans. And the Pantheon was no different.
The opening in the center is called Oculus in Latin which means eye. Rain and other elements do get inside the structure when doors are closed. You'll see the floor sloping down into the center and drains in place to allow water to leave the structure.
There is a bronze ring on the interior of the oculus. There would have likely been decorative bronze fixtures in all of the 140 coffers. The opening in the middle would have allowed for natural light to enter and lighten the entire temple.
---
Popular Vatican Tours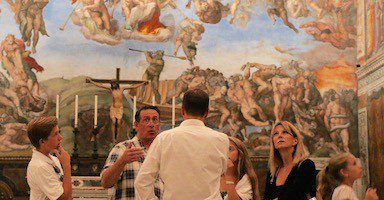 Best Selling Tour
Privileged Entrance Vatican Tour with Sistine Chapel
This our most popular and longest-running Vatican tour to date. It enters the Vatican City & Museums an hour before the public opening and visits the Sistine Chapel as it opens. Admissions are included and our English-speaking guides do a wonderful job bringing the museums to life!





See Prices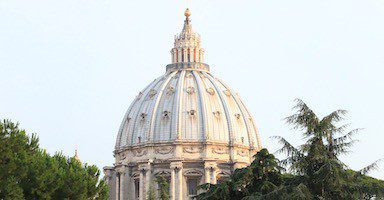 Top Rated Tour
Ultimate St. Peter's Basilica Dome Climb Tour with Papal Tombs
Get the most out of your visit to St. Peter's Basilica by joining a guided tour up to the top of the tallest dome in the world! Our tour includes all admissions including an elevator to the highest possible point and an English-speaking guide.





See Prices
The King of the Renaissance Raphael is Buried Here!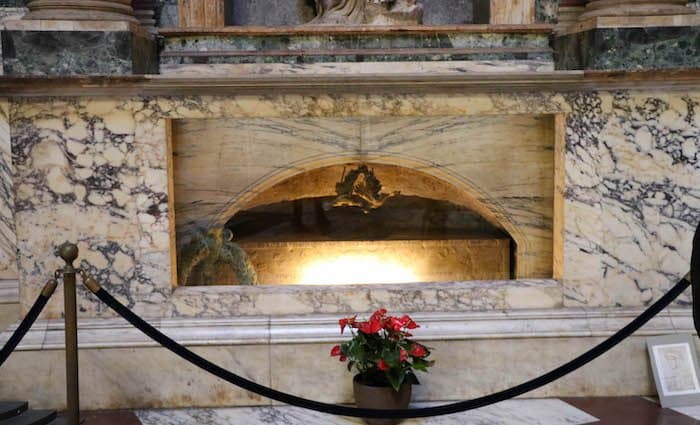 Raphael's tomb sits in the back left-hand side of the structure. He is buried next to his fiancee Maria Bibbiena which was not by his design. He was madly in love with Margherita Lute who was a baker's daughter. She was the subject of many of his works of art including La Fornarina (Palazzo Barberini) which translates literally to the baker's daughter.
Raphael, who lived from 1483 to 1520 and arguably died on his birthday, is situated under a statue of Mary holding baby Jesus to her left which was done by an artist named Lorenzetto.
His tomb reads ILLE HIC EST RAFFAEL, TIMUIT QUO SOSPITE VINCI, RERUM MAGNA PARENS ET MORIENTE MORI which was translated by Alexander Pope to read, "Living, great nature feared he might outvie Her works; and, dying, fears herself may die."