The island of Venice may appear as a small city compared to Italy's main destinations. Yet millions of tourists every year get overwhelmed and lost between the never ending maze of narrow streets and bridges. It might surprise you that you can actually visit Venice in a day and get to see the top attractions and stunning hidden gems. With the help of The Roman Guy, you'll only need to stick to the schedule and wear your best walking shoes! Keep reading to discover our insightful itinerary and travel tips to get the best from Venice in a Day!
---
Getting to Venice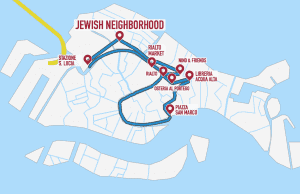 Located in the lagoon facing the Adriatic Sea, Venice is a fish-shaped island made of 118 smaller islands. It is easy to reach from many Italian cities. From Rome it takes 3h30, from Florence 2h and from Milan 2h30. You can find time tables and departure times on the Trenitalia website, by selecting Venezia S. Lucia as the arrival station. Keep in mind that planning ahead and leaving very early in the morning is essential to get the best price and seats. If you want to be stress free, we'll take care of everything! Just contact our Italy Trip Planning Services.
The best way to see Venice in a day is to walk around and soak all its picturesque beauty in. All the main attractions are within walking distance from one another. However, public transport is available in the shape of expensive water taxis, traditional gondolas rides and easily accessible ferry boats. Check out the ACTV website for water bus services info and tickets.
---
Stop One: St. Mark's Square and its surroundings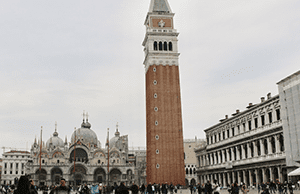 About 30 minutes by foot or ferry boat from the train station, St. Mark's Square will leave you speechless at first sight! It is one of the most recognizable squares in all Italy. Known for its beauty and landmarks, you'll be welcomed by the magnificent Basilica, Bell Tower and Doge's Palace. It is the biggest square in Venice and the only one Venetians call "piazza", square, while the smaller ones are called "campo". The Bell Tower, or campanile, is 99 meters tall and a must-see when in St. Mark's. It's best to visit it at sunset to get one of the best views of the city! If you're planning to visit the inside of the Basilica, you can either buy tickets online on the Venetoinside website or take a guided tour. That way, you'll avoid waiting in line for over three hours on average!
Opening Hours: Mon-Sat 9am-5pm. Sun 2pm-4pm.
---
Stop Two: Doge's Palace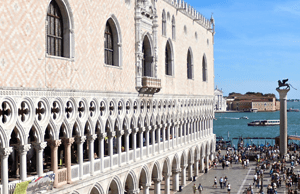 On the Basilica's right end side, you'll find the gothic style Palace that once belonged to the Doge. Doge's Palace hides most secret spots and myths and tales surrounding the island. In the underground levels, hidden from most tourists, are the cellars where the infamous Casanova was once imprisoned! Another hidden detail is the color of the 9th and 10th columns on the side of the Palace. The light pink hue represents the standing point where the Doge used to read death sentences! If you want to learn more secrets about it, you can check out our Doge's Palace Secret Itineraries Tour and include it in your Venice in a day itinerary!
Opening Hours: Apr-Oct every day 8:30am-7pm. Nov-Mar every day 8:30am-5:30pm.
---
Stop Three: Libreria Acqua Alta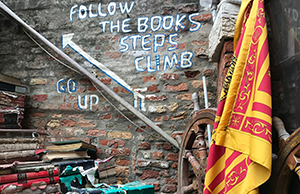 Just a 10-minute walk from St. Mark's area, the Libreria Acqua Alta (Library of High Water) is a true hidden gem in Venice. Buried inside this little book store, you'll find old traditional gondolas. They are used to keep books and prevent them from getting wet whenever waters in the lagoon arise! There is even an escape staircase made out of books to climb in case the shop gets too flooded. This tiny place can get quite crowded on weekends, but week days are usually quieter and you could end up reading a book while sitting by the canal!
Opening Hours: every day 9am-8pm.
---
Stop Four: Casual Lunch at "Al Portego"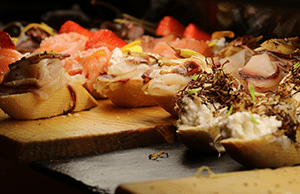 After the early morning wanderings, you'll be ready to experience a real venetian lunch break. Osteria al Portego is a great local spot to get the best venetian cicchetti, the typical finger food. They are usually eaten alongside an ombra, a glass of venetian wine. The word ombra (shadow), comes from the tradition of fishermen of drinking a glass of wine during their lunch break in the shades of the bell tower. Venetian bars usually offer a large variety of cicchetti, from salami and prosciutto to seafood and baccalà, a traditional stock-fish recipe. All served on fresh, crunchy bread slices! After having a proper lunch, we promise you'll feel like you've experienced life in the lagoon to the max. Seeing Venice in a day is not that impossible after all!
Opening Hours: every day 11:30am-3pm, 5:30pm-10pm
---
Stop Five: the Rialto Bridge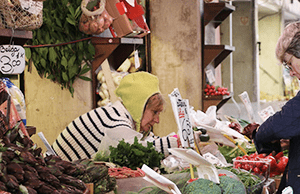 The Rialto Bridge is another one of Venice's most recognized sights, in particular for the breathtaking view at the top. The best part about visiting the area, though, is merging with locals and get into the Rialto Fish Market. Venice was born as a fishing village and the market still gives a great picture of the local culture. To get a proof of the qualit of the food you eat in Venice, talk a walk across all the stands! Ask local sellers to show you the best cuts and have a sample of the fresh produce displayed every day.
Opening Hours: fish market Tue-Sat 7:30am-12pm. Fruit market Mon-Sat 7:30am-1:30pm.
---
Stop Six: Cannareggio and the Jewish Ghetto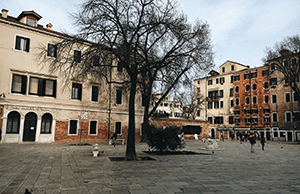 The Jewish Ghetto in Venice is the oldest one in the world and was created in Venice 1516. The whole area is in the Cannareggio district, and throughout the centuries it has expanded so much that it is now divided in three. The "Ghetto Novo", or new ghetto, is the heart of if and used to be a little island within the island. The only connection were draw bridges, lifted up every night to prevent foreigners from entering and women from coming home too late. This district is great to sit among locals in a bar or cicchetteria. Our favorite are Mezzopieno, Bacaro dai Morosi, and Birreria Zanon!
---
Discover more:
Our Venice in a day wanderings came to an end! With this itinerary, you'll get to see the main attractions and experience the local culture! Pretty amazing, right?!
Want to hear about a few more cool Venice facts?! Watch our Youtube video below!