Although many travelers claim to be familiar with the taste of an authentic panino, this classic Italian delicacy is unique to its homeland. One of  Florence's most central streets, Via dei Neri, invites thousands of residents and tourists alike to dine along its sidewalk. In this guide, you'll learn about which panini shops on Via dei Neri are worth visiting, including All'antico Vinaio and some of its neighbors.
---
Panini History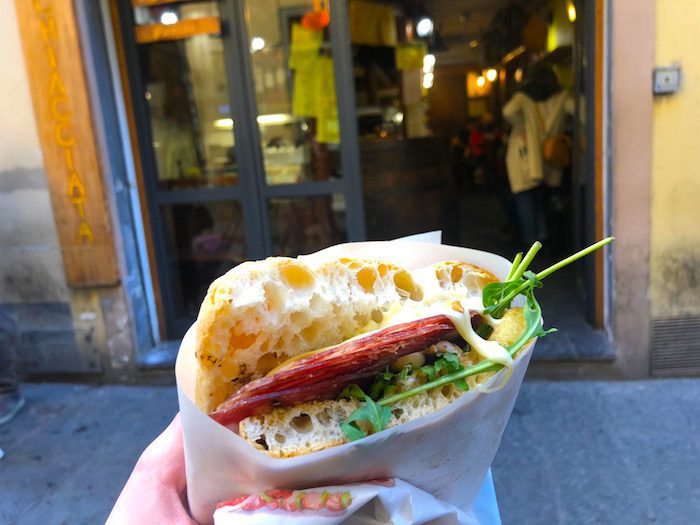 To get one thing clear, a common misconception about the word "panini" is that it actually refers to more than one sandwich. Only one would be called a "panino."
Despite its classic ingredients, including a bountiful assortment of meats, cheeses, vegetables and bread, panini are a relatively new, yet increasingly popular commodity. In the 16th century, an Italian cookbook was believed to have featured the first-ever panini, but it wasn't until the 1970s that panini rose to fame. This was due to an increase of Paninoteches, otherwise known as sandwich bars, in Milan and other locations in Italy.
Since the 1980s, places around the world have created their own renditions of the panino, especially in populous cities such as New York City, where the panino has become a trendy sandwich alternative. In Italy, an influx of panino shops were opened around the '90's, and many shops are still significant landmarks on their street.
Panini vs. Toast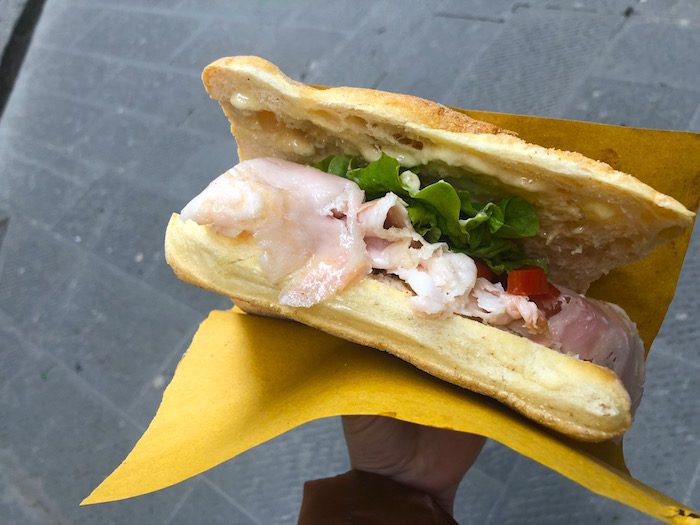 These sandwiches are often confused or believed to be the same. However, toast is made from slices of bread and filled with delicate toppings. Once the sandwich is filled, it is then put into a sandwich press.
Panini, on the other hand, are made from horizontally-cut bread—a key difference from the sliced bread essential to toasted sandwiches. Panini are produced from all types of bread, from ciabatta to baguettes to rosetta. Another key difference stems from the preparation of a panino. Many shops will initially serve panini cold but will heat them up in a warming grill if requested.
Best Panini Places
Even though panini shops appear in a myriad of locations around Florence, one street in particular is popular for its assortment of shops. Here are some of the best places you can eat a panini on the historically central street of Via dei Neri.
All'antico Vinaio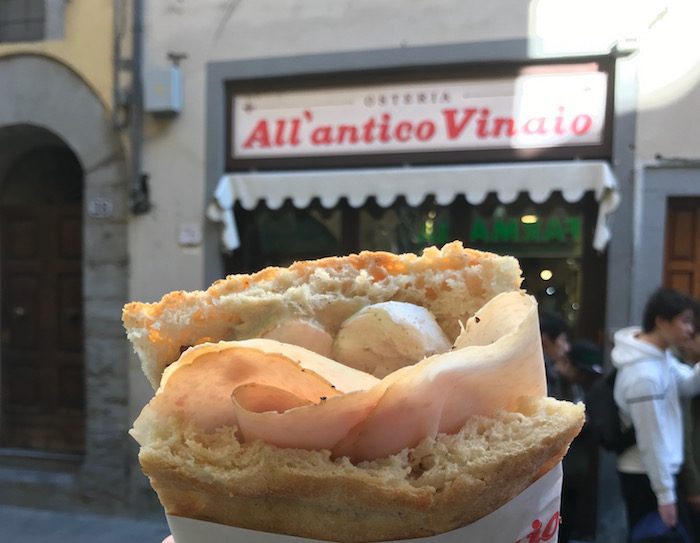 Known as one of the best street-food places in Italy, All'antico Vinaio is an essential component of the panino's rise to fame. It all started in 1991, when the Mazzanti family opened their restaurant, serving many variations to the panini and other authentic Italian classics.
Due to an influx of word-of-mouth and online reviews, the name "All'antico Vinaio" is difficult to forget. They were named as the most reviewed restaurant in the world back in 2014 and have continued to live up to this online reputation in Florence. In case travelers haven't heard of the shop prior to their visit, the shop is easily recognizable on Via dei Neri due to the daily line stretching down the street. Today, they have three shops located in the same corner of the street—each with its own separate line and crowd awaiting their turn to dine on the savory Tuscan panino.
However, don't be fooled by the line. Their service is beyond impeccable because of their workers' tireless missions to take orders and satisfy their customers.
If you are looking for the classic, all-around panino experience, All'Antico is a must-try.
All'Antico Vinaio Hours: Every day from 10:30 a.m. to 11 p.m.
Salumificio Anzuini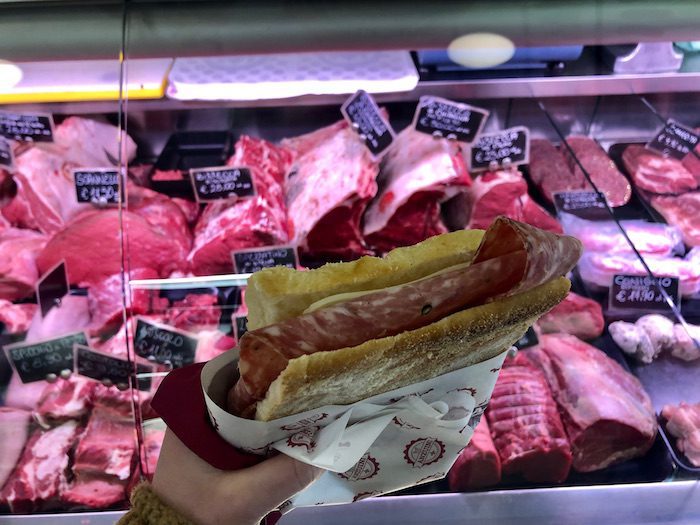 Adjacent to All'Antico Vinaio is another authentic panino shop named Salumificio Anzuini, known for its practice of the ancient art of butchery.
In 1929, a seasonal butcher in Tuscany by the name of Pietro Anzuini decided to dedicate his talents to the production of sausages alongside Loreto Massi, a pork butcher. Together, they opened a shop in the heart of Florence and sold a variety of pork products, including salami, sausages and other packaged commodities.
Today, a third generation to the family runs the shop to sell packaged, home-made goods and a variation of panini using their years of knowledge. The shop is filled with any type of meat you could dream of topped off with vegetables, cheeses and savory breads.
If you're looking for the most outstanding meat product in your panini, look no further.
Salumificio Anzuini Hours: 7:45 a.m. to 7:45 p.m. on Monday to Saturday, 10 a.m. to 6:30 p.m. on Sunday.
Budellino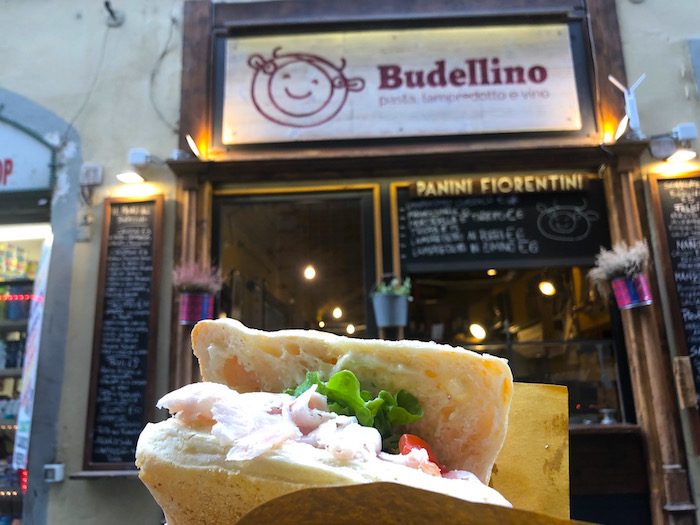 This extra-friendly and authentically delicious Florentine restaurant, wine bar and panino establishment is filled with gourmet food and outstanding service. Customers can choose to dine in or take away any of their panini selections, which includes their recommended paninis or their "create your own" option. Sliced ham, prosciutto and salami are a few classic meat options worth consuming while relaxing in this rustic haven.
Though their paninis are quite popular, they are also known for their rendition of lampredotto, a classic Florentine cuisine. Served with their recommendation of wine pairings, this Italian meat dish is highly sought after and prepared ever-so-perfectly at Budellino.
Looking to try lampredotto? Our Delicious Florence Evening Food Tour with Wine Tasting & Steak tour allows you to experience the flavorful lampredotto and experience the countryside ambiance of Budellino.
Budellino Hours: Every day from 11 a.m. to 11 p.m.
La Fettunta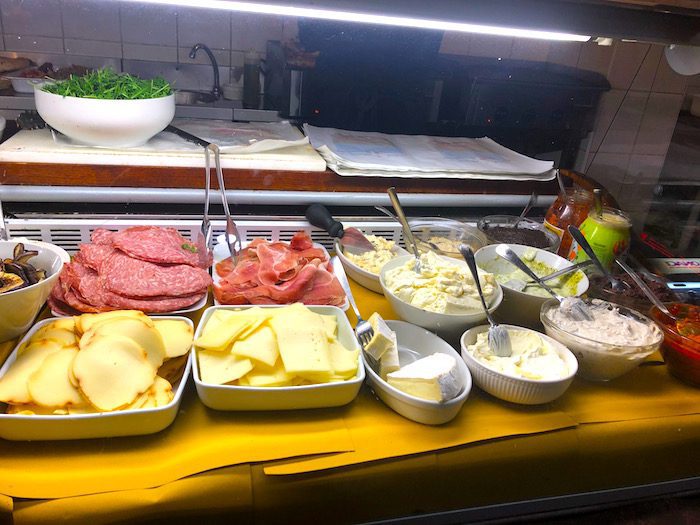 La Fettunta's exquisite combination of homemade meats, cheeses and sauces will leave you craving more. Positioned on the street as two store-fronts—one restaurant and one panino shop—the business is constantly booming.
From salami with provolone, tatar sauce, pickles and rocket salad to ham with pecorino cheese, pickles and olive sauce, their options are limitless. Every ingredient is displayed in the window, so you know you're getting the freshest quality of the day. And it only takes just a few minutes for them to create the perfect combination of flavors in your panini, ensuring the taste is flawless in both crunch and thickness.
La Fettunta Hours: Noon to 3:30 p.m., 6 p.m. to 10:30 p.m. Wednesday to Monday.
Panetteria e Stuzzicheria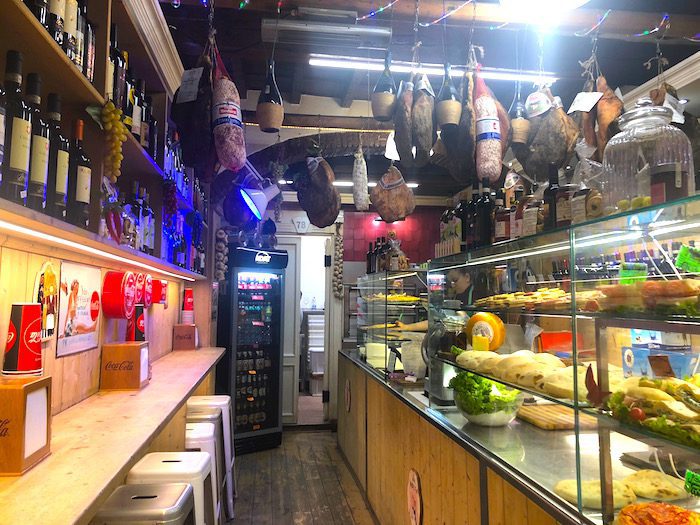 This last shop is a tiny, affordable and friendly option for purchasing panini, sandwiches, pizza and more. With a display of options in the window of the shop and the preparation of food right before your eyes, this hidden gem is unique in its pricing and freshness of products. The atmosphere is inviting with options to sit inside or take away, which is especially pleasant due to the street's location just a few minutes away from the Arno River.
The shop offers plenty of options to people visiting and living in Florence. For the vegetarian-lovers out there, this shop's inexpensive options include exquisite vegetarian panini and sandwiches. For students, this shop provides even more discounts—for every 10 items that you purchase, you receive a free personalized pizza and drink. The assortment of choices at this location is unlimited.
Panetteria e Stuzzicheria Hours: Every day from 9 a.m. to midnight.
Hey, we sell tours too!
While the information we provide here is free, we also sell tours at pretty reasonable prices. Dreaming of Tuscan or Florentine cuisine? We'd be shocked if you weren't. If you want to check out the local foodie scene, check out our Delicious Evening Food Tour with Wine & Steak. In addition to our other sensational Florence tours, check out our Tuscan Countryside Outing with Chianti Wine Tasting and San Gimignano for some delicious wine and a trip out to the gorgeous rolling hills of Tuscany.
---
I Want More Italy!