Italian cuisine is known by its focus on simple ingredients, adhering to a combination of simplicity and quality of ingredients used in preparation. While not technical in preparation, the textures and flavors of Italian cuisine make it popular in pizzerias, high-end restaurants and kitchen tables all over the world. While Italian food generally brings images of pizza and pasta to mind, certain regions in Italy offer dishes not typical to Italian cuisine. Florentine steak is Florence's native dish and a lesser-known, but unique Italian dish.
---
The History of Florentine Steak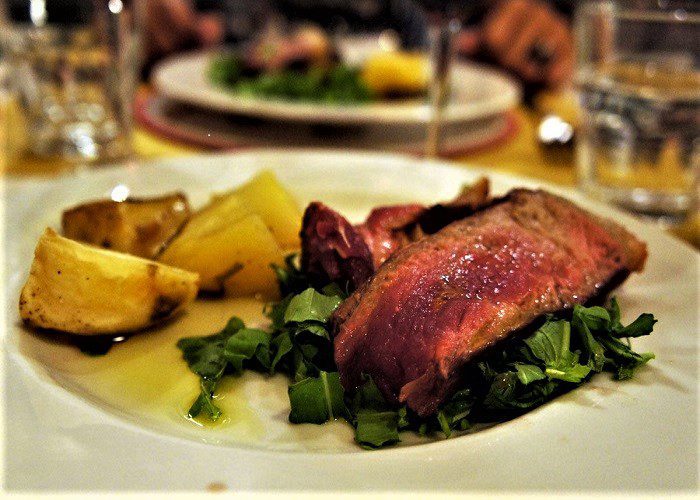 According to legend, Florentine Steak (known in Italian as Bistecca alla Fiorentina) originated in 16th-century Florence in the midst of the Italian Renaissance. The dish is said to have been connected to the Medici family and was served at the celebration of San Lorenzo which took place on August 10th at Florence's Basilica of San Lorenzo. Originally served at Florence's banquets, Florentine steak is a dish large enough to serve 3-4 people.
What Makes A Steak Florentine Steak?
A Florentine steak is made using a Porterhouse or t-bone steak cut between the tenderloin and sirloin of a Scottona (female bovine cow aged roughly one and a half years that has never been pregnant) cow. Costata (bone-in sirloin meat) is also used to make Florentine steak.
The handling of the meat before cooking is crucial to the preparation of Florentine steak. The entire loin must be hanged between two and three weeks before cutting in order to lock in the flavor and soft texture of the steak.
Florentine steak also requires a minimum thickness, at least one and a half inches thick. A really good Florentine steak will be three to four inches thick and anywhere from one and a half to four pounds, making it a sizable dish absolutely meant for sharing (or not).
The breed used to make a Florentine steak is the Chianina cow. Known for producing flavorful, high-quality cuts of meat, the Chianina cow is one of the oldest breeds of cow in Italy. Originally used for plowing in Ancient Rome, the Chianina breed was not used for the production of meat until the end of the 19th-century.
How Is Florentine Steak Prepared?
The traditional way to prepare a Florentine steak begins by standing the steak upright by the bone on a heated surface to warm the inside and distribute the fat fibers. The meat is then grilled on each side for five to seven minutes. The steak should only be turned over one time. After cooking, the meat is salted and then left to rest between 10 to 15 minutes in a hot oven. Florentine steak is served rare, making the thickness of the steak easy to chew and accentuating the crust formed on the outside of the meat by grilling.
Preparing Florentine Steak At Home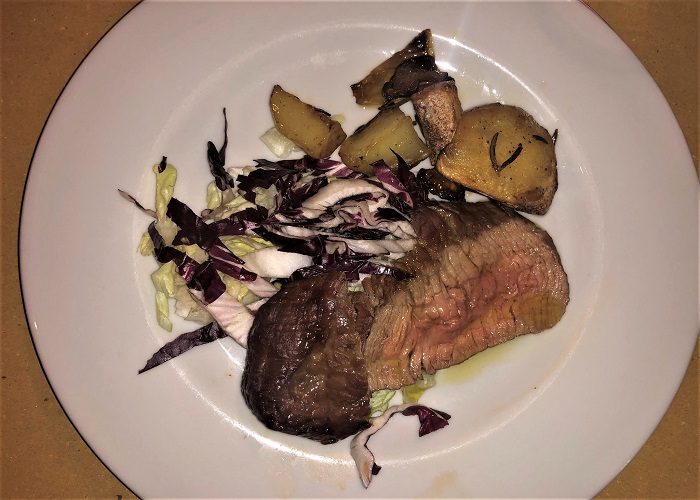 If a three pound cut of Florentine steak sounds great to you and you'd like to make one at home, here is a simple recipe for preparing Florence's most famous dish at home.
Ingredients
3-pound Porterhouse steak.
1 tablespoon coarse salt.
Dry Hanging the Meat
The best way to dry hang the meat at home is to wrap it in a cotton cloth and place it in the meat drawer on the lower part of your refrigerator for about four days. You will know the meat is ready when it is darker in color with a slightly stronger smell. If you don't want to wait that long for the meat to dry, you can also purchase dry hanging meat from the butcher shop.
How to Cook A Florentine Steak
A Florentine steak can be prepared at home on a charcoal grill, electric grill or cast iron skillet.
Preheat the oven to 400 degrees.
Stand the meat upright on a hot surface for fifteen minutes in order to warm the inside of the steak.
Grill each side of the meat for five to seven minutes without moving it, turning the steak over only once. This is the part of the cooking process that requires the most care.
Once each side of the Florentine steak has been cooked, turn off the oven.
Relax the Steak
You will then let the steak sit in the oven for 10-15 minutes after it has been turned off. This will redistribute the juices of the steak.
Coat the Steak With Salt and Serve
Once the steak is removed from the oven, coat it gently with salt on each side and serve.
How To Order Florentine Steak in Florence
When ordering a Florentine steak in a restaurant during your visit to Florence, it's important to remember what composes an authentic Florentine steak. As a Florentine steak is a thicker cut of meat, the restaurant should let you choose your steak before it is cooked so you don't bite off more than you can chew. Since a Florentine steak must be served rare, there won't be any opportunity to order an authentic Florentine steak cooked any other way.
Best Places to Order Florentine Steak in Florence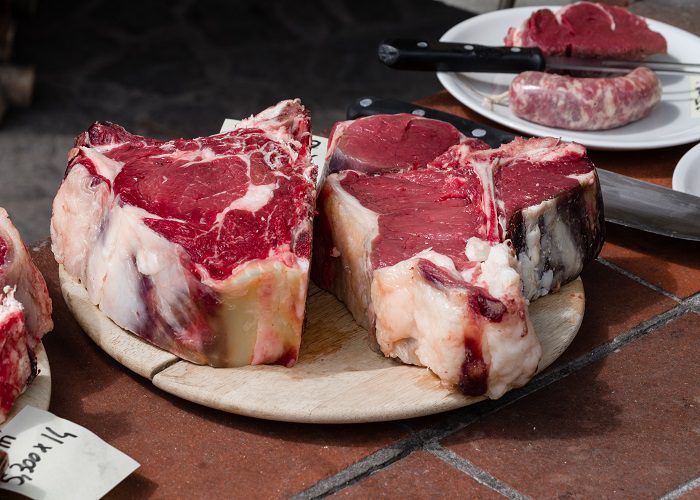 Here are some of our favorite places to order a Florentine steak in Florence.
Ristorante Alla Vecchia Bettola
Located in Florence's Oltrarno District, this restaurant is located south of the Arno River close to Ponte Vecchio and Piazzale Michelangelo. Ristorante Alla Vecchia Bettola is known for its home-style atmosphere and is a hit with the locals of Florence.
Address: Viale Vasco Pratolini, 3/5/7 | Phone: +39 055 224158 | Hours: Tuesday-Saturday 12 p.m.-2:30 p.m. and 7:30 p.m.-10:30 p.m.
L'Osteria di Giovanni
L'Osteria di Giovanni is located on the north bank of the Arno River right across the Ponte Alla Carraia. This restaurant is a hidden gem in Florence, located between the Arno River and the Santa Maria Novella train station.
Address: Via del Moro, 22 | Phone: +39 055 284897| Hours: Monday-Sunday 7 p.m.-10:30 p.m.
I'Tuscani 2
Also located on the north bank of the Arno River across the Ponte Alla Carraia, l'Tuscani 2 is renown for its impeccable service and cuts of Florentine steak. The restaurant is also located within walking distance of Piazza della Republica.
Address: Via de Federighi 37 r | Phone: +39 055 906 5507| Hours: Monday-Sunday 12 p.m.-11 p.m.
Hey, we sell tours too!
While the information we provide here is free, we also sell tours at pretty reasonable prices. Make your visit to Florence a flavorful one with our Florence evening food tour. Savor the many flavors of Florentine cooking including truffles, cured meats, pasta and of course, Florentine steak. Top off the savory flavor profiles of your Florentine dinner with some cold and creamy gelato. You'll wash all of this down with some authentic wines from Tuscany. With this food tour and our many other Florence tours, you'll experience the magic of Tuscany's capital city with The Roman Guy!
---
I Want More Italy!