You've heard of Venice's beauty and uniqueness before. What may surprise you, though, is that this theme park-like city is actually incredibly kid-friendly with memorable activities that will allow you to avoid cultural burnout for your young travelers. Museums start to blur and your feet start to cramp. With car-free streets and endless visual stimulation, Venice is surprisingly more kid-friendly than most other city destinations. Ready to prepare yourself for an adventure unlike any other? Andiamo, let's go, and explore our guide to Venice for families.
---
5. Piazza San Marco – Saint Mark's Square
Ever hear of La Dolce Vita? The Good Life is Italy's motto and it comes to fruition during those moments where you can sit back and experience the local atmosphere with the backdrop of Italy's beauty. Enter Piazza San Marco – the main square in Venice and the home to the famous Basilica San Marco and Campanile di San Marco, the basilica's bell tower. Being the widest open space in Venice, it's understandable that this is the main meeting point for both Venetians and visitors, so why not join in the fun?
Remember above when I said a car-free island makes it more fun for the kids, less stress for the parents? With all the open space, your patient little travelers can join with the local kiddos in a game of football, chase the bubbles provided by the entertaining buskers, play tag, essentially, use all that wonderful energy we love so much but don't want in an art museum. The best part? The square is lined with restaurants and bars so you can have a front row seat to their fun while sipping on a chilled glass of white wine or, my favorite Italian cocktail, a spritz (Aperol and prosecco).
Caffè Lavena is a good option for afternoon drinks and snacks. I wouldn't recommend having lunch in the square because of the inflated prices, but for an afternoon refreshment, it's worth it. Go for lunch here instead.
*For any place you go to in big squares, make sure you order from a menu with prices on it to avoid special "tourist prices."
Address: Piazza San Marco – Caffè Lavena | Hours: It's an open square so 24/7. Caffe Lavena: Daily 9:30am-12am.
4. Mocengio Palace, Museum of Textiles, Clothing, and… Perfume!
Fatigue from museums cannot exist if the museums are catered for kids! This unique museum offers two workshops that even I have to admit I would like to do – one shows the ins and outs of the 18th Century Aristocrat's garments, complete with dressing a life-size mannequin. The second, called "Hunt the Perfume", teaches the young chemists how Venetians would hand-make their perfumes using all natural raw materials, hunting them down in the museum, and then receiving their own 16th Century Venetian recipe to take home and try. Each workshop is two hours.
Follow this link to reserve. Click on "choose and book" on the right. This leads you to all the workshops in various museums around Venice so you can even shop with your young traveler if the above is not their cup of tea. All bookings must be done online.
Address: Mocengio Palace | Hours: Tues-Sun 10am-4:30pm. Price: €80 for a maximum of 10 children, plus a minimum of 1 adult, maximum 4 adults.
Popular Venice Tours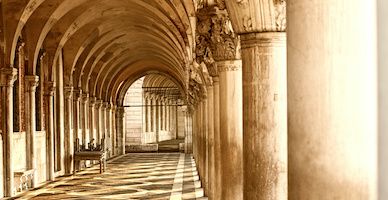 Best Selling Tour
Doge's Palace "Prisons & Tyranny" Tour in Venice
Hear how the Dukes of Venice ruled the "republic" using fear tactics, imprisonment, and torture. Now, the palace stands as a reminder of how the law was carried out in Venice. Skip the line with a passionate English speaking guide and go behind the scenes to see the best parts of this incredible Gothic palace. Admissions included.





See Prices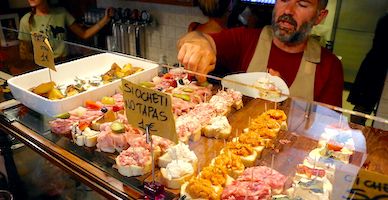 Authentic Experience
Venice "Locals" Evening Food Tour in Cannaregio
People who say Venice is too touristy have not done enough research. Cannaregio is an amazing break from the crowds and our food tour is the most authentic way to experience it. Taste Cicchetti and other Venetian specialties with tons of wine! You'll leave with a full stomach! Plenty of Food and wine included!





See Prices
3. Family-Friendly Walking Tour
Your walking tour of the enchanted city will begin with sweets and the explanation of a treasure hunt to be completed during the tour so your kiddos are not only competing in an interactive activity but are also learning the history and secrets of Venice.
Ready for a plot twist? The tour is with US! That's right – The Roman Guy is here to save the day one young traveler at a time with a Child-Friendly Walking Tour. Join us as we take you through the main sights of Venice, starting with St. Mark's Basilica, all the way to the famous Rialto Bridge, and ending with a prize for the champion of the treasure hunt. Kids learn and have fun. Parents learn and have fun. Jackpot? I think so.
Address: Meeting point provided after booking on our website | Hours: Monthly tours, with morning and afternoon times | Price: $69 for adults, $65 for 7-17 years old, $25 for 6 years or under, free for children under 3 years.
2. Arte al Sole
During a family vacation, finding the balance to enjoy time with your partner or alone, and spending it all together can be tricky. Arte al Sole strives to make that a bit easier. They offer cultural adventures for the whole family while including special explorations just for the kiddos so you're free to take in Venice at your own pace.
Their Murano Glassworking visit includes a family tour of how the famous Murano glass is made by the master craftsmen. Then, after a lunch break, the children continue making their own pieces using unique hand blown Murano glass and you're free to explore the island how you see fit! Aperitivo, happy hour, anyone?
Or, become an honorary Venetian with a Mask-Making Workshop. The masquerade mask is the most iconic style of dress in this region of Italy, so creating your own seems like the perfect excuse to get a little messy.
Website: Arte al Sole | Email: [email protected] | Phone: +39 328-205-6574 Price: Murano Workshop: €365 for 1-3 participants, €65 for each additional participant. Mask-Making Workshop: €195 for 1-3 participants, €55 for each additional participant.
1. Lion Treasure Hunt
The Patron of Venice is Saint Mark, and the brave, courageous Lion is his symbol. Thus, the entire city is sprinkled with Lions from the tops of buildings to décor among columns. The original winged lion statue is in Piazza San Marco, and Venetian legend says that he protects the body of San Marco himself, whose relics were stolen in 828 from Alexandria in Egypt, and brought to his final resting place in Venice.
Create a fun game for your young adventurers by hosting a scavenger hunt of who can find the smallest, biggest, most unique, or even simply the most lions during your trip. There are endless souvenir shops near Piazza San Marco that serve as the perfect place to find a small prize for the winner!
---
Discover More
Heading to Florence or Rome after Venice? Check out our family guides to both cities here: Florence/Rome.