With its gorgeous canals lined by historic architecture, Venice is one of Italy's most famous destinations for good reason. Venice consists of 118 small islands and over 400 bridges, a veritable maze of a city. As long as you have good plans in place, it's possible to see the highlights of Venice in only half a day.
---
Pro Tip: It's easier to organize your trip when you have all your resources in one place. Create a browser folder and bookmark this post along with our dedicated guide to planning your visit to Venice, where you'll find everything you need. Also, check out our article on the best Venice tours to take.
Half-Day in Venice: To Tour or Not To Tour?
With this DIY itinerary plus insider tips and restaurant recommendations, we'll help you make the most of your half-day in Venice.
Seeing Venice in half a day on your own is totally doable. But if want to get the best possible experience and you're short on time, you might want to check out our Venice tours. You won't have to worry about a thing as we guide you around the top attractions of Venice. Many of our tours last from 2 to 4 hours, which is perfect for anyone wanting to see Venice in a short amount of time.
Depending on your interests, these tours will show you Venice from different perspectives:
If you happen to have a full day in Venice and want to make sure you hit all the main spots, then we highly recommend doing a Venice in a Day tour.
Not ready to book a tour? Check out our article on the best Venice tours to take and why.
DIY Venice Half-Day Itinerary
Getting To Venice, Italy
Located in the lagoon facing the Adriatic Sea, Venice is a fish-shaped island made up of 118 smaller islands. Easy to reach from many Italian cities, simply hop on a high-speed train from Rome or Florence and arrive in no time at all. Train travel makes seeing Venice in half a day easy.
Rome: 3 hours and 30 minutes
Florence: 2 hours
Milan: 2 hours and 30 minutes
Find timetables and departure times on the Trenitalia website, by selecting Venezia S. Lucia as your arrival station. Plan ahead and leave early in the morning to get the best deals. Just remember, in order to see as much of Venice as possible, it's imperative to arrive as early as you can in the morning.
These Shoes Were Made for Walking
Once you arrive in Venice, the best way to get around is on foot. All the main tourist attractions are within walking distance of one another.
However, public transport is available via expensive water taxis, traditional gondola rides, and easily accessible ferry boats. Taking the ferry boat is the best way to get around Venice. Check out the timetables and ticket prices for the vaporetto on the ACTV website.
Head Straight To St. Mark's Square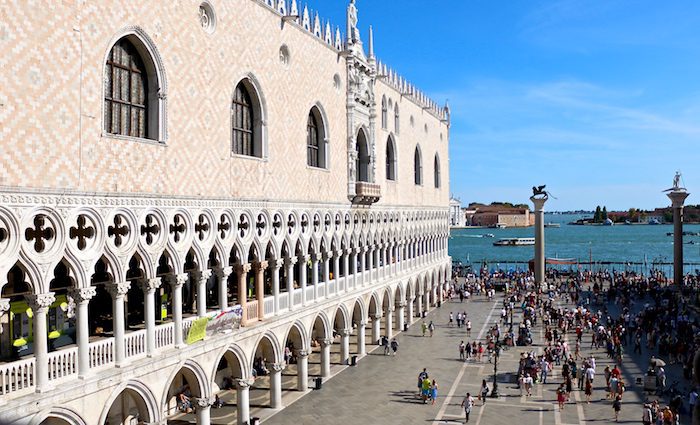 When you arrive at the Venezia Santa Lucia train station (the final stop on the line), head straight to St. Mark's Square. But first, make sure to take in the incredible view from right outside the train station.
Don't take the heavily-trafficked Strada Nuova—take the less popular Ponte degli Scalzi. St. Mark's Square is about 30 minutes on foot or by ferry from the train station.
Home to the magnificent St. Mark's Basilica, Bell Tower, and Doge's Palace, this is the biggest square in Venice and the only one that Venetians call a piazza—the smaller ones are called campo. While you're in St. Mark's Square, there are three main attractions to check out:
The Bell Tower: Over 99 meters tall, the bell tower (or campanile) was once a lighthouse and watchtower. It still hosts one of the best views of Venice. Visit at sunset for a truly epic experience.
Doge's Palace: Within its underground levels, hidden from most tourists, are the cellars where the infamous Casanova was imprisoned. Visit the prison cells and the rest of the Gothic palace on a skip-the-line St. Mark's and Doge's Palace tour.
St. Mark's Basilica: Known as the "Church of Gold," St. Mark's is one of the most-visited places in Venice. To go inside the basilica, either buy your tickets on the

Veneto Inside website

. You'll avoid waiting in line for over three hours on average on our skip-the-line tour.
Pro Tip: If you want to have a real Italian coffee experience at one of St. Mark's Square's historical cafes, go inside and have it at the counter. Espresso at Caffè Quadri is only €1.10 if taken al banco (standing up), otherwise you'll have to pay a hefty premium for the views outside at the tables.
Address: Piazza San Marco
Rialto Bridge and Market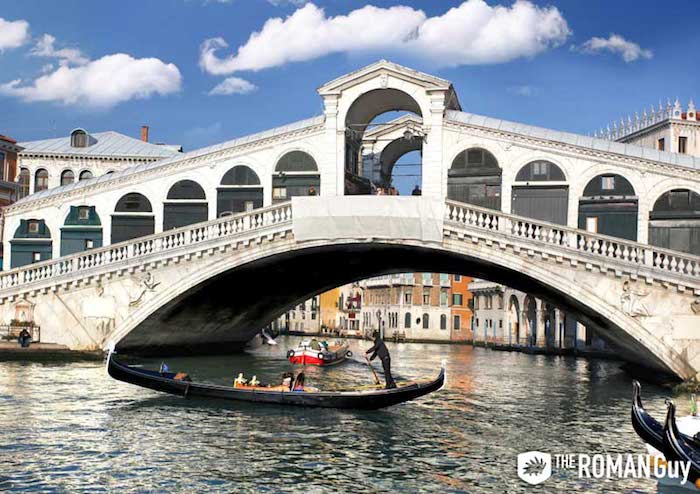 Just a few minutes away from St. Mark's Square, find the Rialto Bridge, another one of Venice's best attractions. Initially built from old boats, the unstable bridge was rebuilt in 1500.
It's still the best way to access the Rialto Market, a place that's been whetting appetites for seven centuries. Stop at the nearest cicchetteria (local pub) for some wine or spritz and a small meal.
We suggest All'Arco, a local favorite, which offers takeaway fresh cicchetti (fingerfood) with seafood at reasonable prices.
Address: Rialto Bridge
Go On a Gondola Ride
Even though you're only exploring Venice in half a day, don't skip the ultimate Venetian experience—a gondola ride. Rialto Bridge and St. Mark's Square are both perfect spots to grab a gondola ride and get a jaw-dropping view of Venice from the Grand Canal.
Due to the incredibly high demand for gondolas and the scarcity of boats, gondola rides are expensive. If you want to save some money, split up the cost between five or six people (new friends or the people you're traveling with).
Pro Tip: A Gondola ride is included in our Skip the Line St. Mark's and Doge's Palace tour. See Venice's main attractions in just 3.5 hours at a very reasonable price.
A Goodbye Spritz at Campo Santa Margherita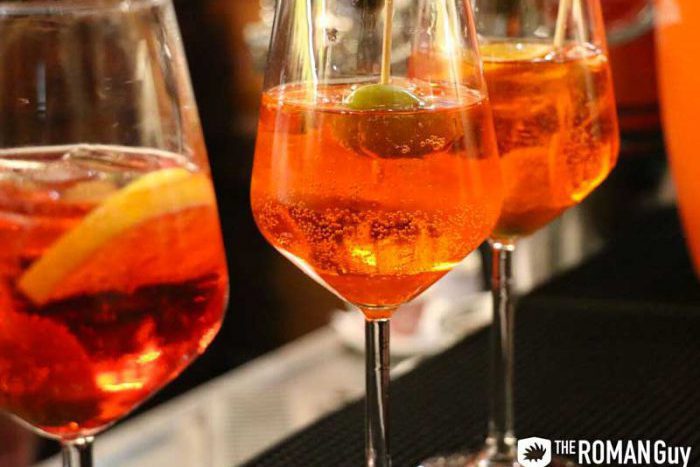 After all that sightseeing, treat yourself to a final Aperol Spritz in Campo Santa Margherita. This big square comes to life at night, but is also the perfect location for a quick meal and drink during the day.
Pro Tip: Go to Bocon DiVino for some delicious polpette and baccalà. Don't forget to stop at one of the typical pasticcerie close to the train station and buy some buranelli.
Address: Campo Santa Margherita
Not ready to book a tour? Check out our article on the best Venice tours to take and why.