Tuscany is a scenic and historic region that boasts a rich artistic, literary and agricultural history. A Tuscan farm stay is the perfect way for visitors to experience the splendor of Tuscany's lush scenery. Its gift to the world comes encased in glass bottles and sealed with a cork. The region's wines have graced tables around the world since the early 7th century BC. With lush green scenery delicately draped over sun-drenched rolling hills, the Tuscan countryside presents its visitors with an intoxicating visual display. 
---
Hey, we sell tours too!

While the information we provide here is free, we also sell tours at very reasonable prices. We're passionate about all things Italy and want you to be as well. We invite you to experience the history and natural beauty of Central Italy's Tuscany region with us. Visit the historic landmarks of Florence, the Renaissance masterpieces housed in the Uffizi Gallery and even a Chianti wine tasting in the Tuscan countryside on one of our many Florence tours. Come savor the sights, sounds and flavors of Tuscany with The Roman Guy.
Immerse Yourself in Tuscany's Surroundings
An immersive Tuscan experience features a stay in one of its many agriturismos. Widely known as a farm stay, an agriturismo is a working farm that supplements its income by offering on-site accommodations. Agriturismos provide visitors with an immersive experience featuring local meals made with fresh ingredients grown on the farm. These farmhouse holidays feature a picturesque setting and a glimpse of Tuscany's serene quality of life.
Tuscan Architecture and Craftsmanship
The beauty of Tuscany's countryside scenery is matched only by the attention to detail and craftsmanship synonymous with Tuscan architecture. Many Tuscan farm stays are built from high-quality natural stones that have stood the test of time. Natural limestone and marble complement the terra cotta roof tiles that give agriturismos their signature rustic aesthetic. Wrought iron gates and flowing fountains intertwine with gardens of lavender and vines that adorn the facade of many Tuscan farm stays.
Agriturismo Meals and Activities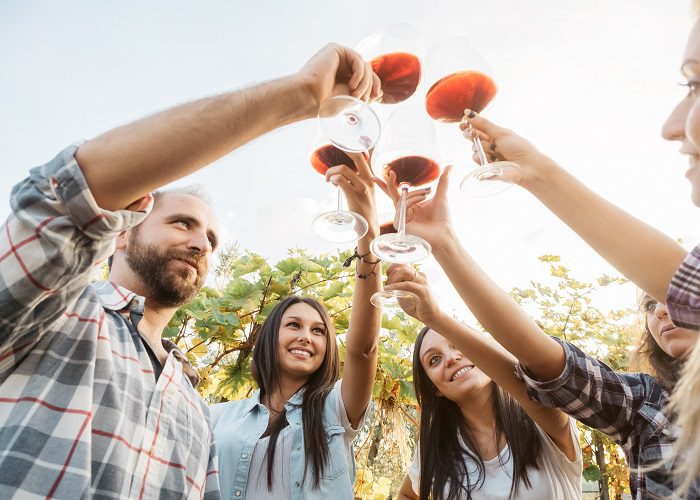 Aside from food and lodging, many Tuscan farm stays include an array of on-site activities. Learn the art of Italian cooking with cooking classes using ingredients comprised of the many olives, figs, vegetables, oils and meats produced by the farm. Experience the time and care that goes into Italy's art of slow cooking. Replicate and elevate the vast array flavors found on our Florence and Rome food tours. Sample some more of the region's wines while enjoying an authentic Tuscan meal.    
Horseback Riding in Tuscany
After traveling from the city streets of Rome and Florence, enjoy horseback rides along the countryside's farms and vineyards. Experience the peaceful solitude of Italy's countryside on horseback, getting swept away in the romance of your immediate surroundings. Live like a Medici on holiday from the bustle of Florence's busy walkways. If you prefer to walk, the many farmhouses in Tuscany rest on acres of land that are perfect for nature hikes.
All Arrows Point to the Center
Archery is another popular activity offered at many Tuscany agriturismos. Learn the art of archery, which was a key aspect of Renaissance Italy and factored into the many disputes between rival Italian cities. Transport yourself back to the Renaissance era where men in tights defended the honor of their city-states with the pull of a bow.
Many Tuscan farm stays also feature on-site swimming pools, perfect for relaxation and cooling down. While the openness of the Tuscan landscape lends itself to a visual display of warm colors, the heat of the summertime sun will leave visitors wanting to stay cool. Perfect for family-sized fun, children will enjoy splashing around in the swimming pool after enjoying a delicious gelato in Florence.
What to Know Before Booking Your Tuscan Farm Stay
A stay at an authentic Tuscan agriturismo is the perfect way to bask in the natural beauty of Tuscany's countryside. These farmhouses offer accommodations ranging from single rooms to entire villas. As a stay in an agriturismo is an authentic experience, its value cannot be manufactured. The combination of breathtaking scenery and rustic charm drives incredible demand for farm lodging. Visitors must plan their visit 4 to 6 months in advance.
As the Tuscan countryside is a vast landscape of open green scenery, a rental car is absolutely necessary for travel to a Tuscan farm stay. For more information regarding Tuscany's agriturismos, a comprehensive list of options can be found on Italy's agritourism website.
---
I Want More Italy!