Florence has some of the most delicious cuisines in the world. With local foods like bruschetta, ribollita, prosciutto, and of course the famous Florentine steak, these tours lead you (and feed you) through the long history of Florence. Take a bite with our English-speaking guides in these best food and wine tours in Florence
---
Pro Tip: It's easier to organize your trip when you have all your resources in one place. Create a browser folder and bookmark this post along with our dedicated guide to Florence for more planning resources, our best Florence and Tuscany tours for a memorable trip, and how to plan a day of wine tasting in Tuscany.
Discover Florence Through Its Food
No trip to Italy would be complete without a thorough exploration of local Italian cuisine and wine! When in Florence, you'll definitely want to try the local bruschetta, ribollita, prosciutto, and of course the famous Florentine steak.
A fantastic way to explore the food and culture of the region is with a local guide to show you the best places to eat and authentic foods to try for a gastronomic journey you won't forget. Here are our best food and wine tours in Florence:
Not ready to book a tour? Check out our Florence Guide for more info.
Florence Local Food Tour in Santo Spirito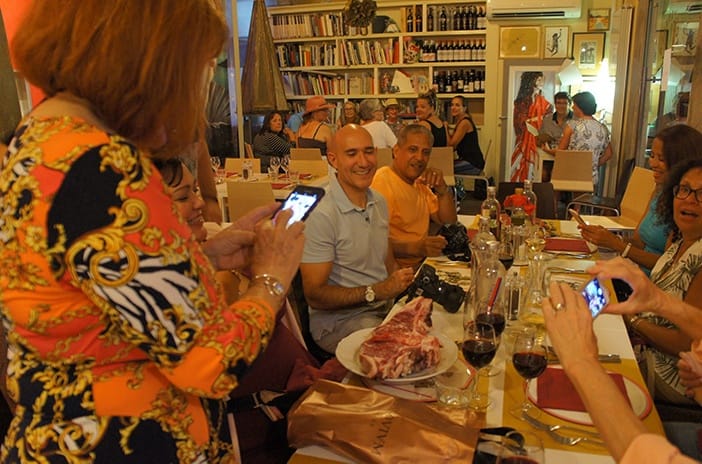 Beginning at the Piazza della Signoria, this light walking tour brings you over the famed Ponte Vecchio bridge and through the heart of Florence. You'll try some delicious local aperitivo (typically wine before a meal), prior to a traditional dinner of Tuscan pasta and one of the best Florentine steaks you can find anywhere in the city.
Along the way, make sure to leave room for plenty of wine. In this Florence local food tour, you'll sample a wide variety of it at an 800-year-old wine shop, paired with delicious olive oil and truffles. And after your dinner, try the vin santo with local biscotti. This is a great food tour with a guide knowledgeable in the rich and detailed history of Florence and its food, without waiting to eat. 
Highlights:
3-hour tour
Florence walking tour, including Piazza della Signoria, Ponte Vecchio, and Santo Spirito
Wine tasting at a local enoteca older than the Renaissance
Traditional Florentine steak dinner
Tuscan biscotti dessert
See tour itinerary, price, and description
Tours of Chianti & Florence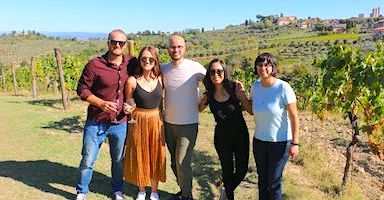 Top Rated Experience
Chianti Day Trip from Florence with Vineyard Lunch
Want to have an epic experience in Tuscany? Remove the guesswork and logistics by joining us on a day trip to Chianti and Siena from Florence. Transportation, lunch, and lots of wine included!





See Prices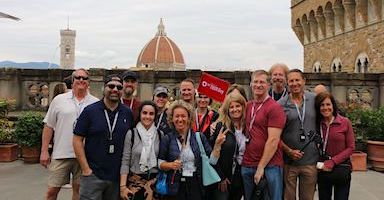 Best Selling Tour
Florence in a Day Combo Tour with David & Uffizi
This tour is your best value in Florence. Follow your licensed guide to see Michelangelo's David statue in the Accademia Gallery before exploring the Uffizi Gallery. You'll also stand next to the Florence Cathedral, Baptistry Doors, Ponte Vecchio, and more. All your admissions are included with skip-the-line tickets too!





See Prices
Not ready to book a tour? Check out our Florence Guide for more info.
Tuscany Wine Tour from Florence To Siena and Chianti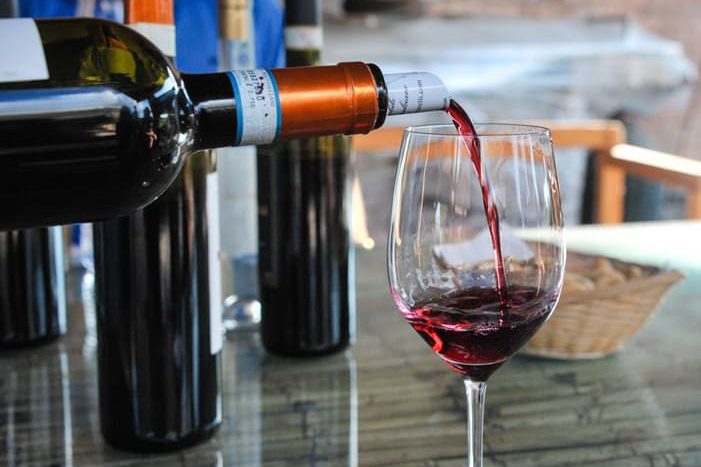 When you sign up for this exclusive tour, you will be chauffeured to the Chianti Hills, one of the finest wine regions in the world. Upon arrival, you'll meet the families that own and operate the very best wineries in Tuscany. Oh, and there will be tons of wine to share along the way.
The Tuscany wine tour begins at San Gimignano, a historic town famous for its tall towers and rich history. After your guide shares historical stories about the town, you'll set off for the hills for a traditional sit-down lunch at a local winery. After a full day of exploring and wine tasting, you'll head back to Florence. It's a wonderful getaway, and a unique experience many tourists miss out on.
Highlights:
9-hour tour
Luxury transport
Visit historic Tuscany towns Siena and San Gimignano
See Siena Cathedral
Wine tour and tasting at a Chianti vineyard
Traditional Tuscan farm-to-table lunch
See tour itinerary, price, and description
Wine Day in the Chianti Hills from Florence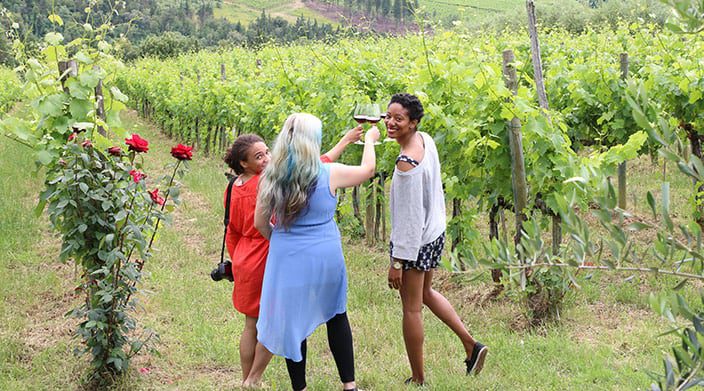 If you'd like to spend longer in the beautiful Chianti region, then this is the tour for you. Travel out of Florence into the sunny Tuscan countryside. After you arrive at a local organic Chianti farm, you and the owner will tour the grounds and discover what makes Tuscany wine so cherished by people around the world.
On this wine day in the Chianti Hills, the owner will bring you some of their finest organic wine and olive oil to taste. There is an emphasis on slow food, an Italian movement centered on local organic produce and authentic customary recipes. Here you will be treated to some of the farm's locally-grown products with lunch and wine included.
Think the tour is over? Think again! After eating and drinking, you will have the opportunity to explore a relatively unknown, tucked-away village in the Chianti region before heading back for an evening in Florence. 
Highlights:
7-hour tour
Private day trip with luxury transport
Visit historic Siena and the medieval cathedral
Wine tasting and lunch at Chianti farmhouse
Vineyard visit and wine tasting in Chianti Hills
See tour itinerary, price, and description
Tuscany Wineland Safari from Florence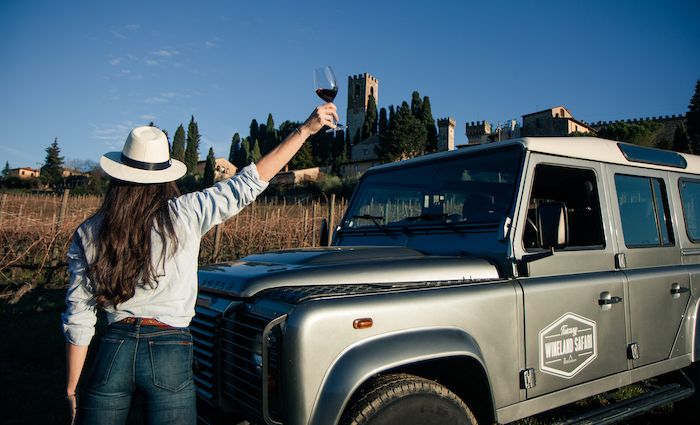 While the price is a bit higher than your average tour, this experience is one of a kind. Instead of a tour bus, or even a luxury van, you will jump into an iconic Land Rover and traverse the Tuscan countryside.
You'll find yourself going from paved roads to vineyard trails in no time. It is a special experience for the adventurous at heart that will make your trip that much more memorable. The tour includes pick-up in Florence, a stop at a vineyard with wine tasting, a wine-filled picnic, and various stops in Tuscan towns, including a medieval castle.
Highlights:
7-hour day tour
Off-Road Chianti hills tour in 4×4 vehicle
Wine tour of Chianti farmhouse, cellar, and vineyards
Visit a Medieval Tuscan castle
Authentic three-course Tuscan lunch
See tour itinerary, price, and description
Tuscany Wine Tour by Vespa from Florence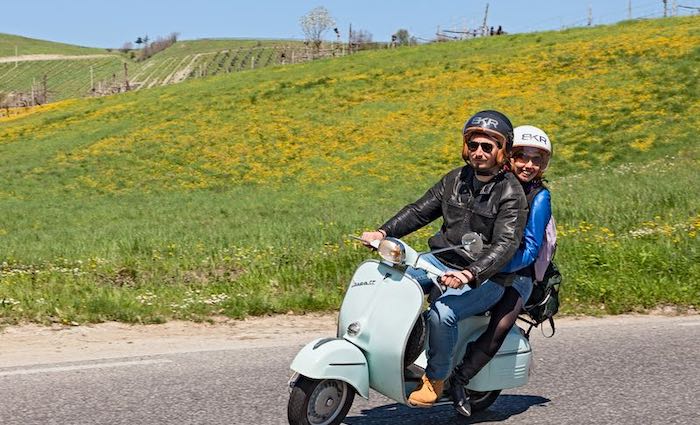 There are very few Italian things more iconic than the Vespa. In this tour, you'll learn to ride the stylish motorcycle that has been a cornerstone of Italian style. Then, you'll set off from Florence and ride through the rolling hills and ancient villages of Tuscany.
Along the way, you'll stop at two of the best Chianti wineries to taste some fantastic wine and local produce. Your guide will point out their favorite places and views as your ride through the region's enchanting countryside.
This tour is an exciting way to get outdoors and explore beyond the city of Florence and sample the good food, wine, and way of life in this famous part of Italy.
Highlights:
6-hour tour
Vintage Vespa rental and training session
Guided ride through the Tuscan countryside
Wine tasting at two Chianti wineries
Hearty, traditional local lunch
See tour itinerary, price, and description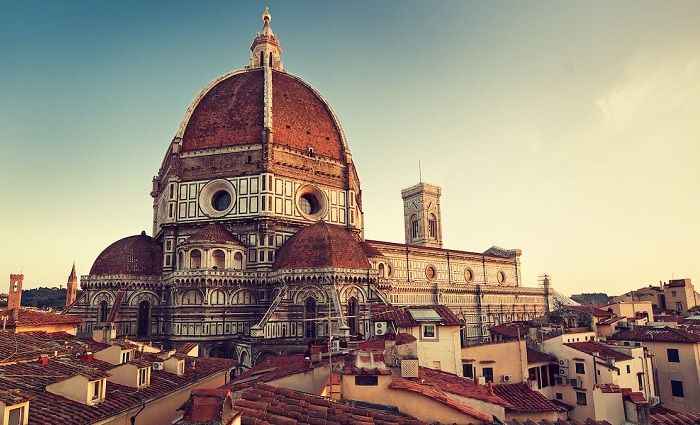 Find the best places to stay
Where to Stay in Florence
Florence has a small historical center packed with iconic landmarks to explore. Plan where to stay in the best neighborhoods in this beautiful city.