There is more to Rome than just vino and the three p's: pizza, pasta, and pastries.  For those health conscious travelers, working out and eating well is a part of daily life.  That doesn't need to change when you come to the land of edible art, aka Italia. You can still travel fit and healthy in Rome and across Italy! You just need a little help from Italian fitness insiders. 
This is our first post in a new "Travel Fit and Healthy in Rome" series, which will offer inspiration to those travelers that like to break a sweat during their adventures abroad. We'll offer healthy suggestions to balance out all those heavenly carbs and glasses of vino, yoga in Rome, relaxation on vacation, healthy eating tips, and various healthy activities to do during your holiday.
But first, the workouts. Being such an inspiring city, we've put together the top 5 outdoor workouts in Roma so you can shamelessly stuff your beautiful faces with all the treats you can find. Let's get to work!
Travel Fit and Healthy in Rome – The Workouts
1. Anastasiya Craze
A NASM certified personal trainer, Anastasiya has mastered her concept of ditching the gym to find a new playground.
What's it all about?
Have you ever had a fun and intense workout that toned every part of your body, put you in a great mood, and gave you energy for days? Now imagine getting the same type of a workout outdoors in one of the most magnificent and historic cities in the world!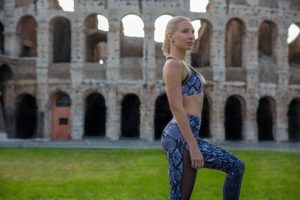 When you join me for a private lesson in Rome, you are not only getting an exciting and effective workout, motivational stories, and gorgeous scenery, but also an unforgettable experience that will last a lifetime.
What exercises you do?
I specialize in bodyweight training. We do intense, fun, and effective workouts that don't require special equipment. All of my exercises are customized based on my clients' personal goals.
Starting times, Duration, Location: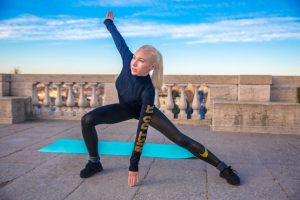 I work out with clients from all over the world and they always get a choice of a location. Just like on my YouTube channel, I work out with them in some of the most scenic and historic places in Rome like the Colosseum, Piazza Navona and even on the terrace of Pincio. We also do work outs in parks all over Rome, but the most popular one is, of course, the charming garden of art and nature-Villa Borghese. All of my workouts last an hour and include a warm-up and cool-down.
Twitter | YouTube | Blog | Instagram | Website
---
2. Nadia Woo
Ready for some Zen combined with nature? Nadia's yoga studio, Yoga Aventino, is the ideal place for both.
What's it all about? What exercises do you do?
Hatha Vinyasa flow involves moving from one position (asana) into another.  Every movement is followed by breath linking mind to body.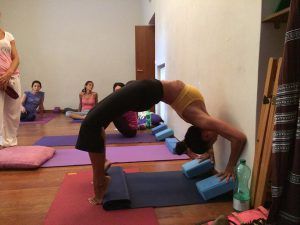 Starting times, Duration, Location:
Our "Spring into Yoga" is an activity we do every Saturday in the Spring. We meet at Circo Massimo from 10am-11am and do a group yoga session. This year we will start the Saturday after Easter.
---
3. Nadia Sorreche
A personal trainer with a kinesiology degree, Nadia loves training and believes that feeling fit and healthy brings happiness to your life when you are on holidays.
What's it all about?
Sometimes it's difficult to continue with your routine while you're away- how about sightseeing by training?!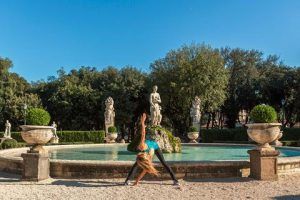 It's an easy and entertaining way to explore. I offer training in Spanish-English-Italian.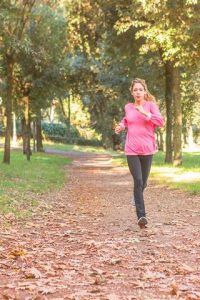 What exercises do you do?
I prepare sessions which include heart-pumping moves like running and walking, and muscle building circuits.
Starting times, Duration, Location:
I love working out in Villa Borghese, the third largest public park in Rome.  It's a great escape from the bustle of the city.  The workout will take you one hour and you'll enjoy the beautiful nature and also your body! Write me! J
---
4. Max Grossi

With a unique approach of using Rome as your gym, Max incorporates a sightseeing experience with a fat burning workout.
What's it all about?
My workout is called H.E.A.T and is a training for all citizens and visitors of Rome.  It provides a way of learning and experiencing the city in a different way. We use a wireless headphone system that allows me to speak to the participants and provide music.
What exercises do you do?
It's a high energy workout that uses the city as a gym.  We go through a 10km path, alternating walking, running, and muscle exercises.  We use the squares of the city as equipment- steps for legs, benches for upper body, etc.
Starting times, Duration, Location:
The training lasts 1 ½ hours with a different course each time to allow you to visit different places.  The starting location is Piazza Cavour at 6:30am, weekly. Visit us on Facebook to book your session.
---
5. Me!
Ok, I am definitely not a personal trainer, but I am an expat in Rome that loves working out around the city instead of spending my free time in the gym.
Other than the already mentioned Villa Borghese, I love running and training in Villa Pamphili, the largest public park in Rome.  Cars aren't permitted inside the walls of the park so you're completely free to wander where the paths take you! There are also various free outdoor gym areas you can use.  My other preferred place that is great for a sight-seeing combo is a run throughout the center from the Colosseum and looping around the monuments near Piazza Venezia- after I run up and down the steps of the iconic Santa Maria in Aracoeli church, directly behind Piazza Venezia.  The monstrous stairs provide a great replacement to the stair climber!
---
Discover More
Coming to Italy with your gal pals? Check out my perfect girls weekend in Rome! On a lover's getaway? Be sure to check out the most romantic towns in Italy.
As always, be sure to share your favorite Italian moments with us on Facebook, Twitter, Instagram and Google+