Italy is a special place to have your wedding, offering the perfect setting to tie the knot with the one you love. The great thing about Italy is that is has something for everyone, from the rolling hills in the Tuscan countryside, to the beautiful beaches along the Amalfi Coast. However, having all these options can also be overwhelming!
If you're planning your wedding in Italy, we've got just the post for you. Some of the best Wedding Planners in Italy share their Top Tips, to make planning your romantic union in the bel paese nothing but blissful!
---
Italian Wedding Event
The Italian Wedding Event is a group of premium Wedding Planners based in Rome, working throughout Italy for international clientele.
---
Tip #1: Ignore regions and open your mind to outside of just of the "heavy-hitting" locations.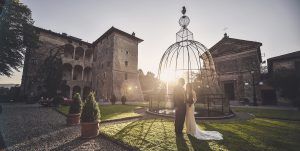 Let what you're looking for guide you, not a particular place. For example, you could be dreaming of a castle wedding and focussing on Tuscany, when just an hour further south, you may find a very similar location for a fraction of the price in an equally beautiful area in Umbria!
Our job is to share our expertise with you, in order for you to make the most informed decision and spend your money wisely. For many of our clients money is no object, but instead it is a case of finding the perfect venue – if you have a high guest number and your Lake Como venue will not allow that many people, we will be able to show you an array of equally beautiful locations, in other lake towns (maggiore, garda, orta) that could be perfect – you may even prefer them after viewing!
So, never restrict yourself to one area – follow the mood you want to create instead. With our clients we use a mood filter as an alternative method to find the best location to suits you most.
---
Tip #2: Italy has beautiful weather (most of the time). So be prepared just in case.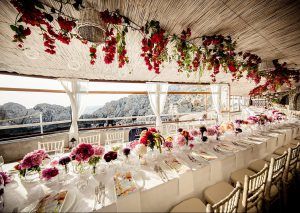 Always have a plan B. Most Italian locations have amazing outdoor areas, the main reason that many from colder climates come here for their big day is for our great weather. It's easy to see the Italian gardens and wonderful cloisters and not consider the rest. But rain, if not so frequent, is the only thing that we as planners can not plan for, however we can plan around it!
Always make sure your chosen venue has a valid back up option, for every moment of the day – so that you are thrilled whatever happens. A planner tip – make sure your chosen decor and flowers match both options seamlessly. 
---
Tip #3: Regions and traditions in different countries is what makes them unique and special. Be as authentic as possible!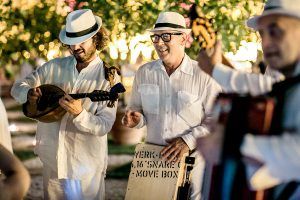 Stay true to the region you have chosen. Italy is not all the same, it is made up of many different regions and towns, each with their own personality, tradition and food! We want that your Italian wedding is one of class and as authentic as possible, for this reason we like to guide our clients, even making sure the flavors are of the region – for example – local olive oil for a wedding in Tuscany, handmade ceramics in Puglia, limoncello in Sorrento – all adding to the character of your wedding – you'll make a great impression on your family and friends for pulling off such a thoughtful and detail-orientated wedding!
---
Tip #4: Dining is an experience – embrace the Italian way with food and timing, even if the wedding is completely international!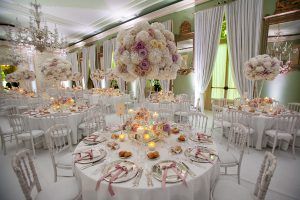 We get many requests asking for a "typical Italian buffet dinner" when in reality, Italians are not so keen on a buffet as much as a seated dinner. Dining for them is an experience, to be enjoyed and really luxuriated over (hence the many courses on offer!).
However, if you're longing for a buffet – don't fear – you'll be getting this too! You can expect a dinner that will normally begin with a very generous aperitif with buffet, with drinks and local delicacies served in a buffet style, even before dinner. Following this, you will be seated for normally no less than 3 courses, with wines, finishing with dessert buffet and cake! We recommend that you "do as the Romans do" and enjoy this style of eating for your special occasion. After all, you must have chosen Italy for the food and wine too right?! Dining times may be slightly later than in the US or UK for example, starting around 7,30 and onwards. These times can even become later the further south you travel, so be aware of this when considering the best time for your ceremony (normally much later in the afternoon to avoid the weather being too warm).
A planner tip: lighting is everything – so flattering and romantic – consider late afternoon or early evening for a gorgeous golden glow and drinks as the sun does down…
---
More about Italian Wedding Event:
Founded in 2007 by Federica Nascimben, The Italian Wedding Event is a boutique company, creating personalised events for clients. Their events have been published in coveted publications such as Vogue Arabia, Style Me Pretty, Black Tie Bride and many more. No event is the same, working with attention to detail and the client, with a personable, highly efficient and warm nature.
The Italian Wedding Event is not only in the business of creating perfect weddings, but also focuses on evoking emotion and creating special memories!
Check out their Website
---
Getting Married in Italy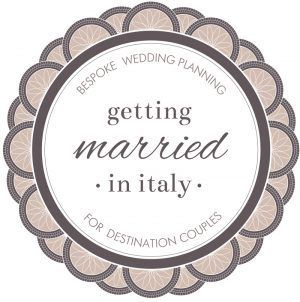 Getting Married in Italy is a bespoke destination wedding planning boutique with over 20 years experience, based in Florence, Italy.
---
Tip #1: Not all destinations in Italy have year-round good weather.
Typically the best months to get married in Italy are between April and October, when it is possible to enjoy the longest daylight and alfresco dining. Since the best venues get fully booked fast, we recommend you book your wedding at least 10 months in advance. Bear in mind, the temperature during the month you would like to get married.
For example: in December there may be chances of snow in Italy so don't expect a beach wedding in the winter months. August, on other hand, is the hottest month of the year – not suitable for beach weddings or crowded tourist destinations – and is also a prime vacation month in Italy, when most businesses are closed for holidays. Therefore, should you be interested in getting married during this month of the year, it would be preferable to focus on the first or last week of the month.
---
Tip #2: Let the season and setting inspire you as far as design & decor.
Maximize your floral budget by choosing in-season blooms and let your wedding setting inspire you with decorations perfectly matched to your venue. For instance, the use of modern centerpieces may not work out so well in a rustic setting where a country style themed reception would be ideal.
---
Tip #3: Focus on your total budget only.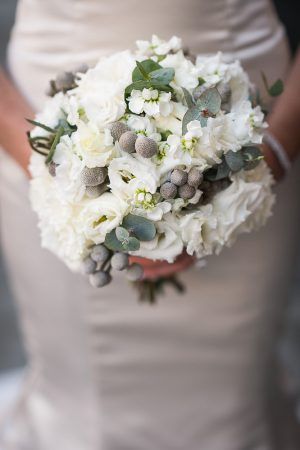 Make sure you get transparency with quoted prices that clearly show you the break-down of costs. But keep in mind that it's difficult to compare itemized prices for specific services such as reception, hairdresser, DJ etc. Often it's not possible to compare prices between your country and Italy because many services differ.
The Italian wedding market is slightly different, for example, to get your hair done at a salon in the UK with a trial can start at £50 (depending on your relationship with your hairdresser), in Italy the same service can start at 150 Euro. These prices can also vary from region to region in Italy, in Tuscany for example, prices to get your hair done at a salon in Tuscany with a trial start at 200 Euro!
Our suggestion is to rather focus on your overall budget only and ask for the specifics of each service so that you can be sure you're getting good value for money.
---
Tip #4: Think of your guests.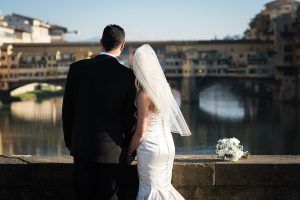 It's your big day but your guests have traveled all the way to join you and celebrate with you. It's important to consider their needs. For example, if your grandmother has problems walking, then Positano on the Amalfi Coast is a big 'no no', steep steps up dramatic cliff edges can be a challenge for even the most fit people! If you have lots of young children in your group, a venue with a pool or close to attractions is important to keep the children happy and consequently their parents!
How close is the venue to the airport or to other cities? How easy is it to get to your venue? Some areas of Italy have few or no public transport, which means your guests will have to be very independent and hire their own car. Many venues in the Tuscan countryside for instance, can be quite isolated, so if your guests don't drive they can get stuck at the venue for a whole weekend.
---
More about Getting Married in Italy:
Thanks to their highly personalized approach and extensive knowledge of the local culture, clients who work with them get access to exclusive, lesser-known resources, enjoy exceptional service and have an utterly flawless event. They have assisted over 1,000 couples from all over the world, including several luxurious celebrity weddings over the years.

Getting Married in Italy has been featured in numerous national and international publications, such as Harper's Bazaar, Grace Ormonde, The New York Times, Style me Pretty, Burnetts Boards, Fly Away Bride, Wedding Chicks, among others, as well as served as Condé Nast Johansens' preferred partner for weddings and events in Italy.
Website
---
Weddings in Tuscany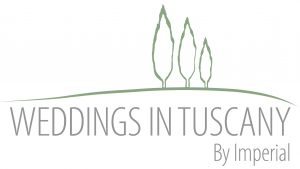 Weddings in Tuscany is a well-respected event coordinator based in Tuscany, with over 18 years' experience in tourism and international events organisation.
---
Tip #1: When?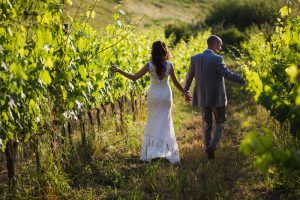 Undoubtedly the months from May – September are by far the most popular but there are many possibilities too from October through to April. Autumn is very colourful in Tuscany and winter is cosy and can even be snowy. When booking 12 – 18 months in advance you can more or less be guaranteed your preferred venue. Once you've found your venue, everything else will fall into place and you'll have time to enjoy arranging the fun parts of your big day!
---
Tip #2: How Many?
How many guests will you be inviting? Knowing how many guests you will have will help you to find the perfect venue much more quickly. It will help you to accommodate everyone and plan your day as you want it according to the space you have. Remember that from the UK and the rest of Europe experience tells us that more than 95% of guests invited do attend. From the States, South America and Asia around 80% of invitees attend and around 70% come from Australia and the rest of the world.
---
Tip #3: Your Responsibilities?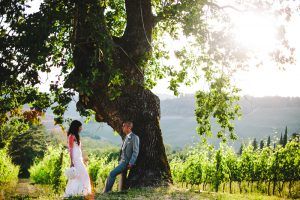 For the bride and groom wedding planning can be very time consuming and even for the for most organized of couples it can be a stressful time, but we can help you ease the planning by taking care of the more tedious plans. Some things you may want to ask yourselves in the beginning would be; Do you envision staying together in a large wine estate with all your wedding guests? Having perhaps a pizza party the night before your wedding and a relaxing poolside BBQ the day after? Maybe you'd prefer to give your guests the flexibility of arranging their own stay and attending your wedding in a private castle or medieval villa during their stay? Perhaps you'd like a combination of both?
Have a think about how you see your time in Tuscany with your guests unfold and everything you'd like to get out of this special time here. Building a mental album of ideas will help you to visualize and digest all of the opportunities. Ask! Ask! Ask! For almost 20 years we've managed to accommodate all sorts of requests with the initial, standard itinerary of things. It's your big day and no question is wasted! Use your planner to brings things together for you and make your arrangements stress free and fun!
---
Tip #4: Budget?
Whatever your budget there is a solution. Whether you have the budget for a grand scale, 5 star event or for something much more modest we can help you find your perfect venue and assist you thought your organisations. No wedding is too large or too small. We appreciate each couples needs and have the expertise to arrange extravagant and lower scale events all with a personal touch.
---
More about Weddings in Tuscany:
Weddings in Tuscany is a British company, based in central Tuscany, organising weddings for couples of all nationalities. With over 13 years experience in tourism and international events organisation, they've become a successful and sought after events coordinator in Tuscany. With English being their first language, this makes all communications clear, concise and stress free. They also have a hands-on approach, with all their weddings meticulously organised by their partners, not by external wedding coordinators or agencies. They offer a truly unique, personal service providing ongoing support and the reassurance that every bride and groom needs when organising an overseas wedding.
Website
We hope this post has given you some useful insider information on planning a wedding in Italy. Wishing you happy planning!
---
Ready to plan your Wedding in Italy? Discover More
The inside tips don't end here! Check out our Italy travel blog for lots more hidden gems to discover once you're here, like the most romantic towns in Italy – Make that trip with your loved one extra special!
Also, if you'd prefer to have our Italy Travel Experts help you plan everything else before and after the special day, you can trust our experts to take care of everything! Visit our Trip Planning page to find out more.
As always, be sure to share your favorite Italian moments, with the hashtag #andiamo, with us on Facebook, Twitter, Instagram and Google+