The Eternal City is recognized for its romantic atmosphere and ancient art. This wouldn't be possible without the enchanting fountains of Rome. Nearly every piazza in the city is embellished with a lovely fountain in the center of the square. The greatest part about visiting these pure works of art is that they don't cost more than a coin (or three)! Here is a list of the Roman Guy's Must-See Fountains in Rome.
---
Trevi Fountain – La Fontana di Trevi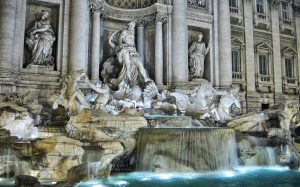 This sea-themed fountain is arguably the most iconic fountain in all of Rome. La Fontana di Trevi was designed by Nicola Salvi and completed in 1762 by Pietro Bracci.  Because of its popularity, there are always crowds of tourists hoping to snap a picture in front of the largest Baroque fountain in the world.
The best time to appreciate the beauty of La Fontana di Trevi is very late at night when all of the transportation systems have stopped running. At this time, massive emerald waves pour from beneath enormous ancient gods and you feel like you are a part of the lit up oceanic scene. Legend holds that visitors are ensured a safe return back to Rome if they toss a coin over their right shoulder into this magical fountain.
Trevi Fountain, Piazza di Trevi, 00187
---
Fountain of the 4 Rivers – Fontana dei Quattro Fiumi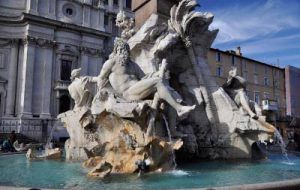 A good amount of all magnificent fountains in Italy can be credited to Gian Lorenzo Bernini. Fontana dei Quattro Fiumi in Piazza Navona is one of his most notable works of art.
The 4 River Fountain illustrates God's wisdom transcending down to the four known continents at that time: Europe, Asia, Africa and the New World. Four streams of water fall beneath each continent representative and symbolize the largest rivers in the world. This fountain demonstrates how Christianity was influencing the world during the Baroque Era. The massive statues are impressively realistic and still have a powerful effect on visitors today.
Fiumi Fountain, Piazza Navona, Roma
---
Paola Water Fountain – Fontana dell'Acqua Paola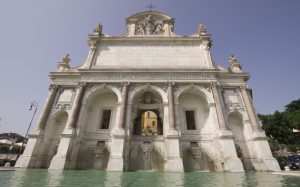 Fontana dell'Acqua Paola is a colossal monument that dates back to 1612! Also known as Il Fontanone, or "the big fountain", this masterpiece stands atop the Janiculum Hill and rewards climbers with a beautiful skyline view. Like many other works of art in the city, Fontana dell'Acqua Paola was constructed from scraps of other monuments. For example, the white marble was taken from the Temple of Minerva ruins and some of the granite columns were scavenged from St. Peter's Basilica. This Baroque gem is often missed by tourists but definitely worth seeing!
Fontana dell'Acqua Paola, Via Garibaldi, 00153 Roma
---
Tritone Fountain – Fontana del Tritone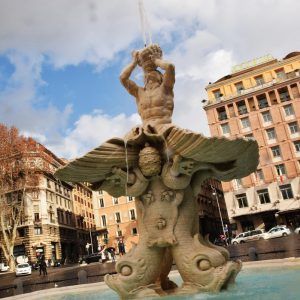 Another Bernini masterpiece is Fontana del Tritone. Sculpted in the seventeenth-century, the Tritone is famous for being Gian Lorenzo Bernini's first free-standing fountain. This marvelous work of art illustrates a life-like statue of Tritone, a sea-god, kneeling on a shell lifted by four fishes. Tritone is sculpted lifting a conch shell to his mouth and shooting water through it. This charming work of art is placed in the middle of a traffic circle and is overlooked by many because of its size. Don't let the busy area or small size trick you out of visiting this ancient jewel.
Triton Fountain, Piazza Barberini, Roma
---
Long Boat Fountain – Fontana della Barcaccia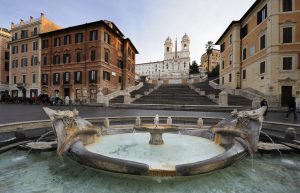 Centered in front of the Spanish Steps in Rome's Piazza di Spagna is yet another one of Bernini's babies. Literally translated as "long boat", the Barcaccia is a dainty little fountain  that accurately represents its title. Legends goes that in 1598 when the Tiber River flooded, water moved a little long boat into Piazza Di Spagna. This event inspired Bernini to recreate the moment with art. It's a pure work of art that adds a delicate touch to the massive background of the Spanish Steps.
Barcaccia Fountain, Piazza di Spagna, Roma 
---
Discover more
Follow us on Facebook, Twitter, Instagram for more insider tips on how to experience Rome!

Loading map...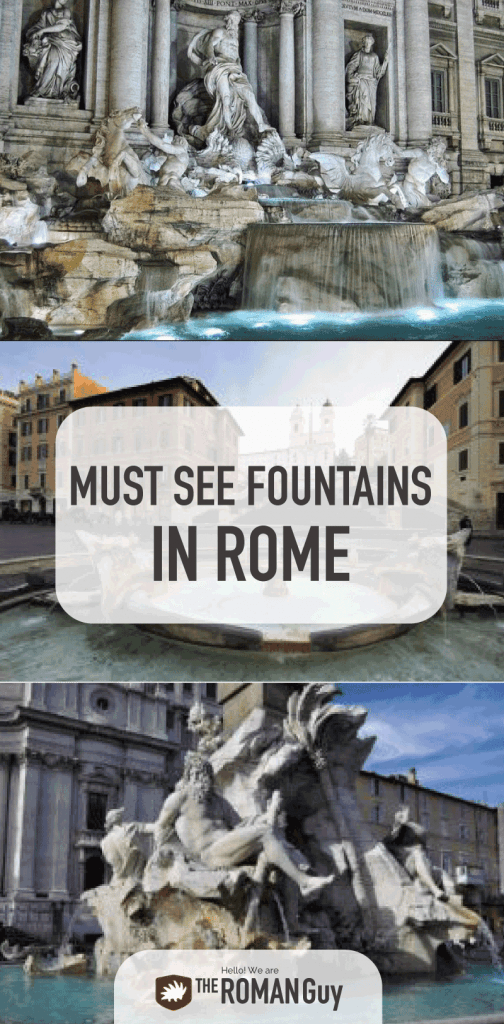 ---