The Italians are experts at taking something and putting their own elegant flair on it. Likewise, in Italy, Christmas isn't just a day—it's a season rich with tradition and smaller holidays. The celebration starts two weeks before December 25 and really continues past New Year's Day. It's a festival filled with food, family, and folk legends. We have selected our favorite lesser-known Italian Christmas Traditions to share with you!
---
The Feast Day of "Santo Stefano"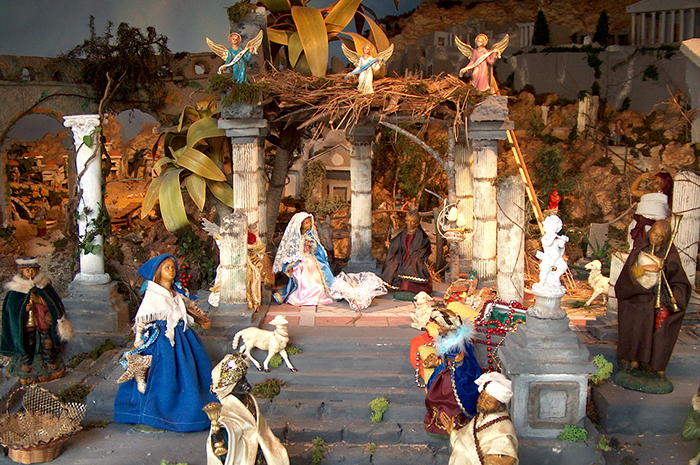 One of the most unique Italian Christmas traditions takes place after Christmas has technically ended. The feast day of Saint Stephen (or Santo Stefano) is on December 26th. It celebrates the eponymous Saint, regarded as the first Christian martyr, killed in the first century. The celebration usually includes carnivals and festivals, though many times it is somewhat blended with Christmas as Italians often take this occasion to visit various nearby nativities. All shops and many restaurants will be close on Santo Stefano.  The Roman Guy's Rachele Ceccorulli says: "Santo Stefano is actually a bigger holiday than Christmas Eve. I was surprised to find so many shops open here on Christmas Eve, long past the closing time of most places in the US." So if you need a last-minute gift while in Rome, you'll probably be safe—The Roman Guy just advises against trying to hit a bank on the 26!
New Year's Eve "Cenone"
One of the most typical Italian Christmas traditions is to have a huge dinner, called "cenone". Family and friends gather on December 31st to eat and welcome the new year together. The foods eaten play a major role in this Italian holiday—specifically lentils, which symbolize affluence and luck, and pork, which represents richness. And, when in Italy, who needs champagne when you have delicious local Prosecco to toast to the New Year! As expected, New Year's Eve in Italy means fireworks—and fun, lots and lots of fun! If you find yourself in Rome for New Year, head to Piazza del Popolo or Via dei Fori Imperiali for celebrations and musical performances.

The legend of "La Befana" 
The generous witch La Befana visits every January 6th to deliver presents to Italian children celebrating the Epiphany. Legend has it that the kind Befana provided shelter for the Wise Men on their journey to find baby Jesus. After declining their invitation to join them on their quest, the myth tells she is still searching for the baby Jesus with a basket full of gifts. Lucky for the children of Italy, they get to enjoy these gifts. Good kids benefit by receiving candy and trinkets in their stockings, or coal if they have been bad. Though the Befana has a similar strategy to Santa, she doesn't replace him in Italy—the children receive gifts from both! Perhaps even sadder than those receiving gifts of coal, are adults on the day following the Epiphany! January 7th marks the official end of the Christmas season and the start of the new working year.
Lesser-known Italian Christmas Foods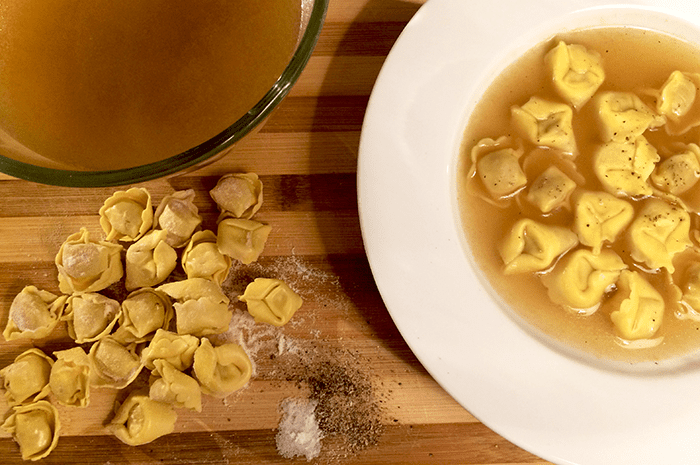 Like any other celebration, the Christmas season in Italy is defined by the food. As far as food goes, every region has their own specialties – both savory and sweet.  The star of the gastronomic Italian Christmas is actually the dinner that is eaten on Christmas Eve. Traditionally, it features seven types of pasta (ranging from broccoli rabe to eel) polished off with desserts featuring candied almonds or the sweet-bread panettone. Check out these recipes from Mangia Bene Pasta and Academia Barilla for some mouthwatering Christmas and Christmas Eve delicacies.
Nativity Scenes and Christmas Decorations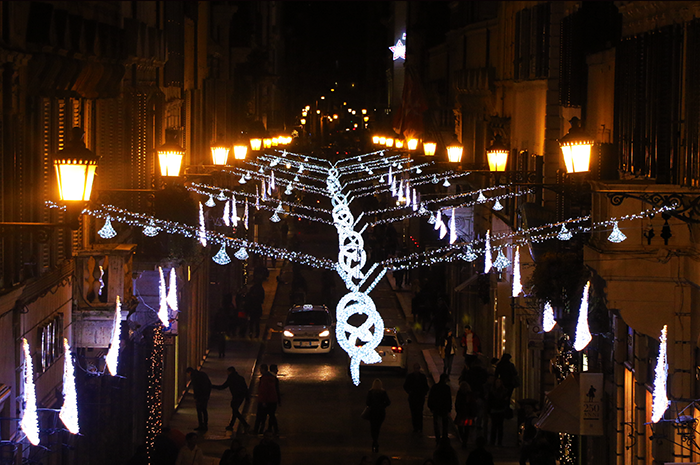 The Roman Guy has detailed Roman worship and artistic expression during Christmas time already, with the glittering scenes in St. Peter's Square and placid nativity scenes. But in Rome during this season there's an abundance of adornments that are a whole lot secular—and more illuminating. Rome is dripping in lights from December to January. Sparkling rivers flow near the Spanish Steps, glowing menorahs stand tall, replicas of the North Star shimmer above even humble alleyways. Rome is burning during Christmas time, just with beauty instead of flames. 
---
I Want More Italy!
So now you understand just how much we love Christmas, check out these other blogs:
Want more Italy?