Venice is Italy's floating gem, renowned for the great variety of beautiful sights to choose from. But how can you make the most of it when you have limited time and without getting overwhelmed (or just lost)?! As a born and raised Venetian, I've mapped out the best itinerary for Venice first-timers, including the most famous attractions and secret hidden spots. Keep reading to discover Venice in half a day!
---
Prepare to walk a lot!

Seeing Venice in half a day is definitely doable, as long as you're wearing your best walking shoes! Another key factor is tohave a detailed roadmap of all the must-see sights. If you're visiting for the first time and only have limited time to spend in the lagoon, skip the many museums. The city can be enjoyed by looking at the invaluable beauty all around you and by eating delicious Venice foods! Lastly, make sure to check out timetables and ticket prices for the vaporetto on the ACTV website. Taking the ferry boat is the best way to quickly move around Venice!
---
From the Train Station to St. Mark's Square
Once arrived at Venezia Santa Lucia train station, head straight to St. Mark's Square. As soon as you step outside of the station, stop to enjoy the first scenic view you'll immediately have in front of you. Welcome to Venice!
Insider's tip: don't take the trafficked Strada Nuova, but the less traveled Ponte degli Scalzi. You'll get to see hidden gems most tourists miss when visiting Venice in half a day! Stop by Campo San Polo, the second biggest square in Venice. If you have time, visit the Scuola Grande di San Rocco. A hidden gem in the heart of Venice, this ancient school is a confraternity founded in 1478. The profound love of Venetians for San Rocco contributed to making it the richest school of the city with masterpieces by Tintoretto and Tiziano.
---
St. Mark's Square and St Mark's Basilica

St. Mark's Square is the biggest Campo (literally "field") in Venice, and actually used to be an orchard. The piece of land Doge's Palace is now built on used to be a market place and storage area for products coming from the close by marine areas. In St. Mark's Square, you can choose between entering the majestic Basilica, climbing up the Bell Tower, or visiting Doge's Palace. Feeling a little confused on how to enjoy all of these must-see sights with limited time?! If you want to be stress free pick one of our Venice tours and enjoy your favorite attractions accompanied by a knowledgeable local guide!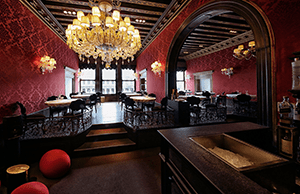 Insider's tip: if you want to experience real Italian coffee at one of Venice's historical cafes, get inside and have it at the counter! Espresso at Caffè Quadri is only €1,10 if taken "al banco", saving you from a rather expensive check!
---
Rialto Bridge and markets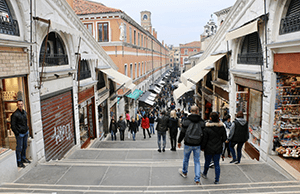 Just a few minutes away from St. Mark's Square, you'll find another one of the unmissable spots in Venice, the Rialto Bridge! The Bridge was initially a very unstable deck made out of old boats, called "Ponte della Moneta". When it became a popular stop point in Canal Grande for goods and produce in 1500, they finally rebuilt it.  It is still the best passage to access the beautiful market that takes place in the narrow streets hidden behind it. If you're ready to have a taste of Venice by then, stop at the nearest cicchetteria (local pubs serving wine, spritz and small meals)!

All'Arco is a local's favorite, delivering takeaway fresh cicchetti (fingerfood) with seafood at very small prices. If you wish to stay closer to St. Mark's Square, head to Taverna Al Remer, for a typical Venetian setting and interior.
---
How about a Gondola ride?!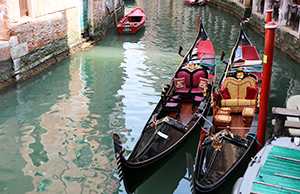 Even though you're only exploring Venice in half a day, you can't skip this Venetian experience, right?! The Rialto Bridge and St. Mark's Square are the perfect spots to leave on a Gondola for a beautiful view from the Canal Grande. Due to the incredibly high request and scarce number of boats, Gondola rides can be ridiculously expensive and cost you €80 for a quick stroll. Splitting it between 5-6 people can be a good option to enjoy a ride and save money!
Insider's tip: get a Gondola ride included in our Hidden Venice Express Tour! For €59, you'll also be introduced to Venice's main attractions in just 2,5 hours! The 30 minute Gondola ride at the end will definitely relax you after all the miles walked!
---
Head to Campo Santa Margherita for a goodbye Spritz!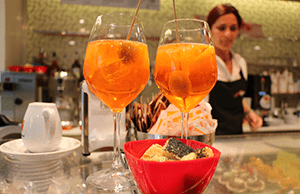 After all that sightseeing, make sure to save time for one last Venetian  spritz in Campo Santa Margherita! This big square comes to life at night, but also makes the perfect location for a quick meal and drink at anytime during the day.
Insider's tip: go to Bocon DiVino for delicious polpette and baccalà! Before you leave, don't forget to stop at one of the typical Pasticcerie close to the train station and buy some buranelli ! Try to not eat them all while on the train…
---
How to get to Venice
Getting to the lagoon from anywhere in Italy is fairly easy, especially by train. If you're only planning to visit Venice in half a day, leave very early in the morning! The best time to arrive there to avoid crowds is around 9am.
From Rome, you can either:
From Florence:
The easiest route is to take a train from Firenze Santa Maria Novella to Venezia S. Lucia. Enjoy a 2 hour scenic train ride!
---
Discover more: