One of the biggest costs that will form part of your budget when traveling is your accommodation. There are a range of options nowadays from AirBnb, hostels, B&B's, coach-surfing and the classic hotel for you to stay in.
In some parts of Italy and in Rome in particular, affordable places can be hard to find. Fear not though, the Roman Guy has done its research and we are giving you a guide to the top budget hotels in the capital of the boot. They all offer high-quality at an affordable price. So get your credit card at the ready, but don't burn a hole through your pocket with our Top 5 Budget Hotels in Rome.
1 –

Downtown Accommodation (Colosseum area)
This place strictly isn't a hotel, it is labelled as a budget guesthouse to be precise, but it's too good not be included in this feature.
The location of Downtown Accommodation is ideal, right in the Ancient Rome neighborhood of the capital. Being so close to the Colosseum, Roman Forum and other tourist hotspots such as the Pantheon, you can't go wrong here location wise, especially if you're just in Rome for the weekend.

The affordable rates of the room aren't to be complained about either. A warm, friendly atmosphere with raving reviews. A top choice.
Address:Via Cavour, 275, 1st floor  |Price: €55-160 |Phone: +39 347670681 |Website: http://downtownaccomodation.com
---
2 –

Hotel Santa Maria Trastevere (Trastevere)
Trastevere is number one on the list for areas to stay in Rome. With its charming and energetic ambiance, it's popular for tourists for sure.
One of the top features of Hotel Santa Maria Trastevere is the rooftop terrace, and believe us, Trastevere is the place where you want a terrace. During the summer months you can
enjoy your breakfast with an incredible view of those gorgeous Roman rooftops – a relaxing start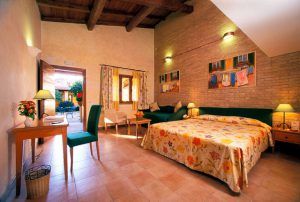 to your busy day of exploring. With facial and body treatments available too, this place really is top for a refreshing break.
This three-star hotel also offers its guests free bikes too, which is the ideal way to explore those ancient Roman streets. Excellent service and friendly staff. Big points.
Address:Vicolo del Piede, 2 |Price: €90-480 |Phone: +39 065894626 |Website: http://www.hotelsantamariatrastevere.it/en/
---
3 –
The Beehive (Termini Area)

The Beehive is our favorite spot out of the list. It is eco-conscious and has been featured by many big names such as Condé-Nast Traveller and Where magazine, to namedrop a few.
With different parts of the hotel having their own names, these sweet little touches are what makes it a delightful stay here. Each section of the place is designed for a different type of stay, a hostel-style stay, a guesthouse visit or there is also a standard hotel room option.
Breakfast is offered which is an added bonus. There is also a choice of vegetarian and vegan dinners, so you are always catered for.
There is a cozy little garden in the Beehive too which is the ideal place to wind down after all of that walking from your day in

the big city. A restful stay at the Beehive for sure. Go on, you deserve it.
Address:Via Marghera, 8 |Price: €35-105 |Phone: +39 0644704553 |Website: http://www.the-beehive.com
---
4 – Hotel Alexis (Termini area)
Hotel Alexis is your classic Italian hotel option here. This family-run joint is something particularly memorable for your time away. You can really feel the family feel to it, which is just simply gorgeous.
Located between the Baths of Diocletian, Termini Station and Piazza della Repubblica, Hotel Alexis is again one of those top spots to stay in, being so central. Not to forget, the hotel is placed in a quiet street, so you get the ideal location without the disturbed nights sleep.
Boasting nothing but high-quality service, comfortable and elegant rooms, this is the place for you if you're looking for that great value hotel room with an affordable price label.
Address:Via Gaeta, 27 |Price: €45-130 |Phone: +39 06 486520 |Website: http://hotelalexis.it/it/
---
5 –

Eats & Sheets Vatican (Vatican)
15 minutes away from the Vatican – this place is a winner already. Eats & Sheets is located in the Prati neighborhood of Rome, which boasts elegance through and through. You can find all your expensive and luxurious shops just a stones throw away from the hotel, if that is what you're into, or the Mercato Trionfale not too far away if you prefer sampling some of the local delicacies like cured meats and cheeses (perfect place to shop for a picnic).
Nearby streets such as Via Cola di Renzo and Via Ottaviano provide you with an ideal way to travel to other parts of the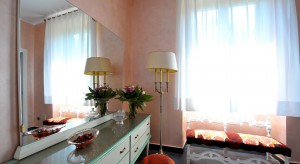 city, with buses and the metro nearby. With a warm and friendly vibe at the hotel, you really feel like you're getting looked after here.
With returning guests, great value for money and excellent reviews, Eats & Sheets is number one for the Prati area indeed.
Address:Via dei Gozzadini, 16 |Price: €60-95 |Phone:+39 392 3296515|Website:http://www.eatsandsheets.com/vaticano.html
---
#ItalyOurWay
To get more for your money for your time in Rome, book onto one of our guided tours of the city. From the Vatican, to the Catacombs and a well-loved foodie tour in Trastevere, we show you around all the hotspots at an affordable price for you, your friends and family. See our Rome Tours on the website for your selection of tours.
---
Discover More
For budget holiday-goers, see our budget holiday activities in the capital of the boot. From picnic ideas to getting lost in the city, we provide you with some cheap and in many cases free choices. Who said traveling was expensive? See more of the posts in ourItaly Travel Blogfor more details.
Follow us onFacebook,Twitter andInstagram for more insider info on Italy.