My first Christmas away from my family was 3 years ago. Between the cost of tickets and time involved to fly to the states and back, I decided to see what the Eternal City had to offer. I am used to the decorations and festivities in New York City and Washington, D.C. So, it's fair to say I put an unreasonable amount of pressure on Rome to meet my expectations. And I have to admit, my Italian home didn't disappoint my American heart. Here is my Insider's Guide to Christmas in Rome.
---
What & Where
Being a capital city, Rome is big enough to offer something for everybody around the holidays. Another bonus, it is not as cold as cities more to the north of Europe. The average temperature in December is 39-49 degrees Fahrenheit, or 4-10 degrees Celsius, with an extremely low chance of any snow. Just add an umbrella because December is a friend to rain in Rome.
---
Worshiping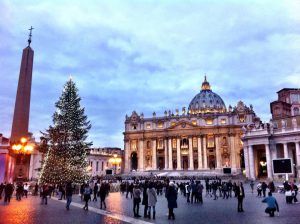 Christmas Eve Mass at the Vatican is the most popular place for worship.  Tickets for seats inside are difficult to come by and must be booked long in advance. Yet, in my opinion, there is something more special about watching it televised from the square outside.  You sit or stand with people who come together form across the globe to watch the Pope. You also get the bonus of being surrounded by the jaw-droppingly beautiful Vatican and its Christmas decorations. Be wary of time, though.  It actually starts at 10pm with the procession at 9:30pm, so just get there early (also for a good spot). You can also return to St. Peter's Christmas day at noon where the Pope gives his Christmas Day Urbi et Orbi speech and blesses the crowd.  He only does this at Christmas and Easter so expect large crowds.
Looking for less people? Head to the Basilica of Sant Maria Maggiore, the oldest church in Rome, which has a relic of Jesus' crib. The Basilica di Santa Maria in Ara Coeli is another wonderful atmospheric Christmas environment with candles illuminating all 124 steps on Christmas Eve.
---
Shopping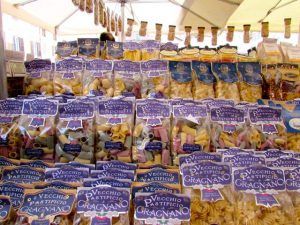 Via del Corso in the historical centre, and Via Cola di Rienzo near the Vatican, are fun to see for the numerous and never-ending Christmas lights, but please don't only shop on this busy and international chain-based shopping street.  There are streets vendors lining the busy squares, like in Campo de' Fiori, where you can buy gifts that are unique and offer a special token of Rome.  There is also a Christmas market at the Mercato Monti. This is another one of my favorite shopping places where in-the-know-Romans frolic to around the holidays, and in general.  Think vintage and handcrafted accessories, jewelry, clothes, and even funky and trendy home décor.  Take the metro to Cavour and it's just a 2-minute walk from there. 
The flea market of Porta Portese on Via Portuense in Trastevere is another good bet for vintage or second-hand gifts.  You will find the ever-friendly market junk, but also amazing finds if you like the treasure hunt. This is my go-to place for a unique gift that tells a story. 
---
Nativity Scenes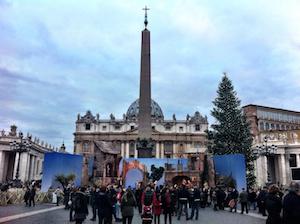 Few things describe Italy at Christmas better than "nativity scenes", or "presepi". It is said that in 1223 St. Francis of Assisi created the first nativity scene, and since then the tradition has remained strong, with the most impressive and traditional ones still being hand crafted.  This holiday season, from the end of November to the beginning of January you have the special opportunity to see the "100 Presepi" exhibition. This annual exhibition started in 1976 in order to preserve and educate on the traditions of making of presepi, rather than focusing on the more western representation of the Christmas tree (something that is not authentically Italian!) There are traditional styles of nativity scenes in addition to more modern interpretations.
You will see presepi in every church around the holidays, as well as most shop and bakery display windows.  An impressive, life-size display will be in St.Peter's Square next to the Christmas tree. There is also a National Museum of Nativity Scenes right by the Roman Forum. The entrance is in the Church of Saints Quirico e Giulitta. It is also open Christmas Day when most other things will be closed.
---
Christmas Trees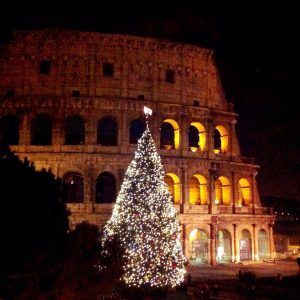 I think I spent every night last year from the end of November till after Christmas going to one of the three main trees and just sitting while watching the world go by.
In the middle of St. Peter's Square, Piazza Venezia, and the Colosseum you will see beautifully decorated trees that tower above us mere humans just admiring their natural beauty. To get the best view of the tree at the Colosseum, head straight to the area above the metro station.
Inside the station you will find stairs that take you up to an area leading to Monti, the local and trendy neighborhood behind the Colosseum. Few tourists know this hidden photo opp so you will escape the masses fighting for the perfect picture down below.
---
Concerts
Listening to inspiring classical or modern music by local and world-class musicians in some of the most beautiful churches of the world is an unforgettable experience that will leave an imprint on you for years to come.  The churches which put on concerts, many of which free, change from year to year but the below are churches which have had concerts for the past couple years:
Chiesa di Sant'Antonio dei Portoghesi (off of Via del Corso)
Santa Maria ai Monti (off of Via Cavour)
Sant'Ignazio (by the Pantheon)
Also check out the Conciliazione Auditorium near the Vatican for their schedule of holiday concerts- which typically raise money for various charities benefiting global organizations.
If you extend your vacation to New Years, there is also a popular concert at Circus Maximus which always attracts big name performers, both Italian and international.  It is not uncommon for school groups or adult choirs to casually gather in Piazza Navona, as well.  You may not find signs or schedules of these, but wandering around the city you are bound to stumble upon a surprise, and treasured, concert.
---
Ice-skating
Even if you are a clumsy, unbalanced person like me, don't miss the ice-skating rink at the famous Castel Sant'Angelo.  You'll feel like you are sitting in a movie set with the ancient and striking Castle above the twinkling and mystical rink in the center of Rome.
---
Eating, Drinking, & Being Roman!
But also be merry, folks! 'Tis the season after all. It is not difficult to find local Roman hotspots offering special menus around the holiday season. There is a misconception buzzing around town that everything shuts down at Christmas and I'm here to tell you that's false.
So, I am begging you to avoid the tourist traps. Below are some of our tasted and approved restaurants. They offer a mix of traditional Roman fair, combined with unique twists that will leave your taste buds craving more. The 26th is a big holiday here, so some are closed then. 
If you see something you're interested in, let us know and we'll dig deeper for you to find out the schedule! Remember always to book in advance.  Christmas Eve is all about the fish in Italy, whereas Christmas Day traditionally starts with a tortellini soup followed by meat.
Antico Arco – Gianicolo area
Antico Forno a Testaccio– Testaccio area –Open for lunch and dinner December 24, 25 and 26
Armando a San Lorenzo– San Lorenzo area – Closed December 24. Open December 25 for lunch only
Hosteria Grappolo D'Oro – Campo de' Fiori area – Open for lunch and dinner December 24, 25 and 26
Crispi 19 – Piazza Barberini area – Open December 24, 25 and 26 for both lunch and dinner
Casa Bleve – Piazza Navona area – Open December 24 for lunch and dinner. Open December 25 and 26 for lunch only
Trattoria Moderna –Campo de' Fiori area – Open December 24, 25 and 26

For traditional desserts you can't miss out on panettone (sweet bread loaf), torrone (nougat candy with sliced almonds), and pandoro (star-shaped cake). All the bakeries will be brimming over with these as well as other yummy treats, so don't stop yourself from over-indulging.
---
GO!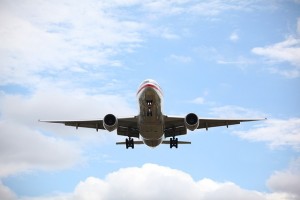 If you are arriving in Rome from another European City, it's possible for you to arrive in Roma Ciampino.If you're flying from across one of the ponds, you'll be welcomed by Roma Fiumicino.
For holiday deals flying from The United States:
Expedia; Sky Scanner; Lufthansa; Alitalia; Kayak
For holiday deals flying from The United Kingdom:
Easyjet; RyanAir; Alitalia; Kayak
For holiday deals flying from Australia:
Expedia; Fare Compare; Alitalia; Kayak; Sky Scanner
---
#ItalyOurWay
We can help you plan every step of your journey. From restaurant recommendations to accommodation suggestions, don't hesitate to reach out and have a custom-made holiday you'll reminisce on for years to come.
As always, we'd love to see you on social media, sharing your pictures and memories of Rome with us, using hashtag #TheRomanGuy!  Follow us on Facebook ,Twitter, and Instagram for all our up-to-date news, tours, and photos of Italy and shared posts from fellow travelers.
Discover More
Want more info on festivities in Rome and the rest of Italy? Check out our posts on more holiday details and what to eat around Italy at Christmas. The fun never stops, so why should you?