You hear roars all around you. The crowds are restless. Animals breath in their last breath. Fellow gladiators cry for mercy before darkness overcomes them with an eternal sleep. Your heart is beating. Your mouth is dry, from the clouds of dust in the air. You can feel beads of sweat around your forehead. The blistering sun doesn't seem to stop rising higher and higher as the day goes on. You're a gladiator in ancient Rome, but what type? Find out more about ancient Rome Gladiators with these six cool Roman Gladiator Facts. 
---
1. Ancient Rome Gladiators
There is no other word that conjures up an instant image of Ancient Rome faster than "Gladiator". Over the past few decades, Hollywood has extended and glorified the life of trained killers who were synonymous with the Eternal City and its empire 2,000 years ago. The actual word "Gladiator" comes from latin and simply means a person holding the Gladius, or "sword".
---
2. More than Just a Roman Gladiator Helmet
From the many movies, we are convinced that gladiator matches were a primitive battle between two topless men, fighting with swords. In reality, the battles could be complex. Numerous different individual or group fights could happen at one time. There were also many "types" of gladiators. The type of gladiator you were, would then determine the kind of outfit you would wear. Below are a few of the more popular types of Gladiators and what they wore:
Samnite (named after an enemy of Rome called the Samnites) was characteristic of a man wearing a protective armor on his left leg, holding a square shield, a gladius and a roman gladiator helmet.
Myrmillo – While the exact meaning of where the word comes from is debated, the main characteristics of these gladiators were that of having a gladius, rectangular shield, big leather belt, a large roman gladiator helmet with grating in front of the face, protective coverings over the shins and right arm.
Retiarius – Like Gladius for Gladiator, Rete meant "net" and Retiarius meant literally "Man with a net". Styled after warrior fishermen, they wore no gladiator helmet or shield, but went into battle holding a huge net and a trident. Their goal was to throw the net and trap their opponent and then drive the trident through them.
Your next question might be how do we know what they all looked like? We have hundreds of Ancient mosaics to look at that have remained in pristine condition all these years!
Want to know what type of gladiator you'd be? Take our gladiator quiz!
---
3. Pass that Barley!
Today, many people are shocked to learn that most Romans survived on a mostly vegetarian diet. This included Roman soldiers, even gladiators! The reasoning behind this was simple – meat was expensive.
Gladiators had the nickname of  Hordearii, which basically means "The Barley Eaters". Their diet consisted of various grains and beans usually made into a type of porridge. The ancient Rome Gladiators also had an Ancient version of our modern day 'Gatorade' that athletes drink. It was a potion concocted mainly of charred plants and various ashes which contained a high content of calcium. It was known for its restorative qualities, although it must have tasted horrible.
---
4. Where and How did they Train?

Gladiators were housed in a Ludus. The most famous is the Ludus Magnus in Rome, which is located right next to the Colosseum. It was essentially an enclosed fortress with only one gate that served as an entrance and exit. Remember, gladiators were slaves and therefore had zero rights. A gladiator was trained for two years, before actually being allowed to step into the Arena for his first fight. It sounds like a lot of time, but they were often fighting for their lives.
Training consisted of holding both a wooden sword and shield which would be twice the weight of the real weapons. This allowed them to become used to the burden of the weapons used in battles. They would then practice their strikes and attack on a Palus, a wooden pole standing in the ground reaching up to six feet tall. They would master the blows used in a real fight until they became second nature. After two years of training, this novicius or novice was a trained killer.
---
5. Where did they fight?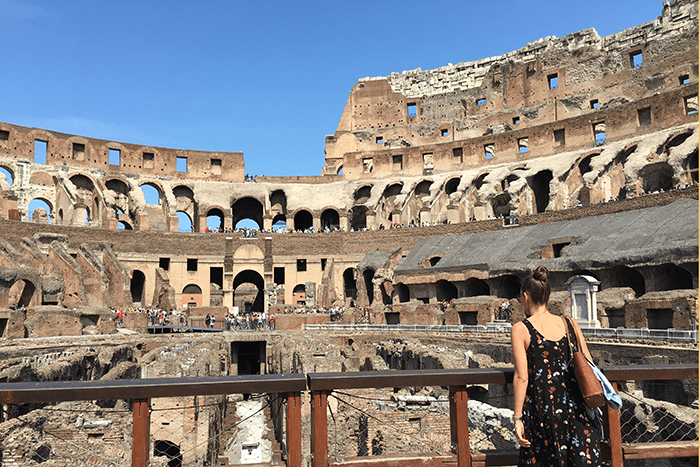 Once gladiators had finished their required training, they were ready to battle in the Arena. The word arena comes from the latin word Harena which simply meant sand. Sand was the preferred material used on the floor to absorb blood. In the early days, an Colosseum Arena floor would consist of an ad-hoc structure made of wood that would be dismantled after the games. During the Imperial period, great structures in stone were built throughout the empire to house these games so loved by the people, with the biggest one being the Colosseum. We can attest to the immense popularity of gladiatorial games due to the number of Amphitheaters that existed throughout the Ancient Roman Empire – approximately 230!
---
6. Thumbs up or Thumbs down?
Contrary to popular belief, ancient Rome gladiators were not slaughtered en masse during the games. While it's true that a gladiator was a slave, they were considered valuable slaves due to the time invested in them. If you owned a gladiator school in Rome, you had to invest in the training and the food. Having the men slaughtered at the first opportunity would not have made any sense economically. Even in ancient Rome, sporting events presented great business opportunities.
When a gladiator was defeated he could hold up two fingers as a symbol of mercy at which point the opposing gladiator would lower his weapon and turn to the Emperor or sponsor of the games to see if he would live or die. As far as the thumbs up and thumbs down go, unfortunately we have no evidence of this being the signal used.
---
Discover more