What are some of the first things that come to mind when you think of a trip to the Amalfi Coast? Luxury? Beauty? Pricey? If you thought the latter, don't let it discourage you. The Amalfi Coast can be done on a budget. And here's how…
---
Pro Tip: Planning a trip to Amalfi Coast?  Bookmark this post in your browser so you can retrieve it later.  We also have a great post on how to do Amalfi Coast without a tight budget if you are looking to live it up there. Did I mention we plan trips too? Check out our trip planning service for the Amalfi Coast.
Getting there

Unless you're taking a private car from Rome or Naples, you can get to spots like Sorrento, Positano, and other spots along the Amalfi Coast via public transportation.
Take the slower train from Rome to Naples for as little as €12, which will take you 2-2.5 hours. The fast train normally costs about 50€ and takes an hour. Trenitalia and Italo are the two major train providers in Italy.
From Naples, hop on the Circumvesuviano to Sorrento., which is a small regional train. This will cost you another €4 per person.
My recommendation would be to stay in Sorrento for one night & one day before heading off to picturesque Positano via Sitabus for another couple of nights. Buses leave about once an hour and will be €4-7 (depending on if you want to take the bus farther than Positano).
Tie it into a Pompeii Tour from Rome – Another option that we do occasionally is tying your transport to the Amalfi Coast to a day trip to Pompeii from Rome which costs roughly 170€ per person.
The tour stops in Sorrento after Pompeii and some people arrange transport from Sorrento to their Amalfi Coast accommodation. You can arrange secondary transport through your accommodation or we'll arrange it for you – wherever you can find the best price!
When to go
This is the toughest pill to swallow and the most important lesson. If you want to go to the Amalfi Coast for cheap you should not go during high season (May 15th to Oct 10th).
If you want to go to the Amalfi Coast for cheap you should not go during high season (May 15th to Oct 10th).
The weather won't be as warm and you may not be lounging on the beach, but consider a late October trip or an April trip.
I went to Positano the last week in March with my family and we stayed at a 4-star hotel in an amazing room with a balcony and a view for $175/night. The weather was sunny and we sat on the beach in sweaters, but were not cold at all.
There were tons of locals out and we had an amazing time.  We had the town to ourselves.
Tours of Capri & Pompeii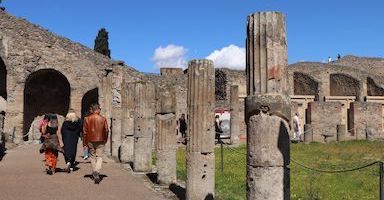 Best Selling Tour
Join us on an adventure from Rome to Pompeii and stunning Sorrento with comfortable, round-trip transportation. Skip the line access with an expert guide and make the most of your time in Italy and leave all the details to us. All you have to do is enjoy yourself!





See Prices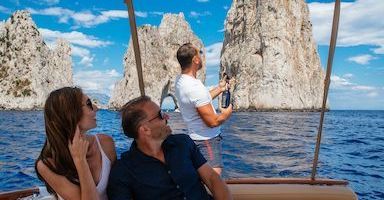 Amazing Experience
A full-day private boat tour to Capri from Amalfi, including the Island of Capri, is the best way to experience this world-famous coastline. Arrange a personalized boat tour along the Amalfi Coast and create unforgettable memories of Italy.





See Prices
What to do
Sorrento:
You can find a portion of beach and sunbathing platform here, perfect for a quick dip – free!
Visit the centrally located Cathedral of Sorrento – free!
Walk down the narrow streets of old Sorrento and admire the colorful buildings and shops. Walking around the main town won't cost you a dime… unless you're one for souvenirs. In which case, negotiate!
Grab a quick bite panino at Sorrento's best N'hambu – 8.50€
Fancy a day trip? Ferries to Capri are quicker and cheaper if you take the day trip from Sorrento vs. Positano. The 25 minute ride will be about €20-25.
Positano:
Looking for your first Positano Instagram? Casually stroll into the fancy Le Sirenuse for the perfect grammable moment. Ask them if you can take a quick snap from the lobby balcony –
they're very friendly and generous with their
stunning viewpoint – free!
Skip the touristy main beach and take a 5-minute walk around the corner from the Hotel Covo dei Saraceni to the more hidden Spiaggia Fornillo – this is where you can catch the rays with the other insiders – free!
Where to stay
If you are booking Amalfi Coast book AHEAD! Personally, I feel that most hotels and destinations will always have availability, but Amalfi Coast sells out from May 1st through October 10th.
We recommend using apps like Trivago, Hotel Tonight or Airbnb to find accommodation. Trust the reviews about views and proximity to the beach. Here are some minimum prices for high season:
Bed & Breakfast: 100€/night
Cheap hotels: 120€/night
Decent hotels: 200€/night+
Nice hotels: 300€/night +
Best hotels: 700€/night+
Where to eat (and what to try!)

Sorrento:
Positano:
Moral of the story – you don't need to be rolling in the dough to be able to afford and make the most out of your trip to the Amalfi Coast. Just a bit of planning and patience and you'll get to experience one of Italy's (and Europe's) most gorgeous coastlines.
Need Help Planning?

If you are on a tight budget, this isn't for you.  If you have a $5k per person per week budget and need help planning, check out our amazing planning service called "Finelli & Shaw".  A dedicated travel partner will take the guesswork out so you can lock in an amazing trip.
Discover More
Amalfi is a beautiful place to visit when on vacation in Italy. Make sure you tag us in your Amalfi posts to let us know the best places you visit when by the sea! Share them with us on Facebook, Twitter and Instagram with #TheRomanGuy and @theromanguy for a chance to be featured!
Italy on the brain? Some other posts you may like:
Looking for more help when planning your Amalfi vacation? We have a team of Italy experts waiting to help you in our Trip Planning Department! Email them with your basic ideas and they will plan your whole trip for you!