Venice is romantic simply due to its natural ambiance. Little islands connected by a labyrinth of stone bridges feeding into quiet alleyways pretty much sets the tone for fairytale romance. It will be impossible not to steal kisses from your sweetheart as you leisurely stroll the city. Some life events are more romantic than others, though. Say, for example, a proposal. Getting down on one knee and opening a ring box calls for special occasions with a memorable ambiance. Luckily for us, Venice has several such places. Here are the top 3 places to propose in Venice.
---
1. Bridge of Sighs
Because of the popularity of this destination, the timing is crucial for a perfect proposal. Wake up your partner for sunrise and enjoy the bridge entirely to yourself. It is just around the corner from Piazza San Marco and faces other islands across the canal so the natural setting is enough to create a romantic atmosphere. Another option could be waiting until around 11pm or later. This time frame will ensure that your partner is not accidentally pushed off the bridge by the crowds (yes, it does get that crowded).
A third proposal option is to take an early morning gondola ride.  There are gondola stops right in front of the bridge that take you under it.  Legend has it that if you ride a gondola with your sweetheart under the Bridge of Sighs, you'll be together forever. Proposing as the gondola floats under such a romantic bridge is straight out of a fairytale and will give you bonus points for all of eternity. Pretty sweet deal, right?
Again, I would highly recommend arriving at sunrise for the romantic light factor but also for the more intimate experience.
Gondola prices start at €80 for 40 minutes with an even higher price at night.
---
2. Piazza San Marco at Night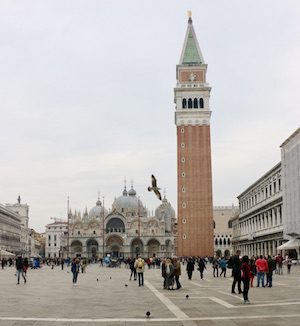 During the day you'll fight tourists for a semi unobstructed view of the square and church, so wait until you have the entire Piazza San Marco all to yourselves.  From around 11pm onward, the crowds disperse and the flickering lights in the piazza create an effortless romantic setting. It'll almost seem like you specially designed the scene just for your partner.
Aside from the warm gold lighting in the square, quartets always play in front of the restaurants. You down on one knee, the golden hues from the church lightly illuminating the square, and classical music playing in the background- it'll be impossible to say no. Talk about a good story!
---
3. Fondaco dei Tedeschi
This is a new addition to the beauty and romance of Venice. Sitting on top of the newest shopping center right in the heart of the city is this free overlook.
While on top of what seems like the world, you'll have an unobstructed view of the Grand Canal and famous Rialto Bridge below you. Plus, to the right you'll get a great view of the well-known hands sculpture coming out of the canal onto the building above. The 360-degree view also gives you incredible shots of the Venetian rooftops, which are pure art in themselves.
What's great about this spot is the crowds are controlled. Only a certain amount of people are allowed entrance at a time. This means that even in the middle of the afternoon you won't be swarmed with people. With that being said, it is crucial to sign up beforehand.  It is a free destination, but if you don't select a time you will be stuck in the inevitable, and lengthy, line.  Not so romantic.
Address: Fondaco dei Tedeschi | Hours: varies on season, check on website| Website | Price: free
---
"A realist, in Venice, would become a romantic by mere faithfulness to what he saw before him." Arthur Symons.
---
Discover More