One of the most alluring qualities of Italy is that many of its villages have remained unchanged since their ancient or Medieval start. This natural time machine allows you to peek into the culture of Italy throughout its history, leaving you with a deeper appreciation for what exists today.
On the opposite side of this coin are the villages or places that didn't live to see the appreciation we would have today.  For economic reasons, many of the "hidden" villages in Italy were abandoned and sadly, forgotten throughout history.
Thankfully, there are heroic entrepreneurs who try to preserve and protect Italy's hidden gems. By doing so, locals and travelers alike see a different side to Italia,  a side that is not overrun by tourists and tour buses.  These places beg for appreciation and not exploitation. And yes, they're not a guarantee for the future but they are hidden gems for those travelers who like to go off the beaten path of la dolce vita. Here are the top 5 'now or never' places to include in your Italy vacations 2018.
---
1. Budelli
Location: island north of Sardinia.
Budelli is one of the few pink beaches remaining in the world and is now part of La Maddelana National Park. The pink sand derives its rosy color from microscopic fragments of corals and shells.
Mauro Morandi, 77 years old, has been the caretaker of the island for the past 27 years. But, that could soon change. After the island left private ownership and floated back to the hands of the Italian government, there has been a serious threat to evict Morandi because of health and safety regulations.
The island was a vacation hotspot in the '80's and '90's. Unfortunately, people started stealing the pink sand.  Even those who weren't intentionally exploiting the natural gift were taking home sand with their beach towels, sandals, etc.  Thus, the island was closed to visitors in 1999 in order to preserve what little remained.
Today, you can see what remains of the pink sand from the sea aboard a boat- a perfect example of enjoying marvels rather than exploiting them.
---
How to get there
Ready for an adventure? The nearest airport is Olbia in northern Sardinia, which can be reached from most European cities. Compare prices on Skyscanner. 
After, you will have to take a bus or rent a car and drive to Port of Palau.
Next, take a boat or ferry from Palau to Maddalena. From there you will be able to take a boat trip around the island.
---
2. Matera
Location: Basilicata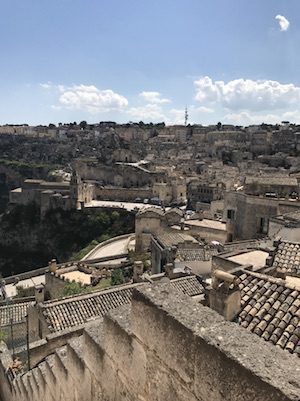 With a labyrinth of honey-stoned houses, sassi (cave dwellings), and narrow winding stone streets, the natural splendor is only half of the story. The old-town of Matera dates back over 9,000 years.  This makes it one of the oldest living cities in the world.
Until the 1950's, it was a source of deep shame for Italy.  Extreme poverty, malaria, and a high infant mortality rate dominated Matera's reputation. People and large families lived in the sassi with no running water, electricity, or sewage.
Finally, Carlo Levi's book, "Christ Stopped at Eboli", exposed the realities and the government intervened. Between 1953 and 1960, half of the 30,000 population were moved to homes in the more modern part of the city.
The most unfathomable part of visiting Matera is that the inhumane living conditions stopped only very recently.  During my visit I spoke to a local woman over my morning espresso.  Both her mom and dad were born in sassi and were fortunate enough to be relocated during the evacuation.  However, she told me that her mom is still not able to face the traumas of her past – she hasn't stepped foot in the old-town since she left.
Now, you can freely walk through the old town.  Roam a now magical world and try to imagine what it was like a mere 57 years ago. Though You must act quickly! The tourism industry is starting to capitalize on Matera.  It was named the European Capital of Culture for 2019 and Lonely Planet named it one of the top cities to visit in 2018. Matera is the definition of now or never if your goal is to avoid selfie sticks and tour buses.
---
How to get there
The nearest airport and train station is in Bari.
From there you can hire a car or take a train from Bari to Matera.
Note:
– Ferrovie Appulo Lucane train is privately owned and doesn't run on Sunday
– the FAL station is next to Bari Centrale station
– when you arrive to Matera, walk for 15 minutes to reach the old-town
Tip: Matera is just outside of the Puglia region, so consider combining it with your vacation there!
---
3. Santo Stefano di Sessanio
Location: Abruzzo
This once forgotten gem is a fortified medieval village in the mountains east of Rome.
It became a "dying city" when economic disaster struck and the impoverished inhabitants left in search of work. Afterwards, the town was hanging on by a thinning thread. Despite all odds, Santo Stefano is not only standing, but it has a new lease on life.
Thankfully, a brave Swede-Italian, Daniele Kihlgren, started a preservation project in the 1970's. He saw the the potential of a great redemption story and decided not to let this hidden gem be forgotten.
Now, you can wander through the original archways and enchanting cobbled streets.  Step back in time and day dream in the Medici town square, then take in the views of the surrounding mountains at the preserved watch tower. What's more, you can stay at an "albergo difuso", a dispersed hotel with original, restored rooms and houses across the village.
To help keep the town afloat, they've opened shops to buy locally produced honey and jam, salamis, cheese, and the region's famous lenticchie (lentils).
Areas like this, away from the more popular Tuscan and Umbrian hill tops, are in decline.  We can cross our fingers and knock on wood all we want, but in many cases the survival of towns like this depend of responsible tourism and/or government aid.
---
How to get there
You can fly into Rome Fiumicino Airport or Ciampino Airport.
Rent a car and drive for slightly over two hours. Check rental cars from Fiumicino or rental cars from Ciampino.
Take a Gaspari Bus from Rome to L'Aquila, about a 2 hour journey with a single ticket costing around 16€.  When you arrive, you can either take a taxi for about €60 euros to Santo Stefano di Sessanio or take a second bus, Arpa Bus, from L'Aquila to Santo Stefano di Sessanio which takes about 50mins and will cost you between 3€-5€.
---
4. Rome

Location: Lazio
Surprise! Roma is actually a great hidden gem.  Who would have thought?
I'm not here to tell you the secrets of the Colosseum or the mysteries behind la cucina romana- a Roman kitchen. However, I am here to persuade you to go off the beaten path and discover off the radar adventures.
It would take you five lifetimes to see everything on your first trip to Rome- so don't try to! Dedicate one or two days to experience the thrill of the key attractions with a guided tour and then dive into the unknown hidden gems – that's where you'll find the local culture.

Speaking of the local culture…eat! Let yourself taste flavors you've never experienced and find a new appetite on life.  Another option for a great night out is a wine tasting!  You'll learn to appreciate what you're drinking and walk away feeling like a sommelier yourself.
In either case, Rome has itineraries as long as its history so think outside the box!
---
How to get there
Rome has two airports- Fiumicino and Ciampino.  There are buses to the city center from both.  From Fiumicino there is also a train to the city center.
---
Discover More
If you need a hand planning your 2018 Italy vacation, get in touch with our lovely Trip Planning Experts!
For more Italy vacation ideas and hidden gems follow us on Facebook, Twitter, Instagram and YouTube!
Up next: Learn quick Italian phrases before you come to Italy! Also, check out our Rome itineraries for 1, 2 and 3 days!